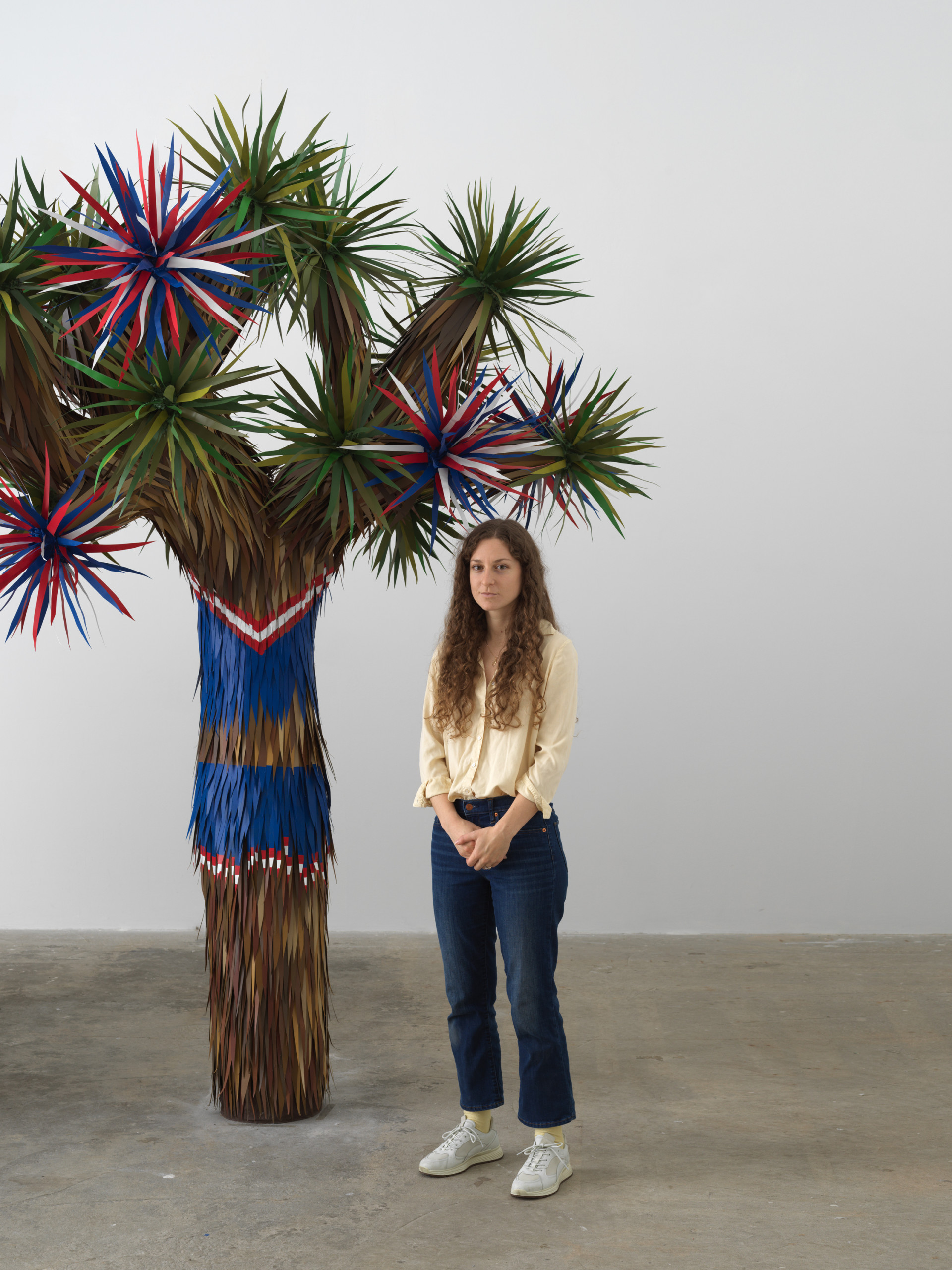 Anna Helm has found a form that's both a memorial and a rescue. The ring of a leafy wreath is placed on doors and graves for passing seasons. The ring of a life preserver saves drowning swimmers. In her first New York solo show, "The Fish DiMension," at Real Pain through July 3, two become one as wreaths-cum-preservers are both décor and a device—a totem for a small independent art scene emerging from a pandemic.
In general, Helm's artistic sensibility feels decidedly Los Angeles. A citrus wreath that greets you at the exhibition displays a circular chart of an orange ripening from a green sphere and easing into sky blue mold, turning what should be a linear progression of rot into something that more resembles the waning and waxing of a moon cycle. Seeing linear decay as fruit regeneration reminds us that healing from a collective trauma can take a feminine moon magic. As the pandemic memes attest, nature is healing. The centerpieces of her show are three large Joshua tree sculptures painted to look like cheerleaders. Two plain white cotton T-shirts, a style popularized by Hollywood weather and, more specifically, Marlon Brando are affixed to sandy surfaces with cursive phonetic words Dremeled into them like a line of loose thread. Sounding out one, "Unhushuwule," transforms the word "unusual" into a hushed breeze that could rustle leaves. It resembles "Joshua," a name given to the desert tree by Mormons in the mid-19th century who thought the unique shape reminded them of a Biblical story in which Joshua reaches his hands up to the sky in prayer. Helm's Joshua trees spell out their team spirit with arms up and pom-poms raised.
When talking to Helm about her LA roots she says her family's been there for generations. It's evident in her references, allusions and materials. The artist, however, finds reference points not La La Land art giants like Mike Kelley, but in the cult feminist sculptor Ree Morton, whose first retrospective in 40 years was installed at ICA LA weeks before coronavirus shut the museum down for its 2020 season. Throughout the pandemic, a piece by Morton has also been up at the Whitney Museum in New York as part of the exhibition "Making Knowing" that will now extend into 2022. Entitled Signs of Love, it features words, stiff fabric ribbons and, among other forms, segments of a 30-foot-long ladder that was used in Maid of the Mist, a 1976 performance where it leaned uphill into water near Niagara Falls as if offering escape. It also incorporated two life preservers decorated with flowers, one tied on the shore, and another tied to Morton's waist. She cut the rope connecting the ring floating in the water and released it into the current—a reference to the legend of the Maid of the Mist, where a maiden was sent over the Falls as a bride to the river. Morton referred to that work as both a "symbolic rescue" and a "memorial event."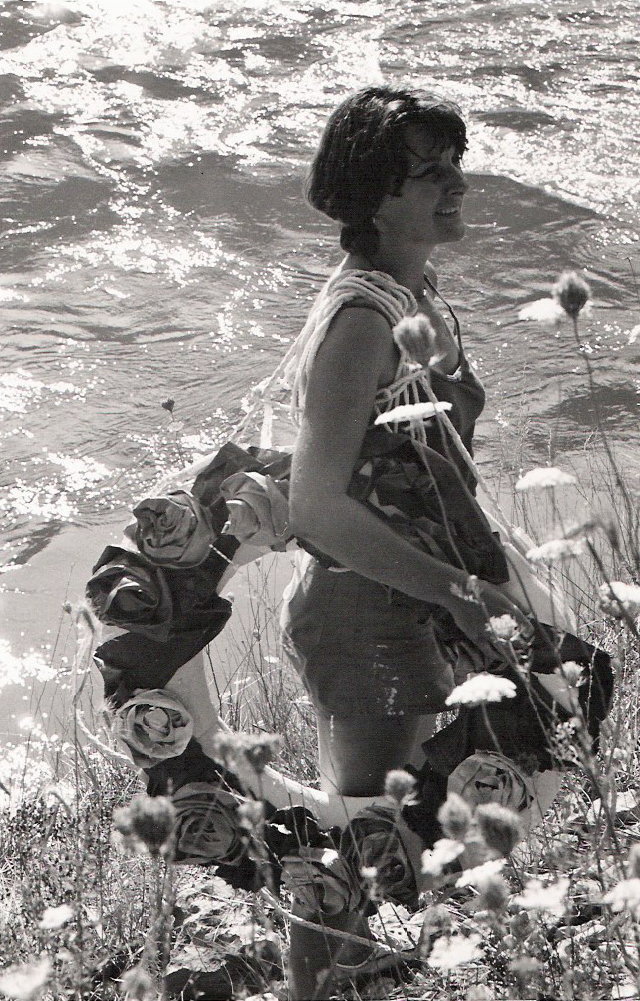 Shortly before Morton's untimely death in a car accident, writer Lucy Lippard described her as having a "confrontational innocence," a phrase that applies to Helm's practice as well. Helm's painted aluminum leaves make a simple wall sculpture that legitimizes decoration—a sort of vernacular, often female-made visual system—by its location in a white box art space. But where Morton uses language, meanings of words and oblique phrases as subjects, Helm operates on sound. In "The Fish DiMension," ribbons that display "ANNANNANNA" over again turn the artist's name into nonverbal noise. The wreath itself feels like an open "oh" sound, as if evoking the elemental pleasure that Sigmond Freud describes in the Beyond the Pleasure Principle passage about the "Fort!-Da!" game played by his grandson Ernst. From a highchair, the child would throw a toy across the room and interject the vowel sound "o-o-o-o-h" as a moment of satisfaction in causing a thing to be "gone."
Physical sound is also at the heart of Helm's three DiMatteo Tomato Tryptic works, presented in a grid of nine wreaths. These compositions look like signage for a New Age Italian seafood restaurant or maybe an olive oil company called "The Fish DiMension." Though seemingly light, even this reading soaks a bit of nostalgia into the notion of the family business. Anna and Mimi, staccato syllables, a daughter and her mother. Helm writes "DiMatteo" here on a wreath as if to speak her mother's surname, commonly referred to as a "maiden" name, one spared to go over the falls. Isn't speech, too, a form of preservation?
You say tomato and I say tomato. You say DiMatteo and I say DiMatteo. As clocks and calendars, the rings of wreaths and life preservers in Helm's show lightly release all that's "gone" from last year and allow the viewer a cleansed breath before formulating their next sound.
Craving more culture? Sign up to receive the Cultured newsletter, a biweekly guide to what's new and what's next in art, architecture, design and more.