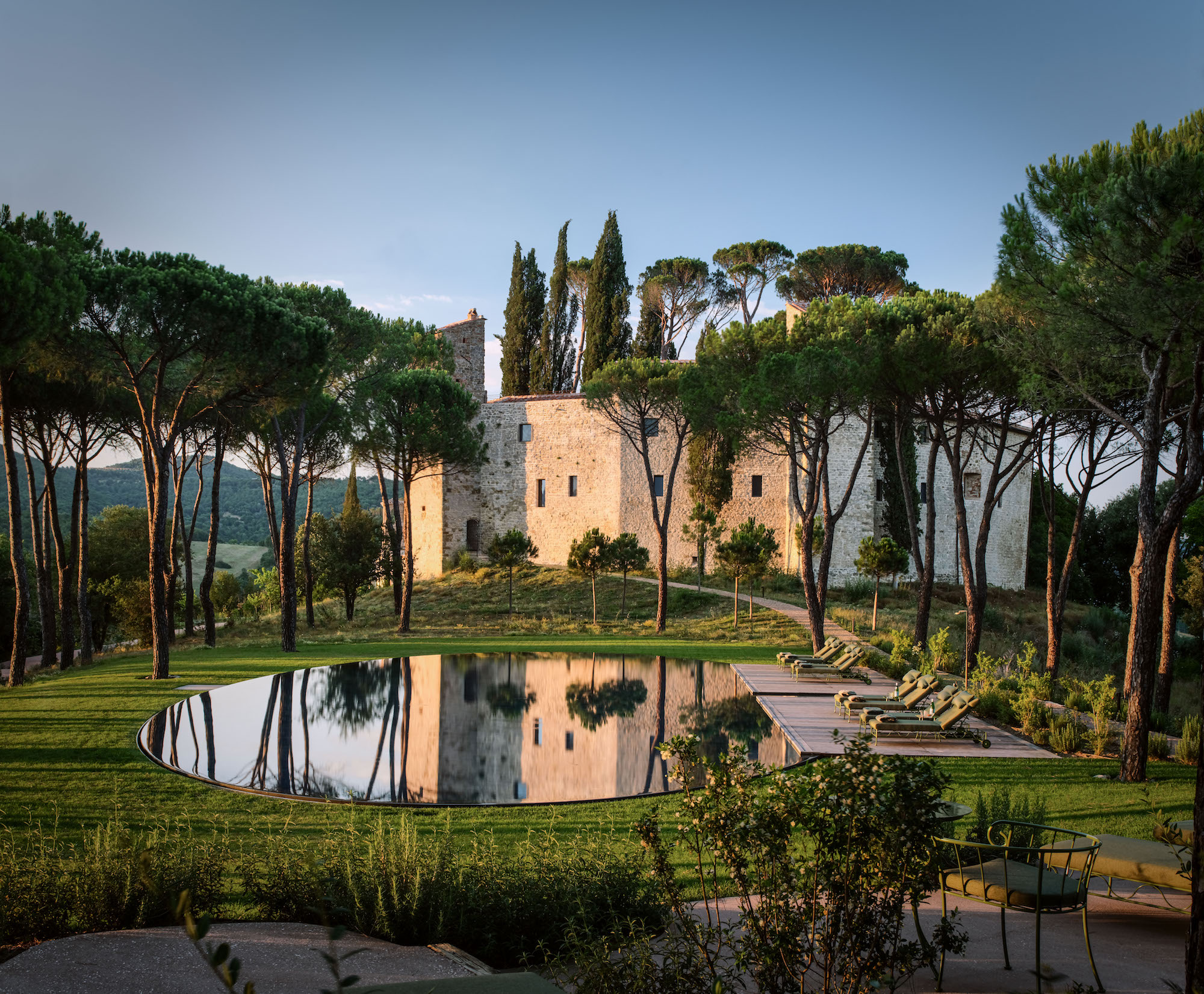 Throw a dart at a map of Tuscany and you're bound to land on an idyllic landscape, complete with storied past and everlasting lure. And while the numerous stone farmhouses, vineyards, and forested oases are never short on inherent charm, they can tend to seamlessly flow together, not necessarily standing out for their individuality.
But just a few steps across the Tuscan border, in Umbria, lies Castello di Reschio, an 11th-century compound that's remained clandestine, and was only recently—and cautiously—revived by its current owners, who over the years have transformed the 3,750-acre property into a design-driven haven. The secluded community contains 30 restored farmhouses and a 36-room hotel, which has just opened for its debut season and will for the first time allow visitors to experience an unparalleled mecca of authentic Italian history, culture and contemporary comforts.
"The Castello dates back to 1,000 years and was a typical medieval fortified structure. When we bought the property in 1994, it was in good livable condition, but definitely not luxury. [My wife, Nencia, and I] moved into it in 2000 when we got married and lived there for 11 years, along with our five children," says Reschio's owner, Count Benedikt Bolza. "It was always our dream to convert it into a hotel, but the timing wasn't right to do that 25 years ago, when we first started developing here."
Indeed, the hotel is the last major piece of the Reschio estate, which includes an equestrian center, lake, gardens, tennis courts, a farm, and the potential for 50 individually owned farmhouses.
"We essentially created Reschio without a core. The idea was to work with individual buyers to develop houses and then create a core later," says Bolza, who has restored 26 of the site's original farmhouses. "But it's not a club, not a development, and there's no golf course or anything like that. It's an organic restoration project of a medieval estate."
In the years since Bolza purchased the compound, restored farmhouses have sprung up around the acreage for buyers hailing from everywhere from across Europe to the United States, all compelled by the location's serene surrounds and proximity to the Italian gateways of Florence (less than two hours) and Rome (less than three hours). Each current farmhouse was created from varying piles of rubble. For some, the only remains to start with were a few decrepit columns, while others may have started with as much as four walls and a section of a roof. But the properties all had one thing in common: when a buyer purchases one, they agree to Bolza being the only one to restore, build, design and furnish each residence himself.
At first, the edict might seem extreme, but view any of the restored homes, and it's impossible to imagine anyone who could possibly have done them better. Sensational sitting rooms swathed in cream de Gournay wallpaper, contemporary wrought iron-framed glass walls that connect gaps between original stone structures, swimming pools that rival sculpture—Bolza knows what he's doing. "Style comes from time," shares Bolza, who received his degree in architecture from the University of Westminster, London. "The beauty of what we do here is like slow cooking, slow food. It's all evolved from year to year and client to client. For most architects, if you had the chance to live and work in a place for 25 years, you'd see a natural evolution too, especially in the way that materials change and have their moments—even something as simple as brass, which I'm using now, but hated 25 years ago."
When talking about his aesthetic for Reschio, Bolza points more to what he wouldn't do (anything baroque) rather than call out specific materials and styles he's drawn to. "Most architects live in towns or cities and then find the idea and have to find the people to realize it for them, but here, we have very good builders and artisans on site, and I work with them to source materials that already exist here, which help tell the story of the place."
And the materials can truly come from anywhere. For instance, at the property's former tobacco factory (now the design office), Bolza repurposed old radiator coils as the bases for floor lamps, one of 50 designs in his furniture collection, which he had been creating for the custom homes and started to make available to the public in 2014.
But the development of the private homes at Reschio was just part of the buildup to what might be the property's masterpiece. "I first started designing the hotel about 20 years ago, and it hasn't changed much since, but the last five years have been incredibly intense to build and work on it," says Bolza. "I wanted all of the rooms to be super organic and not at all machine-like. When you walk in, it feels like it was furnished over centuries, not from today."
No two rooms are alike, and Bolza feels strongly that any of the furnishings need to last for decades. "One thing that drives me crazy in even expensive hotels is the cheap furniture that's only meant to last five years. Yes, change the mattresses and linens, but not the tables, not the paintings. Those need to last." Another thing he was insistent on was that every bathroom have natural light. "It's a sin not to," he says.
Also on his list of don'ts? "I have an allergy to big rectangular pools with paving. What an eyesore," he says. "When you do something kidney-shaped or freeform, it looks like a bunker on a golf course. It's so foreign to the landscape, it's alien. But an oval is very elegant. It really simulates a natural point and is a shape we're inherently attracted to." Near the hotel, a perfectly oval swimming pool seems to lie flush with the surrounding grass, a complicated achievement that required laser cutting the overflow into volcanic stone and topping it with smooth stainless steel.
"I like things to fit in with the landscape. It's just as important as the architecture," says Bolza. "The good thing about Reschio is that I'm not only doing the best projects for each client, but the best things for the property as a whole. My thinking is always about the long-term."
Craving more culture? Sign up to receive the Cultured newsletter, a biweekly guide to what's new and what's next in art, architecture, design and more.