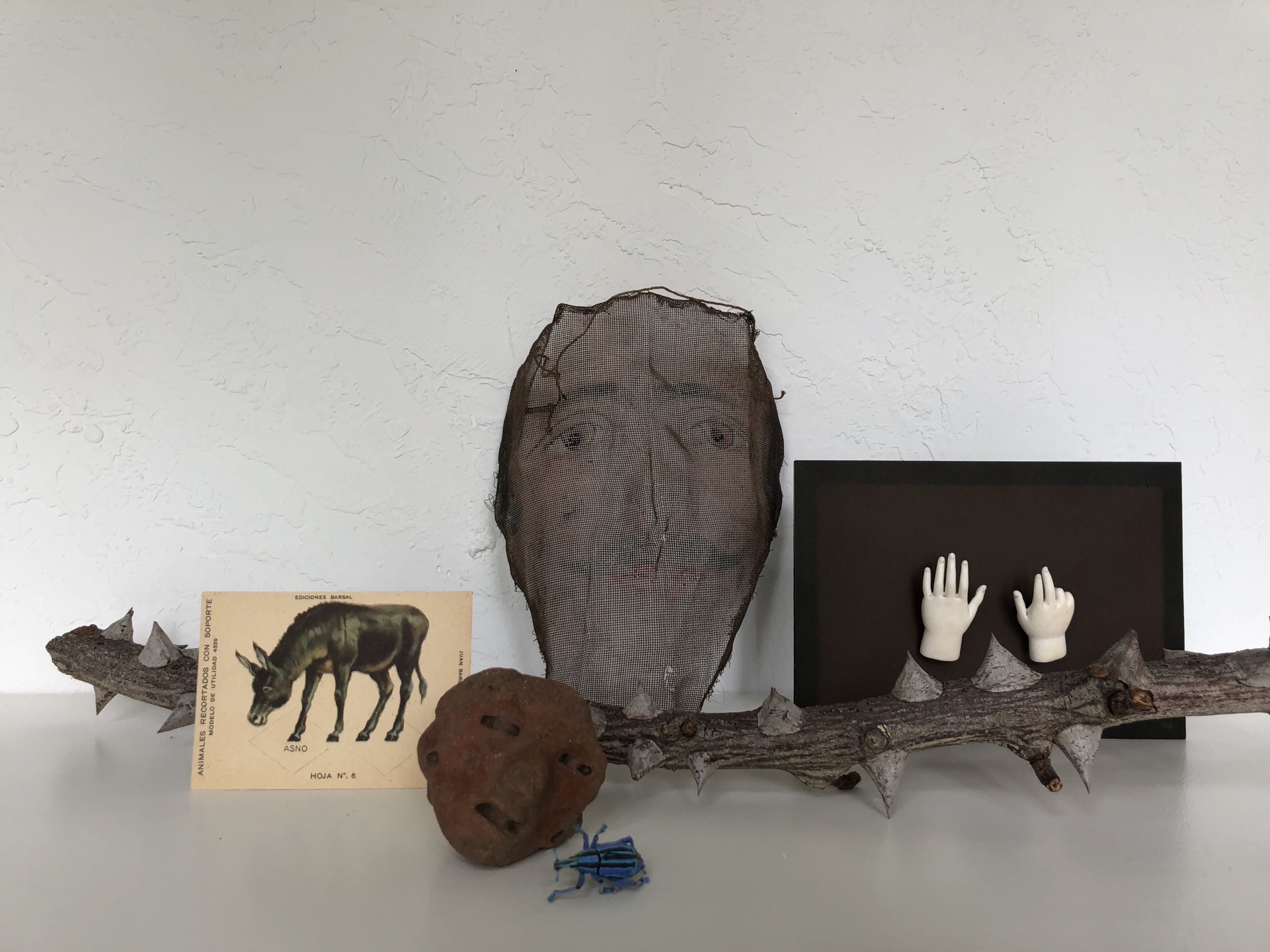 From March 2020 to April 2021, more than 100 creatives across the globe, including Wolfgang Tillmans, Shirin Neshat and Tracey Emin, created still lifes in reaction to the COVID-19 pandemic. A new book, STILL HERE: Moments in Isolation, whose proceeds benefit nonprofit arts organization Performa, documents their creations in visual, Augmented Reality and audio formats. For Cultured, the project's co-curators Mafalda Millies and Roya Sachs speak with two participating artists about their contributions.
Mafalda Millies and Roya Sachs: Tell us about your still life submission? Did you have the idea immediately or was it a process?
Adam Charlap Hyman: The still life includes ivory hands from a saint sculpture, a thorny stick found outside, a playing card featuring a donkey, a small pre-Columbian head, a blue beetle and a mesh mask from the secret society, The Oddfellows. It was an associative process that unfolded organically with disparate objects I found in my house, some relatively forgotten and others right in front of me.
Sissel Tolaas: My idea was intuitive and an immediate reaction to the very moment.
I work with invisibility; the virus is invisible. The virus attacks our breath, what it means to be alive. With every breath, we inhale thousands of smell molecules. COVID-19 represents all of this. Smell's unique skill is to bypass rationality and directly activate the memory and emotional part of the brain, the core of being alive. Memory is a persuasive editor. My submission is an homage to life and to the sense of smell's skill to memorize content. Smell memories are strong and can act as a trigger and cause powerful responses almost instantaneously. A bookmark with a nano-embedded smell works as both: smelling whilst reading it keeps the nose fit and simultaneously stores the content of what one reads into a smell code.
MM and RS: Would your still life have changed if we would have asked you earlier or later in the lockdown period? If so, how would it have differed?
ACH: At the moment that I was making this, I felt particularly cooped up, disillusioned and melancholy. If the request had come a little later, it would have found me angrier and more proactive. The eerie "stillness" I tried to bottle in my tableau is very time specific.
ST: Not really, though now I am sure it would have proper attention it deserves.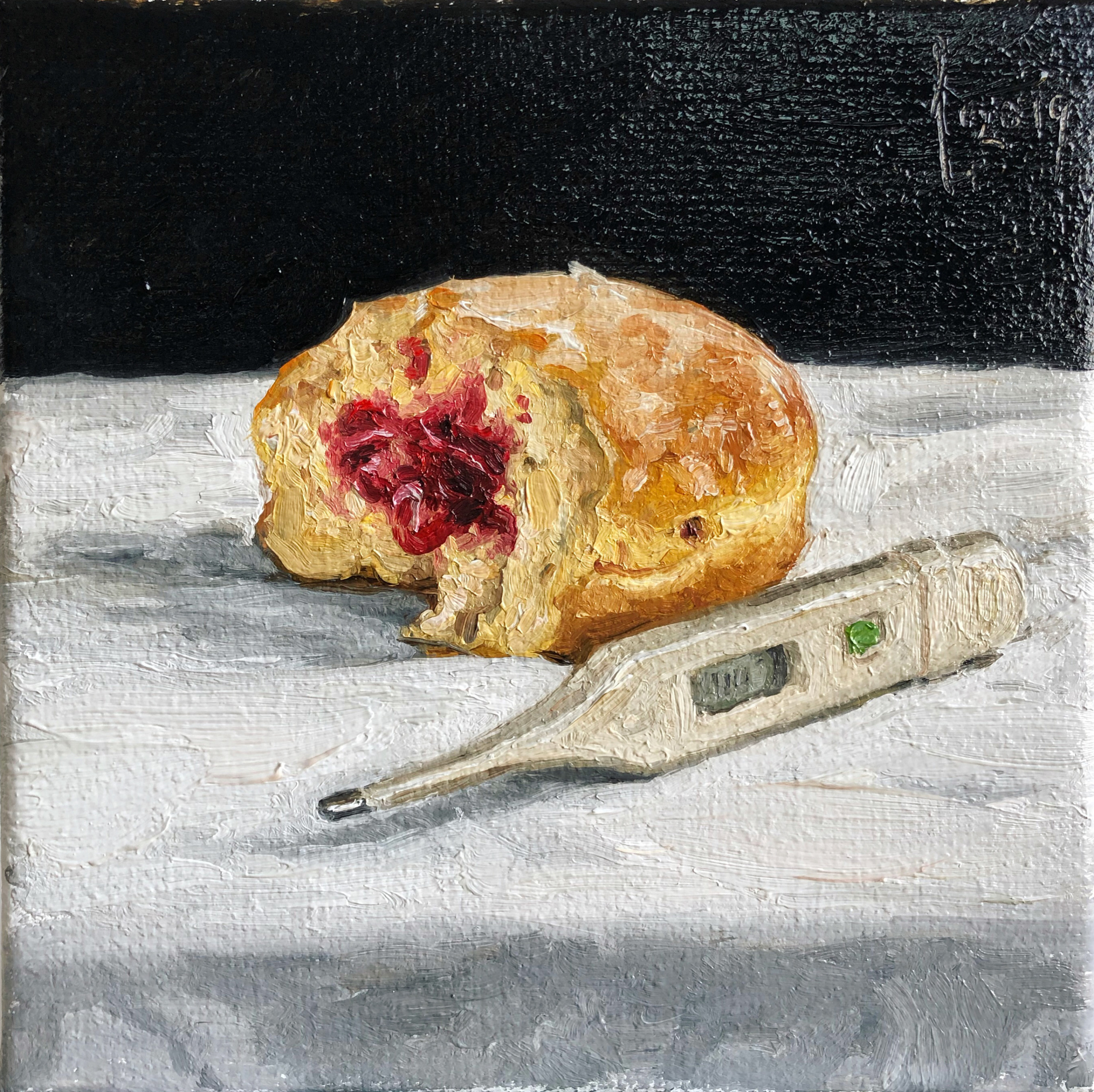 MM and RS: Why did the challenge of creating a still life appeal to you?
ACH: Just as I was tiring of my surroundings, it was beautiful to have a reason to discover them anew. The act of reconfiguring elements from my "desert island" was therapeutic somehow.
ST: To have the ability to challenge people to use their noses and give them new methods to approach their lives is fantastic. Our society and culture have traditionally been dominated by the visual, and vision tends to distance us. By contrast, smells surround us, penetrate the body and permeate the immediate environment, and thus the response involves a very strong and memorable effect.
MM and RS: Over a year later, we are "still here;" how has your creativity evolved or shifted during this time?
ACH: I have been able to reconnect with the team of creative people that I work with on our professional projects, and that has been a dream. While it was ultimately very special to have time to myself to make and to think, I am a very collaborative person and am grateful to have day-to-day dialogue again.
ST: I am optimistic about the future. The pandemic will change what it means to be human. All goals have shifted; we need to renegotiate the world. We will be better collaborators. We are not only part of nature but also a part of a single organism. Emotion will be the new rational. The key would be to solve the problems we still do not know exist. I can smell tomorrow but I do not know about it yet. This experience will not comprise us. Humanities have survived more severe disasters than COVID-19. But we will need to rethink our behaviors, globally. We will have to adapt to and accept the new measures. My biggest concern is xenophobia, discrimination and social inequities. The intensely vulnerable—immigrants, refugees and the undocumented—will face even more obstacles than they already had. We need more optimism and positivity to be able to understand the seriousness of what we face: new challenges, new methods, new methodologies, new tools—the nose is the key.
Craving more culture? Sign up to receive the Cultured newsletter, a biweekly guide to what's new and what's next in art, architecture, design and more.