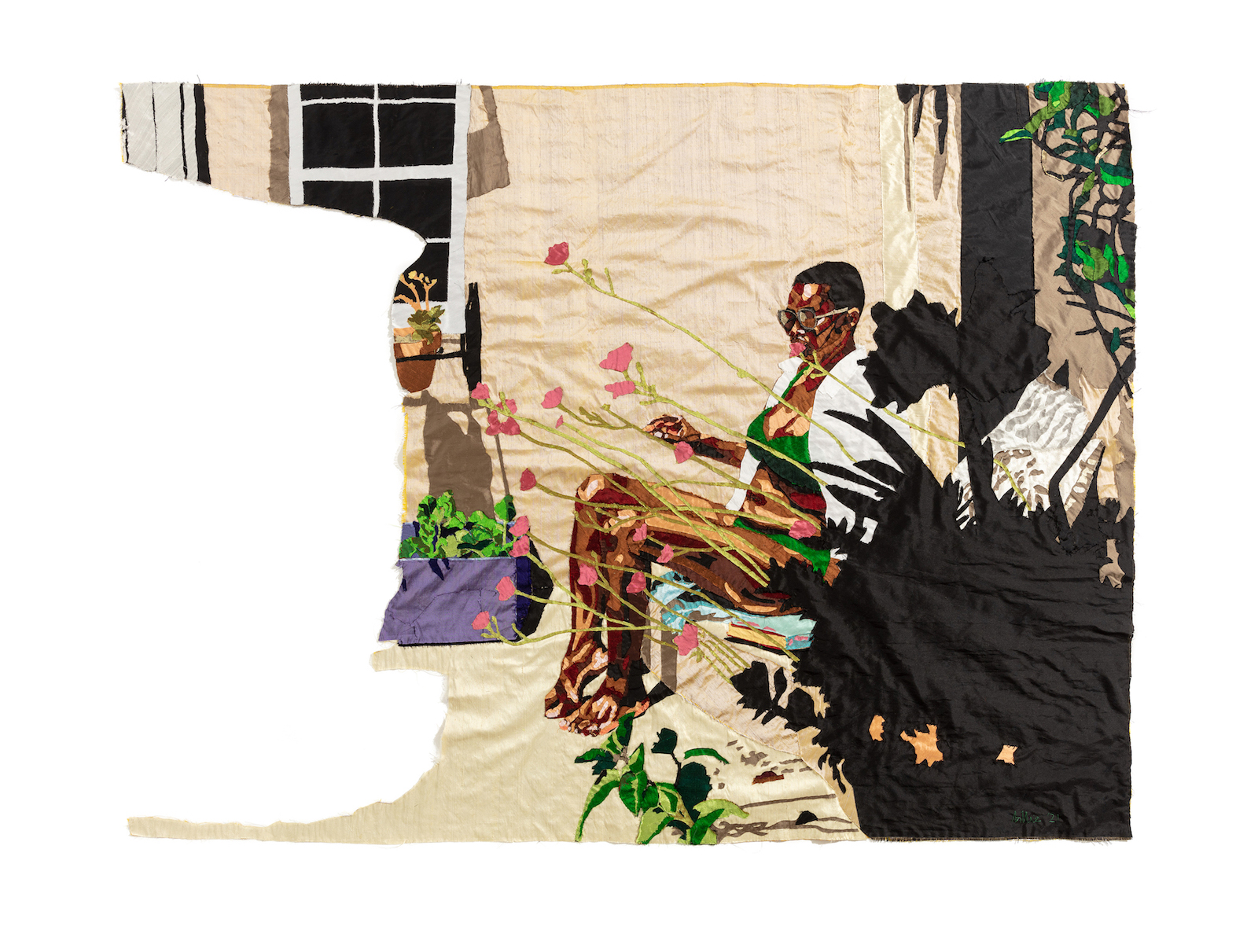 African American quilting dates to the near origin of America itself. Aside from utilitarian purposes, quilt patterns recorded events such as births and marriages, signified different tribes and spiritual practices and allowed enslaved people to preserve their heritages and cultural traditions. Historically, Black women with the skill set would sew and quilt on plantations for wealthy households. However, the quilts that they made for white households followed classical European patterns and were very different from the quilts that they designed for themselves.
The domestic origin of textile work has contributed to slower acknowledgement of the medium as a fine art to be studied, visually critiqued and considered seriously. However, with their own practices, artists such as Harriet Powers, and more recently, Michael A. Cummings and Faith Ringgold, have paved a way for contemporary Black textile artists, and helped raise the art world profile of work in fabric. In the same steadfast spirit of innovation, today, a new crew of textile talents is pushing the boundaries of what quilting can be, drawing on its cultural history to tell stories both present and future.
Bisa Butler
Bisa Butler uses quilting to set the record straight. Through portraiture of groups or individual figures, she creates art that shows the Black community in a positive light, projecting how Black people want to be seen in the face of a constant media barrage of negative images. Working in a variety of materials, the artist's large-scale pieces sit intentionally at eye level or higher when viewed on a wall, imposing equality of subject and viewer. Their references, however, are a bit of home: illusions to family photo albums and the use of familiar fabrics give her work an approachable nature.
Michael C. Thorpe
In his body of work, Michael C. Thorpe explores feelings of joy and happiness as a Black man. Using fabric and thread, his quilted "paintings" are geometrical and pieced together like a puzzle. Thorpe intentionally depicts ordinary scenes or incorporates familiar iconography to appreciate the beauty in mundane parts of life. Using a variety of bright colors and cartoon style characters, he strives to make serious playful work, tackling social issues such as racism, housing disparities and capitalism. He questions what it means to be a Black man working in textiles and wants his work to show that anything is Black art, not just representational work.
Billie Zangewa
Billie Zangewa works with raw silk to explore identity, the Black femme form and gendered sociopolitical issues. Analyzing the parallels between femininity, motherhood and the home, Zangewa's tapestries depict the work done by women that is often overlooked or undervalued. Her intimate portraits aim to confront historical stereotypes, gendered labor roles and racial prejudice as they illustrate universal experiences and illuminate what visualization of the female gaze, through self-portraiture, could look like.
Beverly Y. Smith
Beverly Y. Smith's quilts combine traditional and repurposed fabrics to tell stories, address taboos and illuminate controversial issues from the Antebellum South. Her figures are inspired by photographs of close family members, friends and other people of personal importance in her life. Smith acknowledges that fabrics can hold family truths from past generations and uses her quilts to connect with her ancestors and honor her southern roots.
Adia Millett
Inspired by life's unknowns, textile artist Adia Millett incorporates ideas of identity, African American history and literature and rebuilding through transformative change in her work. Featuring abstracted, geometric shapes that suggest movement, her pieces honor the past through their use of repurposed fabrics, clothes and sheets, materials that help create our identities, our experiences and our culture. Acknowledging the previous history of each item, Millett pieces them together to make a new body of work. Her art underscores the importance of renewal and encourages viewers to embrace the space where transitions occur and project their own experiences onto her work.
Craving more culture? Sign up to receive the Cultured newsletter, a biweekly guide to what's new and what's next in art, architecture, design and more.