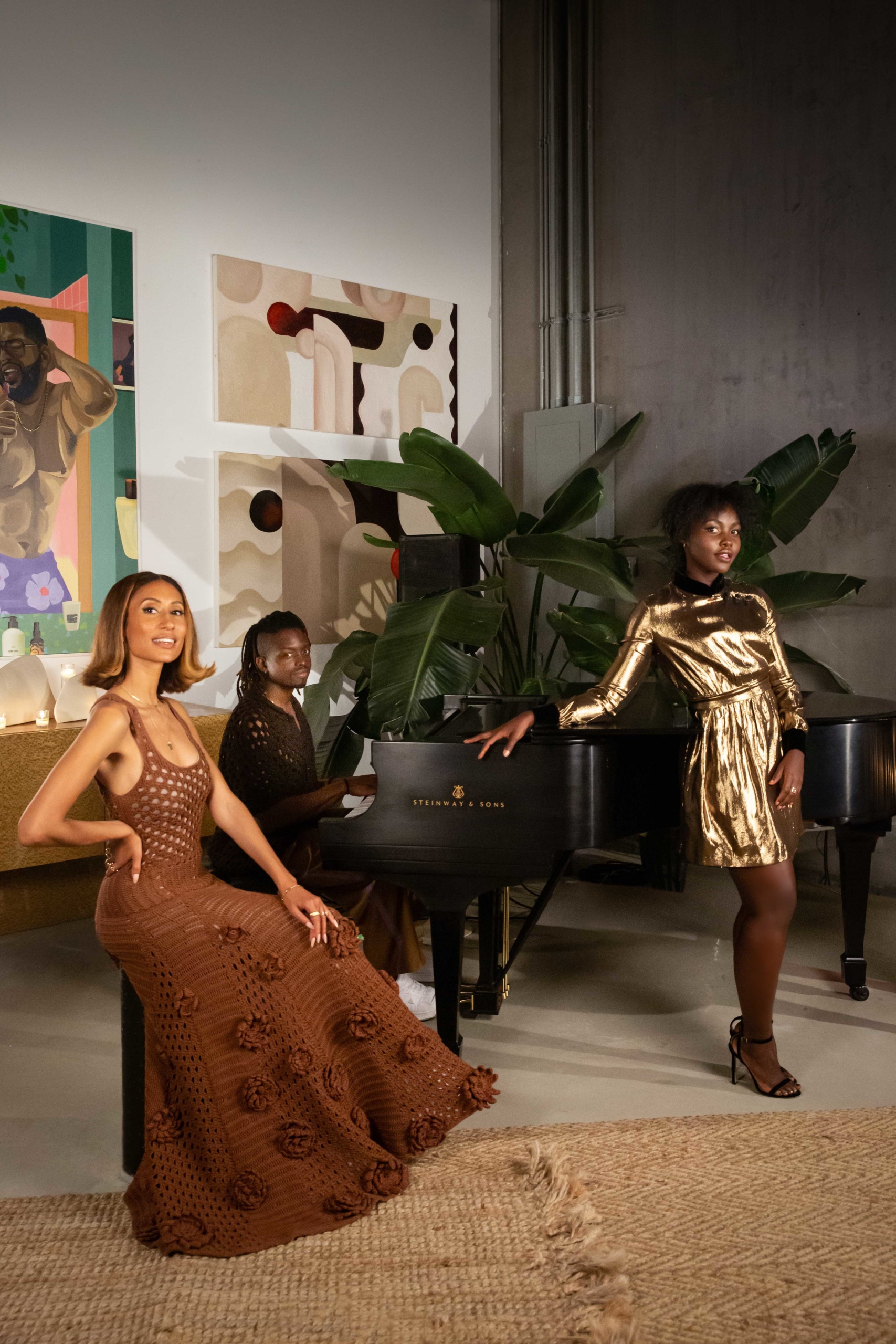 There's an immediate warmth in (virtually) sitting down with partners Jonathan Singletary and Elaine Welteroth, known for their music and journalism, respectively. The creative duo married May 10 of last year on their Brooklyn stoop with an intimate in-person guest list featuring singer Adeline and actress Lupita Nyong'o. A year later, some of those same attendees would come together to create Singletary's latest single, Never Like This. In the one-take music video conceptualized by director Michael Joseph McQuilken, Singletary and Adeline's voices create an ethereal harmony, with lyrics detailing a transcendence while, a winged Nyong'o ascends into the sky. The song's release simultaneously marks one year of Welteroth's and Singletary's marriage and a world slowly but surely opening back up.
"In a challenging year, I found refuge and inspiration in Never Like This," says Ngong'o of her experience participating in the collective project. "The song offers a healing power that lifts you higher if you let it. Jonathan is incredibly talented; you can feel his genuine intention to both invite us to escape, while connecting us through his music. I was delighted to play a role in the visual manifestation of his song."
The song's debut event recently took place in PopUp Home's vintage showroom in Los Angeles, opening with a meditation that let the room settle their potential social anxiety and focus on the themes of Singletary's performance. An amalgamation of joy, mourning, fear and success, Never Like This confronts the oscillating emotions of our society's reemergence.
Abigail Glasgow: I'd love to hear more about you all as creatives, particularly your coming together and how it manifests through Never Like This.
Jonathan Singletary: I'm a singer, songwriter, producer. I've been making music and playing piano really since I was a four- or five-year-old kid. And a lot of that actually happened in church. My mother was a children's choir director. Actually Elaine's mom and my mom sing in the choir together to this day. We definitely have a deep connection in music and spirituality. That's the foundation Elaine and I both come from. It's definitely still something that persists and is very present in my music, even though I'm not thoroughly making "Gospel" music. There are parallels around the divine orchestration of our relationship and the divine orchestration of this song and its music video, as well.
Elaine Welteroth: Actually the first time I heard the demo, we were on our quarantine mini-moon. I'd asked him to play me what he was working on while we were walking through the woods. He played Never Like This and it just stopped me in my tracks. I was blown away. I looked at him and said, "This song is so special, you have to get this out in the world. What are you doing sitting on this?" The song captured where we were in our love story.
That could be cheesy, but we've been together for so long—seven years—and we've known each other since we were 12. Jonathan's right that we definitely share music. Even though I'm not a musician, I come from a family of musicians. My mom is a gospel singer; my dad is an acoustic guitar player; my brother's a punk rocker. It's so funny because growing up the one thing I thought I would never do is date a musician. When I met Jonathan, I knew he had a gift for music, but he was on the science and technology track. He went to Stanford to get his doctorate.
When we started dating, the dude was in a suit—a nine-to-five business guy. Six months into our relationship, he breaks the news to me that he's quitting his job to become a musician. God has a sense of humor. The journey of navigating our two big dreams has been a roller coaster. There has been a tension from all the challenges we've gone through together, including in choosing to pursue music. We're in this really beautiful, bountiful place in our lives collectively, and it feels like a celebration—our whole wedding season has felt like a celebration.
AG: It's a manifestation of all of these beautiful moments that you've experienced. That's really that's really powerful. Jonathan, what inspired Never Like This? There's this concept of the abyss of love and falling into it.
JS: Lyrically, the song was one of those where the meat of it just kind of fell out of my mouth, which generally means it just is what I was sitting in at that moment. As I was writing it, I was feeling this balance between elation and joy and euphoria… and a little bit of fear. This trepidation is about recognizing that the higher you go, the further you might fall. The song is about faith, elevation and transcendence—the feelings that come with a healthy love; and knowing that fullness of love.
For the video, the concept came from the director, Michael McQuilken. I've always felt this song keeps lifting you higher and higher. I knew there was another level to it, I just wasn't sure how to get it there yet. I really did want it to explode at the end, with that chorus of voices. McQuilken pitched this journey towards euphoria as an elevation from the ground level, from an earthly place, into a heavenly place. He had this idea for doing a flyout single shot of somebody.
AG: This song really feels so collaborative; like an extension of this spiritual and joyful creative team. Can you talk a little bit about how Michael, Lupita, Adeline, etc became involved?
JS: Elaine and I feel like the power of our union, our marriage, is not just for or about us alone. As a married couple, we share friends in a really cool way. The pandemic was part of this story because it created circumstances that kind of forced us to only really have what was in front of us. We made decisions about how we're going to spend our time because there was a physical risk. But also, because you wanted to be around people that were really going to fill you up amidst such stress. Lupita was someone we continued to build a relationship with; she was at our wedding. There was a mutual magnetism there. Through that summer during the pandemic, we divinely ended up in a similar area in upstate New York while we were trying to get some refuge away from the city.
EW: Our power went out and we actually had to seek physical refuge at Lupita's place. She wanted to have us over for dinner, and on the night we were scheduled to go there was a huge storm and we lost power. We ended up literally taking all of our food from the fridge, packing all of our stuff up and staying for days. The tragedy of the pandemic led to some really special deepening of relationships with the people you found yourself with. For us, she was one of those people.
While we were all together having these very wholesome, sit down home cooked dinners together every night—one of those at the dinner table nights, Lupita asked to hear a song of Jonathan's. He played Never Like This and that's kind of where this whole story starts.
JS: I had a conversation with a director I knew about shooting the video. The process started and then he disappeared. I was left in the lurch, scrambling to grab a shoot. I got a video shot that captured us singing the song and I showed it to Lupita. She asked, "How honest do you want me to be?" I decided to cycle through my ego real quick. She didn't think the video captured the song with emotion or intimacy. She said I needed someone to come up with a concept and execute. And that's when she introduced me to her director friend. They went to college together. They were art school friends.
AG: Another communal aspect to this project.
JS: He's just as brilliant. He suggested we cast Lupita. She literally had four or five days between leaving the country. She brought on a choreographer and a stylist. I couldn't make it from Los Angeles so I was on Zoom watching while it was filmed in an apartment in Brooklyn.
AG: Just a bunch of really talented friends who got together to create this work.
JS: Well, and even before the video, Adeline is singing on the song with me. And that happened because I was trying to figure out what to do with the chorus and make it sound more full. I had her come to sing on the chorus, and then Elaine suggested she sing on the song, as well. I had her on the second verse and she did some ad libs—all of which took it to another level, because she's such an incredible vocalist. And, again, a really close friend who helped us out with our wedding.
AG: It feels like this song is an addendum to your wedding.
EW: And it came out on our one-year anniversary.
AG: It's a full circle moment. Coming out of a year of intense mourning and finding these moments of intense joy—at least for me, I hope I remember these feelings. I don't want to become complacent; I don't want to become so booked where I'm not really nurturing my relationships in the way that I have been this year. With this song as a one-year marker of those feelings, how are you moving forward?
EW: Yeah, that's a great question. Because I don't want to forget. I feel like this song is a time capsule. Never Like This perfectly captures that feeling of reentering the old again—being able to smell flowers again and hug people again and kiss somebody again. It feels like renewal, a regeneration of energy.
JS: There are certainly themes of resurrection that are related to the reality of this world—plants, flowers, beings… they all do die. And then there's the concept of rebirth and new life. It's difficult, but there's beauty in it all. I know we have so much pulling us down, but hopefully this is something we can hang on to.
EW: I feel like this song—in the whole process of watching it come together—was a reminder of the power of surrender, to remember that you're not in control, and that things happen when you relinquish control. You know how they say you make your plans and God laughs at them? This whole process exemplifies that adage. All the bad things happened for this to turn out so beautifully: including the pandemic, including the storm hitting, including the video director that was originally commissioned to deliver this video dropping out. That's the bigger theme around this time in all of our lives. What has resulted, in the midst of struggle and grief and despair and isolation have been really unique, singular moments of connection and collaboration and beauty and intimacy. You need the dark stuff to have the light.
JS: As we're going back into the real world, I hope we can do it in a new way—more intentionally with more purpose, with more recognition that dark things like stress and anxiety exist. The pandemic put all of this on display. I hope people remember how human we are and how fragile we can be so that we can love each other better.
Craving more culture? Sign up to receive the Cultured newsletter, a biweekly guide to what's new and what's next in art, architecture, design and more.