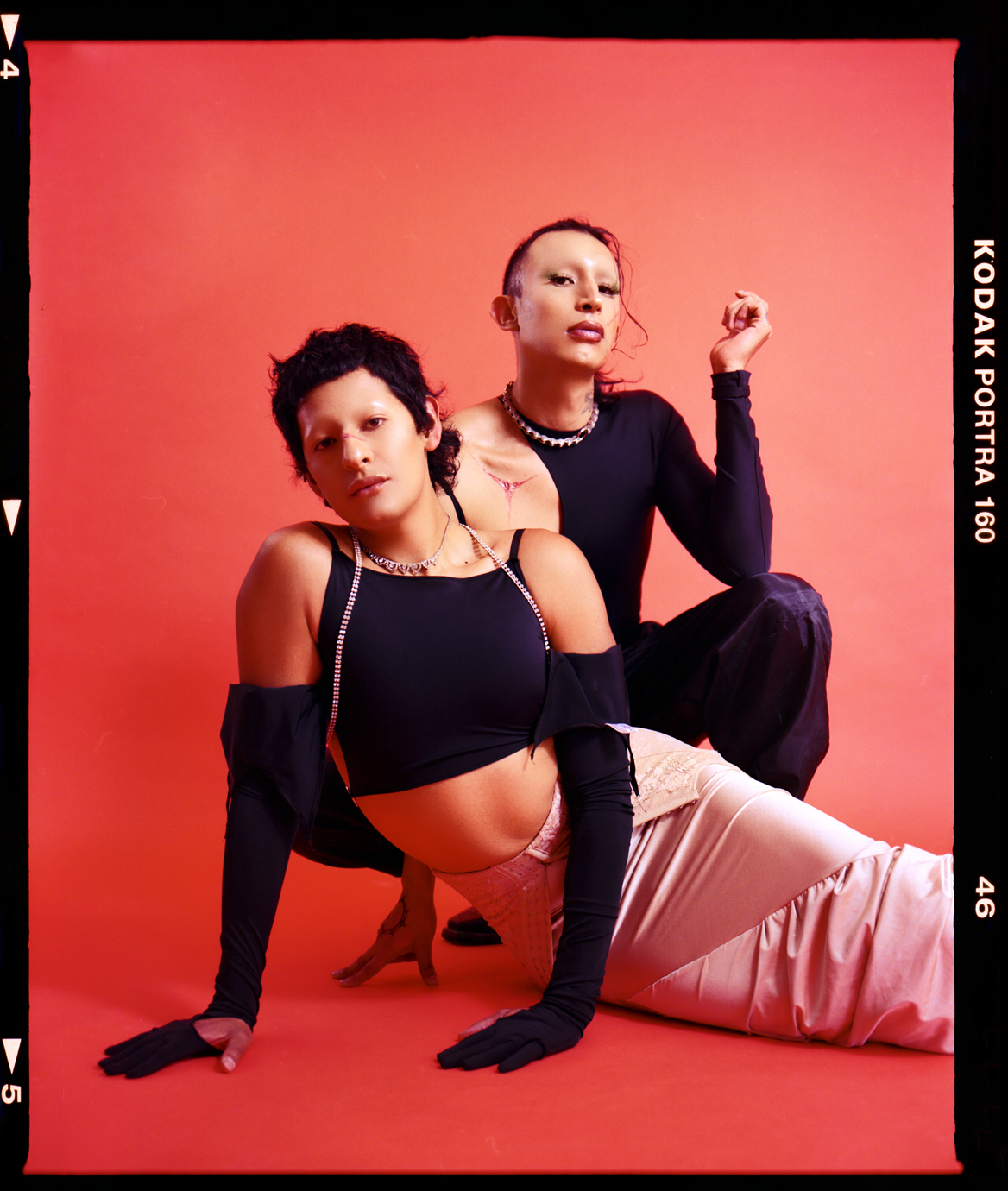 When the flight attendant approached Buazizi, they could not understand how she recognized them so easily. The airport was desolate apart from a few murmurs and echoing footsteps. Wary of the stranger, the reggaeton performer glanced over and noticed a piece of paper in her hand with their name written in black bold letters. They suddenly realized it was time to depart. So, they grabbed the boarding pass from the flight attendant, returned their attention to their tour and walked toward the departure gate.
When the dream ended, Buazizi was not about to catch a flight to perform across the country. In fact, their name was not Buazizi, but Fernando Ordoñez, a photographer who had been capturing Mexico City's underground warehouse- party scene since 2016, while imagining a career in reggaeton. With the assistance of their partner, DJ Guapis, they now began sketching ideas for a photo shoot and preparing their musical debut. If Buazizi was going to be real, if this was not just a dream but a premonition, what would the character look like? It turned out, they would dress like a stray cat, wear multiple capes and use lots of lip gloss. In 2019 their musical career had officially begun.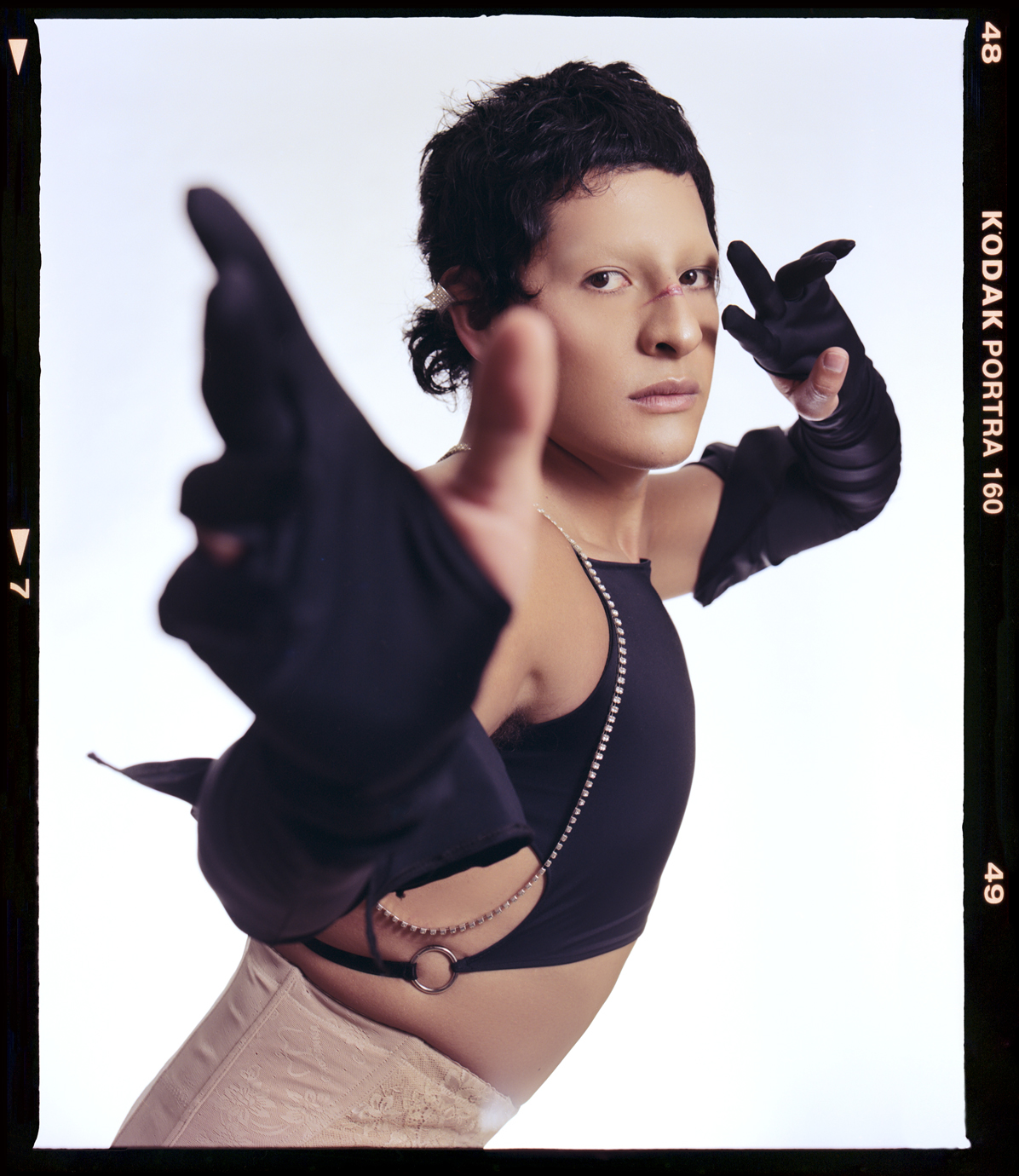 For Buazizi and fashion designer Alejandro Montes, two young creatives from the Mexican city of Ecatepec, the boundary between the world of dreams and the waking world—between desire and action—is permeable. A municipality of 1.5 million people in the sprawl of the Mexico City metropolitan area, Ecatepec is marked by poverty and is one of most dangerous areas in the country, where more than 1,000 women have been murdered since 2012. Through music and fashion, these two artists challenge the rigidity of the gender binary imposed on them by a heteronormative society that tries to dictate who they should be and what they should desire. Although they do not identify with the term queer, they experiment with gender pronouns and the plurality of the self. They remain firm in their artistic purpose and use their creativity on the battlefield of the so-called real world.
Like Buazizi with music, Montes, the creator of the clothing brand Ela, took a circuitous route to fashion. In 2011, at the age of 18, she had taken the admissions test to the National Autonomous University of Mexico, although she was already disenchanted with the prospect of pursuing an academic degree and a nine- to-five job. What she wanted from school was community, life experience, to meet people with similar interests, hang out on the lawn of Ciudad Universitaria and enrich her understanding of the world that way. In August of that same year, she received a rejection letter. So, she entered a vocational school specializing in patternmaking. There her classmates were not students in their early twenties but rather women in their forties who treated Montes as an equal. It took her one hour—two buses and five subway stations—to get to school, but the journey was worth it. Going to class was like going to a slumber party where women brought sweet bread and gossiped amongst each other. The collective support that she experienced in the classroom made her realize that fashion design could become her profession, an avenue for intellectual and creative exploration. She began visualizing and sketching, presenting a fully developed clothing line as her final project. Through rejection, Ela was born.
In 2019 Buazizi released their first two singles, "Momento'' and "No pares." Shifting back and forth between hypnotically pounding and melodic rhythms, these songs explore queer eroticism through reggaeton. In "Momento," for example, Buazizi asks their partner whether it is the right moment to make a move, while they're dancing perreo (a grinding dance style associated with the genre)—consensual sensuality on the dance floor. The music video for "No pares," on the other hand, portrays a sexual fantasy, a group of sex workers partying in the middle of the street. The camera catches glimpses of male passersby staring at the women, who are kissing each other, caressing one another and walking confidently around the neighborhood of Doctores. Although celebratory and amusing, these fast- paced scenes capture the unsettling feeling that femme presenting individuals experience in the street, trapped by the hypersexualization of the male gaze and the threat of femicide. The video gives visibility to the attraction that cisgender men feel toward transgender women, which in Mexico and other parts of the world is simultaneously erotic and taboo.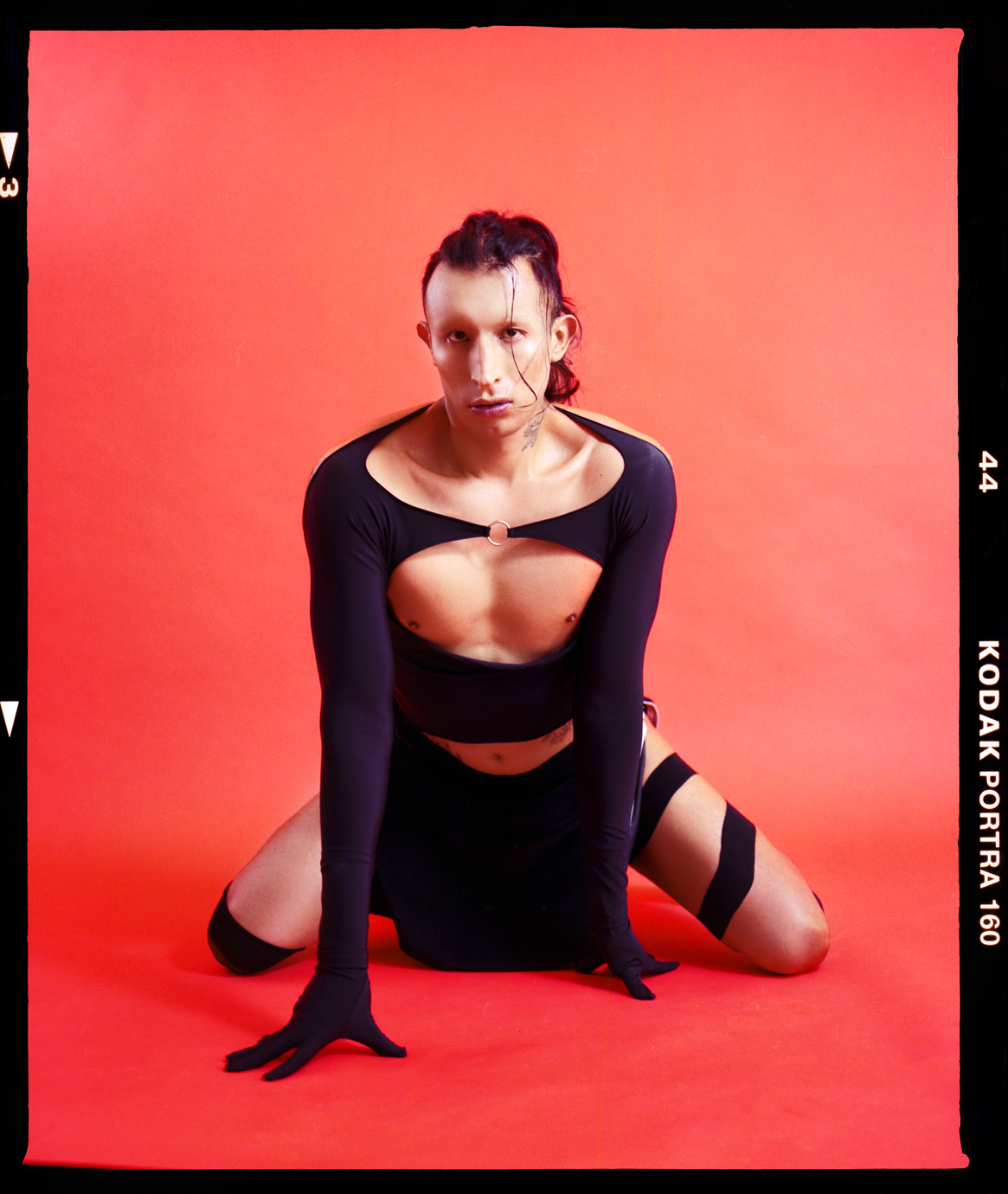 Similarly, Fruit Tree—Ela's first collection, launched in 2018—reevaluates the multiplicity of erotic desire. Montes designed each garment with a specific person in mind, giving them names of friends such as Erika, Mitzy and Tosh. The collection ranges from miniskirts with slits on the side, thongs with metallic hoops, and see-through crop tops—all without a predetermined gender in mind. These clothes instill in the wearer a positive body-image, a whole-hearted embrace of the self. They reveal bits and pieces of the body in ways that defy the expectations (while acknowledging the inevitability) of undesired onlookers: some of them include embroidered sexually provocative silhouettes. Fruit Tree, in other words, is a direct response to the reality that most women and non-gender-conforming individuals experience in Mexico City and its surroundings. When her sister leaves home, for example, Montes tells her to keep her taser in the front of her backpack.
During a phone call, Buazizi and Montes emphasize their shared inspiration in gender politics, nightlife and the city's sometimes hostile landscape. "People have told me that listening to music makes them feel safe," Buazizi says, "especially when walking in the streets alone." But they refuse to be intimidated; the dream world of the city is there to be navigated. "I always tell my friends," Montes says, "that as long as they have their phone, charger, driver's license, passport, headphones and cash, then they are ready to step outside."
Buazizi does not write songs with a fixed idea in mind. Instead, they merge their dreams with politically potent real-life situations—instances of racism, classism, gender-based hate crimes and police brutality. The outcome is a dystopian representation of the life of the city. They manage their career with a powerful conviction. They do not work with anyone who exhibits a misogynistic, homophobic or transphobic attitude. Currently, Buazizi is producing a new EP for which they've tapped a range of collaborators: Chilean DJ Paul Marmota, who has previously worked with performers like La Zowi, Yung Beef and Bad Gyal; Colombian Gothic reggaeton performer Skellita and the Mexico-based queer performer LoMaasBello. The new songs will explore dreamier themes—nightlife, hotels, magic spells and rituals.
For Montes, the nighttime, more specifically the parties that occur at night, are the ultimate escape—the nirvana, the therapy session, the dream no one wants to end. In March, Ela presented Fruit Tree II, a continuation of the first collection. That is how the label operates, weaving together former ideas that are then reworked and reimagined as an exercise for growth. While Fruit Tree I focused on celebrating the diversity of bodies, Fruit Tree II takes a step further. It seeks to deconstruct the idealization of bodies by giving priority to asymmetrical patterns: the skirts and tops that once revealed a person's sexual essence now wrap, mold and give new meaning to the body. Montes used recycled materials from the previous collection, such as mesh, cotton and spandex that could stretch and, therefore, alter the physical appearance of the wearer. "Like oranges inside a sack of fruit," she says.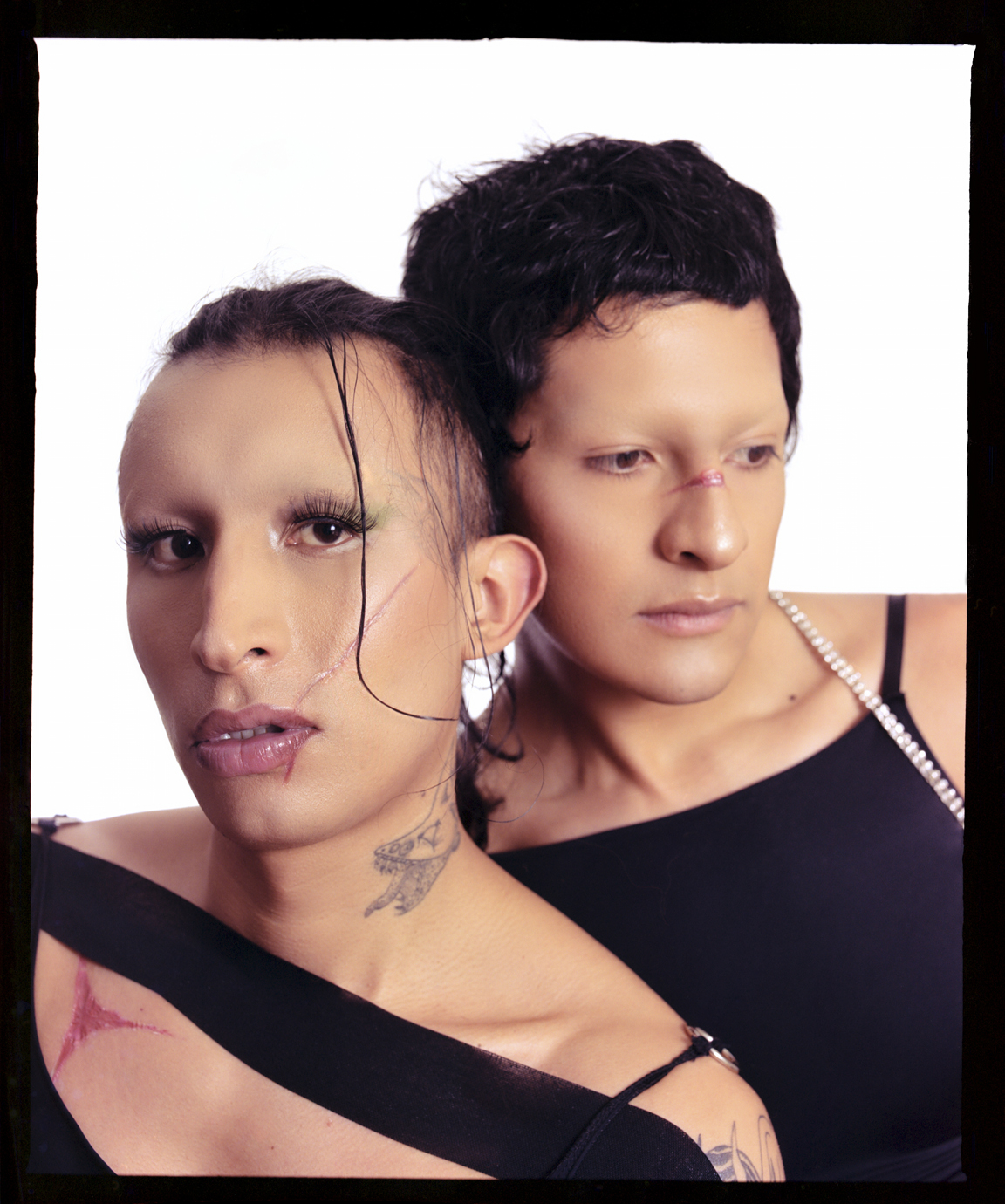 In compliance with COVID-19 regulations, Ela is launching a virtual showroom to celebrate the Fruit Tree II collection. The showroom features an avatar, created by graphic designer and artist Oswaldo Erreve, acting as a model walking down a catwalk for an invisible international audience. Montes hopes that by interacting with the avatar, people outside of Mexico can become acquainted with the brand's central message: to question our preferences, vulnerabilities and beliefs through clothing.
Even as their efforts are bearing fruit, artists like Buazizi and Montes face numerous obstacles. This is one reason why the censorship of queer communities online should be worrisome, especially when the work of artists like Buazizi and Montes—who have been shadow banned from platforms like Instagram—is at stake. Without access to virtual platforms, artists outside advanced capitalist economies are bound to be marginalized. They cannot depend on social-media networks which replicate systems of oppression; they need communities that uplift, consume and support their work.
Buazizi did not plan a career in the music industry, and Montes did not intend to be a fashion designer. Both of them possessed the desire to explore these pathways—sometimes in secret and other times shared with loyal confidants—but their living situation told them otherwise. The probability of earning a living or achieving success appeared minimal. Life had to speak to them through hidden messages, presenting them with dreams masked as revelations and triumphs disguised as rejections. Everyone dreams—at night, with their eyes closed, with their eyes opened, during a car ride, just before the alarm goes off. But maybe you have to be a little crazy to reject the conditions of your reality and bring your dreams to life.
Craving more culture? Sign up to receive the Cultured newsletter, a biweekly guide to what's new and what's next in art, architecture, design and more.