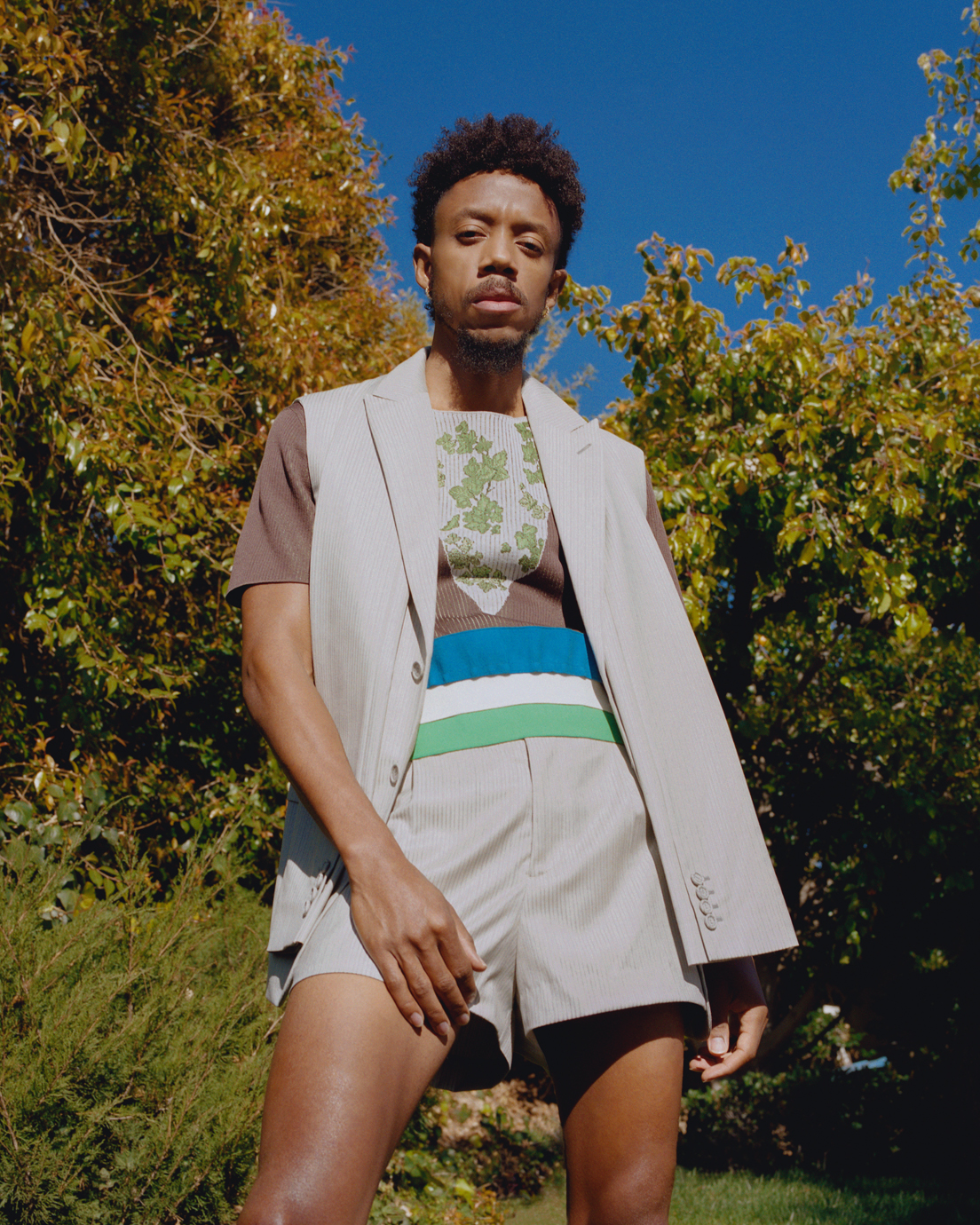 Darrell Britt-Gibson
Darrell Britt-Gibson has spent his career surrounded by giants. From his first appearance on The Wire to his memorable part in Three Billboards Outside Ebbing, Missouri, the actor has worked with some of the most celebrated talents in Hollywood. But with his recent project Judas and the Black Messiah, starring opposite big names like Daniel Kaluuya and Martin Sheen, he takes a backseat to another big name: Bobby Rush, the cofounder of the Illinois chapter of the Black Panthers, a longtime congressman and the man Britt-Gibson plays in the film.
"There's just a tremendous responsibility that comes with portraying someone like Mr. Rush," the 34-year-old actor says. "We're playing with real people's lives, and we owe it to them to give it our all and leave nothing on the table, because that's what they did in real life." From the minute he set foot on set, Britt-Gibson knew this wouldn't be just another movie, that instead it would be a tribute to Black history, a testament to battles fought and sacrifices made and an opportunity to right the record about the Black Panther Party. "Because the history books have wiped the Black Panther Party and who they were, now there's this piece of art, which is just a two-hour film, but the hope is that after people see this movie, they'll be inspired to go do their own research and want to find out what the Panthers stood for and how they did it," he explains. "This will be here forever—for generations coming up now and after that and after that—and this film will take on a life of its own."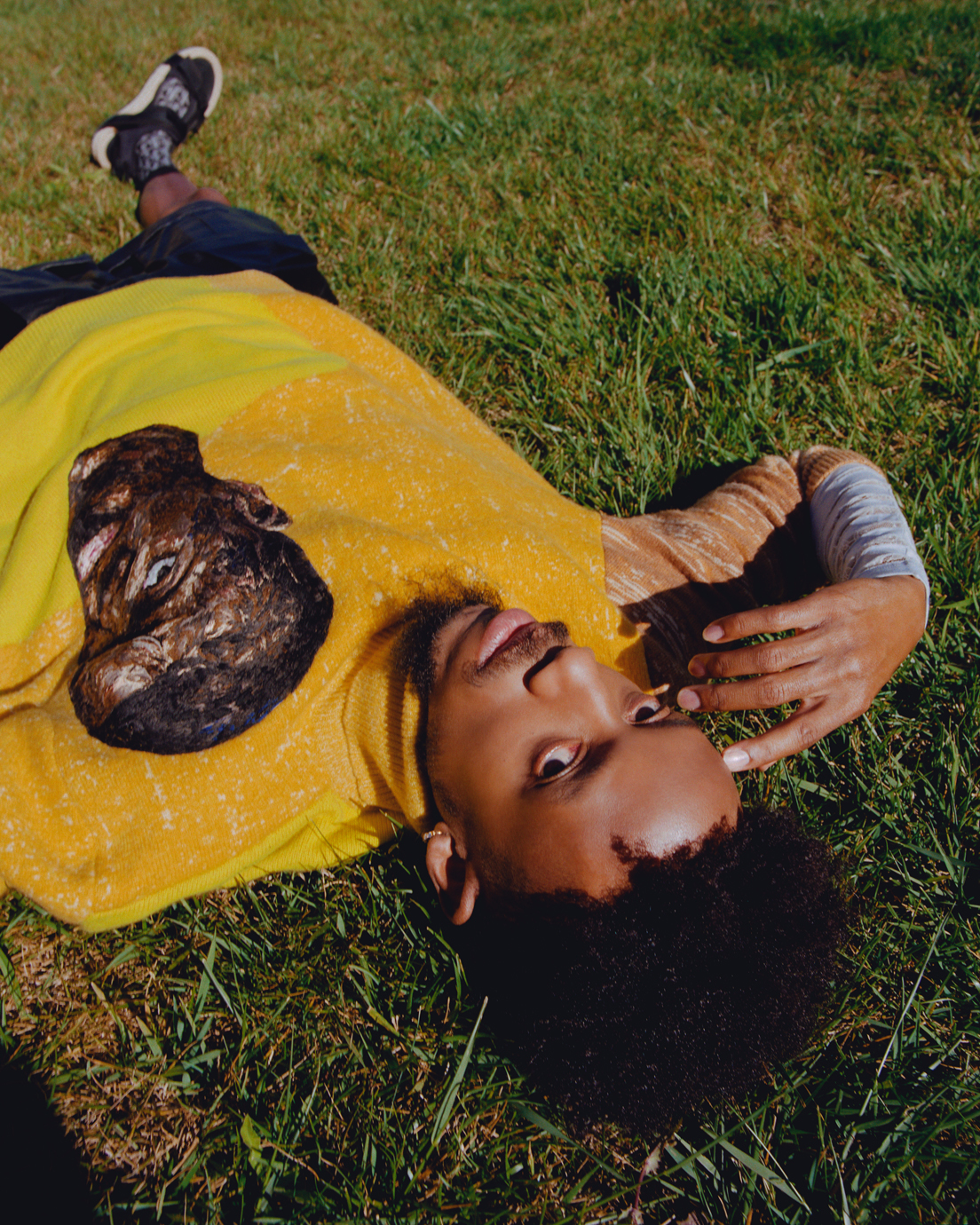 Though Judas is set in 1960s Chicago, the actor can't help but notice the many parallels it has to today's America, and more than half a century after Fred Hampton and his contemporaries were unjustly targeted and attacked, Britt-Gibson hopes that the country can finally come to terms not only with its checkered past but also with its present. "52 years ago, Chairman Fred Hampton was assassinated in his apartment while he slept, and last year, Breonna Taylor was assassinated in her apartment while she slept. And in both cases, no justice has been served," he says. "When you're Black, this is nothing new to you. This fight has been a forever fight for us."
While he says Hollywood awards and accolades don't mean much, Britt-Gibson still believes that the inclusion of Judas among them is ultimately a good thing. "Being nominated for Best Picture forces people to watch this film, and it forces them to have those uncomfortable conversations," the actor notes. But beyond that, he thinks those conversations have the potential to lead to real change. "There are not two Americas. There is one America, and we all live in this one America, where people who are Black and Brown are not treated fairly," he says. "You can't hide from it. We are all here, and this is the America that we all live in, so let's have these conversations and create some actual change."
Max Minghella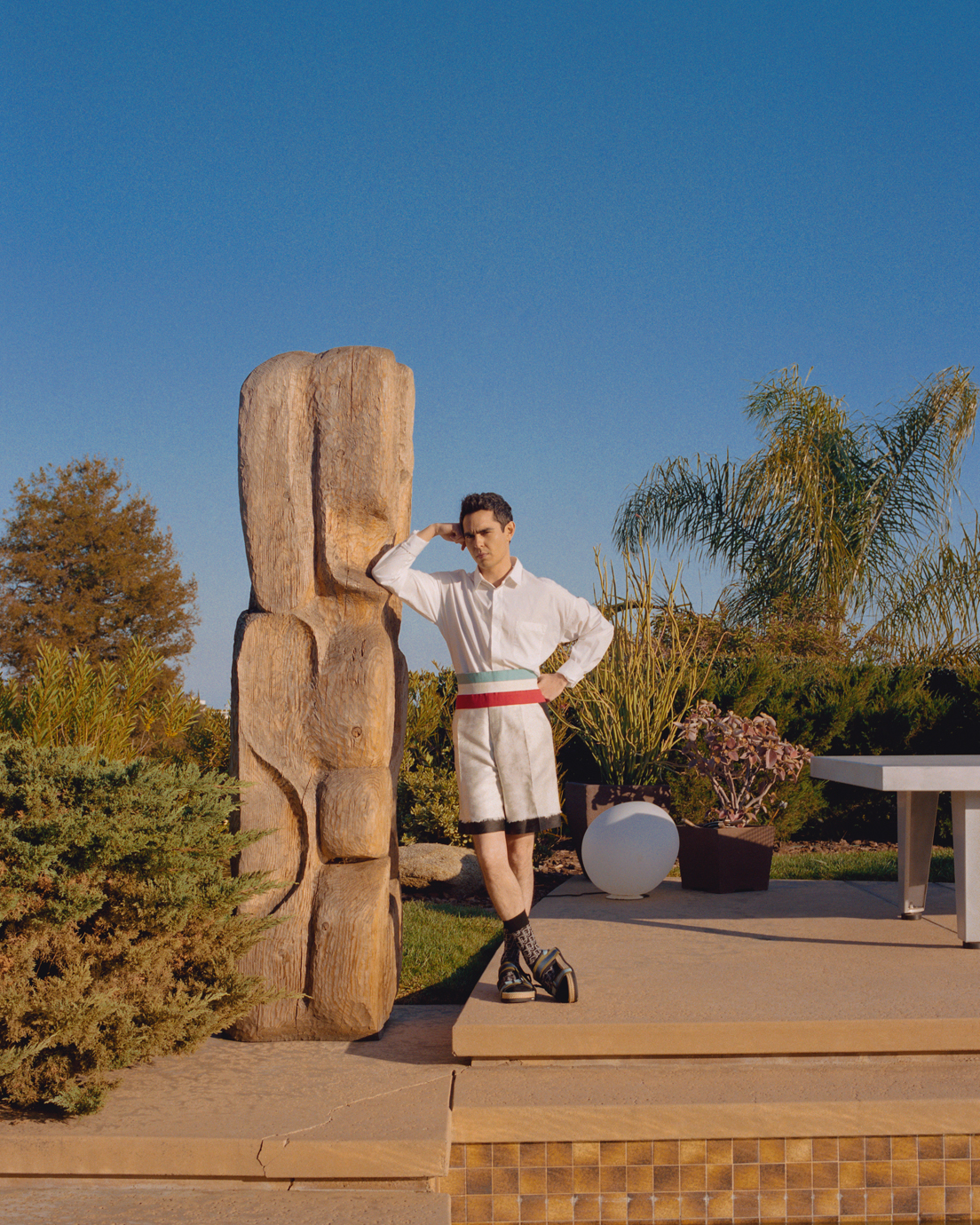 When Max Minghella considers a new part, he doesn't dream up a lengthy backstory for the character, nor does he contemplate how he'd play the role or even whether it would advance his career. Instead, he looks at what surrounds it—the writing, the directing, the actors cast alongside him—and decides if the project is holistically something he'd like to be a part of. If it is, the part doesn't matter, and he'd play a waiter with one line just as soon as he'd play the leading man.
It's this approach that led to his roles in David Fincher's The Social Network and George Clooney's The Ides of March early in his career, and it's what convinced him in 2017 to play Nick Blaine in The Handmaid's Tale, a part that has since defined Minghella's career. "When I act, sometimes maybe to my detriment, I really try to serve the overall movie more than myself," he explains. "I have a lot of friends who are brilliant actors, and I know when they think about taking a role, they tend to think about the character, but it's very difficult for me to think from that point of view, which may have to do with my origins as a person."
As the son of award-winning writer and director Anthony Minghella, the 35-year-old actor has been enveloped by film his entire life. He was privy to the worlds of editing and post-production from a young age, and while his contemporaries were combing the pages of To Kill a Mockingbird and Lord of the Flies, he was busy reading his father's drafts of The Talented Mr. Ripley and watching The English Patient for the umpteenth time.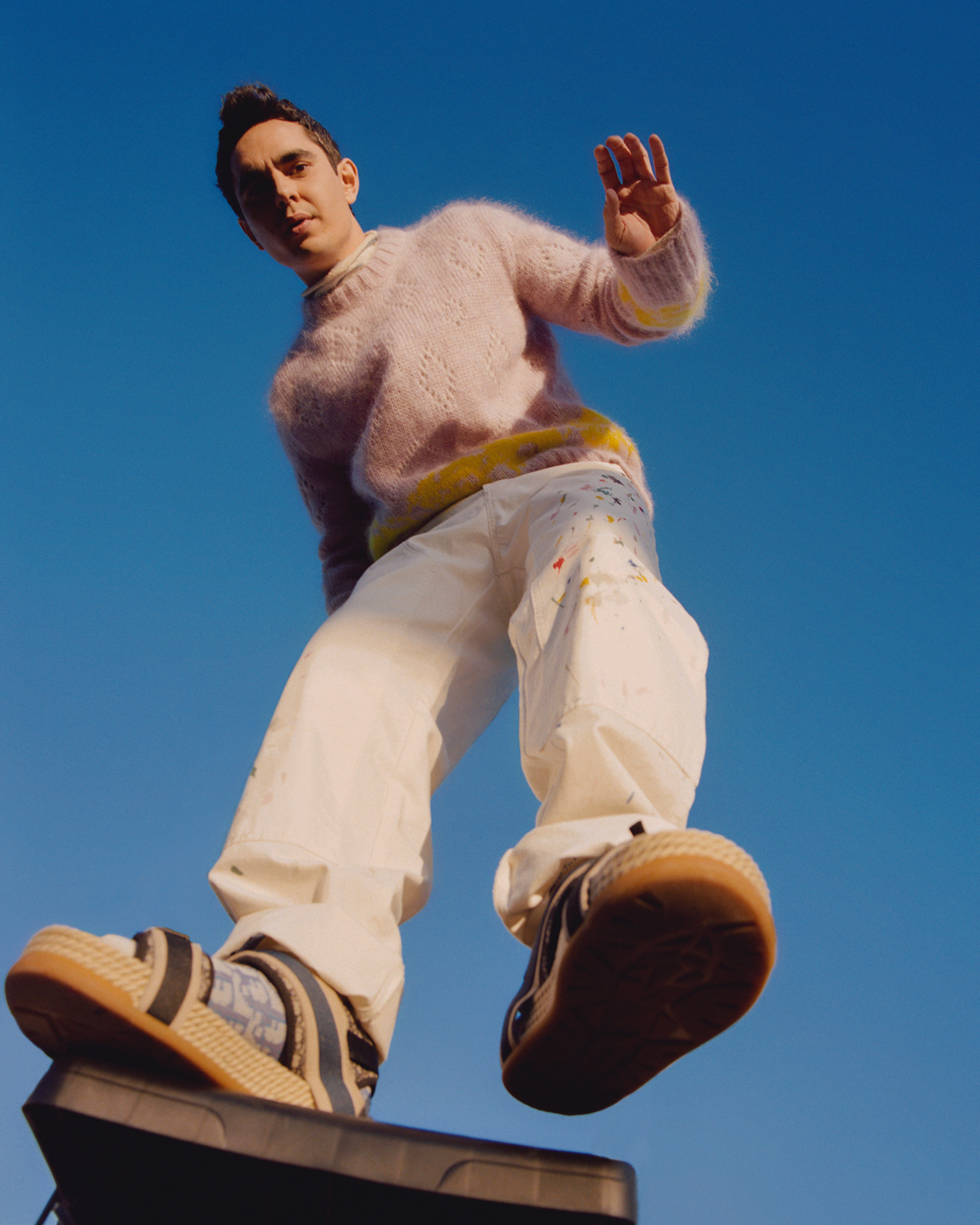 Despite his obvious interest in filmmaking though, Minghella's parents urged him to stay in school. "It was an ongoing battle with myself," he remembers. "I think there was half of me that wanted to please my parents, but I also knew that I was fairly stupid and not academic and really only cared about movies. And it took me a long time to sort of make peace with that." When he was 17, however, Minghella saw a production of Kenneth Lonergan's This Is Our Youth in London's West End and realized his undeniable passion for acting. "I had always known that I wanted to work in film," he says. "But weirdly, I don't think acting was really on my radar at all until I started doing it professionally."
In the years that followed, Minghella appeared in various blockbuster and indie films alike and began making a name for himself as an actor. But along the way, he rediscovered his childhood fascination with working behind the screen, and in 2018, wrote and directed his first film, Teen Spirit. "For me, it all has to do with chapters of life," he says. "I think in my twenties, acting really made sense for me. You're trying to find yourself as a person, and acting is such an expressive way of doing that and exploring facets of your personality. But as you get a little bit older, I think you look for a different kind of autonomy."
With some directorial experience now under his belt, Minghella feels it comes more naturally to him than acting does, but he insists that he enjoys them both equally. Following the success of Teen Spirit, he, alongside his best-friend-turned production-partner Jamie Bell, had big ideas for more projects—but as the COVID-19 pandemic unfolded, it became clear that the world had other plans. After a year of writing and producing from home, though, 2021 is poised to be a substantial year for Minghella, with the fourth season of Handmaid's Tale premiering in late April and his latest movie, Spiral: From The Book of Saw, hitting theaters in May. And even as the fate of film post-pandemic remains uncertain, the actor is convinced the industry will return bigger than ever. "Maybe it's just my naive optimism, but I believe the theatrical experience will return, and I believe that there's something essential about cinema," Minghella says. "That's why, right or wrong, even as TikTok and video games and streaming explode, I still believe in telling these stories and these experiences on the big screen."
https://vimeo.com/542696889
Craving more culture? Sign up to receive the Cultured newsletter, a biweekly guide to what's new and what's next in art, architecture, design and more.