 After over a year of waiting to be seen by the public, the Los Angeles biennial "Made in L.A. 2020: a version" will open this month, on April 17. This has already been a much anticipated and special version of the multidisciplinary exhibition, as it is the first time it extends past the doors of its original Hammer Museum host and brings The Huntington with it into the future. In December 2020, I had the pleasure of viewing both iterations, which was already a new experience of connecting the dots from one site to the other. Before the experience, I had not been in a museum for almost a year. I was excited to have the opportunity and felt as though I was being shown a forbidden or censored collection of artifacts from the year that turned the world upside down.
Taking tours with no one in the museums definitely left an impression. The front entrances were closed, and each gallery had to be unlocked as the tours moved forward. It was eerie. I could not touch installations that were meant to be touched, or people watch while taking a breather from concepts. Empty stage-like areas built within the galleries piqued my curiosity: what was supposed to happen here? I reached out to the biennial's curator of performance, Ikechúkwú Onyewuenyi, to see if he could help bring some of that inert energy alive. The public can be rest assured that though much time has passed, this program still resonates deeply.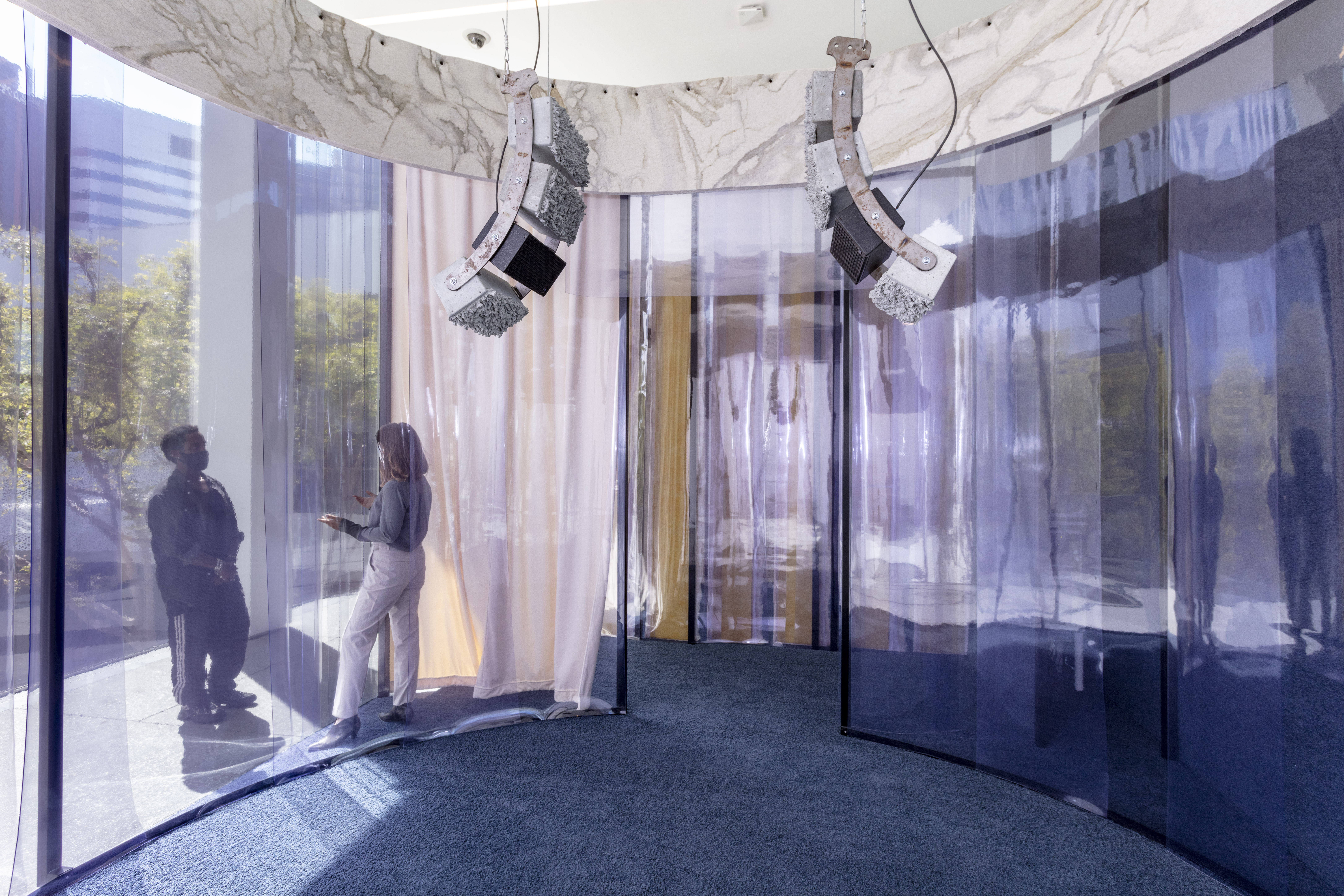 Storm Ascher: So you've been at the Hammer for a while now, but to be a curator of performance of a major biennial must be an interesting opportunity. How did that all come together?
Ikechúkwú Onyewuenyi: When they had selected the curators, Myriam Ben Salah and Lauren Mackler, Annie Philbin sat me down and said I would be the curatorial assistant and assistant curator of performance. It's a first for "Made in L.A." and the museum, really, to have a discipline-specific role. I think because of the feats of E.J. Hill and taisha paggett in the last "Made in L.A." in 2018, Annie was taken by the idea of performance having a notable presence within the exhibition. In this hybrid role I went on studio visits with artists and if performance was a subject of conversation, I would flesh it out with them in collaboration with Lauren and Myriam. It was a very collaborative process. For example, Jacqueline Kiyomi Gork proposed a work that went on to receive a grant through the VIA Art Fund. In that process we came up with a budget and a script for the project, and I presented it to Lauren and Myriam who presented the project to VIA. It was a real team effort.
SA: Was there a focus for you to specifically bring on Black artists or artists of color working in Los Angeles? Are you also very in tune with international artists because of your background as Australian and Nigerian?
IO: Someone once asked me, does being Australian and Nigerian inform you as a curator? Yes and no. Experiences in America have shaped what I'm doing now, but, at the same time, those experiences are colored by what I was reading and learning about when I was growing up in Sydney, from The Adventures of Tin Tin comics to Art Attack, the British TV series. So for this show I wasn't tasked with doing that work, but I think implicitly when museums hire curators of color, the person is somewhat tasked with introducing the museum to artists they're not familiar with. In my broader practice, I'm definitely thinking about providing that bridge by virtue of what I'm interested in, be it techno, dance, and house music or how queer culture and black feminist thought poke holes into what I think I know. But I'm also mindful of context and care, ensuring these artistic practices make sense within the museological frame.
You know, we always have to articulate when a writer is Black, and I'm still on the fence about this. Because when you say "the Black writer," it also suggests, 'who is that writer?' "The writer" is implicitly white. You have to qualify what the actor is, what the curator is, and I get it—it comes out of the somewhat misguided development of identity politics that deviates from what the Combahee River Collective articulated in the '70s. So while identity politics is here to stay, I'm a curator. And that's that. What I like may dovetail with my "race" or it may not. To draw from Michelle M. Wright, the physics of Blackness welcomes an expansiveness that allows us to do whatever we want—within reason, though.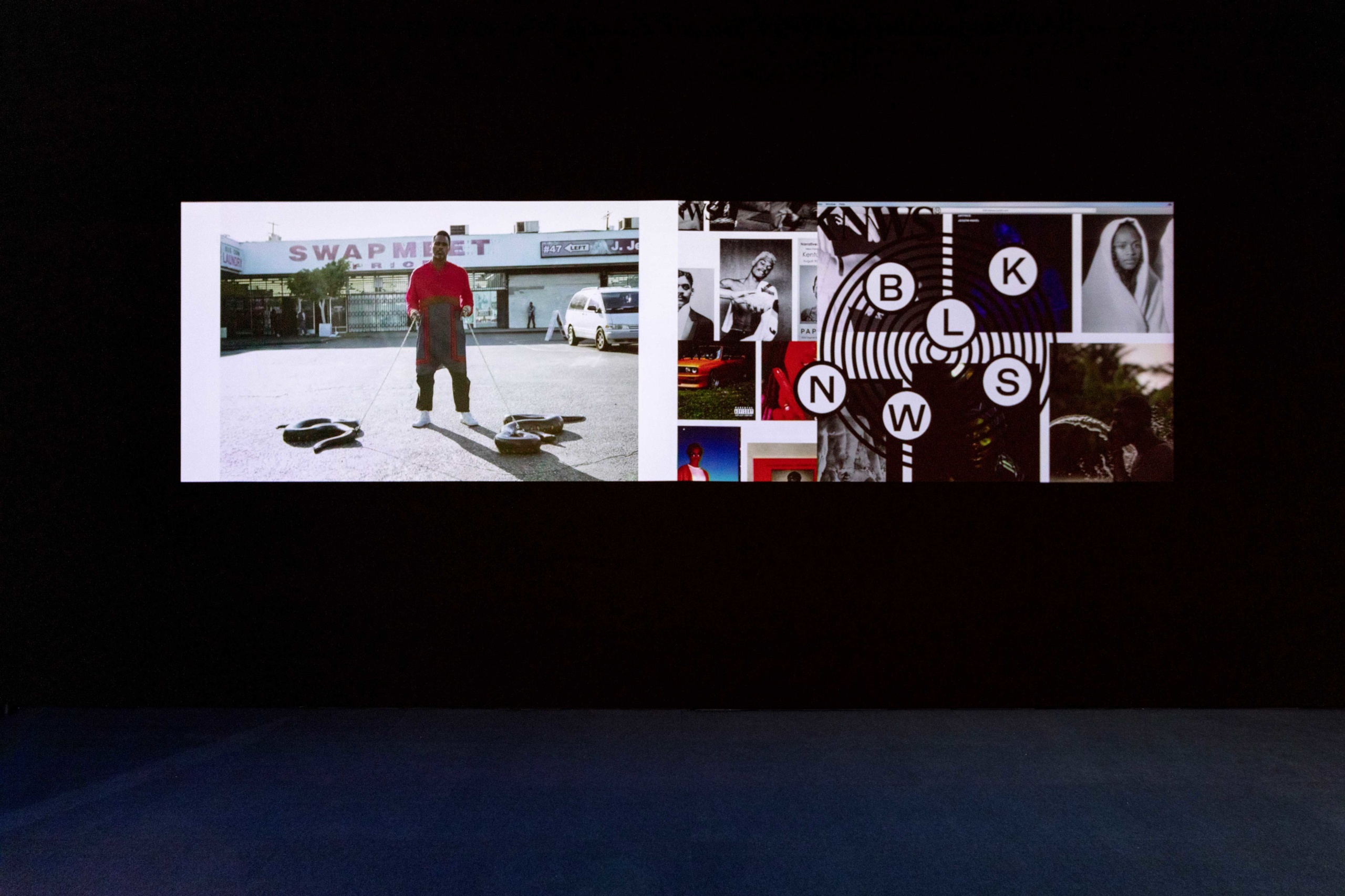 SA: A version of this show that takes place in The Huntington may be very different from how it takes place in the Hammer. Is that why you chose this title?
IO: When we were coming up with a subtitle for the show, I think one of them was "A-side, B-side," the idea of a record. This actually worked quite well with one of the throughlines within the show: entertainment as a tactic to distribute ideas. But we didn't want to lean into that. "A version" spoke to the two venues—the Hammer and The Huntington—and how one show was just another version of another show, which isn't trying to privilege either one. Because when you think about the history of A-side and B-side in music recordings, the A-side is usually the hit single tailored for radio, and then the B-side is maybe a throwaway cut or something to keep fans satiated. This logic just didn't work. Instead, we saw the two shows operating as two equally robust versions of "Made in L.A." But also every "Made in L.A." is really just a version of the same show—a survey of artists working in Los Angeles. Our version was no different although we had more pointed throughlines so it was part survey, part group exhibition.
SA: Luckily, there is a lot to experience, like BLKNWS by Kahlil Joseph. I could have spent the whole tour in that screening room. How have you incorporated his programming throughout Los Angeles?
IO: We collaborated with LAND (Los Angeles Nomadic Division) to get BLKNWS throughout the city. Kahlil had this idea of wide distribution in our early conversations, thinking about 1,000 sites initially. Then COVID hit and we realized we had to scale back so we prioritized sites as in Black and brown-owned establishments—spaces that have a communal resonance or relationship to The Underground Museum and Kahlil's sensibilities.
SA: And what about Kahlil's choices of curated media?
IO: The conceit of BLKNWS is driven by a host of things, but I think key among them is Kahlil's belief that what is news is ultimately what is new to you. The project not only disturbs what gets considered newsworthy, but it troubles expected ideas of Blackness. This polyphonic feel to Blackness is reflected in the varied source material, from social media to actual news footage, that populates BLKNWS. It's a variability that welcomes an oblique read to Blackness. For instance, in one of the broadcasts there's a music video for Björk's song "All is Full of Love", and for me, on the surface, that's not identifiably Black. But I'm a huge Björk fan. And also a fan of the Kenyan sci-fi short Pumzi. Those two loves can sit side by side, exposing new connections and shifting authoritative narrative on say cyborg feminism. Even in the spelling or misspelling of BLKNWS, it speaks to how you can misread Blackness and in that misreading something generative can emerge. SA: For me, The Huntington location of the show had a physical set up defining masculinity in quite an interesting way. I felt an intentional juxtaposition of different wavelengths of masculinity, breaking down the monolithic expectations of what we think men should be. Nicola L's moveable couch, Patrick Jackson's self-portrait sculptures next to Zenobia in Chains, Reynaldo Rivera's photographs, Buck Ellison's still lifes—they were all placed beautifully and created this "aha" moment.
IO: Yeah, I think you've picked up on something interesting that's come about through the installation. In the case of Nicola L.'s work, the moveable nature of the couch invites a play with gender and body. If we see both gender and the body as stages that are furnished, how do we employ décor to perform the two? It becomes a matter of embellishment mixed with camp and critique, in a way, since the scale, form and humorous nature of the couch disarms these heady provocations that were at the heart of the social and feminist movements of the 60s and 70s speaking to Nicola L. So while there's something comical about sitting on this cut up couch that represents a man, that it's also functional furniture and makes us think: what does the body do? How does it function for one's identity? Is this body working for me or not? And if it's not working for me, how can I change it? The humor that permeates Nicola L.'s work spills over into Reynaldo's surrounding photographs. There's a lot of merriment in these images of house parties. Rey has documented a community of queer Black and brown folks hanging out, gathering, partaking and finding joy in neighborhoods such as Echo Park, Silver Lake. That we don't associate these enclaves of L.A. is a saddening erasure. But it's fortuitous to recall these moments of queer nightlife within domestic spaces allowed people to be themselves and/or perform a self they were coming into.
It's beautiful that you caught that throughline from that room with Rey and Nicola L. all the way down to Harriet Goodhue Hosmer's Zenobia in Chains. Running with this masculinity thread, to the left of Zenobia you see the legs of one of Patrick Jackson's sculpture's Head, Hands and Feet. These sculptures— made up of prop parts—lie supine. Patrick was thinking about how these male figures are tied to an American archetype of violence, from Charles Manson, Bob from Twin Peaks, Charles Starkweather, and John Philip Walker Lindh.
There's this beautiful essay by Kemi Adeyemi in the journal Women & Performance where she writes about this idea of the 90 degree angle and how for Black and brown folks and women, a lot of the time you're existing away from the 90 degree—the vertical—and incapacitated and dead at 180 degrees. But before death, you're always leaning, bending. In comparison, the white, male body has this presence of being upright or "caught up in the world," to reference Sara Ahmed, because they know they'll be caught if they fall. All this wasn't necessarily top of mind when we were laying out the exhibition, but, given your question, it's things that are salient.
Within this sightline you also have the work that Monica Majoli did in close collaboration with the Blueboy Archives & Cultural Arts Foundation, as well as Buck Ellison's photograph of women lacrosse players. The physicality of the sport is plain as day in the image. But the boarding school context of the match offsets this combative tenor with one of constructed sophistication. I think there are a lot of pieces that are tugging and pulling at masculinity, gender expression, and how a body functions based on social expectations.
SA: Sabrina Tarasoff's Beyond Baroque in The Huntington… now talk about completely shifting their modus operandi. What was the collaboration with The Huntington like logistically?
IO: It's interesting you mentioned masculinity and the show: you can even extend that to the site itself. And I think this context is important before delving into Sabrina. Henry E. Huntington was a railroad magnate and real estate tycoon who amassed this wealth, built a mansion in San Marino (now The Huntington), and put together these gardens through his travels. It makes you question, what is the purpose of this garden alongside the library archives that hold a whole lot of violence? Does the garden almost temper or tame these huge architectural and archival behemoths that come out of an imperial impulse? On the surface, yes. The gardens are stunning and you can come here just for that. And at the same time, I don't want to romanticize the garden, because I think the garden also is an area that has been policed. It's complicated because the history of gardens comes out of an aristocratic desire to be outside but also maintain social exclusivity. So while the archives hold rich cultural history that I'm grateful for, it's not lost on me that Pasadena has been a stronghold of anti-Black and Asian racism since the early 1900s. It's peculiar, but not surprising, how this institution established for cultural edification exists in a community spewing with physical and structural violence against people who differ from whiteness.
In terms of Sabrina's transforming of the space into a homage for Beyond Baroque, it was definitely new for everyone at The Huntington. To pull it off Sabrina tapped Zion Fenwick at Twisted, an immersive content studio based out of Highland Park who have been building haunted walkthroughs for a long time. I think it's interesting when you have this knowledge that comes about through an ad hoc, hands-on approach to building things alongside architects, engineers and electricians who want a draw up of every detail—and for good reason so building and safety codes aren't violated. The Twisted team said, 'we know how to do it, we may not be able to draw it out but we've done this before, just trust us.' But institutions, given the liabilities that they move with, don't work in that intuitive manner. Witnessing this butting of heads with these two ways of knowing was challenging to mediate for Lauren, Myriam and me. In the end, though, I think the brilliance of haunt speaks to these two approaches to knowledge finding a common ground.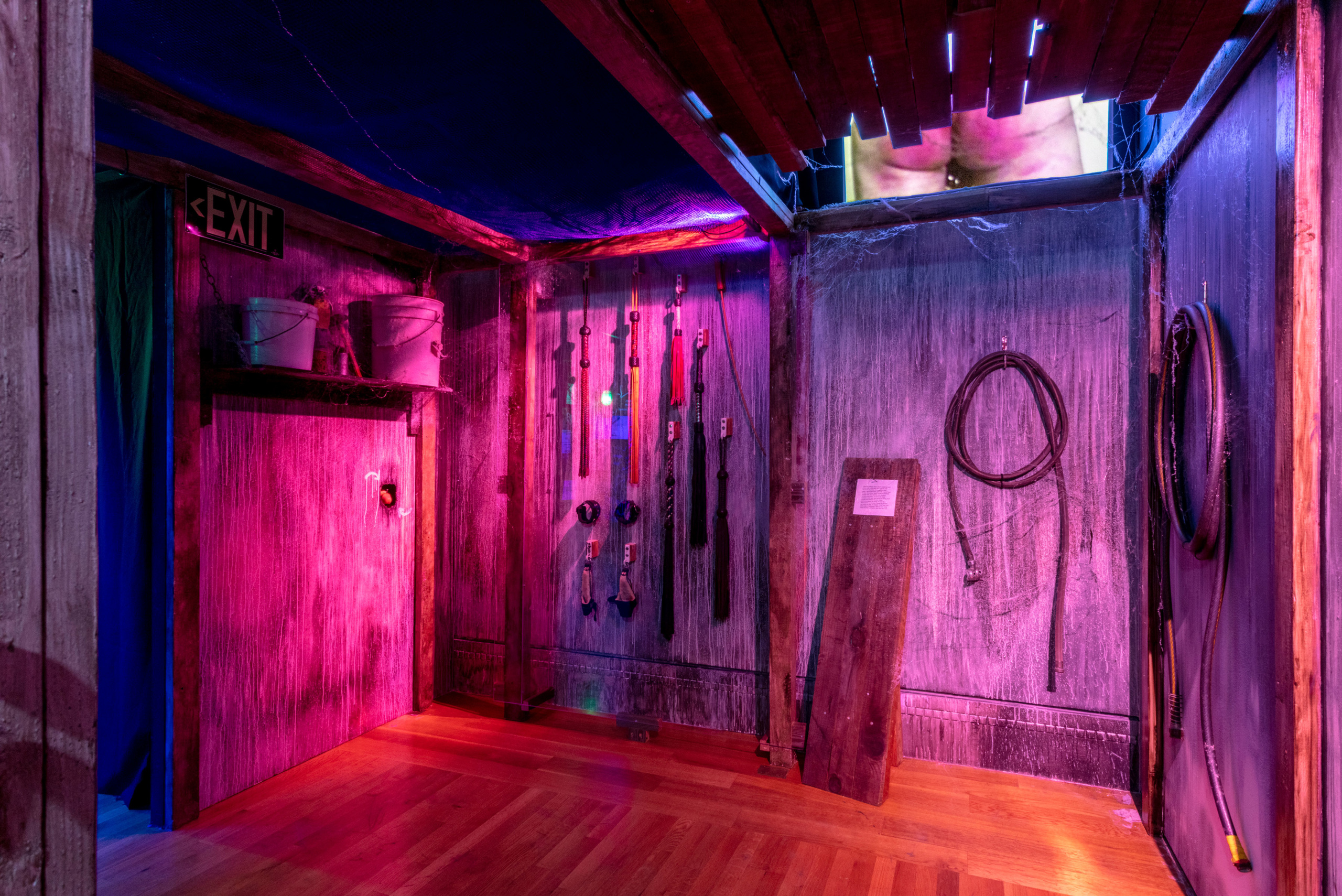 SA: I had been to The Huntington so many times before… I go with my grandparents, they just like to get a coffee and walk around or look at the bonsai trees. So to come out of a haunted house there was just phenomenal. Things are moving.
IO: Sabrina, Zion and the whole team at Twisted did the damn thing. They were really ambitious. Like I said, in some ways, The Huntington as a venue was a challenge. I knew we would come across some of these predicaments or roadblocks since the institution is not used to working with living artists. They've begun the recent /five series, a five-year commitment to contemporary art collaborations, so they've been readying themselves for "Made in L.A." All in all, though, both parties—Sabrina/Twisted and The Huntington—were really excited about the show and stuck it out despite differences.
But once the work for the haunt started arriving I had a sense this was almost too contemporary for The Huntington. Case in point: There was an issue around the performance video 100 Reasons wherein Bob Flanagan gets paddled by his partner Sheree Rose while Mike Kelley read from a section of his book, Plato's Cave, Rothko's Chapel, Lincoln's Profile. Despite the consent within this BDSM performance, it drew discomfort from the folks at The Huntington. But then, what wasn't a source of concern was Kandis Williams's evocative collage work neighboring the haunt, which includes very graphic images of Black violence woven alongside an inquiry into how invasive species can get relabeled as "successful" depending on the purposes they serve to preserve other species. How Kandis pushes analogies through these collages is brilliant and deserves further consideration. But the violent, colonial undertones to botany are there if you sit with it. And I think that's the insidious yet beautiful way progressive tendencies fail to see their own racial violence. We need to sit with the opaque. Instead, and going back to 100 Reasons, the conversation that transpired was the fact that Bob Flanagan being paddled was a violence that The Huntington didn't want to witness. But it begs the question, what type of violence is palatable for white audiences?
For me, it was notable how the whole collection, even the archive itself, carries with it a violence that gets concealed by the beauty of the garden and the grounds, as well as the excess of its holdings. It was an interesting negotiation in terms of seeing a museum that has this history try to catch up with the times and remediate not just what is within their archives and shown within their galleries, but to prepare their audiences to sit with those uncomfortable feelings that may arise when viewing work that speaks to "contemporary" cultural practices although BDSM has been around for quite some time.
SA: Overall, you think of The Huntington as a family gathering place, or catering to older people that like modern art. But at the end of the day, contemporary has now been around a while. Even the oldest audience member should know about this stuff, and probably does.
IO: Letting people know that there will be nudity and violence through warnings, that way they can elect to watch it or not. One of the ideas for us in the show was this distribution of ideas, and how institutions like the Hammer and The Huntington can move ideas. Allowing people to choose how they engage those ideas is one thing. But, more importantly, is to put the ideas out, contextualize them to the best of their ability, and then they can make their own opinions. You're not going to like everything in the exhibition and that's okay. But censoring or being squeamish is not how you're going to get people thinking or imagining otherwise worlds. Rather, what if when we were feeling uncomfortable, we just sat with that emotional unease, paid attention to where it coursed through our body and just noted it. Don't act on it immediately because that's when you get these defensive, white fragility responses that get us nowhere as a society. Note it and come back to it. And continue to note it whenever it comes up and start asking yourself where this unease is coming from. That's how visual culture can push cultural conversations forward.
That said, I think that The Huntington has come along for the ride. I give them credit for that and appreciate the learning and unlearning they're actively engaged in.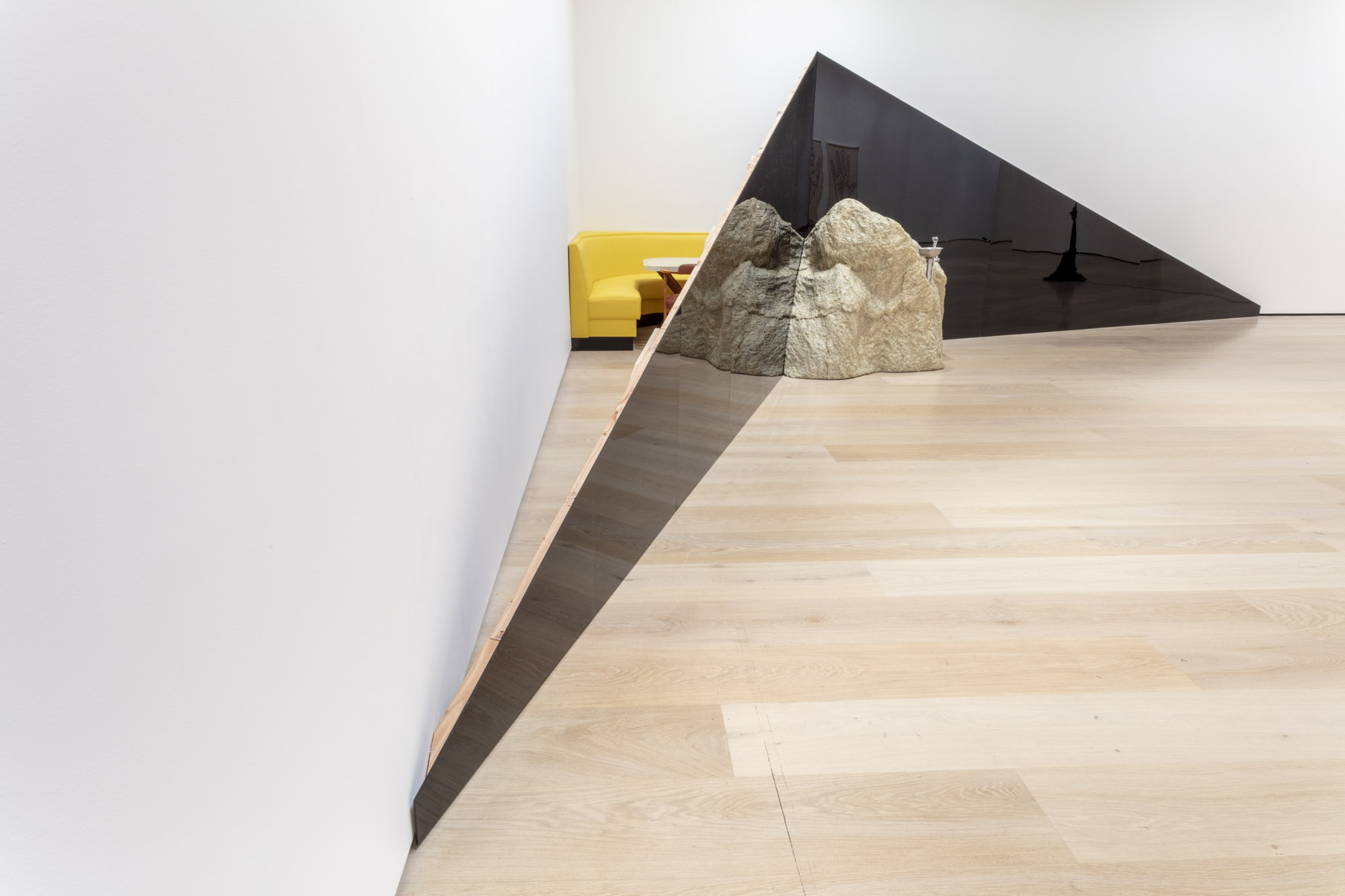 SA: Do you have any advice for emerging curators to work towards being able to produce something like this?
IO: Having a point of view helps, which is something I learned a lot from Lauren and Myriam. They had a vision and they went for it. It was ideal to work with them because biennials can oftentimes be a drab survey of the greatest hits. But we endeavored to do something with a cultivated thesis that was developed in close collaboration with the artists.
The path to working on "Made in L.A." takes some time, but as a start I think being in artists' studios, getting a pulse on what folks are thinking about in relation to their practice and culture at large, and then connecting the dots. How you present those dots doesn't necessarily have to be in an exhibition. The curatorial can emerge in an array of platforms, from writing to a conversation series.
SA: What kind of statements are you making?
IO: I think through my writing I'm making various statements. As an emerging curator, sometimes you may not get access to space. In the absence of space, you have words, which is something that Adrienne Edwards, my mentor back at Performa, would tell me: If you can write out your ideas, then you ensure that you catch any gaps, any blind spots.
Craving more culture? Sign up to receive the Cultured newsletter, a biweekly guide to what's new and what's next in art, architecture, design and more.