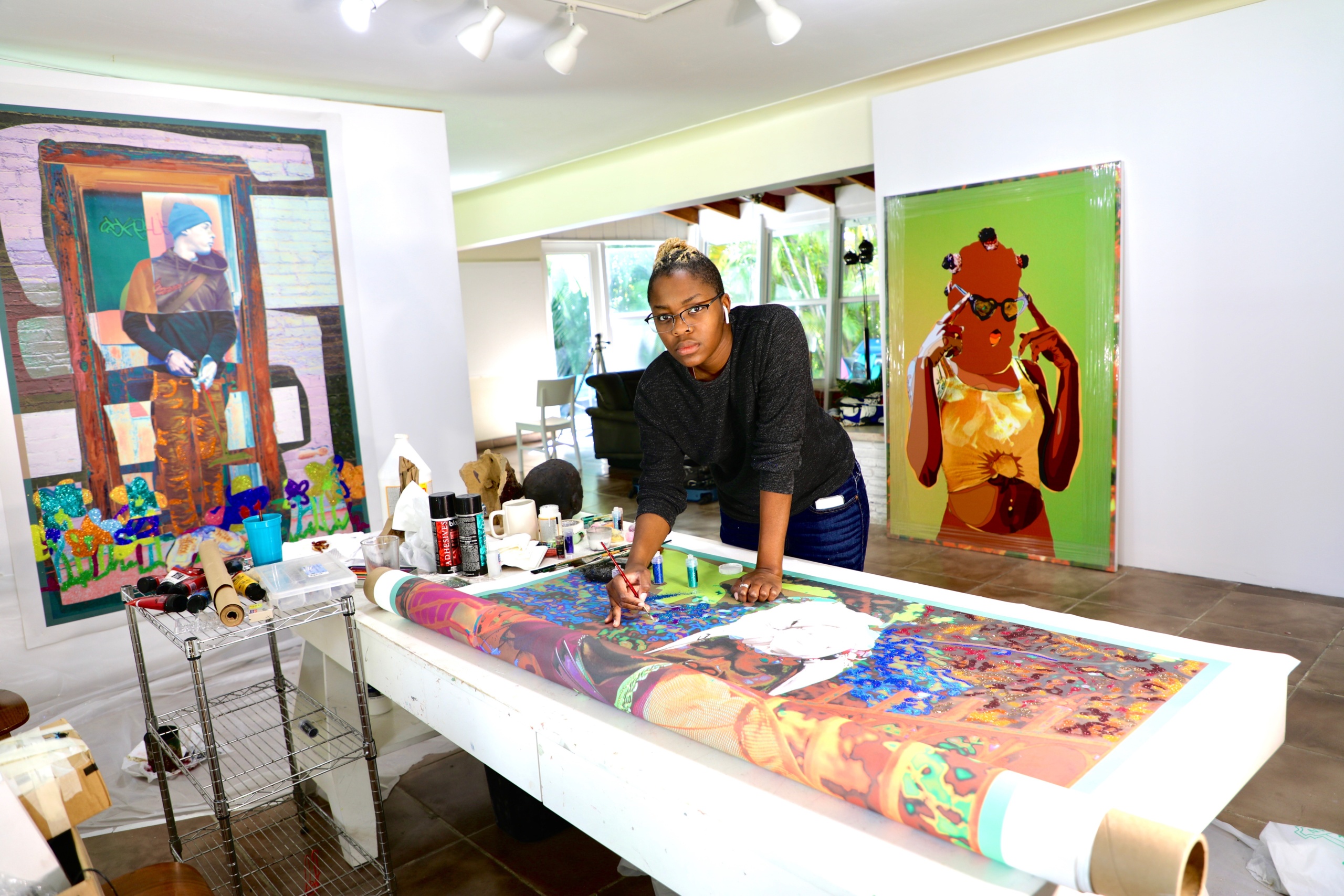 Over the past seven years, Mashonda Tifrere has shown more than one hundred artists in exhibition, her curatorial force akin to a quiet storm. A savvy art collector prior to launching nonprofit ArtLeadHer, Tifrere keenly studies artists' work—the quality, technicality and potential market trajectory—while simultaneously diving into their hearts and minds. As a sister-in-arms, her sure power is her ability to forge true bonds of partnership with the artists she curates, setting the tone for inclusive, deeply meaningful collaborations and conversations on womanhood and the human condition.
I sat down with Tifrere and artist Amani Lewis to explore beauty in the (emotional) breakdown and the dual exhibition, "Truth About Me / Midnight,"—the former a group show, the latter a solo show of Lewis's work—now on view in New York at Urban Zen by Donna Karan. The space is the former art studio of Karan's late husband Stephen Weiss, a long-time ArtLeadHer partner and advocate. Tifrere has successfully established a community that provides a platform for herself and other female artists, while operating independently and paying it forward. It's no small feat—and this powerhouse is just getting started.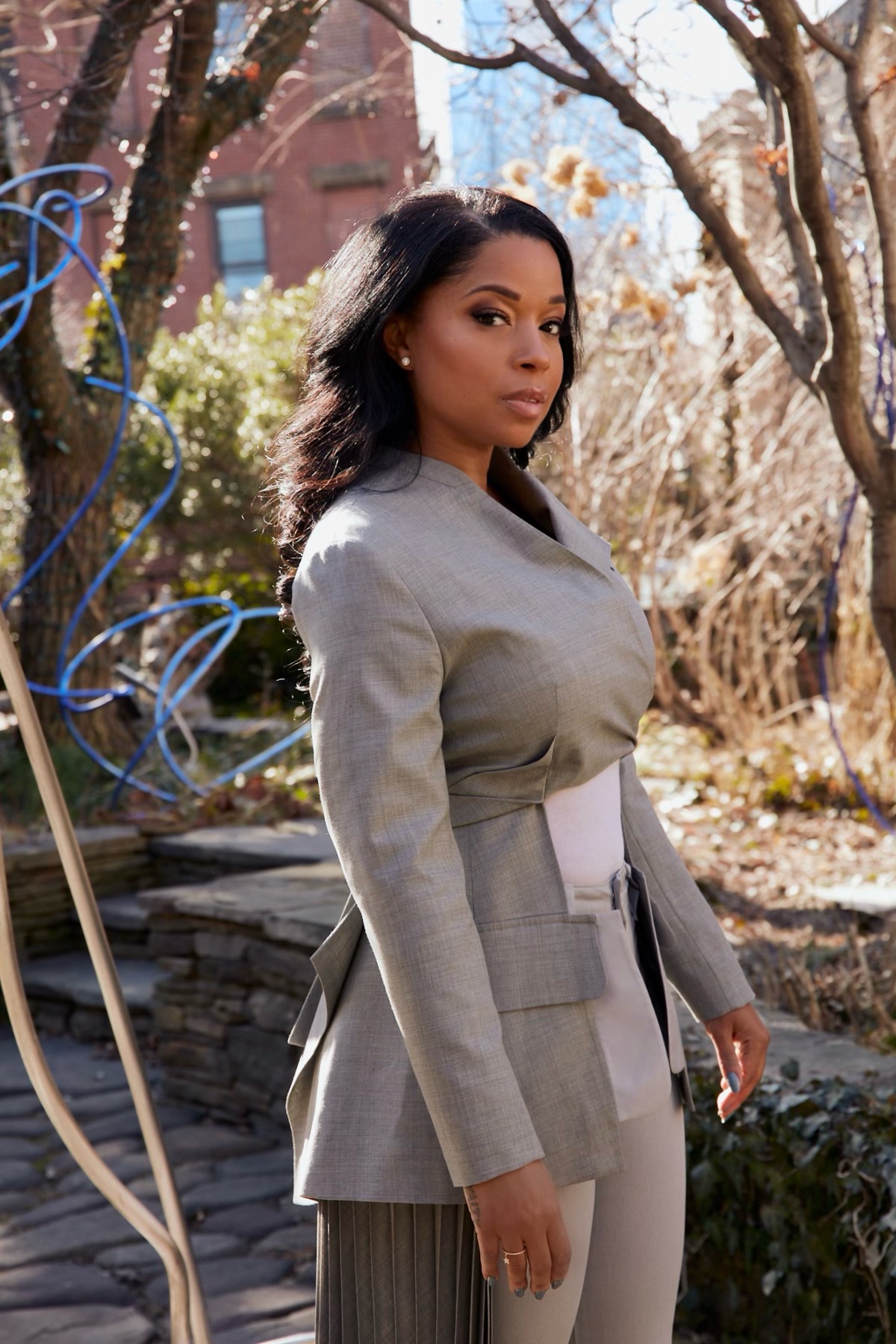 Natasha Roberts: What is it about the artists you work with that draws you in, as a curator?
Mashonda Tifrere: I started out in the art world in 1999 as a collector, so I'm interested, first, in technique, the way artists operate as creators, and the biggest thing for me is the quality that I see in the work. I'm observing that and also seeing what the artists could evolve into, a projection of the growth that could possibly take place. I consider how the work will coexist in the same room, on the same walls. I'm very particular about it because art needs space, especially in a group. And the third thing that has connected me the most to the artists and pushes me towards showing the work is the conversations that I have with the artists. I ask myself, 'Is this a good person who believes in what they are doing?' And even if they don't have the language to necessarily explain the work at the time, I'm asking whether this artist is connected to what they're doing and why.
NR: You want to feel their conviction.
MT: When I talk to women artists especially, I love to hear their challenges, vulnerabilities and inspirations to create. That draws me in and is why I've chosen the artists I've worked with. I've shown about 120 artists since 2016, in galleries and art fairs, so I've had a lot of conversations.
NR: Tell me about "Midnight" featuring Amani Lewis.
MT: I was introduced to Amani's work at UNTITLED Miami in 2019. I did my research, reached out and when Amani finally came to New York, we connected with ease. We started trying to figure out ways to work together and had a few plans for 2020, but COVID-19 happened. Fortunately, we've still been able to place Amani's work with some major collectors, but I knew that I wanted to work on a larger scale, not least because I felt so much loyalty from the artist, which is hard to find in this industry. Eventually, we started talking about the concept that was "Midnight." I realized we had the perfect room for it at Urban Zen, a separate, intimate area. Amani put together the works that brought it all to life and created the experience.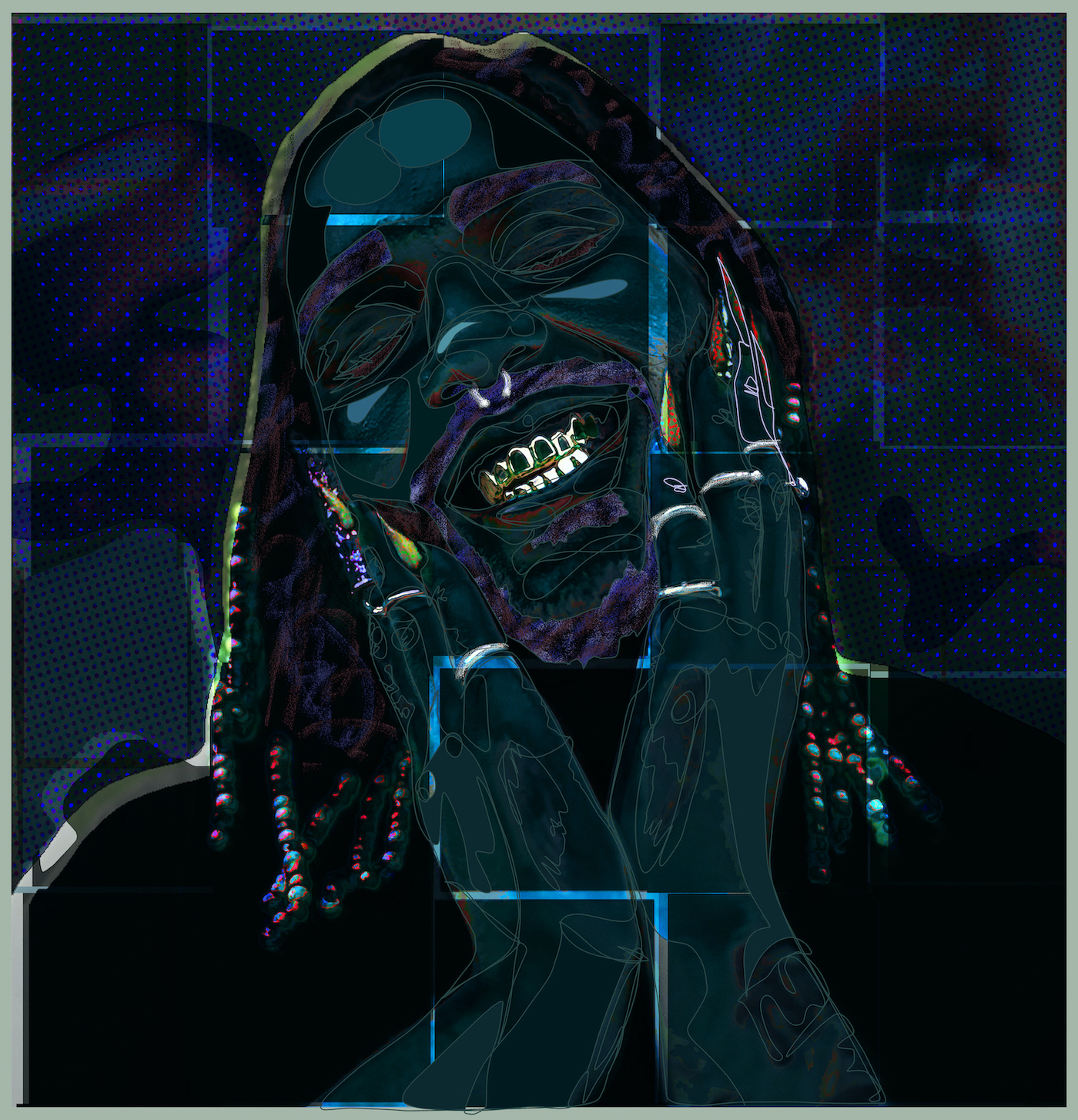 Amani Lewis: Similarly to "Truth About Me," "Midnight" is about those racing thoughts you can't escape in the middle of the night. I'm inspired by not only my experiences, but also those of people I know, and those around the MICA and Baltimore communities like the Squeegee Boys (car window washers) who, when we spent time together, became my little brothers. I asked them to imagine themselves at forty-five years old and we made goals. They don't have real life examples and some never imagined living that long. These are maps for their lives, which ties into the execution of my paintings.
For me, the art process is essentially collaborative. I invite my subjects to the exhibitions where they can see themselves and witness people connecting with their portraits, energy and unspoken things. And because they are my partners, it's a privilege to share profits with them. We do "the work" together and my hope is that it provides a sense of validation for them, a sense of being seen.
NR: What is your essential personal truth that inspired this curatorial exploration? Have you seen any commonalities in what the other artists expressed and dissected of themselves in "Truth About Me?"
MT: The title came about in the fall of 2020, when I was in a dark place standing in my kitchen having an emotional breakdown soliloquy about my life and purpose. I was thinking out loud and hysterically crying, but something told me to pull out my phone and record a voice note, so that I could listen to it later. I had never done that before, but I think it's a thing people should try—to dissect it later and understand what it really is they need to work on, what parts of their lives they need to heal and, really, use it as a journal. Through that, I came to realize that my strongest truth is that no matter where I am in life, what I'm going through or what path I think I'm on, it always reverts back being of service to others, helping them grow and feel empowered. I think that's why we're all here, but we ignore that and sometimes surrender to ego and selfishness. I asked all the artists who created art for this show to use that in the work. When I sit in this room surrounded by it, I do feel a lot of truth and vulnerability. I feel pain, curiosity, regret and all those things that symbolize human condition, which is what I wanted the show to be about.
NR: How have you seen art market behavior change over the past few years?
MT: I think collectors are now more eager to support emerging artists. When I first started collecting, I was always told to buy big and buy the legends, but now collectors realize that the true quality and actual experience is in collecting living artists that you can actually sit down to have dinner and converse with, and that you could be a part of their legacy. I also feel that artists are more involved in deciding where they want their art to live. They always should have been, but now they have more say and it's respected. I have a lot of women in this show who specifically told me they'd really like to be collected by a woman, and I respect that because it's not all about the check. It's about respecting where the art and legacy live. The most interesting thing happening in art right now is that artists are successful in independently building their own businesses because they want to protect their art, their brands and their legacies.
"Truth About Me / Midnight" is on at Urban Zen, 705 Greenwich Street, New York through April 17.
Craving more culture? Sign up to receive the Cultured newsletter, a biweekly guide to what's new and what's next in art, architecture, design and more.