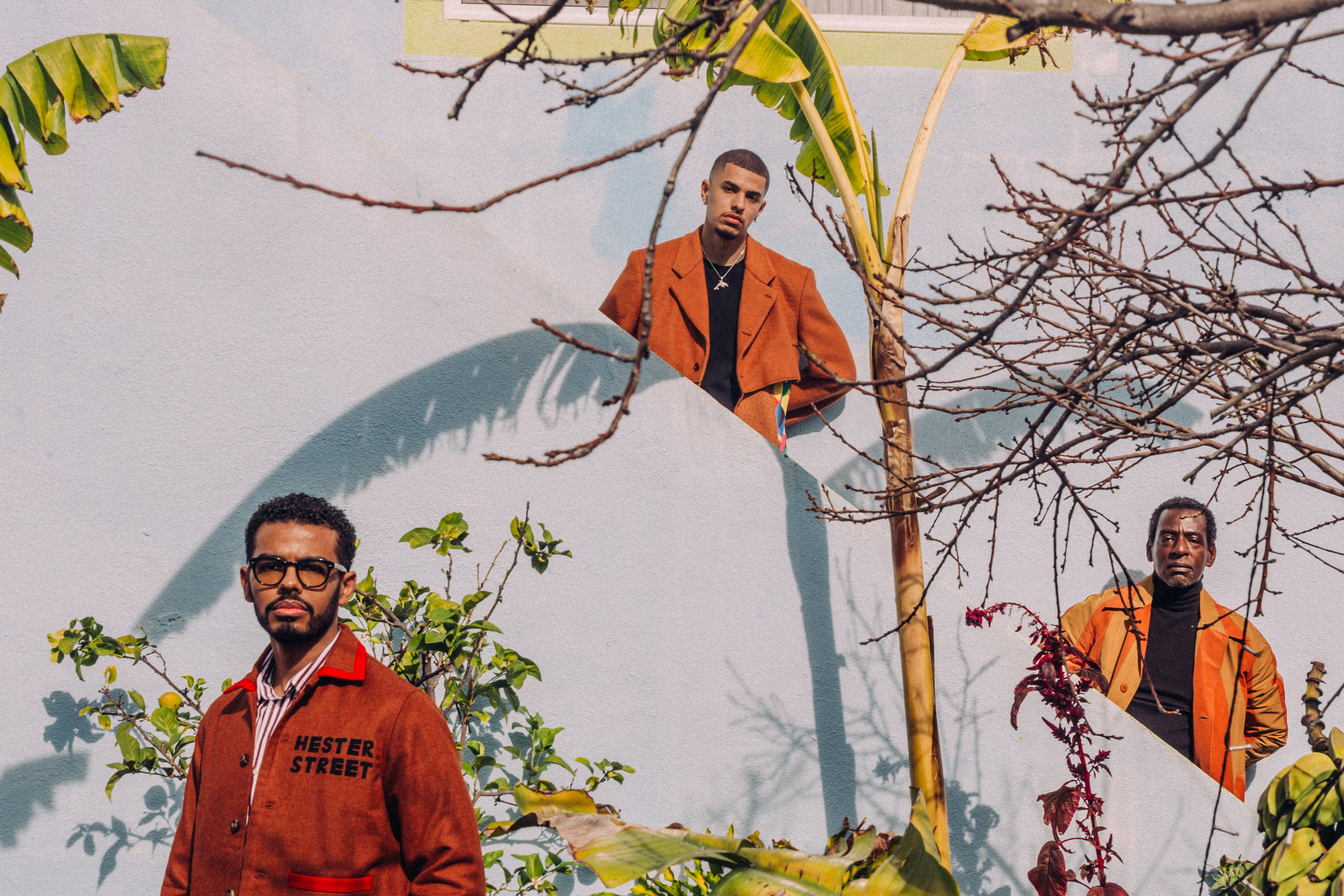 When Ron Finley—the fashion designer and community activist who brought guerrilla gardening to Los Angeles— lends parenting insight, it's impossible to disregard. The father of three sons, two of whom, Kohshin and Delfin Finley, are painters setting the West Coast art scene on fire, the elder Finley knows of what he speaks. "When it came to raising my sons, it was a real simple concept," he tells me. "Good in, good out. If you put beauty in, you get beauty out. I think that happens with everything. You can start with design. You can start with soil. If you've got beautiful healthy soil, nine times out of ten, your plants are going to be the same." Of his child-rearing philosophy: "I said to my children, 'Operate from happy. If the shit doesn't make you happy, don't do it.'"
Known as the Gangsta Gardener, Ron has been empowering South LA residents to grow their own food since 2010, when he began planting fruits, flowers and vegetables on the 150-by-10-foot grass parkway outside of his house. Cited at first for violating LA municipal code—and threatened with arrest—he eventually won permission not only to keep his urban forest but to cultivate edible gardens in food deserts across the city, spreading the gospel of independence, healthy eating and social action. In neighborhoods like his own, he explains, it's much easier to find drive-throughs, package stores and diabetes treatment clinics than wholesome groceries for your family—a manufactured reality imposed by outsiders.
Finley describes the origins of the Ron Finley Project—to break out of food prisons and "plant some shit" in traffic medians, abandoned lots and along the curb—in his wildly popular 2013 TED Talk. The obesity rate in South LA, his childhood home and where he raised his sons, approached some five times higher than in Beverly Hills, only 10 miles away. Finley grew tired of seeing wheelchairs "bought and sold like used cars" and "dialysis centers popping up like Starbucks." Food is the problem, he divined. And food is the solution. "See, I'm an artist," he tells the TED audience. "Gardening is my graffiti. I grow my art, like where a graffiti artist beautifies walls. Me, I beautify lawns, parkways... You'd be surprised what soil [can] do if you let it be your canvas."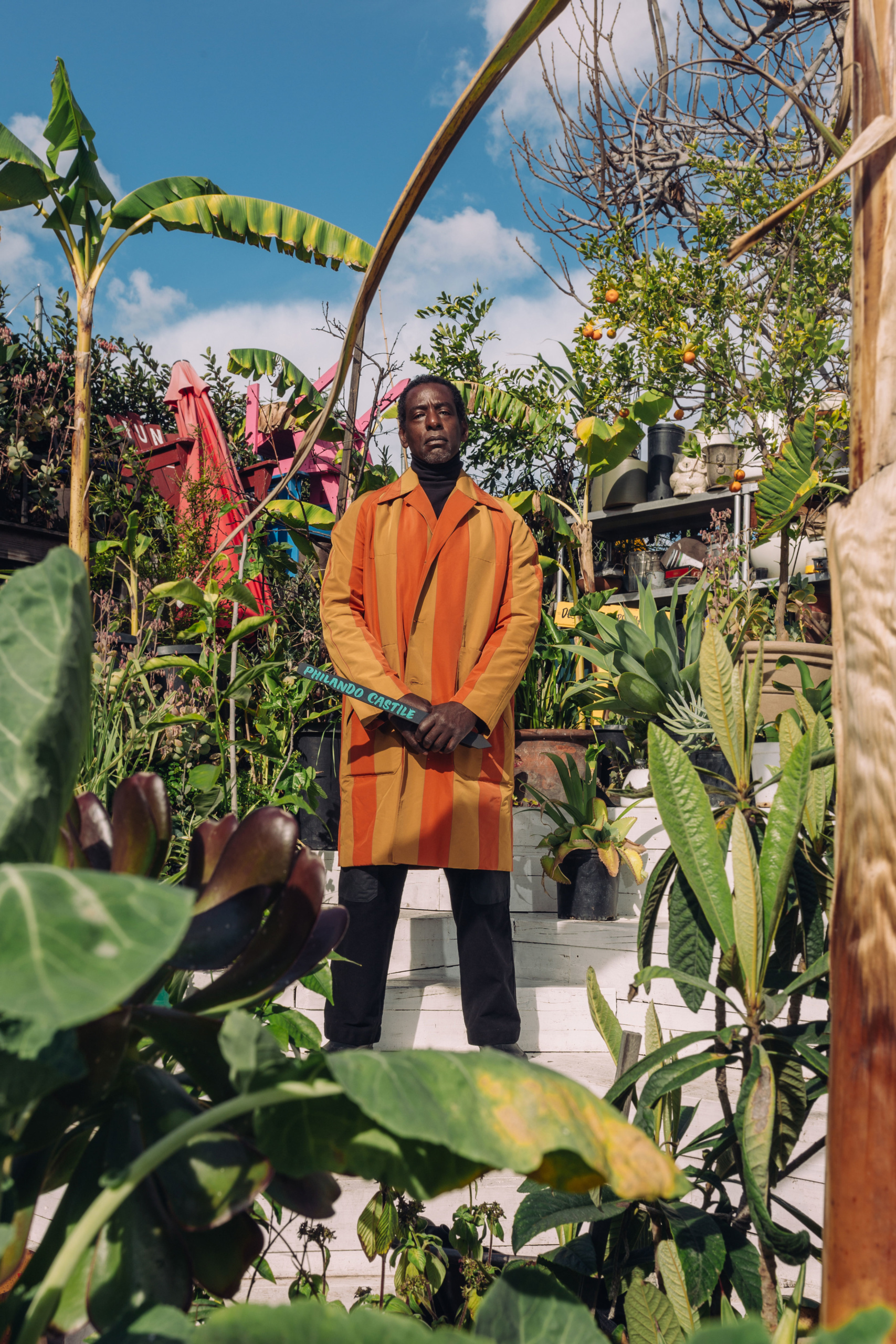 It's no surprise he deeply influenced two creative powerhouses, with the kind of hyper-dedication and scrupulously honed skill that art-world success requires. "One thing I noticed when I got to art school was the amount of kids who told me that their parents didn't want them to pursue anything in art and would much rather they be something more secure, like a doctor or a lawyer," says Delfin, whose photorealistic portraits confront art history's long-standing narratives as well as the racial realities of 21st-century America. "It was such a shock to me because my parents, both fashion designers, have always been my biggest fans and supporters." However, Delfin emphasizes, his father is celebrated for being real. "He means what he says, and doesn't sugarcoat anything... He's always been a trailblazer to my brothers and me. It's nice to see the rest of the world discovering it too." While attending Pasadena's ArtCenter College of Design, Delfin held his first solo show at Santa Monica's Lora Schlesinger Gallery. Titled "Some Things Never Change," a reference to the enduring violence and inequities faced by people of color, it sold out. In one of his most soulful paintings, It's Only a Matter of Time (2016), Delfin captures his father, barefoot and pensive, tenderly drawn, holding a shovel—a symbol of the danger that Black men face on a daily basis.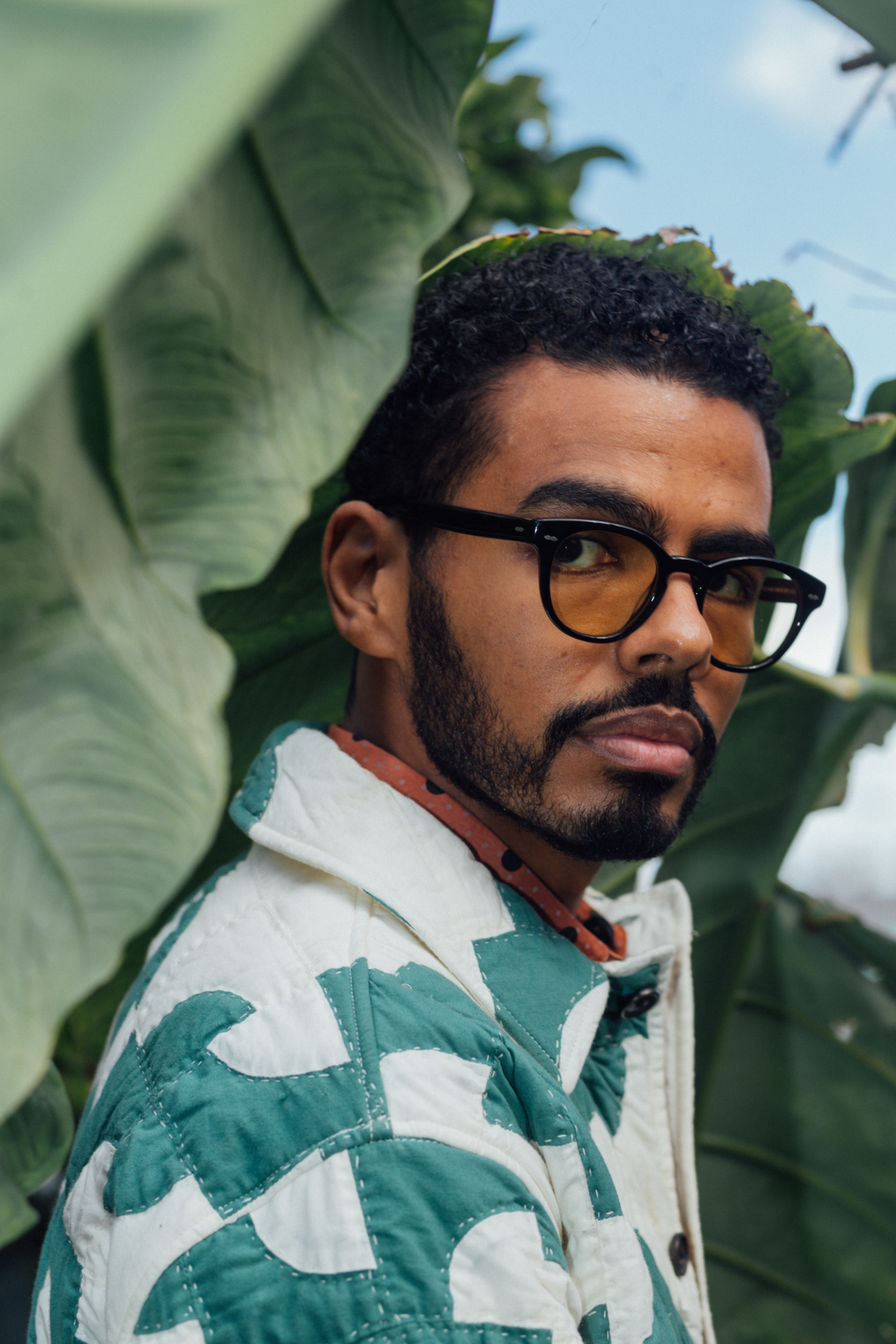 "We've both established our separate studio practices, but I think we inspire each other daily," he says of his older brother Kohshin, a celebrated figurative painter who creates large-scale, strikingly intimate, grisaille portraits of people of color. The subjects are often friends and peers, at times their necks and faces obscured by streaks of white, symbolizing moments of perseverance through adversity. Kohshin's process starts with a series of conversations, which he then translates to poetry, before expressing a heightened attention to emotion on canvas. He reflects on his dad's favorite phrase—he's been hearing since he was little—"operate from happy." "Even when he's not around, I hear him in my ear," Kohshin tells me. "It's something that grounds me in my art practice and drives me to work harder every single day on the thing that I love."
"It's almost like a friendly competition," Delfin muses. "When Kohshin shows me a new painting he's working on, I'm like, 'Damn, I need to step it up'—and I'm sure he feels the same way. We've both made each other better artists." In fact, it was Delfin who nudged Kohshin to switch from acrylic to oil paint in his representational artwork. "He showed some reservations because he was still comfortable with acrylic," recalls Delfin. "But I was like, 'Dude, trust me. You got to try this.' Now we're both oil painting." However, it was Kohshin who initially inspired Delifn to attend art school and reimagine himself, then primarily a graffiti artist (drawn to work by El Mac and other muralists in his neighborhood), as a fine art painter. "When I was going to art school and getting a formal education, I brought home all my assignments and new techniques," recalls Kohshin. "We've always exchanged knowledge and secrets. Our entire family dynamic is about putting each other in positions to win."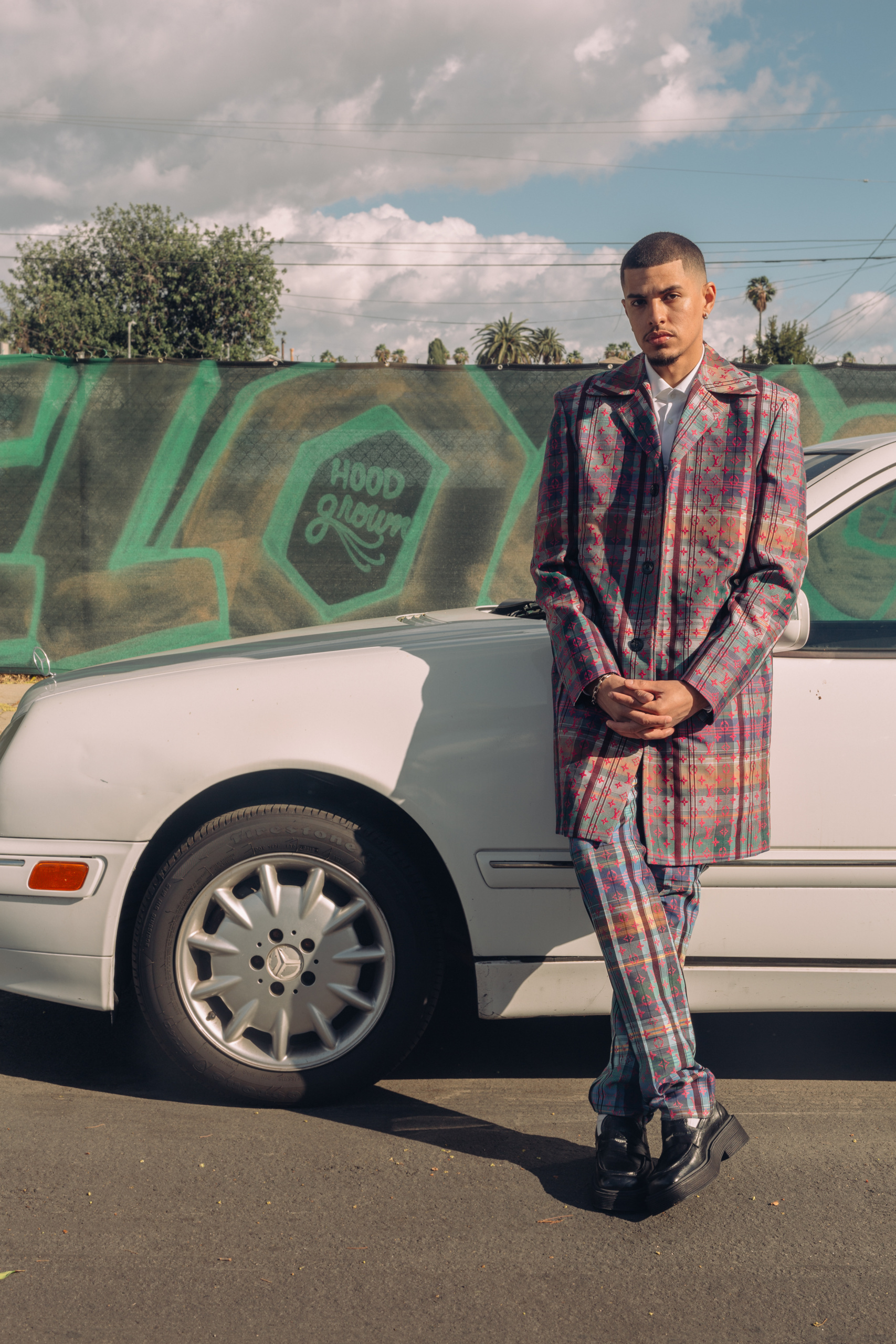 Following parental tradition, Delfin also has one foot firmly in the fashion world, walking and closing out Louis Vuitton's Spring/Summer show in June 2019—his runway debut—and featured again in Paris, last January, to present their Fall/Winter collection. Delfin recounts sharing the inaugural experience with his father during his fitting at the atelier and, days later, backstage. "He's the biggest critic of everyone's clothes or the way it's made," Delfin says. "He's extremely detail-oriented and it blew my mind when he came with me to Louis Vuitton and saw all the work that they were making... I've never seen him so hyped off of somebody else's clothes."
This spring, both Finley painters appear in a group exhibition at Jeffrey Deitch's West Hollywood space. "All the time, we'll geek out on details of paintings," laughs Kohshin. "We'll talk about how crazy something is—like, 'How did John Singer Sargent do that?'—breaking things down in a way that is unique to us. It's just an understanding between each other, as well as a respect for one another that is the undercurrent of our conversations." As we spoke, Kohshin was readying two paintings for an upcoming summer exhibition, organized by Helen Molesworth at Jack Shainman Gallery's outpost in Kinderhook, New York, called The School. He describes both as depicting couples together in love and in the sun. "I wanted to show that love can be captured in artworks in the midst of power and beauty, and not always in dilemma or conflict," Kohshin explained. "I offer these works as an alternative to show how beautiful it can be.