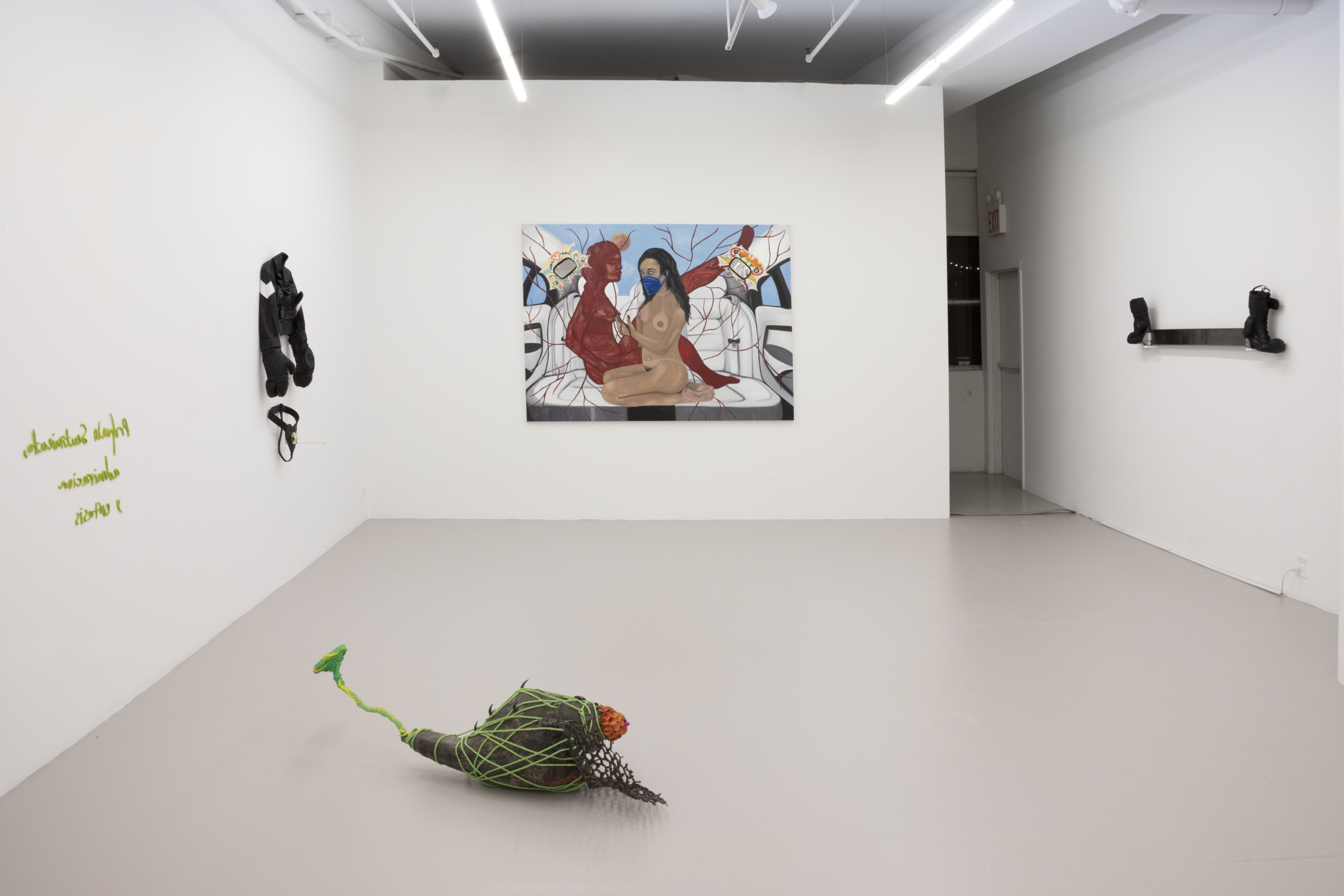 Just south of the intersection of Grand and Orchard streets in the hub of New York's Lower East Side, twenty-one works of painting, sculpture and assemblage have come together at Company Gallery's fifth-floor suite in what feels like a gathering of both long-lost friends and newfound acquaintances. Completing the sensory experience is a two-hour sound mix compiled by deejay and Papi Juice art collective cofounder Oscar Nñ.
Entering through the hefty glass door, you are greeted to your right by a bewitchingly ominous self-portrait rendered in oil by Mexico-born painter Sergio Miguel, and titled Purgatorio (Spanish for purgatory). The impeccable shadow work of Miguel's chiaroscuro visage, topped by a ripple of silken hair, recalls but keenly subverts the virtuosic Golden Age theatricality of Velázquez, Rembrandt and Vermeer; on the floor behind him slithers a scarlet Kingsnake.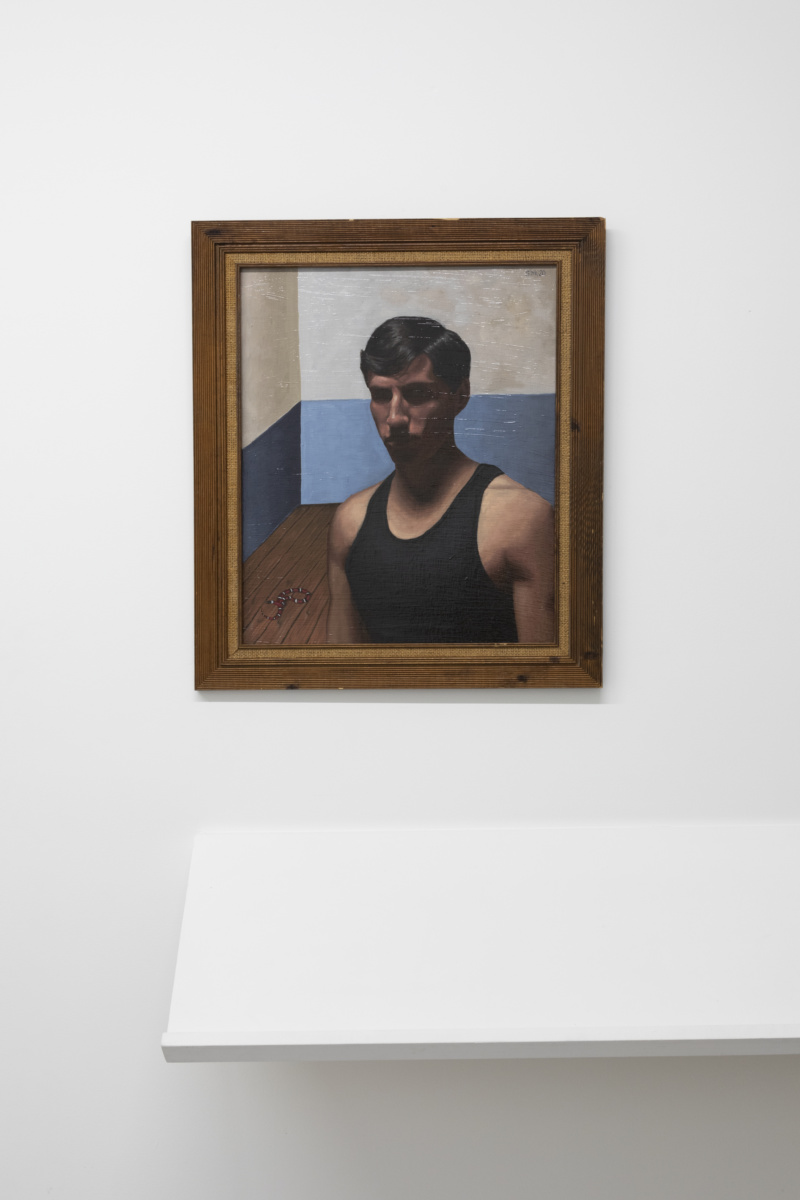 In Roman Catholicism, purgatory is the imagined limbo between heaven and hell, the physical space that links the promise of salvation to the inescapable consequences of the past. "Sometimes I feel guilty for having the life I do, and for having the opportunity to be creative," curator Ken Castaneda tells me on the afternoon I come by to see the show. "I live such a different life from the people who came before me. I want what I do to make up for what they were not able to have." This awareness, and the sense of responsibility it bears, has weighed heavily on Castaneda's mind as of late and, in fact, on mine too; in a world transforming so quickly that we're barely able to make sense of the present, generational experience gaps have widened into chasms. The thirteen artists included in "De Por Vida"—which translates to "for life"—take up an assortment of mediums and materials, and visualize a wide range of subject matter. What begins to bridge their disparate approaches are encounters between the broad, abstracted strokes of history and the acute details of experience and memory—in particular, the way these perspectival modes collide in the search for self.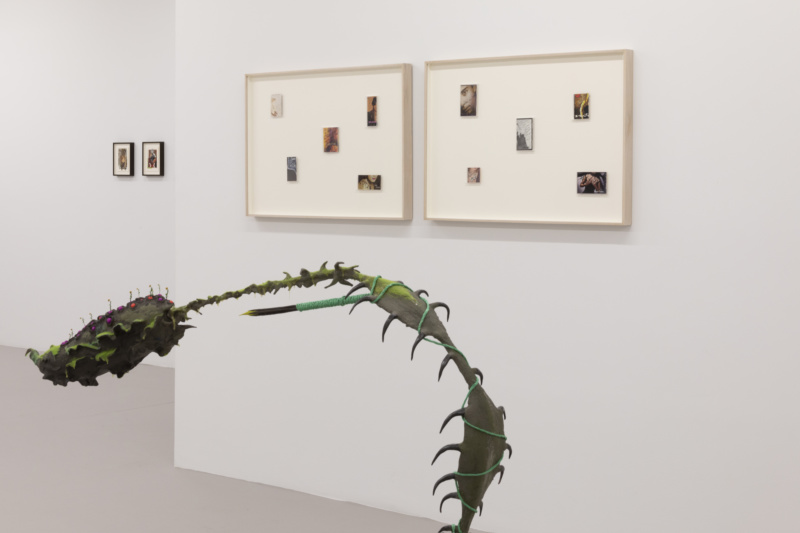 Entering the gallery's main room, two frames by Rose Salane house the works Repeating the encounter 1 and Repeating the encounter 2. Each contains cut-out portions of autographed CD covers from prominent '90s salsa and pop artists, all of whom, at one time, visited the island of Puerto Rico, where a man named Nelson—who sold the CDs to Salane on eBay—grew up. The scrawled notes and looping signatures, tender yet hasty, contain the heartbreaking banality of celebrity and the romance we so often inject into the mirage of representation.
According to Castaneda, each of the artists he chose to include explores "cycles of life, death and legacy." Many of their works wrestle with the lingering, multivalent repercussions of colonization, the construction of contemporary identity categories and the intersections of varying aesthetic languages with reference to historiography, race, indigeneity and gender—internal dialogues evident in astonishing creations from Felipe Baeza, Frieda Toranzo Jaeger, Troy Michie, Ruben Ulises Rodriguez Montoya, Raúl de Nieves, Bony Ramirez and José de Jesus Rodriguez.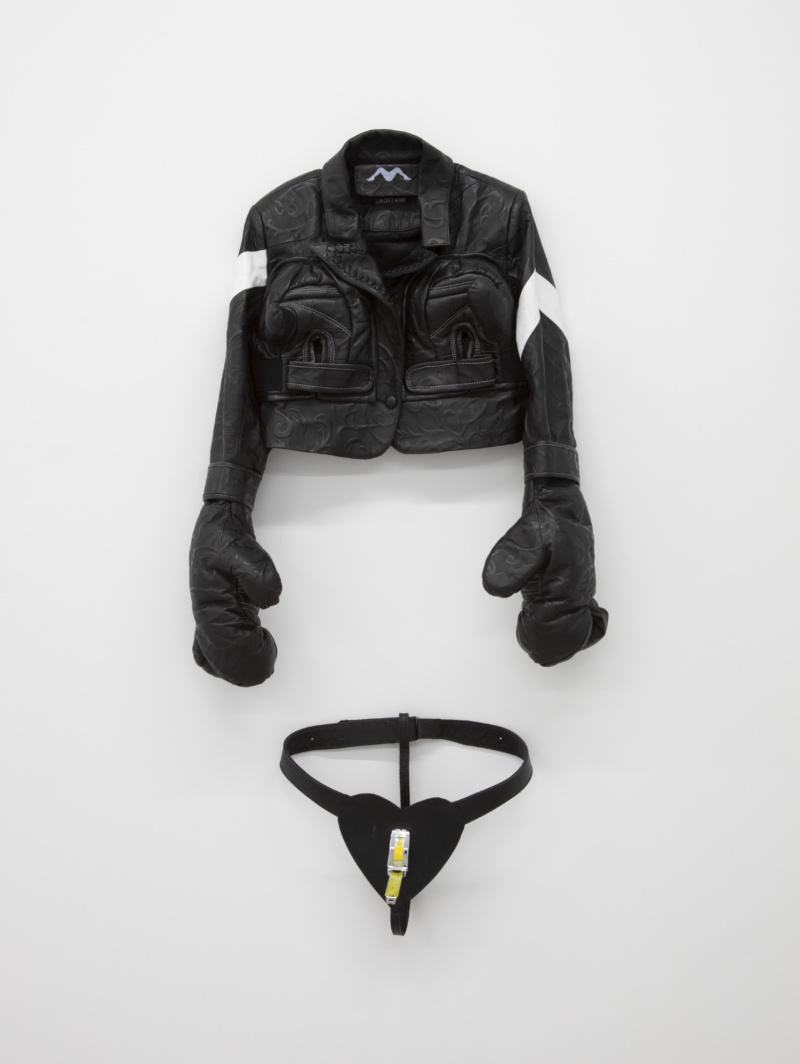 To the left of Salane, cult Mexican fashion designer and artist Sanchez Kane (for whom this is their first New York presentation) offers Blow to My Knuckles and The Space Between; a leather jacket complete with sewn-on boxing gloves is paired with a heart-shaped G-string, to which an extended flexometer is mounted like a phallus. On the opposing wall, Alina Perez's sizable charcoal and pastel drawing, Dreamsicle, is entirely grayscale save the glow of the vibrator Perez's subject presses against her partner, bathing her face in luminescent orange. Separating these two works is Palingenesis (indeterminate phase), a wondrous botanical floor sculpture by Diana Sofia Lozano constructed from a menage of unlikely materials including steel, silicone, resin clay and paraffin wax. One of the fantastical plant's tendrils holds up a mirror in which a message, stuck backwards to the wall, is legible only through its reflection: "profundo sentimiento, admiracion y extasis" (deep feeling, admiration and ecstasy), a passage from the beginning of a book about orchids authored by the artist's father.
"My father tells me, 'you're doing the things that I couldn't do, or haven't been able to do,'" Castaneda writes in the last of three short anecdotes that comprise the show's unconventional press release. The political potential of art has always been its capacity to translate the human experience, Castaneda (who is also an artist) seems to suggest, deliberately avoiding any pedantic delineation about who the artists are or what the work should mean. Complemented by these introspective moments of his own, "De Por Vida" celebrates the profound privilege of self-expression while honoring the only reality we can ever truly share—the poetry of subjectivity.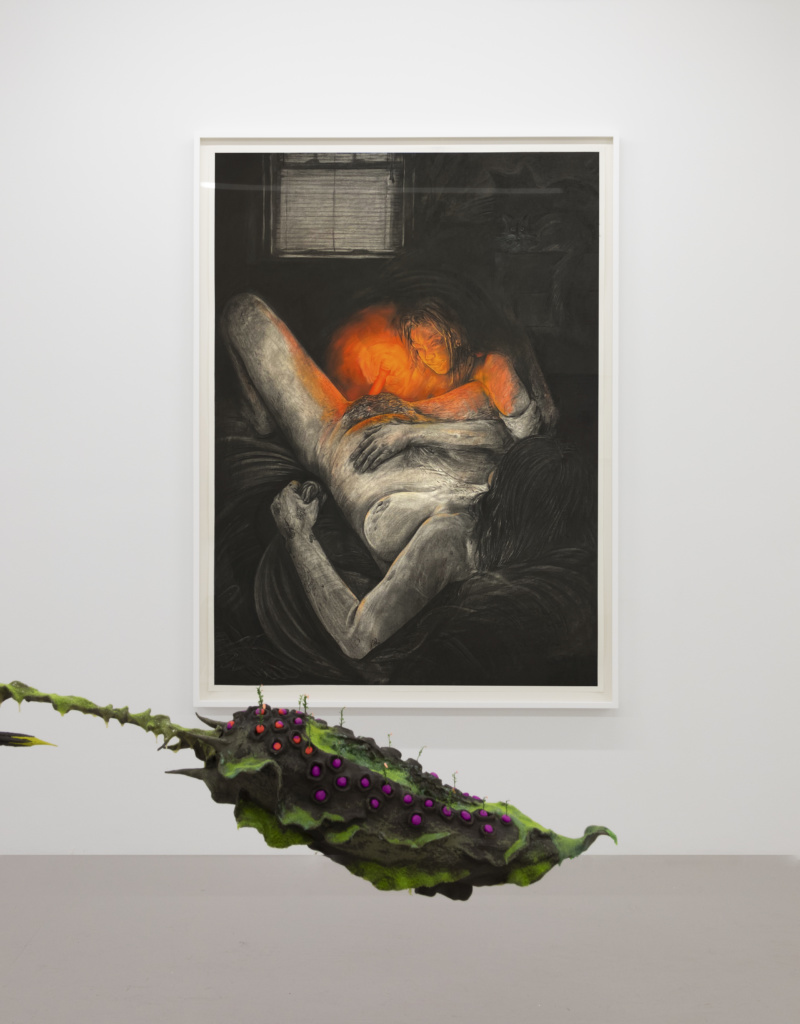 "De Por Vida" is on view at Company Gallery, 88 Orchard Street, 5th floor, through March 6th.