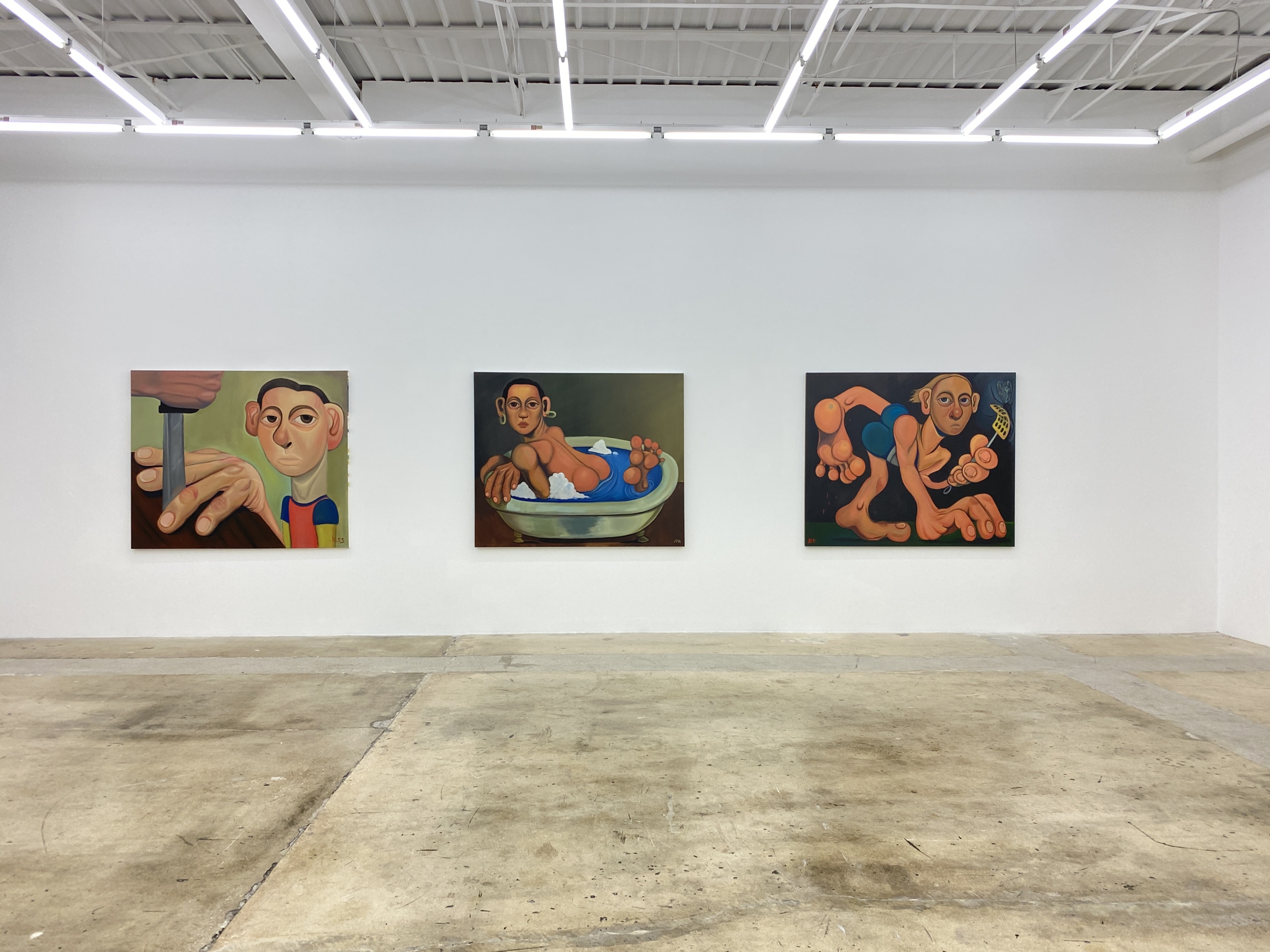 Jess Valice at Bill Brady Gallery Walking through Jess Valice's show at Bill Brady, you realize dozens of doe eyes are watching you just as closely as you are watching them. The biopsychology-major-turned-artist reveals a series of new paintings reflecting moments in isolation over the past year. In her first solo show at the gallery, Valice employs a sense of empathy for her subjects. Many are interpretations of real figures, others are drawn from her imagination, depicting the realities of depression, mental illness, and compassion. Inspired by Caravaggio, Valice obsessively contemplates light, shadow and color to create nuanced skin tones ranging from grey to pink to blue. My personal favorite is Big Dove (2020), a piece inspired by the death of Prince and the uprisings against racial injustice that Valice witnessed in Los Angeles last year.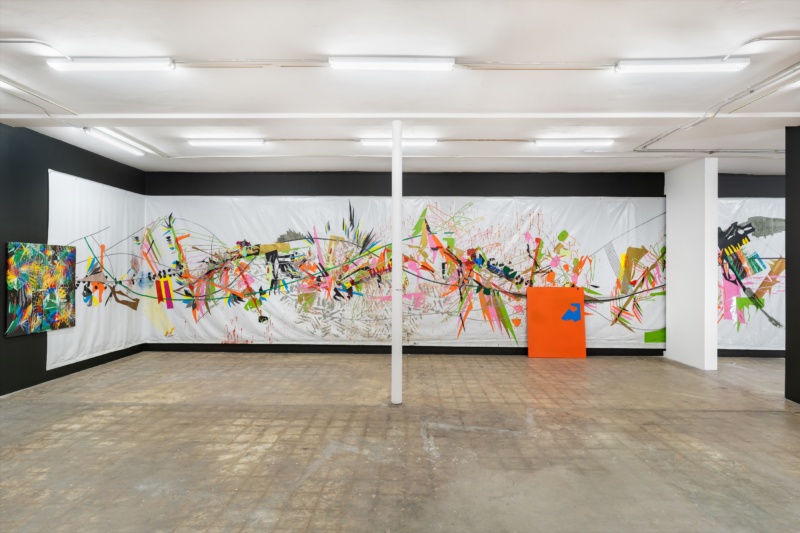 Alejandro Contreras at Mindy Solomon In his second solo at Mindy Solomon gallery, the Caracas-born Alejandro Contreras pays homage to his late mother and uncle, contemplating the pain of familial loss in a series of piercing abstractions. This new body of work, conceived during his residency at the Anderson Ranch Arts Center in Aspen is the culmination of the transformative power pain and loss can have on the creative psyche. Contreras's multicolored woven collages of silk-screened paper are bold and cerebral, wrestling with the turmoil of death through color, shape and texture. Visceral and tactile, the works incorporate a range of materials to express love, loss, and grief.
Nasim Hantehzadeh at Nina Johnson Nasim Hantehzadeh's latest work, in an exhibition at Nina Johnson gallery appropriately titled "Orgasmic," explores themes of sexuality, hedged between abstraction and figuration. The Iranian-born, Los Angeles–based artist uses a mix of oil, pastel and graphite on paper and canvas to depict sexual organs and orifices of the natural and otherworldly, with titles, such as Watching Their Orgasm (2020) and Felt Like Soft Bedsheets, We Were Holding Hands... (2020). Exploring notions of the in-between, Hantehzadeh seeks to challenge ideas of sexuality, taboo and gender hierarchies. Her palette is tranquil, with pops of bright color; hues of golden brown, yellow, and orange and expansive swathes of green, blue and red embolden shapes with lively flair. The most obtrusive pieces you'll see are erect plaster penises protruding from wigs of long dark brown hair, furthering the conversation on gender identity and sexuality.
Anselm Kiefer & "Photography from the Archive" at The Margulies Collection Prepare to be blown away by the sheer size, magnitude, and diversity of works on view at the Margulies Collection. The 50,000-square-foot-warehouse-turned-art-gallery is a haven for the contemporary art lover. Works on view from the extensive holdings include Magdalena Abakanowicz's Hurma (1994-5) and Ibrahim Mahama's Non-Orientable Nkansa (2017), two monumental pieces that probe excess, confusion and the human condition. From gigantic permanent installations by Anselm Kiefer to a new exhibition of photography from the archives, featuring heavy hitters such as Carrie Mae Weems, Hank Willis Thomas, Stan Douglas and Miles Coolidge, the Margulies Collection is not to be missed.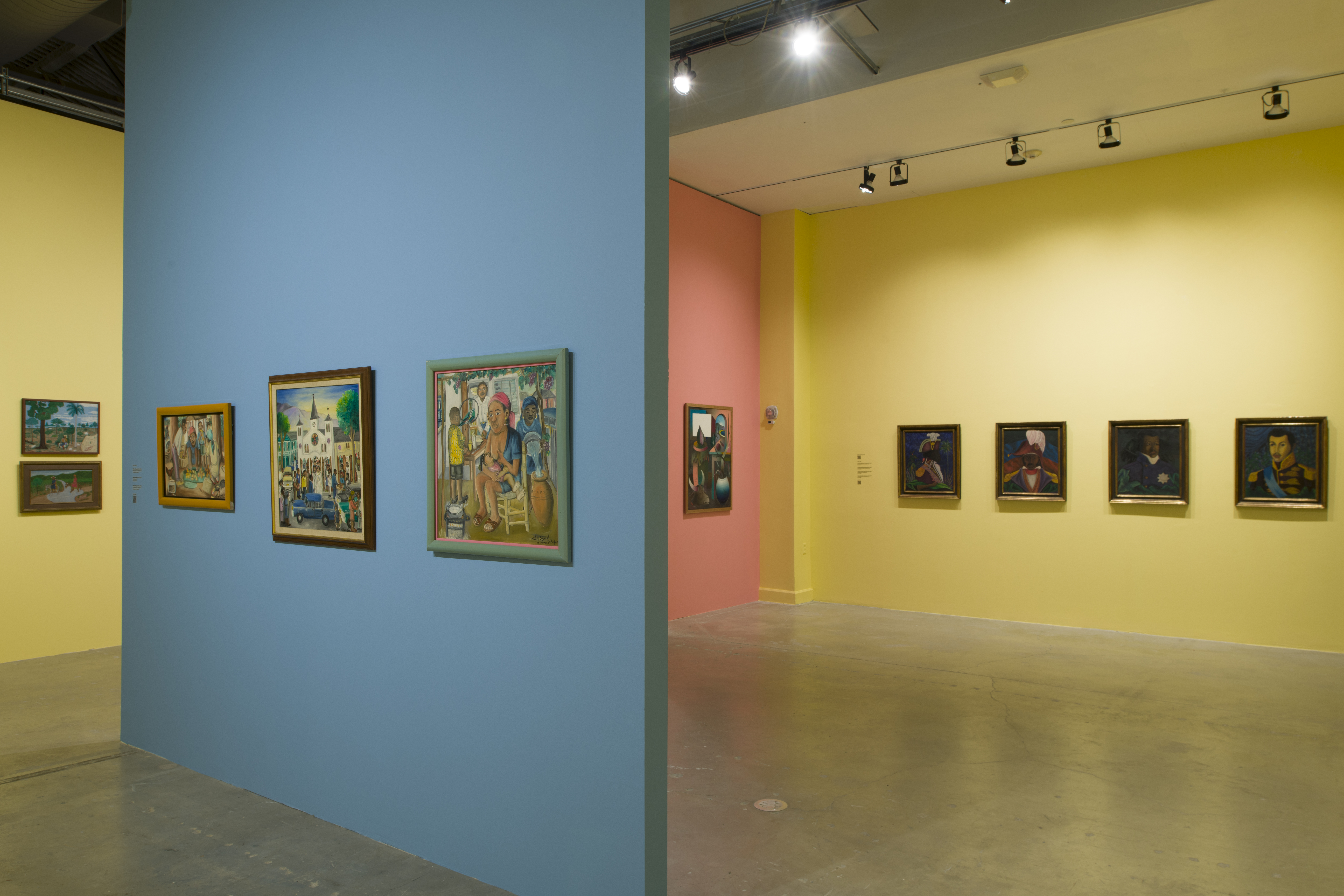 "Life and Spirituality in Haitian Art" at Museum of Contemporary Art North Miami Celebrating the rich cultural and religious diversity of Miami, MOCA's latest exhibition, "Life and Spirituality in Haitian Art," brings the remarkable folk traditions and belief systems of the Caribbean nation front and center. Though caricatured as black magic or witchcraft, Vodou is a rich fount of folklore and mysticism, which has been central to the Haitian experience and generative of extraordinary art. The show features paintings from Hector Hyppolite, Pehilomé Obin and other artists who would come to articulate Haitian life and culture with profound beauty and intimacy. Vibrantly colored scenes depict historical figures, native fruits, idyllic vistas and everyday activities saturated with the religious symbolism of Vodou.