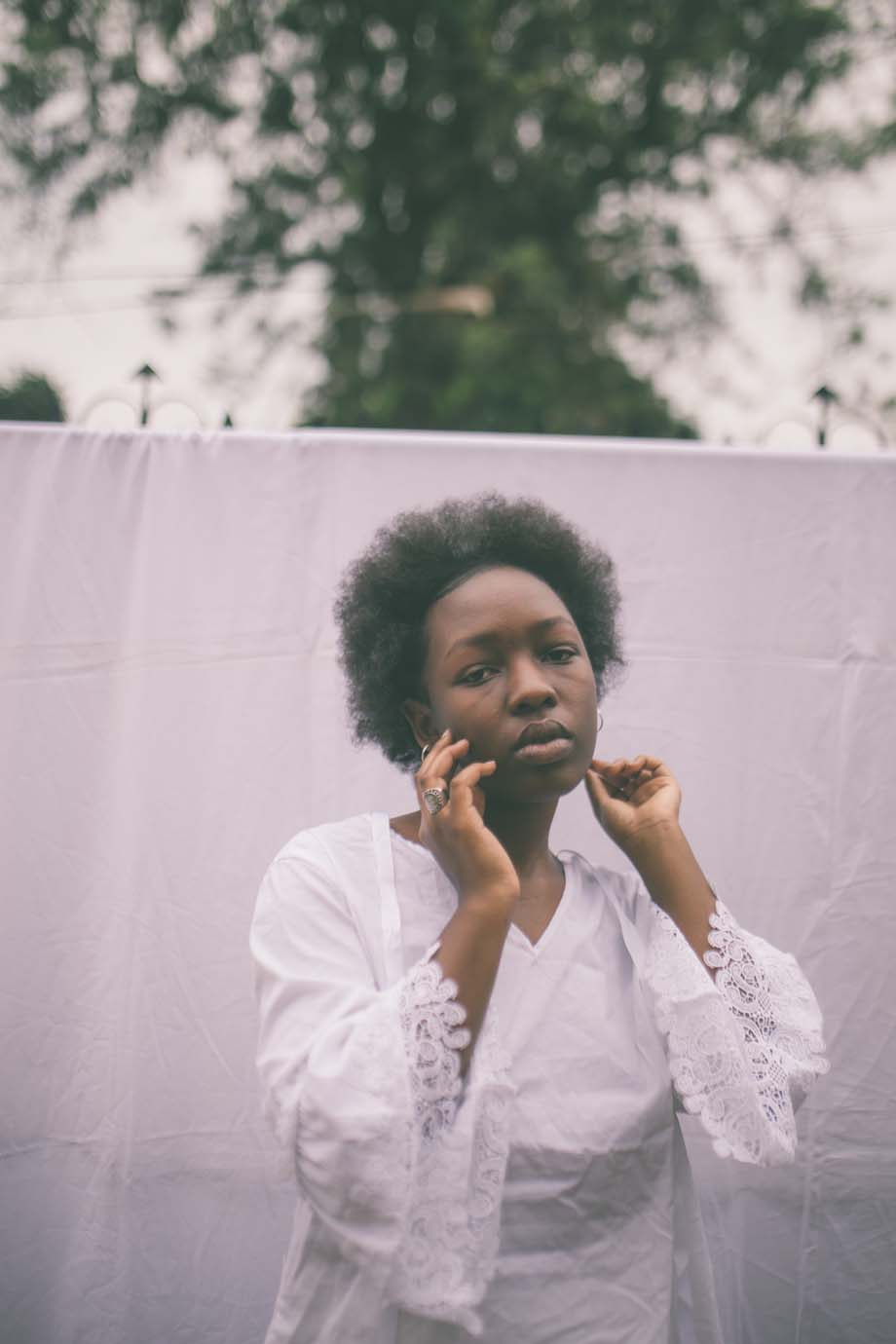 In the midst of global lockdowns, 19-year-old Nairobi-based comedian Elsa Majimbo posted a video saying she "misses no one." A few months and 1 million Instagram followers later, Majimbo has established herself as one of the most exciting upcoming comedians, having conversations with the likes of Jorja Smith.
While social media, from the start, offered the promise that people could reach far beyond their borders, the global health crisis and subsequent closures of cultural institutions and diminishing in-person gatherings have presented new challenges and opportunities to creatives. There's hope that, under the influence of Gen Z, the cultural industry might be further democratized and steered towards a more inclusive future post-pandemic, the seeds of which we're already seeing sprout.
While Majimbo is a leading figure in a new social-first wave of comedy, she didn't start out with intentions to shift the industry. "When I started posting my clips I didn't even know it was comedy," she explains. "They were just videos that brought out the real me and made me extremely happy. Then in the process of putting out my content I found out that I was apparently funny."
Majimbo enjoys performing for the internet because it allows it to be "just her and her phone." Although she started posting videos prior to the pandemic, while at a new boarding school where she was struggling to make friends, the comic relief resonated widely during a time when many felt hopeless.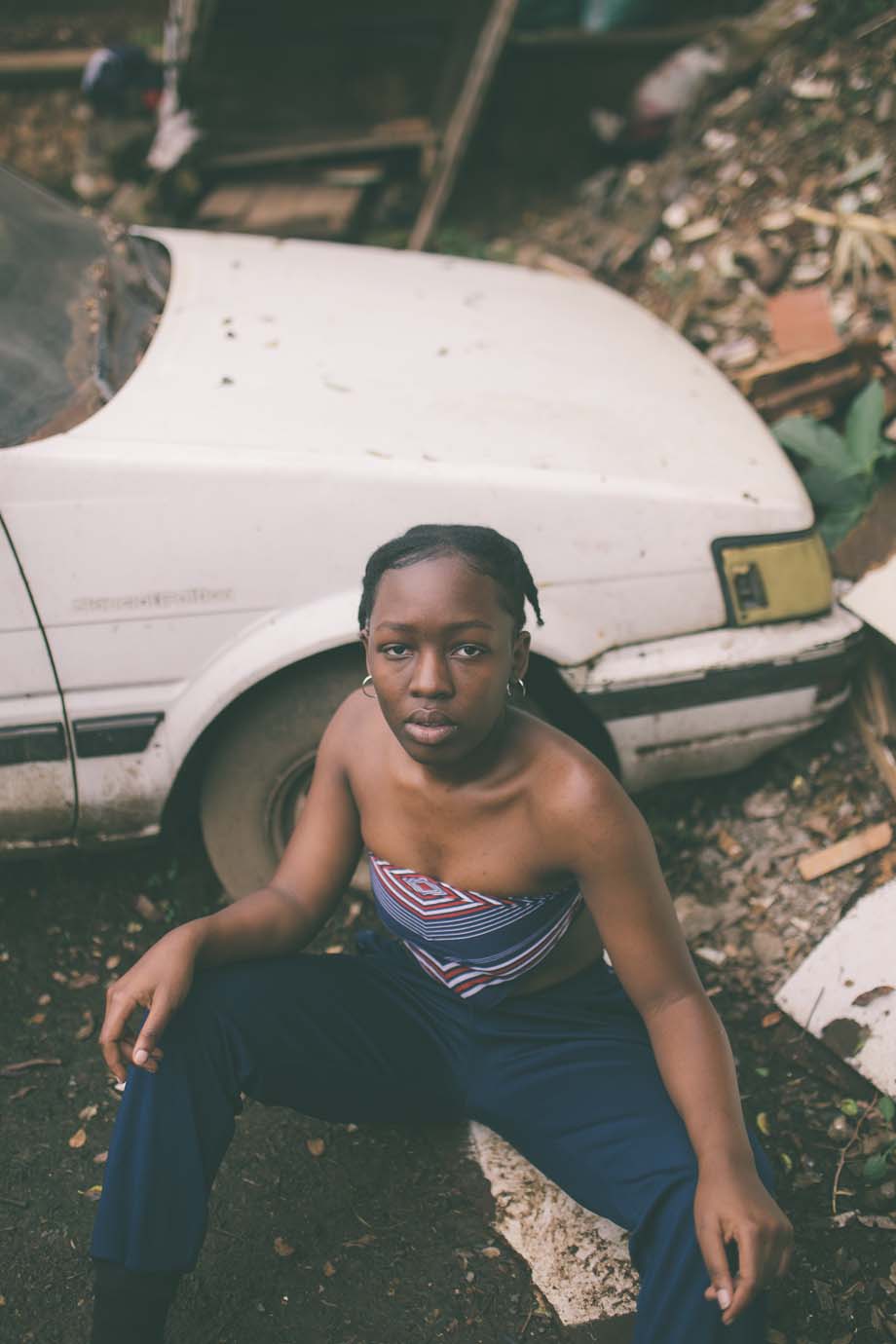 "I think people are able to relate to my videos because the things that I talk about are things that we all experience, regardless of our gender, culture, sexual orientation or nationality," she says. "I think everyone needs to go for what they think is rightfully theirs. In this world you cannot ask to be included or to be given your fair share. Be yourself, be bold, take risks. It may be a little tough but it's definitely worth it." Having first established herself as a viral sensation, Majimbo's future path will look different than those of many comedians starting out, though it will still include the fundamentals of stand-up and acting.
Shavone Charles, musician, activist and director of communications and creative partnerships at photography app VSCO, recently spearheaded the VSCO campaign #BlackJoyMatters, an online collection that celebrates Black joy and paints a picture of the Black experience. Charles says that while everyone and everything has been forced to adapt during this time, Gen Z, an already very online generation, have found themselves even more online. "Gen Z are such digital natives already and now many of them have experienced graduating from a mobile device or laptop," she says. "During my time working at Instagram we were already seeing young people looking to hang out in a community online. Now, we're seeing even more connectivity in lieu of us being connected in real life."
Charles says this year has been a time for "self-teaching and self-learning," as offices and workspaces have become almost redundant. "I think a lot of people are realizing that they can do a lot with less," she says. "Do you need to pay a ton of money for an office space to have quality creative output? No. Do you have to be around people 24/7 to have community? No." However, she says that while this has sparked innovation and creativity, it has been a particularly hard time for creatives in underpaid and undervalued industries.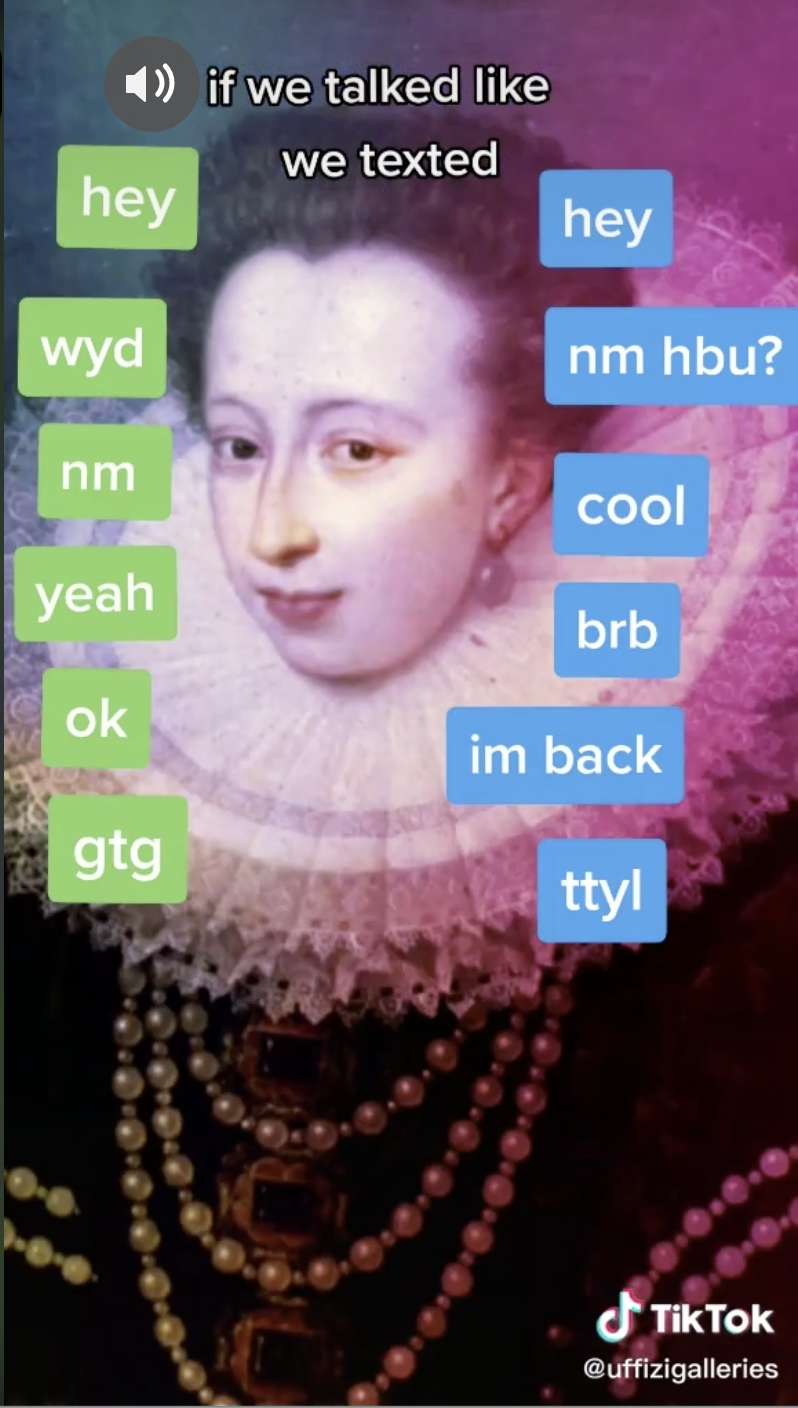 As museums expand their online presences after pandemic closures, the Uffizi Gallery in Florence, Italy, has also taken a comedic approach. Ilde Forgione, one of their social media managers, says they created their TikTok account to try and communicate to a different audience. "The new target we want to focus on are the very young, but without imposing a classic explanation, by speaking their language, with videos focused on the museum's masterpieces, characterized by a playful and ironic cut, as is the style of TikTok, or, in general, by an emotional approach," Forgione says.
The response, Forgione says, was unexpected. "Young people are the future's public. This was a serious attempt to open a channel to a very difficult audience to involve: bringing school-age young people as close as possible to letting them discover the beauty of art as something they have the pleasure of discovering for themselves." The gallery's communications strategy aims at being open and inclusive, making museums more accessible and understandable. Their final goal is to eventually bring more young people into the museum, something which is working as new visitors have already started tagging videos of themselves in a similar style while visiting.
This approach is spanning the cultural sector, as in in the work between next-gen marketing agency PRZM and American Ballet Theatre. Liz Toney, co- founder of PRZM who launched ABT's TikTok account, explains that the ballet company now refers to their in-person performances as "analog." "They're looking at TikTok as part of their toolkit for communication," she says. "It opens them up in a way where they can actually create a two-way dialogue and interactive connection with their audience." Larry Milstein, also a co-founder, says no other leading performing arts institution had launched their own TikTok channel but, for a Gen Z consultancy, that platform was a "no-brainer".
Milstein explains that while these strategies may not seem financially lucrative initially, "revenue will flow naturally" to creatives as long as the focus on the "human element" is still connected. "Throwing more technology at things is not the solution, it's about building authentic identity and finding balance," he explains. This is something that both Toney and Milstein think Gen Z craves when consuming cultural content, as a creatively-minded generation that can feel "overwhelmed" with noise and information.
Finding this balance between expanding and elevating digital experiences while still incorporating human connection is something Jim Louderback, GM of online video tech conference VidCon, hopes to achieve by launching new sessions crafted for digital delivery. Usually an annual in-person event, VidCon has been hosting hundreds of online sessions throughout the pandemic, something they want to continue to do alongside in-person events post-pandemic. He's optimistic this will result in a more inclusive media industry at large.
"I think the democratization of media in general, whether from a creative perspective or from a viewing perspective, has made it already more diverse," he explains. "And I think we're just going to see that continue because now that we are locked down, we're seeing that telecommuting and teleconnections are becoming just part of the fabric of our lives." He hopes opportunities will be available for a much broader swath of people and that because, for Gen Z, you don't have to connect in person to have experiences with friends everywhere, we're going to see more connectivities across the world. Much of VidCon's audience is Gen Z or younger, and Louderback says video is just "how this generation communicates." For this reason, he expects to see more emphasis on shared video experiences in the future.
Curator and writer Kimberly Drew hopes this shift towards connection and accessibility continues. She also says it's no surprise to her that institutions are now finding themselves on channels like TikTok. "I think it should always be a priority because even after this moment your constituents are not just people who are able to come into your institution," she says. "It's important to think about all the ways that people of all walks of life, and of all abilities, interact with what you're creating and have different entry points. That's what social media is at the end of the day, not just an educational tool but an invitation."
This invitation, it seems, has been both spearheaded and excitedly accepted by the younger generation. While creatives and cultural institutions have been hit hard economically, there is hope that the adaptations we have seen will help move the creative fields away from the historically elitist structures—and toward greater inclusivity.