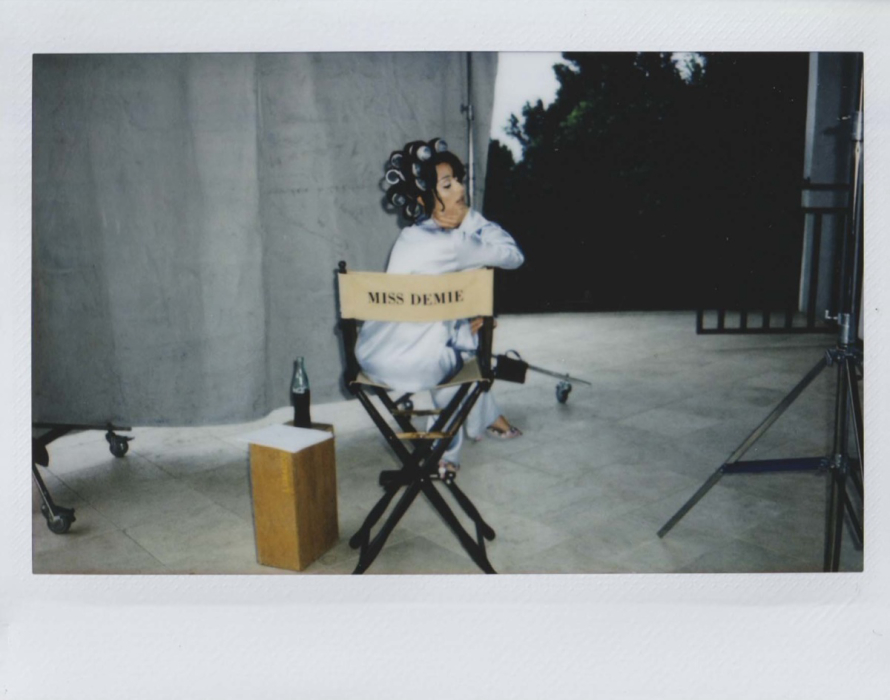 It's a blue moon, a rare lunar event that's said to bring release and healing, so Alexa Demie informs me over Zoom. Demie, in her home in Los Angeles, has been meditating through the morning to capture the moment of astrological energy. On the call, along with her close friend and peer Taylor Russell, she tells me of the moments of calm she has allowed herself to ruminate in, even with forthcoming creative projects nudging at the parameters of lockdown.
Demie is best known for her effervescent performance as acerbic cheerleader Maddy Perez in HBO's Euphoria. She navigates a tumultuous, toxic relationship storyline with depth and compassion, punctuated by cutting one-liners and knife sharp eyeliner flicks. In lockdown the last few months Demie's been watching Agnes Varda and Fellini movies, while waiting for some of her most personal projects to come to fruition. Euphoria's second season should start production again in the new year, and Demie is producing and starring in her first feature film, about her mother Rose Mendez, a Mexican transplant growing up in glittering eighties Hollywood. Soon, too, she'll release her debut music. With or without the celestial event, Demie is steering an exciting path as a multi-hypenate. Russell, who is continuing to film sci-fi TV series Lost in Space in Vancouver when we all speak, bears witness to the journey as a close friend, ally and spiritual sister. The women met on the set of Trey Edward Shults' devastating 2019 film Waves; originally, they had no scenes together, but after spa trips and card readings and supportive late-night musings following grueling days on set, they passionately made their case for shared screen time. A brief scene where their characters share a tube of lip gloss, before major tragedy strikes, became one of the movie's most tender moments.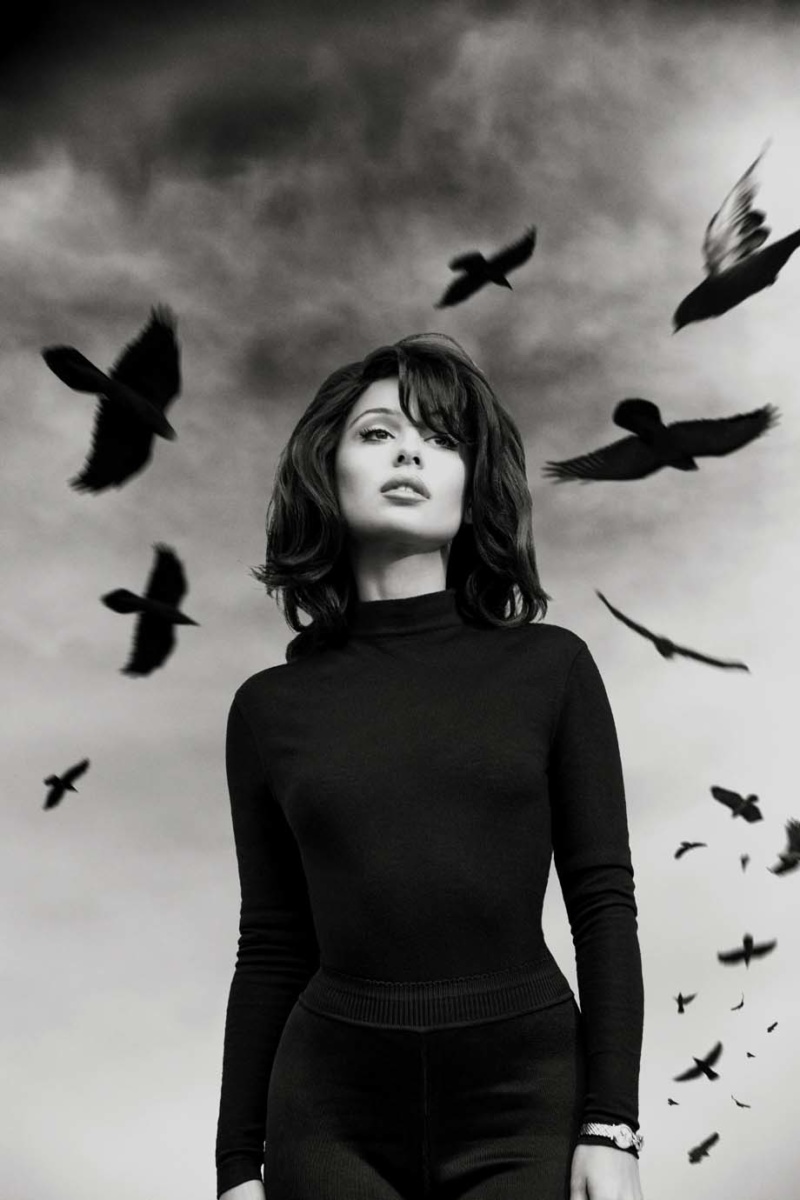 Since then, the pair barely go a day without speaking. Russell joined Demie in LA lockdown earlier in the summer, both later absconding to a spiritual retreat at California's Mount Shasta. They tell me they shared dreams and bonded more over shared childhood traumas, the golden age of cinema's unbridled starlets like María Félix and surrealist art.
ANNA CAFOLLA: Tell us about your relationship.
ALEXA DEMIE: When quarantine started, we were having six-hour FaceTime calls. It felt like it was our church. We'd get into everything—the human, the existential. It's mostly really positive. My whole life, I've always just wanted a girlfriend that I can share everything with. I was always disappointed in my friendships with women growing up. I've been able to find a friend within the industry that is female with Taylor. It felt like our angels were pushing us to meet at the right time.
TAYLOR RUSSELL: She feels like a sister to me. Our conversations are very reflective. I am her biggest supporter and fan!
Alexa has this force of life that is unmatched to anybody. She has taught me to stand up for myself and what I'm worth. We met two years ago, and I've seen a huge growth, but I also feel like this is an interesting time for us to speak; it feels like Alexa is going back to her roots in many ways, and discovering who she is, her joy.
ALEXA DEMIE: Could I get this recording so I can play it every morning?! I feel like I'm in the best space right now. A lot has changed. This year, I've had a lot of time to sit with myself. I feel that I've hidden a lot of who I am. I'm shy, and people don't know that. I've also hidden a lot of personal work, and I'm ready to unleash it. I've had a mask on, especially with the public. I was scared about being goofy or talking about the things I believe in. I'm ready to not hide anything anymore and be my full self.
I have the movie with my mom and that's getting really close. It's set in eighties Hollywood and I play her. I have some films and work in the animation space, and I have a really special project with Petra Collins coming out. And Taylor and I have something in development. I was joking last night, "Why did God make me so multifaceted?" Because there's just so much I want to do! I'm very precious with my music. I wrote a song in 2012 that I never put out, but it's always been at the back of my head. I've made new songs and I've written new things, but I can't fully move forward until this one is out. I played it for Taylor and she started crying. She encouraged me to finish the video, because I shot half of the video in 2017. And so we shot the other half, which she directed while she was here. I've been speaking to my healer about it, and she told me that my body was tricking me—it wasn't letting me move forward until I released this. I make so many things and then I just hold on to them. I'll hopefully have my full music project out next year. If no one likes it, Taylor likes it and it's for Taylor. So, I'm fine with that!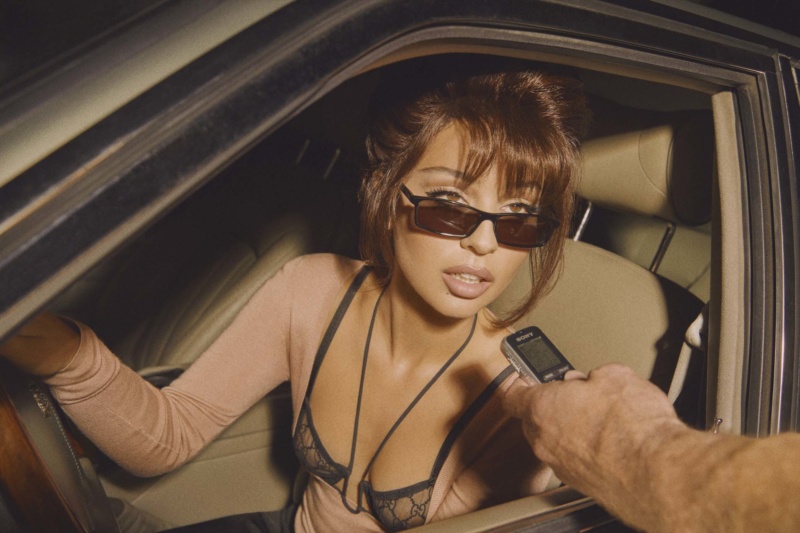 ANNA CAFOLLA: Euphoria was put on hold amid the coronavirus. How has it been anticipating your return to such a significant project?
ALEXA DEMIE: We film and edit pretty quickly, so there is a possibility that it's out next year. We were literally about to begin production, and the next day everything was shut down. The two Christmas specials are done though. It's interesting being away from that character for so long. It's a lot of work, with long hours, and my body is not used to that anymore. I miss it though. Sam [Levinson] rewrites all the time, because he just has so many ideas, so I have no idea what to expect.
TAYLOR RUSSELL: We have talked a lot about old Hollywood relationships, like that of John Cassavetes and Gena Rowlands. Gloria, A Woman Under the Influence, other films that they collaborated on that have deeply inspired us. When we notice relationships like these in current times we will often say, "that must be her Cassavetes..." and share a moment of awe. We share a yearning for a collaboration that goes deep and comes from a place of oneness. What do you look for in creative partners, and how do you know when you've found it?
ALEXA DEMIE: I actually started to recognize that recently.
I can feel really connected with the creator of my show. I've experienced collaborative relationships that are more intimate and personal recently— they're beautiful because you don't have to say much, you just both get it. It's like working recently with Petra. She already knows what I'm thinking. I trust everything that she's doing, which is really difficult for me because I'm a control freak. I like to control the vision, but I've put my complete trust into her and feel happy and safe. Shooting the cover with Chuck [Grant] was so fluid. She was open to every single idea. I think it's beautiful that I'm finding more women to do that with.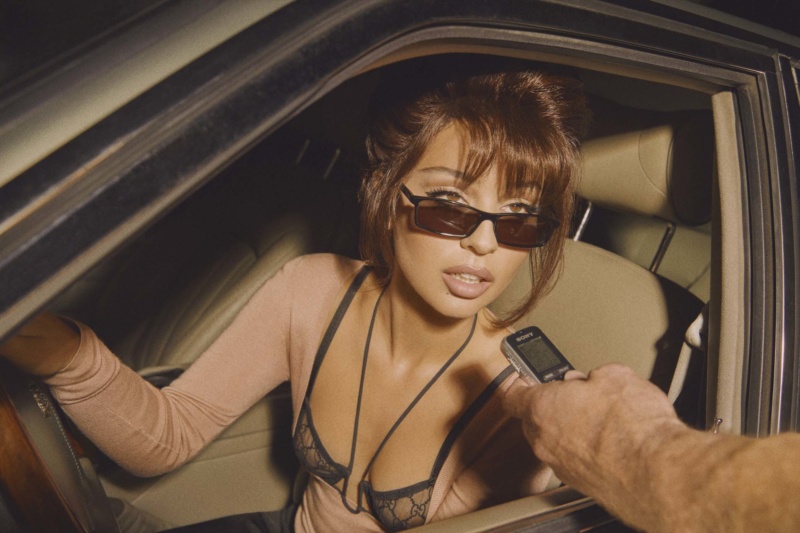 ANNA CAFOLLA: What is it about the energy of female creators that you appreciate?
ALEXA DEMIE: I think with women, we may experience trauma and pain in different ways, but it all boils down to one inner feeling within us and we all can relate. We have empathy. It goes further than just family or relationship trauma too. We, as women, come from a lineage of being abused and taken advantage of. Taylor and I always talk about a world before the one we are currently in, where it was a matriarchy instead of a patriarchy. How a society like that isn't as far away as it seems and how there is infinite possibilities in the depth of femininity.
When you get to find a woman to create with, when we're open with our traumas and not taking it out on each other, that's the most pure form of creation. Even though we're here as individuals, we're not. With Chuck on this shoot, we were able to bring to life some of my biggest fantasies. We both love old Hollywood and the mystery of it. We got to explore something exciting, the birth of the movie star in this age.
TAYLOR RUSSELL: I can count on you to have countless stunning references for starlets throughout time. I think about these women and that I wish I saw their faces more regularly. Marpessa Dawn, María Félix, Sara Montiel. Do you remember the first figure that you fantasized about? What about them made you envision a world you could inhabit?
ALEXA DEMIE: María Félix, who was a Mexican actress. She was so beautiful and strong. She could play the stunning princess, and then she would be riding a horse in a cowboy hat and button-down, playing tough. Her strength was so inspiring. I would watch Sophia Loren, Elizabeth Taylor and Lauren Bacall. I found them interesting at first because they're stunning, that's their public perception, then you read their stories. These women wrote their own scripts, had a say in their work. I got obsessed with researching them.
TAYLOR RUSSELL: I find it so exciting to discover women of color. Of course, we love Marilyn Monroe, Audrey Hepburn and Katharine Hepburn. We dream about them, but we can never insert ourselves into those stories. We talk all the time about doing biopics. Who would you love to play in a biopic?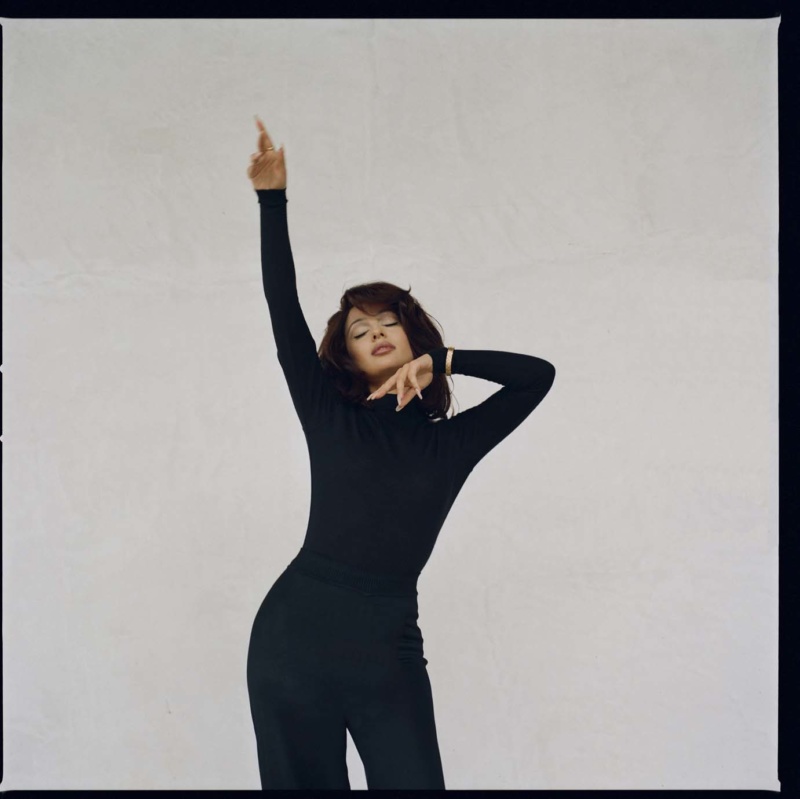 ALEXA DEMIE: It would have to be María Félix. They really hounded her to do films in Hollywood, and she refused. She only did Spanish-speaking. She didn't feel like Hollywood was authentic. Hollywood has used foreign films as their inspiration for as long as we can all remember, and they need to pay their respects.
There's a story that she took two baby crocodiles to a jeweler, and said, "I want a necklace that looks either exactly like them or is made out of them." That became the famous Cartier piece. The only two people to ever wear it were María Félix and Monica Bellucci. I'm next! I'm seriously looking into making this movie happen.
TAYLOR RUSSELL: What kind of films do you think the world needs right now?
ALEXA DEMIE: We can stop remakes. There's enough new ideas in the world. Honestly, what if all of the indie films that we've made or we love were the big budget films? What if those were what were promoted and seen? I keep wishing for this modern renaissance to happen in film. I don't think every new film needs to address every single little thing that's happening right now in such a specific way. I think it's important to use our voices when it's genuine. Getting political for the sake of it can be false, bad and corny.
Growing up, what attracted me to film and music was the escape. My childhood was not sun and rainbows. I come from trauma, and escaping it was watching these stunning films that took you to another world. I'd like to see anything that's from the heart —creative, new, pure, fantastical. Then we can root things in reality in more creative ways. There are filmmakers that really excite me, but most are not getting the push that big studios would bring. I am so inspired by the work of filmmakers like Trey [Edward Shults], who did Waves, Celine Sciamma, the Safdies, Alma Har'el, Alejandro Landes, Paolo Sorrentino, Houda Benyamina, Bong Joon-Ho.
TAYLOR RUSSELL: I'm so impatient to see what you have coming up. I just want to consume it now!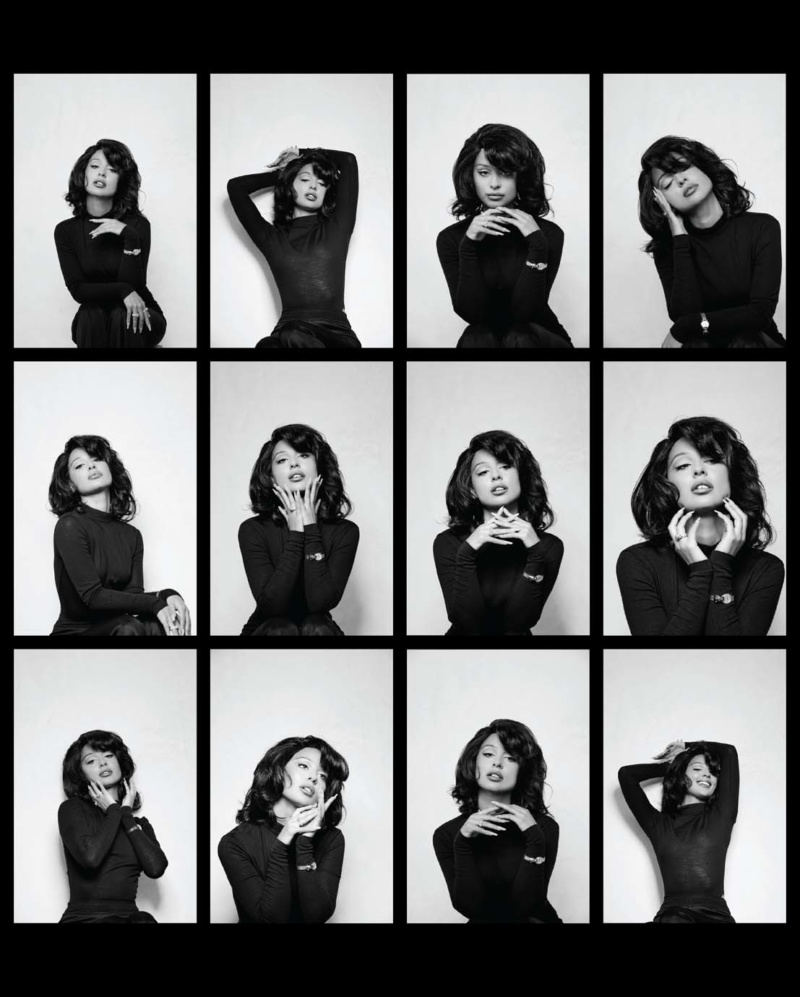 ALEXA DEMIE: I hate how long it takes to develop a film. Me and you just need to do the financing ourselves. And, I think, we are both about pulling the ladder down for others to climb up. I don't want to just stunt on Instagram, I want to be a part of something that makes moves, so I'm very passionate about children and honoring their creativity. Honestly, I have designed a whole school that I want to build one day to really nurture creative spirits. Immigration rights are also important to me. My mom and her family are all from Mexico. It has been hard with COVID, with everything happening at the border, but I'm lucky to be connecting with people to make changes in future.
TAYLOR RUSSELL: I think it's only right we discuss art and the place that it holds in your life! We started talking about collecting art this spring and have slowly started collections. For my birthday, you commissioned a painting of me by a friend and artist, Ben Evans. It's one of the most special gifts I've ever received. What type of art are you drawn to right now, and what is a dream piece that you would love to acquire?
ALEXA DEMIE: It has to be Leonor Fini and Leonora Carrington. I have Ben Evans on my wall behind me. There's also Zoé Blue M who I recently commissioned a piece from. The art I gravitate towards sits between reality and fantasy, and she captures that. I love finding new artists who are going to be massive and being able to have a relationship with them now—it feels so special.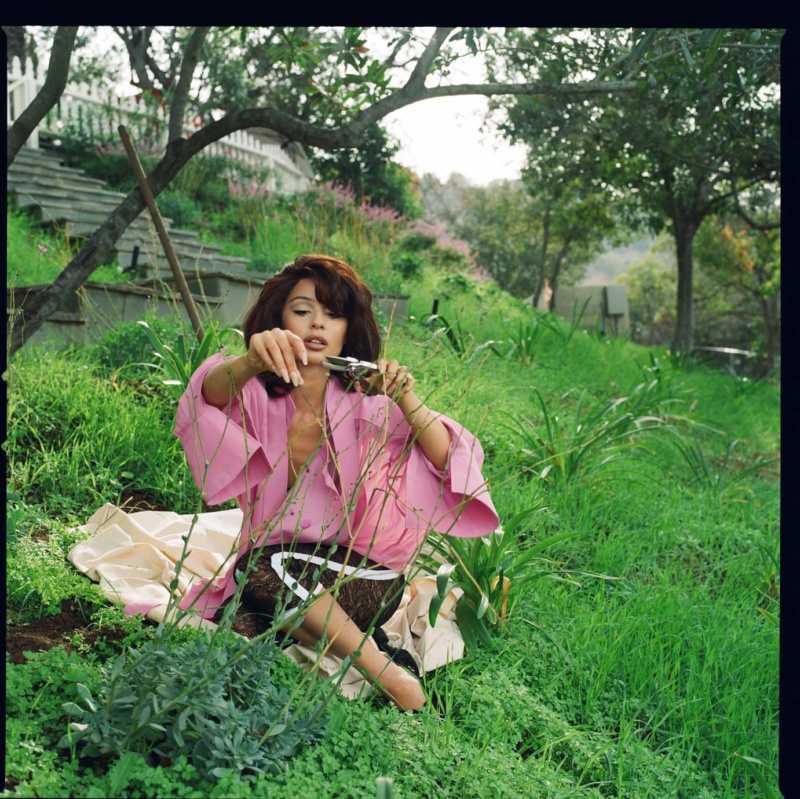 TAYLOR RUSSELL: We are going to have houses with the exact same art on the walls! Leonor is an artist that you introduced me to. She has a quote about leading a different life that the one imagined for her: "I understood from a very early time that I would have to revolt, in order to make that life. Now, I am convinced that in any creativity, there exists this element of revolt". How do you relate to that statement?
ALEXA DEMIE: I relate to that on the highest of levels. I've revolted my entire life, from a super toxic family environment. Running away from home as a teenager was a major revolt. I had to figure out where I was going to live and sleep, but I needed to do that to become who I am now. To stay was to be stifled. It bleeds into every single piece of work, whether people have seen it yet or not. Everything from my music to acting, writing and how I carry myself in the world is all because of that. I'm so attracted to [Leonor's] work. I live in the surreal, it compounds the world I've built and made real for myself.
See the story unfold in polaroids.