Charles Moffett, Kenny Rivero
"I Still Hoop"
(through December 27)
Visual artist and musician Kenny Rivero's show "I Still Hoop" at Charles Moffett gallery in Tribeca comprises fourteen paintings that reflect the social reckoning of 2020. Created this year from the artist's memories and childhood experiences, the semi-autobiographical works explore the enduring fears of a person of color, through the prism of Rivero's native Washington Heights—a New York neighborhood confronting violence in the 1980s and '90s—as well as his Dominican-American identity. The pieces are simultaneously resonant and playful around an aesthetic throughline that makes this relative newcomer stand out. Lamps and Socks, for instance, riffs on the stereotype, Rivero explains, that Dominicans don't like to wear socks, depicting them sneaking out in the gauzy, pre-dawn light of a New York streetscape. In his studio, Rivero alternates between music and artmaking; the result is an abstract, painterly narrative that feels nuanced, lyrical and improvisational, hailing an important voice in the art world.
David Lewis Gallery, Thornton Dial
"Dial World, Part I: The Tiger That Flew over New York City"
(through December 20)
A pioneering artist, revered for his large-scale assemblage paintings that fuse themes of Civil Rights and the struggle for justice, the late Thornton Dial is part of America's brilliant modern legacy. Born into poverty on a sharecropping farm with no formal art training, he started by fashioning found objects into sculptures as a young boy. "Dial World" unfolds over the gallery's two locations: Part 1 showcases eight major assemblages inspired by Dial's first trip to New York City while "Dial World Part II, Stars of Everything" hosts a group exhibition, celebrating the artist's achievements.
Elevating materials like carpets, bedding, clothing and plastic twine, pieces such as The Tiger That Flew over New York City (1990) and In Honor (2002) illustrate his prowess at transforming discarded textiles into major, living sculptural masterpieces. The most arresting of all, Everybody Loves The United States, was inspired by Dial's visit to a smoldering Ground Zero, and evokes falling bodies in the colors of the American flag, a distressing vision of patriotic violence and unspeakable national tragedy. Though only eight artworks are on display, David Lewis Gallery presents an important posthumous show that revisits the history of Thornton Dial.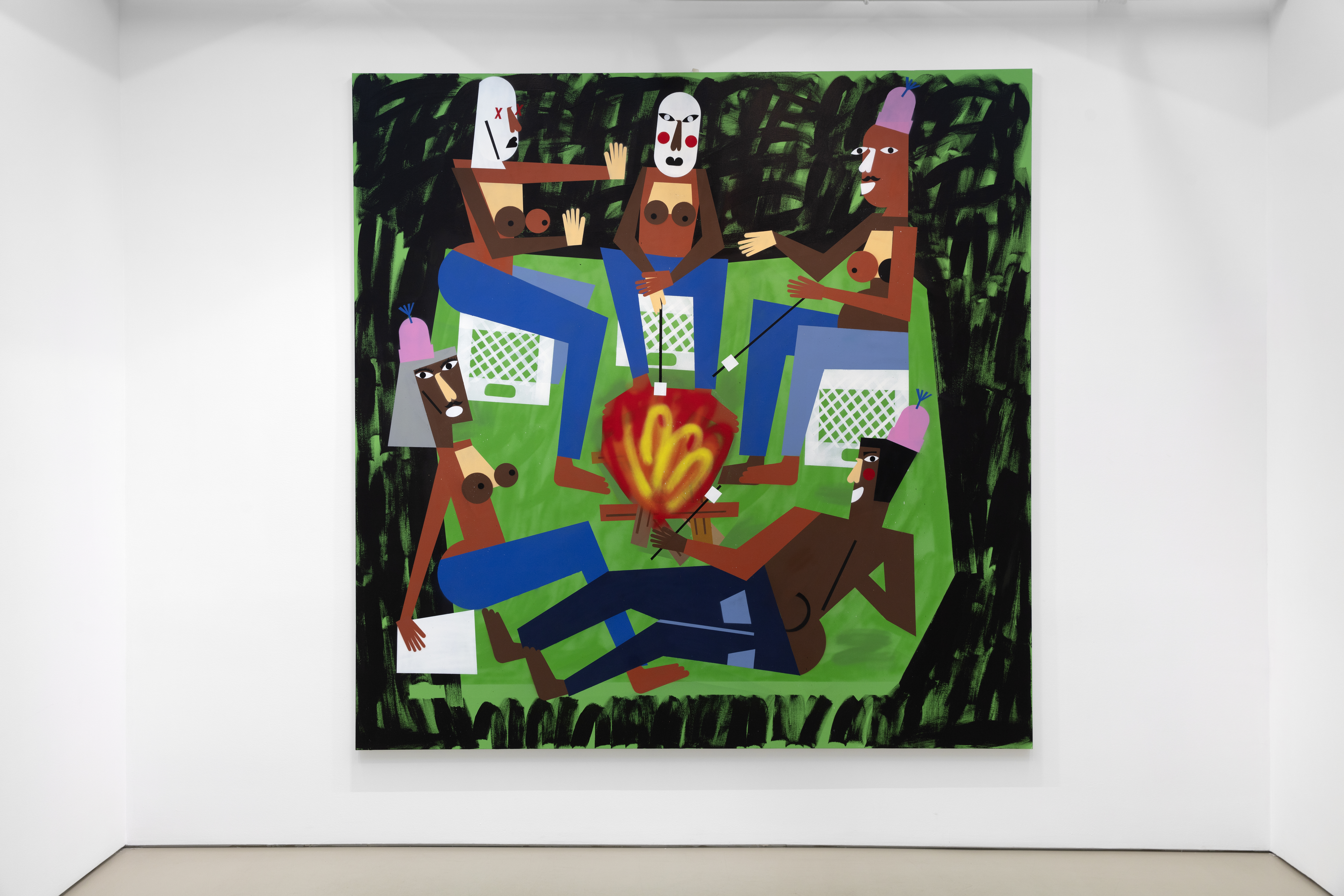 Jack Shainman Gallery, Nina Chanel Abney
"The Great Escape"
(through December 23)
What might a world look like without white supremacy and the white gaze: a kind of fugitive, rural utopia? It's the central question of Nina Chanel Abney's new work at Jack Shainman Gallery, showing at both of its Chelsea locations. Created this year, "The Great Escape," is a response, in part, to her biking trips, a respite from the city's spring lockdown, she has said. Known for combining representation and abstraction, her distinct artistic style—where vibrant, angular figures collide with disorienting, geometric patterns—works here to ravishing effect. "The Great Escape" is Abney at her best, conveying a freshness and a deeply intimate emotional landscape. The swell of tranquility from her time outdoors during isolation is palpable in the images of tree trunks, sail boats and birds alongside the frenetic array of graphic symbols that is her visual vernacular of the last decade. But it is her relentless reimaging of Black people's relationships to nature, property and one another that emanates loudest of all.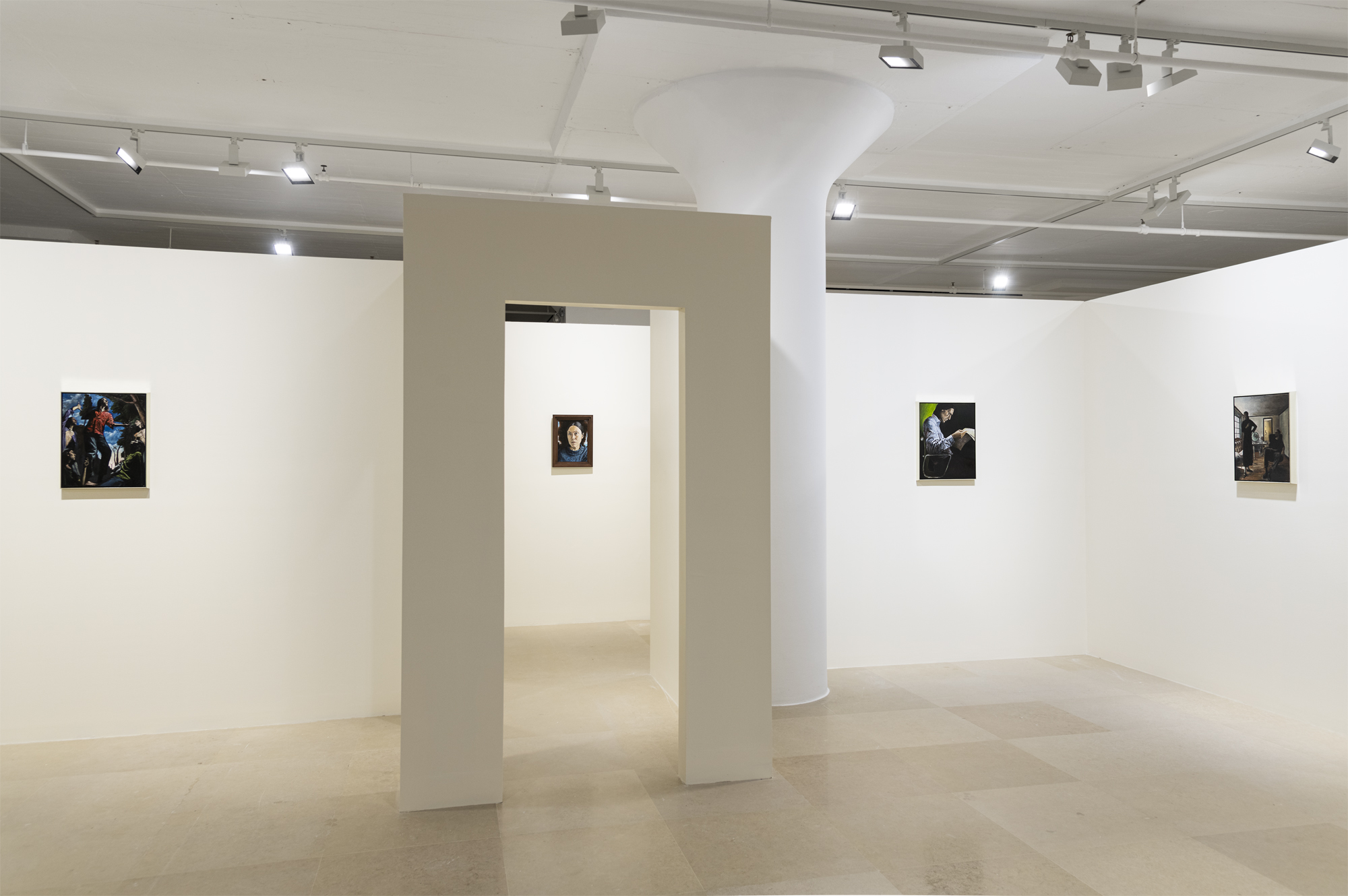 Greene Naftali, Giangiacomo Rossetti
"Le Fantasie"
(through December 19)
Giangiacomo Rossetti's solo exhibition at Greene Naftali transports visitors as soon as they disembark the elevator into the eighth floor of the gallery. Displayed as a makeshift office floor plan, viewers walk from one claustrophobic space to another, approximating the artist's temporary studio, an emptied suite of examination rooms within a deserted New England infirmary. The physical presentation is integral to the scale and experience of these twelve miraculous oil paintings from the last year. The incongruence of Rossetti's painstaking brushstrokes and classic art historical references against the banal, dreary terrain heightens his agitated compositions that straddle fantasy and the American landscape in a uniquely haunting way.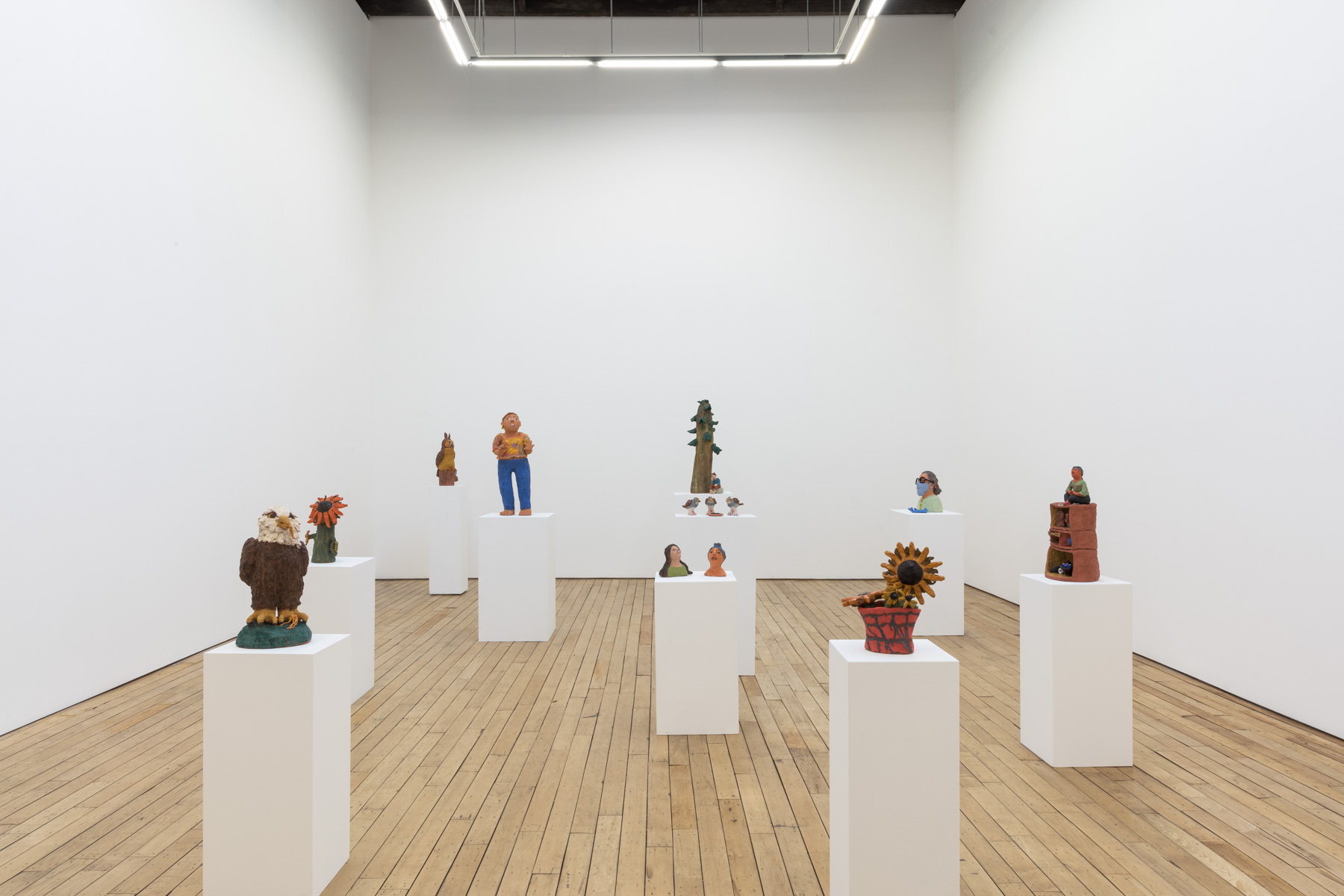 Rachel Uffner Gallery, Sally Saul
"In The Woods"
(through January 30)
It's fair to say Sally Saul defies categorization. Over a prolific 30-year career, the artist constantly surprises with ceramic sculptures and assemblies that range from grotesquely-engaging figures to serenely intimate portrayals of nature. Her current show at Rachel Uffner Gallery is not to be missed, as the artist contemplates the absurd, fearful world we find ourselves currently inhabiting.
As Saul explains it, "In The Woods" reflects her disbelief and sorrow for the death of thousands of Americans this year. While she includes a variety of birds and plants she observed from her garden—small, momentous pleasures of 2020—the exhibition standouts are Hard Times, a self-portrait with a protective mask and red lipstick, as well as Troubled Waters, wherein a female figure finds herself surrounded by an ominous seascape that recalls Raymond Pettibon's No Title (The bright flatness) from 2003. The show encompasses Saul's delightful wit and optimism, but there's a decided edge of vulnerability and mortality, illustrating how powerfully her ceramics can capture our anxious reality.