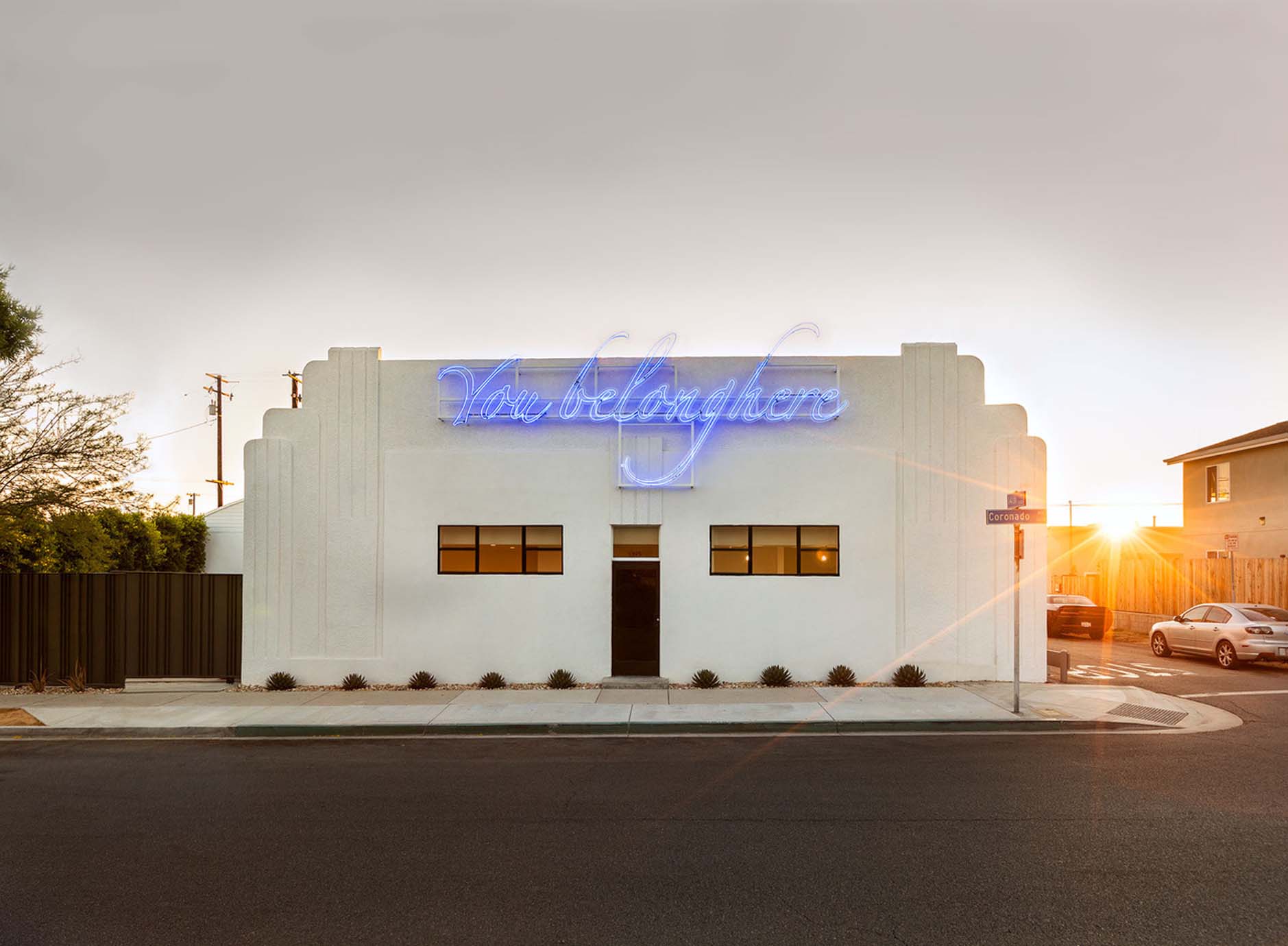 Don't be fooled by the name. Compound, a new cultural center located in California's coastal city of Long Beach, is not your average big box arts development. In the words of its founder and director—longtime local, designer and philanthropist Megan Tagliaferri— the nonprofit's mission is to "create space for dialogue, social justice, healing and transformation—all anchored by the arts."
As a port city adjacent to the patchwork metropolis of Los Angeles, Long Beach is one of the most diverse places in the world. Years ago, Tagliaferri envisioned an activated, physical space that would function as a beacon, emboldening community farmers, local arts and youth organizations and political groups. "It's really about raising consciousness and creating a space for the community to coexist, learn and grow," she says.
Compound's expansive and cleverly resolved space, which measures over 15,000 square feet, was designed by Tagliaferri in conjunction with local firm BOA. A masterclass in adaptive reuse, the space comprises two restored 1930s Art Deco buildings linked by a sculpture garden and public courtyard. Within, soaring ceilings provide abundant natural light, and minor decorative details channel Californian mid-century folk modernism and the rich craft traditions the city is known for. From the street, announcing its emphasis on inclusivity and placemaking, the handsome whitewashed building beckons with a piece by Tavares Strachan—a neon text work, which elegantly exhorts: You Belong Here.
While there are plenty of ways to explore this compelling new project—from yoga classes, culinary experiences and bilingual performances—it's Compound's vital art program that sets it apart. Veteran curator Lauri Firstenberg, involved since the project's inception, has been tasked with balancing museum-quality exhibitions with the evolving needs of the center's community.
"There are three key approaches to programming," Firstenberg explains. "We will open with the first Compound Commission in the Laboratory space with artist Glenn Kaino. He has created Tidepools, a site-specific experiential artwork inclusive of a cloud chamber, a sound element and a wishing well. It's a project about both curiosity and hope. We are also working on an exhibition, project spaces and auxiliary programming around the notion of 'radical empathy'—looking at artists' approaches to the intersection of art and activism. And, we have been working overtime on an installation under the rubric of 'chaos to cosmos,' featuring works by Lita Albuquerque, Alma Thomas, Helen Pashgian, Fred Eversley and Billy Al Bengston."
Given its arrival in the midst of a pandemic and political turmoil, Compound's cross-sectional mission feels more urgent by the day. The environment has been designed with an almost telepathic sense of the times; flowing, interconnected rooms and outdoor spaces are emphasized. Programming will also appear online, including Compound- ed, a digital editorial platform. Regardless of its medium, the center's holistic investigations were designed to encourage optimism, galvanization and change. "The original intention was for education in the realms of both art and wellness to converge at Compound," says Firstenberg. "And at this particular cultural moment, a space for belonging and solace resonates in no uncertain terms."