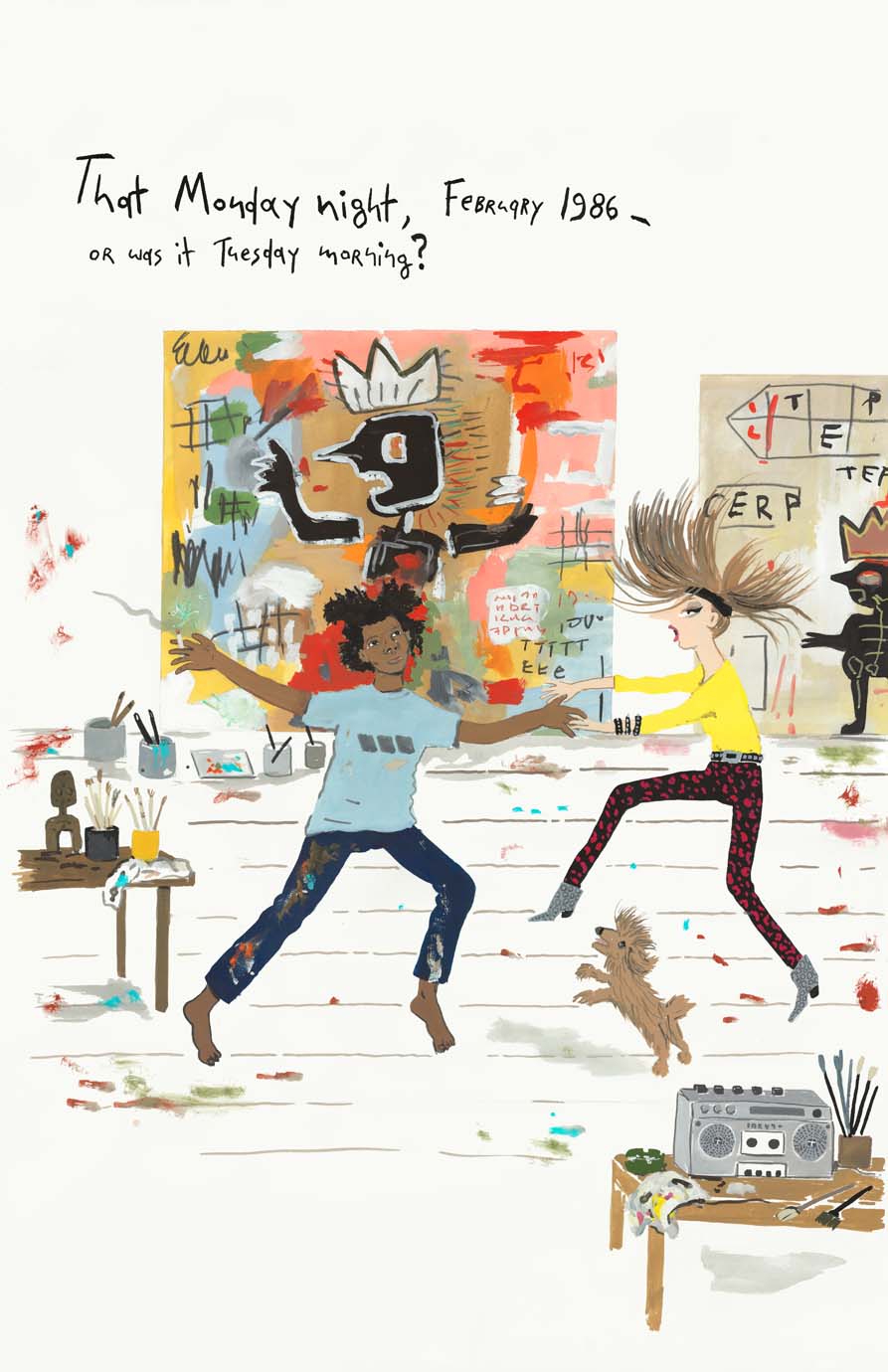 "Have you ever been in an art studio when the work is finished and you just dance?" inquired my dear friend, Konstantin "KK" Kakanias, with his melodic Greek accent. Given the current cultural climate, I was initially taken aback by the work he created exclusively for Cultured's fall issue. Was this fantastical drawing of the iconic Jean-Michel Basquiat dancing with Mrs. Tependris, circa 1986, an anxious, end-of-the-world-like divulgence of the contemporary art insiders' last closely guarded secret? "Yes, it's true," KK dramatically confirmed, after some coaxing: "Mrs. Tependris had a very small affair with Basquiat. I can't say exactly what kind of affair but, in my brain, they shared a weekend together after meeting at the famous Mudd Club. On this particular night, when he completed two divine portraits of her, they didn't even return to the Mudd Club. They danced right there, together in the studio." I could feel the mischievous twinkle in his eye emanating through the phone as he ranted on: "I often wonder if Basquiat felt abused by the art system; maybe he felt forced to create? He was a genius, but I don't know how happy he was. I mean, I never met him, but Mrs. Tependris adored him—not as a painter, but as a person." Playing along in true Hedda Hopper form, I continued interrogating KK for more salacious details. Our evolving banter elucidated the fanciful composition. It is, in fact, not intended to suggest scandal whatsoever, but is instead a sensitive homage to the joy of creating in the studio and the everlasting value of the ephemeral.
Mrs. Tependris, KK's illustrated alter-ego, is a complex caricature of the artist, a society doyenne and a fearless superhero, but also the average flawed human. Originally conceived as his imaginary childhood friend when, at eight years young, he was taken from his mother and forced to change homes, the make-believe heroine compensated for the female presence KK desperately craved. Mrs. Tependris came out, so to speak, via a 1996 New York Times Magazine feature. Immediately garnering a cult following, she has been enduring hysterical adventures since. Along with other larger-than-life, colorfully depicted characters, she has headlined KK's acclaimed publications, like Freedom or Death (1997) and Mrs. Tependris: The Contemporary Years (2002), and has inspired his numerous fashion-related collaborations with the likes of Yves Saint Laurent, Christian Louboutin, Frédéric Malle, and The Bergdorf Goodman Cookbook. Nai, Nai, Nai, a 1999 performance piece that overturned all of society's accepted roles to reimagine a world based on love and acceptance, remains KK's favorite. "After that, I felt done. That project totally fulfilled me as an artist," he confides. When I ask him to articulate how he and Mrs. Tependris intersect, he repeatedly emphasizes, "She is me, but I am not her." Mrs. Tependris is a figment of his imagination—he takes comfort being in complete control. "I have a whole separate life—I am a man, I am a husband, I drive a car. She has only driven a few times her entire life!" He laughs, and lowers his voice, "You know, when you become older, you start understanding things in a different way."
It is no surprise that Mrs. Tependris has re-emerged during the COVID-19 pandemic. "I got very scared in the beginning and she returned to remind me that we can get through this together," shares KK. The result is "Mrs. Tependris: The Quarantine Diaries," a whimsical yet sociopolitical exhibition of works on paper at Gavlak Gallery in Los Angeles, that is expected to travel to Palm Beach. Like most of us, KK has clearly spent recent months reflecting on the past, processing the present and reveling in the future's possibilities. Flamboyant gouache and pencil drawings jet Mrs. Tependris to glamorous destinations like Venice, Morocco and the South of France, urging viewers to "travel with our minds," while imagery of her protesting with her friends and vomiting on a White House "Economic Impact Payment" letter harken to current cataclysms. She is spreading a message that culture, curiosity, education and humor are keys to life. "Culture is essential," proclaims KK. "I just want to make people happy—give them one crack of a smile." For now, we'll always have that Monday night, or was it Tuesday morning?