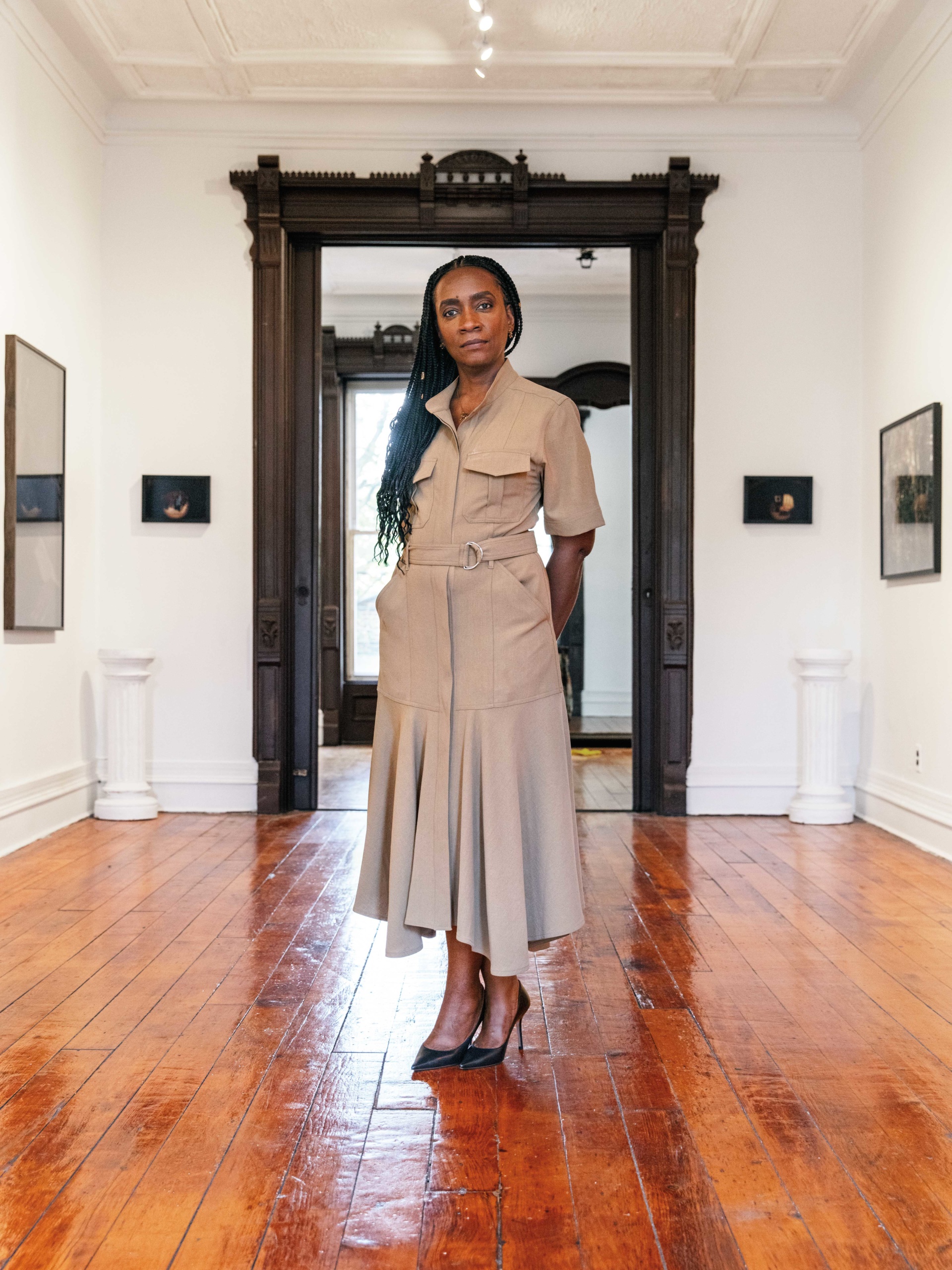 Almost two decades ago, Ivy N. Jones founded Welancora Gallery in Bed-Stuy, Brooklyn. Then and now, there is so much power in a Black gallerist showing and selling work by Black artists in a space that they own in a once predominantly Black neighborhood. The gallery is located in a cozy 19th-century townhouse that emulates Jones's essence of elegance and grace. The building is reminiscent of the spaces where other institutions were established, including MoMA, Jack Tilton Gallery, Marlborough Gallery and the High Museum in Atlanta. In 2002, Jones made an intuitive decision to buy a brownstone. "At a young age, I always knew that I wanted to own my own space," the Brooklyn native remembers. A few years later, when she was in her early thirties, she decided to transform the space into a gallery after taking a photography class with Roy DeCarava. "It made more sense to me to keep the gallery in a space that I already own, and to keep the gallery in Bed-Stuy, so that folks don't necessarily have to leave to experience exhibitions." Sticking to her roots, she named the enterprise after her father, older brother and mother. Five years ago, the gallery moved to its current location, at a larger townhouse in the same neighborhood.
In July, Jones opened Welancora's doors once again after temporarily closing due to the pandemic. The most recent show on view, curated by Jones along with artist Damien Davis, was inspired by a conversation she had with her good friend Deborah Willis and speaks to a question she is often asked when visitors enter the gallery. Featuring artists Zalika Azim, Elliott Jerome Brown Jr., Colette Veasey-Cullors, Melvin Harper, Daonne Huff, Anders Jones and Deborah Willis, the exhibition, titled "How Did You Get This?: The Spaces We Inhabit," highlights photographs, ephemera and a performance that are all in conversation with Welancora's location, to unpack assumptions about spaces inhabited and controlled by Black people. Highly supportive of Black ownership, Jones pushes conversations around abundance and utilizing space to support diverse narratives concerning the African Diaspora in the US. Maintaining genuine relationships and developing a robust program of solo and group shows with artists and scholars such as Derrick Adams, Helen Evans Ramsaran, Tiffany Smith, Tajh Rust and more, Jones is a contributor to the movement of promoting the longevity of the careers of Black artists here in New York City and beyond. Along with placing art pieces with collectors, Jones makes sure to work with curators and writers of color as well. Since its founding, the gallery has published ten exhibition catalogues, which play an essential role in contextualizing each show and the participating artists. When speaking about her gallery's development over time, Jones says, "My vision for the gallery is constantly evolving and becomes clearer each day, with each artist, writer and guest curator that I work with."
This month, Welancora Gallery will begin to release solo exhibitions featuring the works of Aisha Tandiwe Bell, Oasa DuVerney and Donovan Nelson. Its upcoming schedule will also include an exhibition curated by Derrick Adams, and another curated by Antwaun Sargent.