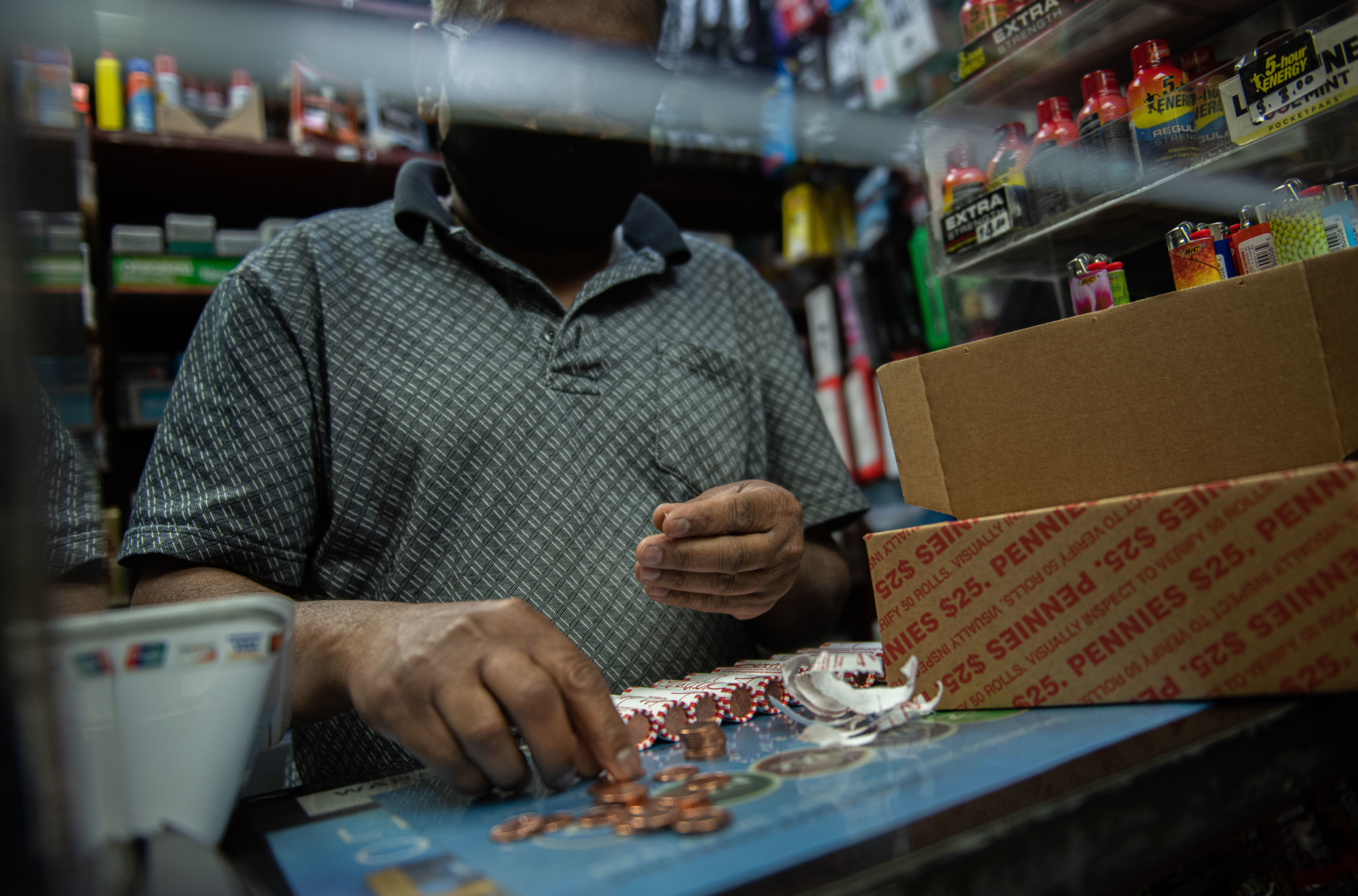 Whether it is coordinated pigeons taking to the nighttime sky with lights affixed to their feet or a gigantic sphinx rendered in sugar, Creative Time's public art projects tend to speak in the tongue of spectacle—appealing to our cameras, they demand to be captured as a one-off experiences for our memory books. Creative Time's newest commission, Tender, 2020 by artist Jill Magid, shares the monumental ambition of these projects past but without the runway show-esque ephemerality. Tender is not a singular object that can be documented but rather an active body whose armatures are choreographed by the monetary transactions New Yorkers perform everyday.
Unlike camera-ready installations or stunt art, Tender's parts are hard to spot unless you are looking. Start with your wallet. Magid convinced a Sheepshead Bay, Brooklyn-based engraver to manually laser etch the edges of 120,000 pennies with the phrase: "The body was already so fragile" and she started spending the finished currency at bodegas last week. "For the phrase, I had 40 pages of ideas, and there were a lot of beautiful options but they ultimately felt arbitrary," Magid tells me. "I really feel when the material is right you know and when I got to the phrase ' the body was already so fragile' it made all other options feel wrong. I was looking for something that spoke to the slippages I kept hearing in the media and from the government between the cost of lives and the cost of living. I was trying to find something that spoke to that disjuncture but that also had the potential to move beyond it and grow.
Magid's projects often feel like an evolutionary explosion from which earnings and questions start to multiply. Take for example, The Barragán Archives, her large scale multimedia project addressing the locked box status of late architect Luis Barragan's papers—purchased posthumously as an engagement ring by a Swiss design couple—and the implications and questions surrounding ownership and property this gift raised. In response, Magid produced a diamond ring made from Barragon's exhumed ashes as a way to propose to the archive's current owners in Switzerland that they make its assets accessible to his family and adoring public. Tender follows in this lineage. Its meanings are as expansive as its possibilities for new audiences as the pennies slowly matriculate out of bodega drawers into the pockets of wanderlust and tourists.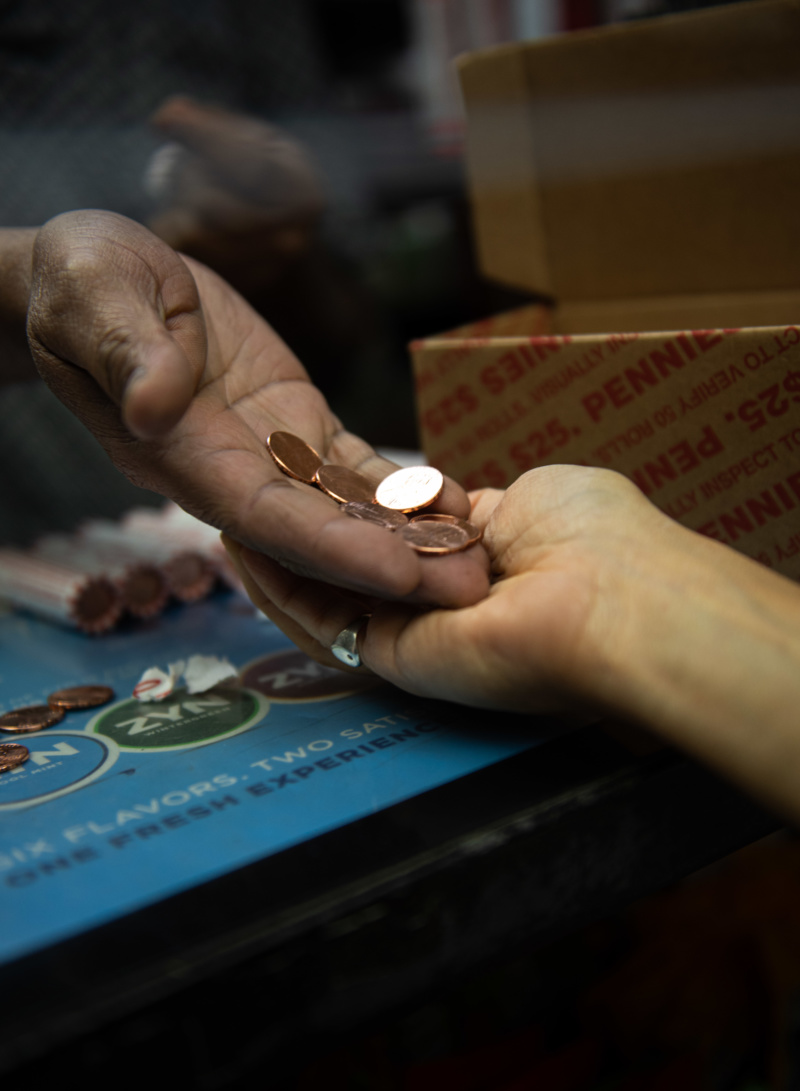 Yet the beginnings of Tender were not typical for Magid. "While my projects many times turn into what I call 'epic journeys,' they often start as a nagging question that then evolves organically as it needs to include collaborators, different institutions, material investigation and research," Magid says. "But when Creative Time approached me, the scale of the project preceded the idea because I knew it had to be based in the city and the scale was supposed to be large. When COVID-19 hit, the parameters of what that meant shifted from a place that many people could go to something more open-ended."
I consider Magid's engraved pennies my first encounter with a COVID-19 monument. For all those asking when we might start seeing the fruits of coronavirus-9 confinement on the arts, the answer is now. Tender's genius is that it doesn't require the public to forfeit space. Rather, it makes use of the invisible real estate we share—currency. Perhaps in the future more monuments will operate like this. I would hope so. It's a dream I share with Creative Time chief curator Justine Ludwig who sees Tender as a bellwether of programming to come, both in its methodology and the power structures it directly addresses.
While its use of bodegas as distribution centers and its playful sally into defacement laws intrigue me, what strikes me as the most charming part of Tender is that any glimpse of the project will only ever be a fragment of a grander whole. We can only see the transaction in front of us and yet across space and time we are connected to all the other exchanges. Creating room for discovery and new questions is rare when monument-making, yet these are the only means through which Magid's project is accessible to a viewer—a fact that underlines the commission's purpose for its maker. "The most important thing to me about Tender is that it is an intervention on a monument that becomes a kind of counter-monument, which is then able to travel in the exact same way that money does while complicating the message it bears," Magid says, adding that the most intriguing response the work has gotten so far came from a friend. "They told me that every time they get a penny now they inspect it to see if it's a Tender penny. I like the idea that an artwork could make everyone look more closely." I certainly will.