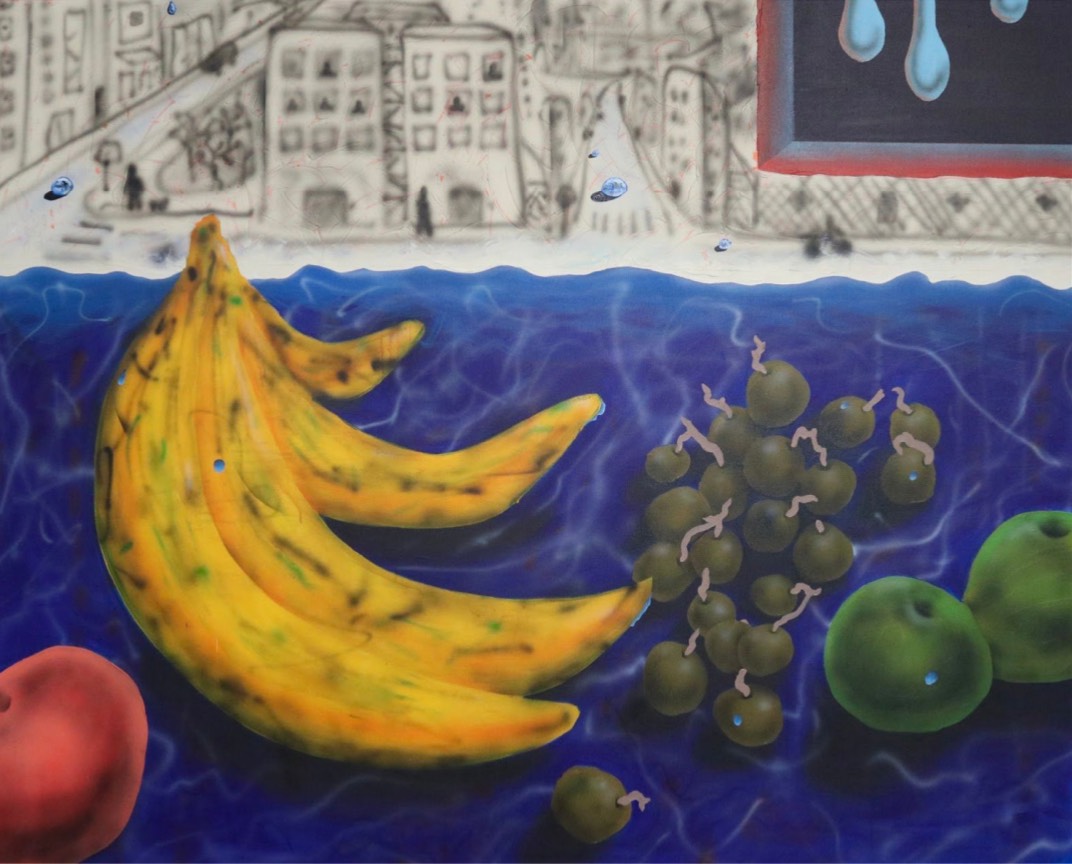 Larissa de Jesús Negrón's solo debut, "Moving On," at Sabroso Projects in Williamsburg features twelve new works on canvas, in which she distorts the familiar spaces that convey intimate moments within the daily life of an artist. The spaces often do not include subjects or faces, but instead convey the sense that someone has just been there or is about to arrive. The paintings seem also to evoke a need for healing and connection.
Though interior worlds featuring walls, curtains, windows and tight living spaces are the main stage of this exhibition, a recurring motif in de Jesús Negrón's works is water, rendered in varying forms of droplets and in domestic spaces like bathrooms. The artist employs mirrors, glass, windows and see-through curtains to amplify the visual effects of this vastness and fluidity—literally reflecting back on the viewer. These transparent and reflective surfaces are a visual platform for us to cleanse or work through our current moment of civil unrest, in addition to the global health crisis, while also providing a respite from our inability to interact with the elements outside of our quarantine quarters. "Water's reflectivity and transparency allude to the introspection necessary to think through emotionally charged situations," describes writer and curator Angelik Vizcarrondo-Laboy in the show's press release. She also explains that the artist has referenced water as a reminder of her hometown in Puerto Rico, where the beach provides a haven to escape from the stresses of daily life. When juxtaposed with the constrained spaces of interior life, water allows us to imagine worlds more vast than what is being physically depicted. One droplet of sweat or condensation seems to contain an entire world.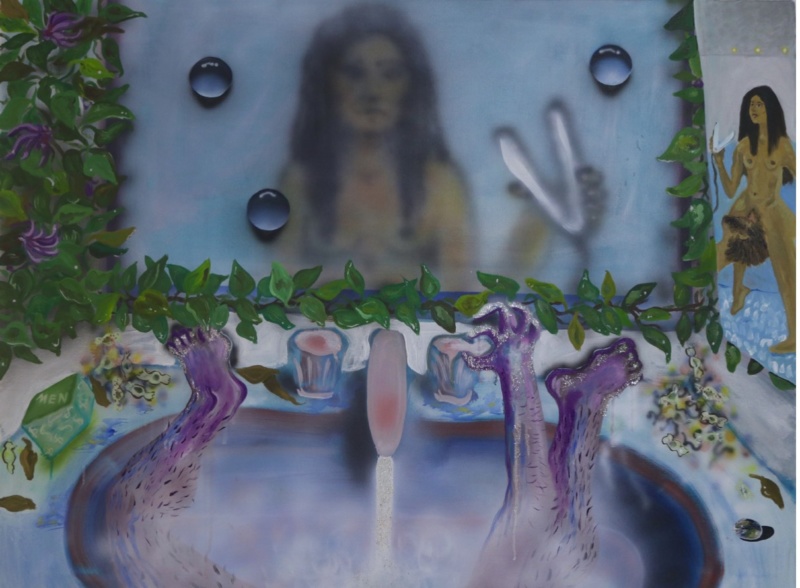 This feeling of isolation is also a reminder the ways in which our recent experiences in quarantine forced to see ourselves more than usual. If a figure is included in the composition, it is often portrayed with caricature-like or monstrous qualities, alluding to the sensation of looking in the mirror and feeling estranged from the person we see.
These works remind me of the exhibition "Unfinished" at the Met Breuer in 2016; here, too, de Jesús Negrón selectively renders certain aspects of the canvas while leaving others sketched out. Take, for example, Vida, 2020, in which bananas and apples float in water against a cityscape. Technically speaking, the paintings teeter between surrealism and sharp figuration; droplets, for example, are highly worked and rendered in an almost 3-D effect. Some objects and figures resemble claymation, such as in Cambios Sin Fin (Endless Changes), 2020. Multiple worlds are represented in one, as she frames her subjects within varying styles of oil painting. I find it exhilarating to see her oscillate from full academic realism to breaking down the technique to create a more dream-like sketchbook. The abundance of paintings and methods in "Moving On" give a comprehensive understanding of the spectrum of de Jesús Negrón's talents and abilities within the medium.
De Jesús Negrón has also curated a program of events promoting conversations led by various Latinx artists and curators based in New York, including Danny Baez, Melanie Luna, Bony Ramirez and Kiara Ventura. The pairing of her presentation and programming at Sabroso Projects speak to the artist's multifaceted approach to healing, communicating a common feeling and relating to others in her community.
"Moving On" is on view at Sabroso Projects through October 19, 2020.