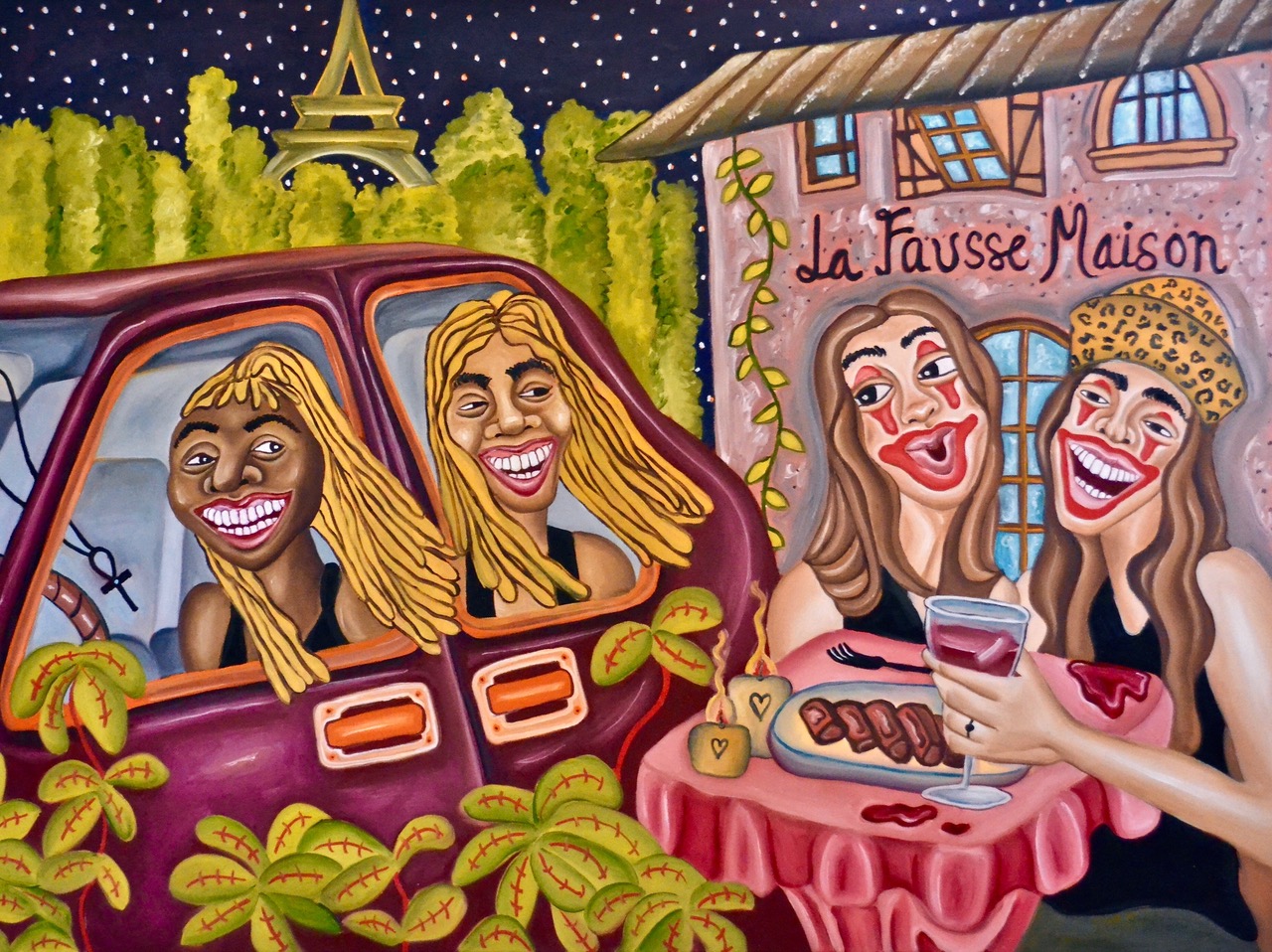 As a Black cultural worker, it is important to sustain a spirit of fervor, even in a time of uncertainty and resentment. I denounce the police brutality towards our people that will not cease. I denounce the delusion of the media to virtue signal without holding the correct parties accountable. But we must continue to rejoice in what is good and true. In my case, that is my nomadic community of artists and my passion for the arts of the diaspora, unwavering to trends, and how the works can change minds.
By choosing The Hamptons as our location for Superposition's two year anniversary exhibition, titled "CELEBRATE LONGEVITY," we want to show that it is not a foreign concept for Black and brown people to attain success in this particular place. We have always found an oasis to flourish in and leave a mark on. In Sag Harbor village, where I have lived every summer since 2014, there have been Black enclaves dating back to the 1940s, and referred to collectively as SANS. Just down Hampton Road are three neighborhoods: Sag Harbor Hills, Azurest and Ninevah. Colson Whitehead grew up in Azurest and in 2009 wrote a lackadaisical yet cunning novel, titled Sag Harbor, which gives narrative shape to his experience there. Sag Harbor has no plot, but instead describes the musings of a 15-year-old Black boy splitting time between Manhattan and the summer beach town in the '80s. The narrator, Benji, tries to figure out, like every other American boy, what it means to grow up when surrounded by forms of leisure and friendship that remind you of your childhood self. I heard this very sentiment expressed by a white person from the Hamptons as well; "We all know everything about each other, and we're going to know each other forever." Yet these two communities are living parallel universes, with the same memories, never really crossing paths. The only memories not shared, which Whitehead made me both wince and cackle at while reading: avoiding buying watermelons when walking through Main Street in Sag because of white onlookers. "Black Boys with Beach Houses," Whitehead wrote. This was a paradoxical identity, an unfathomable existence, but one that does, indeed, exist, Karen. Black people who go to the beach every day, wearing polo shirts and salmon khaki shorts. They are fortunate to have received property passed down from their successful grandparents. They found refuge and relaxation during and after Jim Crow thanks to the founders of SANS—architect Amaza Lee Meredith and her sister Maude Terry—who secured the bayside waterfronts that were less desirable to white Hamptonites. To be quite honest, as I drove through these enclaves the other day, I noticed many real estate signs. Through more research, the Voldemort came up:
BLACKROCK.
BLACKROCK?
BLACKROCK!
BLACKROCK… this word is probably the top omen there is for a gentrification junky like myself, and I remember when it became imprinted in my memory while I was living in Spain. Watching El Born be sent into corporate and private oblivion and the Catalonian residents who had been displaced from one shanty town to another. These observations led to the conception of my brainchild, that is Superposition: watching resilient people shift, adapt and recreate their worlds time and time again. Each more beautiful than the last. As we do in our studios, and as we are forced to do in life with no land or trust to our names.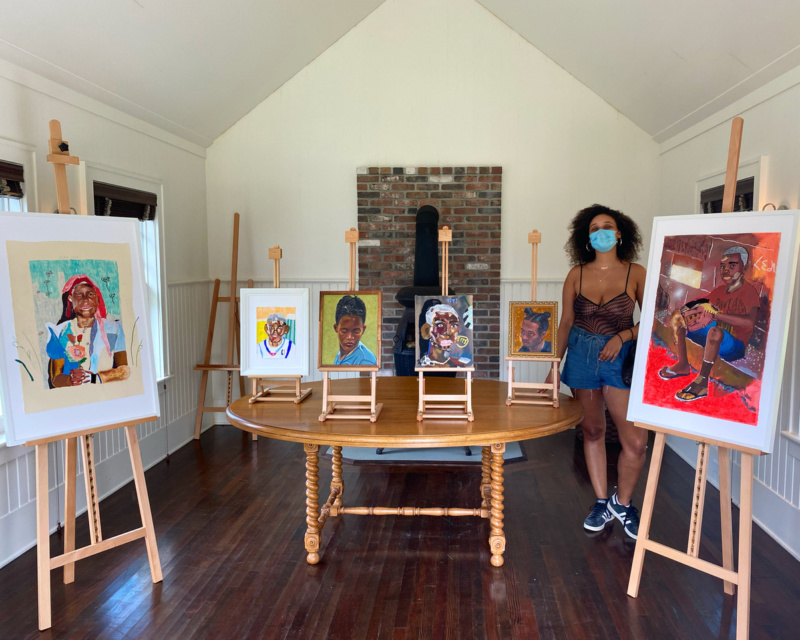 Our ancestors always surprise us with already having been where we are going. But when I first arrived in the Hamptons for an internship, Jamaicans were the only Black people I saw were here. They work at various stores like Schiavoni's and King Kullen and, in some sort of code, we signal to each other that everything is okay. They compliment my hair or my nails to acknowledge the prowess, giving me a boost in front of my white friends who adhere to the more modest or understated fashion of the Hamptons. After coming here for seven years, I feel it is finally okay to create instead of observe. I have done my research. I've had the white sand in all possible crevices, been stung by the jellyfish, endured the winter months, watched businesses come and go. It was a ripening in which I felt ready to tell this island that I am here to stay, and with that comes Superposition. With that comes sharing this life with my artists, who should also know that it is attainable for them. It's not as exclusive as depicted. All the arts media outlets describe art collectors fleeing to their second homes, where only the top galleries can afford to meet them. I say, "So what?" My artists will not miss out on any opportunities. We've always been the mobile gallery. Even if the show is in a backyard, we will be here.
Through "CELEBRATE LONGEVITY," I intend to make roots in a space, beyond the enclaves, that is thought not to be for us. At first, I explore a spot on Hampton Road close to Pierson High School. While I am discussing the terms of the lease, which I think to be a private conversation, an older white woman comes in with boxes and asserts her dominance. According to the landlord, she is relocating her SoHo store and has not signed or paid for anything yet, but because she knows someone else is interested, she makes sure to make an appearance. She starts to pontificate loudly to her friend in tow about how children's clothes will be hung with twine in the windows. They sit there drinking Jack's coffee. The two of them don't take their eyes off of me until I drive away to the sound of the landlord promising me a call later, which never comes. The next place in Bridgehampton tells me they will only let the show happen if it is "tasteful." I don't even bother to ask what that means. I know.
I am about ready to cancel the show. Within three days of the anniversary date, I reach out to Dominique Clayton, another Black gallerist back in Los Angeles, to see if she knows any people out here who could help me. Miraculously—and in retrospect, obviously—by reaching into my own community, they are able to direct me to the Reform Club in Amagansett. The owner's daughter had recently become the head of events and management. She is bubbly and eager to secure a deal, stating that it would be mutually beneficial for both parties. Reform Club is not widely known, despite having been there for 10 years, and only one or two of my friends who are townies know what I am talking about. "Oh, that place by Balsam Farms!" This was more than exclusive. Hannah Bronfman is staying on the property in one of the rental cottages and apparently Kanye had just been there last summer. I am shellshocked entering the grounds for the first time. I thought I had just dreamt what took place—the owner's daughter giving us the Tea House, a small cottage, for a whole month, and being excited to do so? At first, I am apprehensive to take up space for that long. My mission statement is all about expanding and contracting for a week's time, so as not to leave too much of a footprint on the community. But I realize this is the inverse of gentrification. I should stay for as long as possible, to dismantle preconceived notions of who deserves to take up space there.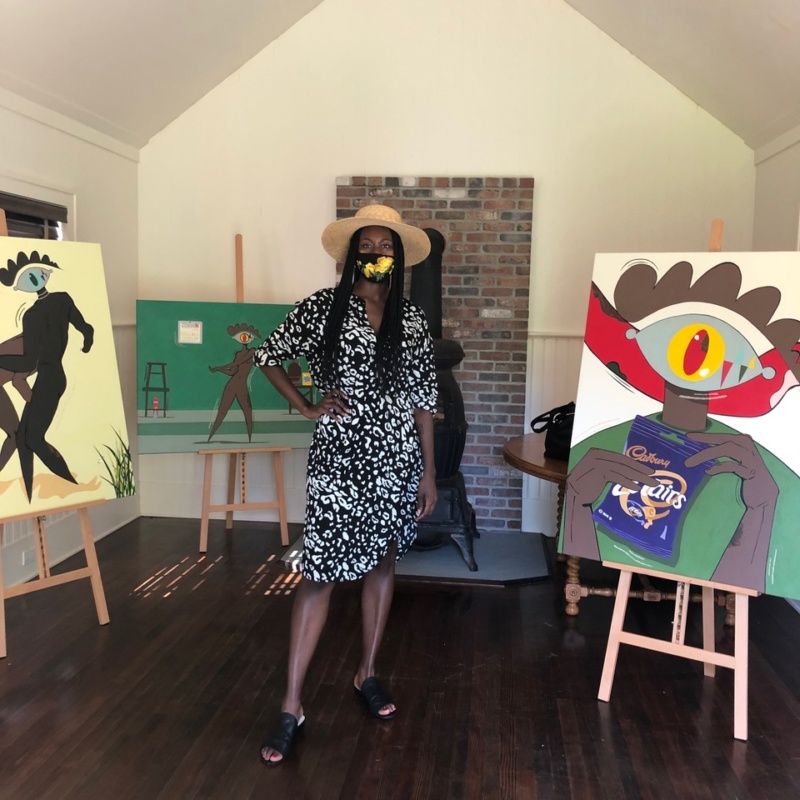 Walking into a majestic and lush property with brick pathways, tall hedges, trellises and apple orchards, you find yourself entering the oasis we created for Black and brown excellence: Ludovic Nkoth's towering and fluid painting, Alien in the Making, of his immigration ID photo after moving here at 13 from Cameroon, with his green card number etched into the bottom corner; Haleigh Nickerson's photograph Searching for Self As Hero, a self-portrait of one of her many characters in a costume she designed herself, black cape and bamboo earrings as chest armor, reminiscent of T'Challa in Black Panther; Jessica Bellamy's Mid-Wilshire Midsummer oil painting of a stop sign engulfed in California foliage and honeysuckles, but graffiti has changed its message to read "STOP killing us;" Layo Bright's Aso Ebi: Mummy's Pink Gele for which she cast her own face in plaster dipped in gold pigment, Ghana-Must-Go bags fastened to the top of her headwrap to look like leaves; Jeremiah Onifadè's The Percussionist, a frieze of a memory from his village in Nigeria where he and a family friend fought over a bowl of fish soup, spilling the contents and both losing a tooth; Dodi King's the beef was hysterical and the delusion so tender, an oil painting that depicts four women, two white and seated at dinner, and two of color driving past the former as they eat what looks like steak au poivre; Marcus Leslie Singleton's Girl Getting Hair Braided, one of many softly rendered works on paper that illustrate the calm in-between moments within the intimate settings of Black life; John Rivas and Raelis Vasquez's collaborative works, I Once Dreamt Bigger and Sueños Mio, combining two friends' styles into a new and ambitious exquisite corpse that nods to Rivas's use of found objects such as dried pinto beans and jewelry alongside Vasquez's highly-worked and academic style of oil painting.
These all now exist here, displayed on easels, as an homage to the artist studio frenzy that was the Hamptons back in the '60s. Visitors immediately note the context of placement. A friend from Water Mill exclaims, "I'm so relieved to not be looking at more paintings of Nantucket… I mean, the gravity of them all showing here… it's so refreshing."
More noticeable in metropolitan areas, the Black Lives Matter protests press forward as I sit in the Tea House amongst the artwork. Changing one mind at a time, by appointment. Mask on. Dance aerobics and yoga classes led by a Hampton socialite on the Reform Club property offer a hilarious yet sobering soundtrack to my curatorial walkthroughs. Look how we are co-existing! During a crisis, we can still find moments of celebration—we can still step outside of it and analyze how to find refuge from our divided nation's uncertainty. In Purifoy-ian fashion, I intend to react to the BLM riots as he did to the Watts Rebellion in LA in 1965: making room in my heart, even when seeing red, to reach those who still have a lot to learn and unlearn through art. Those who fled the city to look away, to not take part in history, will now be met with the opportunity to take in our stories.
"CELEBRATE LONGEVITY" wears many hats. It is a call for commitment from art enthusiasts to recognize that Black and diasporic art is not a trend. It is a call for commitment from my artists to understand the importance of persevering through the market fever. It is a call for recognizing the spaces and arts workers who are in it with them for the long haul. It is a statement of commitment from Superposition to our cohort, and an affirmation that we are here to stay. After two years, we are excited for many more. We are not discouraged by economic and social doubt. Superposition is a phoenix, which rebuilds for every iteration of borrowed space.
CELEBRATE LONGEVITY is open by appointment at Reform Club Amagansett (23 Windmill Ln, Amagansett, NY 11930) through September 25th. Make an appointment by contacting storm@superpositiongallery.com
Exhibiting artists: Rakeem Cunningham, Haleigh Nickerson, Ludovic Nkoth, Marcus Leslie Singleton, Raelis Vasquez, John Rivas, Layo Bright, Myles Loftin, Eilen Itzel Mena, Joe Hayes III, Jessica Bellamy, Martin Etem, Melanie Luna, Jeremiah Onifadè, Dodi King