Here is some of what Yara Shahidi has read in lockdown: One Hundred Years of Solitude by Gabriel García Márquez, The Stranger by Albert Camus, the Tao Te Ching and selected works by her beloved James Baldwin. She started with fiction, a safe medium when logic has dried up. For these days that run on a loop, Márquez's magical realism and Camus's absurdity seemed to fit right in. The twenty-year-old Harvard student has been auditing classes—ranging from sociology to psychology—for which the assigned reading is full of headers and subsections. Fiction was an escape, a place to make sense of the aspects of reality that can feel unknowable. "If I ever needed any proof that time is a construct," she tells me over the phone one August evening, "this is it."
She's in Los Angeles and I'm in New York. Yara's voice settles into my ear, disappearing our three-hour difference. In the absence of touch, sound has become tactile. In 2020 terms we're sitting side-by-side. How's she doing? "Good," which, we both agree, means having a healthy family. It's hard to call anything "good" amidst a global pandemic, social upheaval and an openly negligent government. She tells me about "immanent critique," a term she's just learned in school. It means to hold something up to its own espoused standards, to expose contradictions. In this case the subject is America, who once again finds itself up against some difficult questions. What are our beliefs? For whom were they intended? When can we get rid of them? Some days Yara feels close to an answer, before it slips away again. It's the attempt to understand that makes the difference.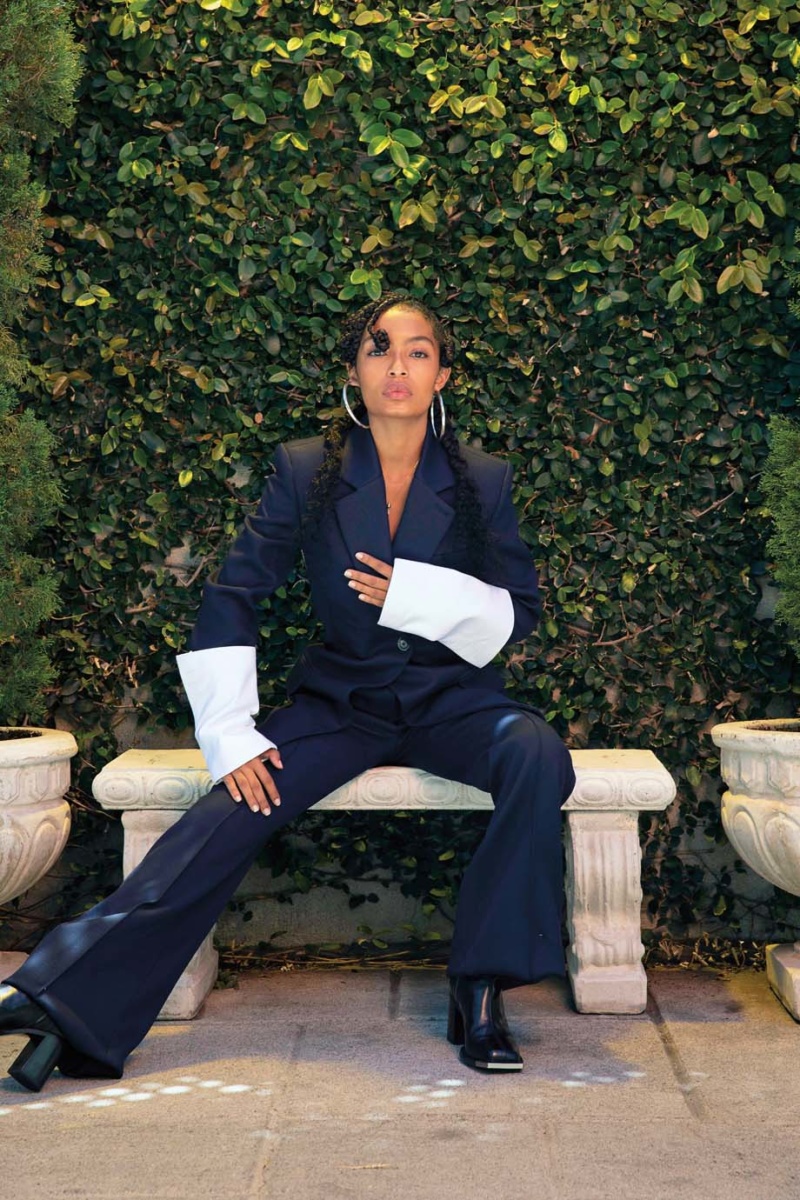 In a recent interview Yara conducted for TIME magazine, Dr. Angela Davis had this to say: "It's an extraordinary moment—and when conjunctures like this happen, they happen almost serendipitously." Like, has she ever been wrong? If we weren't all unemployed, would we have had the time to protest over a period of months? Life has become too unpredictable for the algorithm, leaving open a window for a different future. Black Lives have always Mattered, but we've reached the limit on waiting for systemic recognition and retribution. Here, Yara sees an opportunity. Already an active community member prior to this moment, she has taken on a global point of view. Black Trans Lives Matter, Black Immigrant Lives Matter, Black Creativity Matters; 7th Sun, a new production company she is launching with her mother, Keri Shahidi, is the latest in Yara's commitment to Black stories.
Along with fiction, she's been reading scripts, meeting with writers, plotting for the time when she can be on a set again. As the star and now executive producer of the sitcom Grown-ish, Yara is preparing for Zoey's junior year as she enters her own. "She's a year older than me," Yara explains, "and my complete opposite." She took on the role of Zoey seven years ago, on the NAACP Image Award-winning show Black-ish. In this close-up look at a modern Black family, Zoey was the cool and ambitious older sister. Grown-ish is Yara's spin-off, recently picked up for its fourth season. We see Zoey stumble through her first relationship, develop an Adderall habit and learn how to apologize. Having spent time getting to know her, Yara readily comes to her defense. "She messes up a lot, usually about the same things. I think that's what makes her human."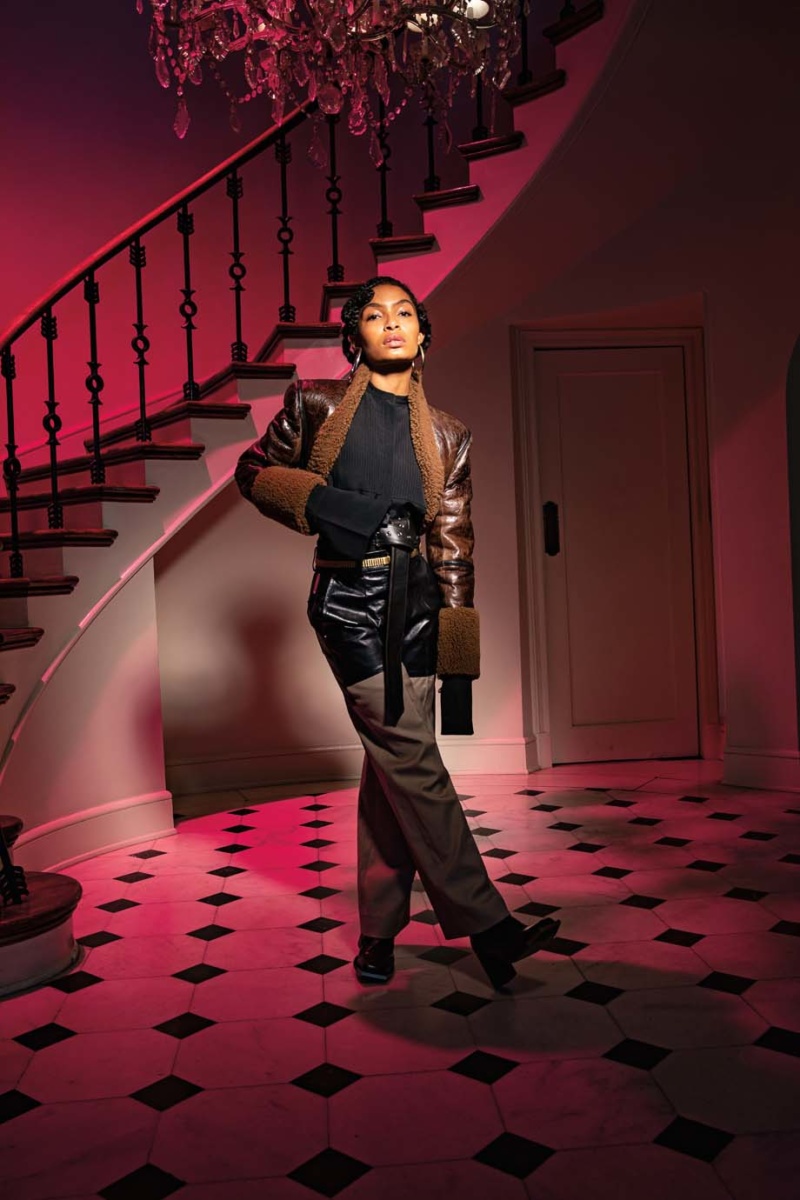 It's true, Zoey is a unique protagonist. Her friends constantly drag her for not listening or spending too much time talking about herself. What's exciting is that her narcissism isn't glazed over. It is a new portrayal of young Black adulthood, where there's room for mistakes. In a context of constant social cancellations and the accompanying paranoia, seeing a young woman bounce back from being wrong must be a form of hope. Along with simply growing up, we see Zoey deal with real 21st-century dilemmas, like the pressures of being an internet prodigy, biphobia and how a game of telephone can result in a murky sexual assault allegation. Grown-ish has all of the emotional cues of a sitcom; personal problems seem to have a beginning and an end. But they also pile on top of each other, as she parses through hard truths about race, class and guys who don't text back.
Our conversation, like most, drifts back to Black Lives Matter. A native of Minnesota, I ask her what she makes of the country following her home state's lead. The murder of George Floyd in Minneapolis and the riots that followed kicked off a summer of protesting that has still not let up as new abuses continue to surface and killer cops walk free. Why? "Minnesota, in a lot of ways, is a microcosm of what's happening in the nation." She brings up the murder of Philando Castile and the moratorium placed on Somali refugees, who account for a large percentage of the population. "When I think of my Midwest upbringing, I remember our values of tidiness and politeness. But that isn't true for everyone. The place I call home has not been home for everybody."
In the show, Zoey gets fired from her internship at Teen Vogue. In real life, Yara was on the cover. Prince pulled her up on stage for a dance at age twelve and Oprah Winfrey hopes to live to watch her become president. If you were to split the American dream down the middle, its two sides might be starring in your own TV show or attending an Ivy League. Yara has both. A seemingly charmed life would be enough for most, but she seeks to extend it outward. In 2019, she participated in "Through Her Lens," a program launched by Chanel that gives women filmmakers a chance to learn from industry insiders and experts. While the world is ending for the highly privileged, a new one is taking form for everyone else. Yara is building a creative coalition in preparation. "I can't think of anything more fitting. I believe deeply that when the most vulnerable populations are building these future worlds, we all become liberated."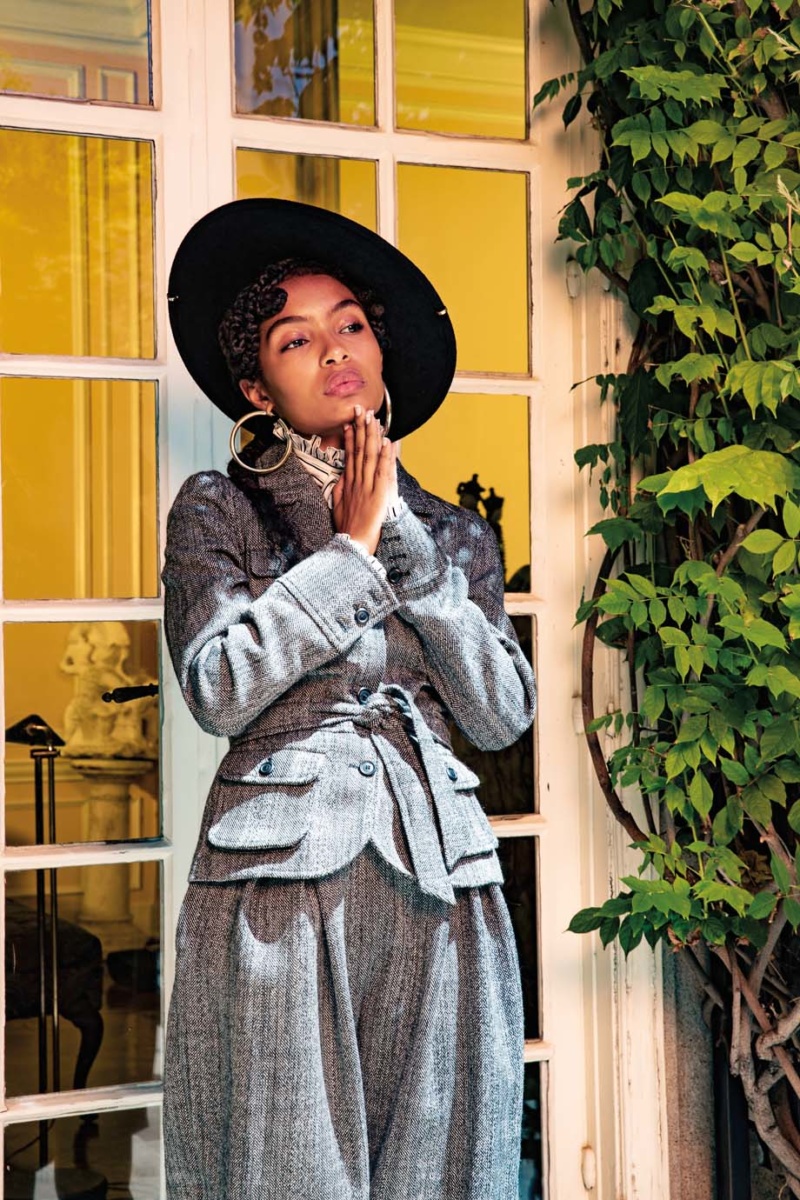 Yara's been re-reading, enjoying the intimate process of seeing the annotations of a past self. In confusing times she's returned to a lodestar, James Baldwin's The Fire Next Time, first published in 1963. The book is divided in two parts: the first, an essay to his fourteen-year-old nephew on the 100th anniversary of the Emancipation. Baldwin has his fists against the wall, pushing for a moment that he has no reason to believe will come, but continuing anyway. Yara, too, was fourteen when she first read it, beginning an ongoing relationship with the book. "I must've read it 100 times by now," she tells me, "and I think I've just grasped the meaning of the title." Now she is embarking on her twenties, a decade designated in our culture to be a time of transformation. As she undergoes her own metamorphosis, Yara's taking the world with her.