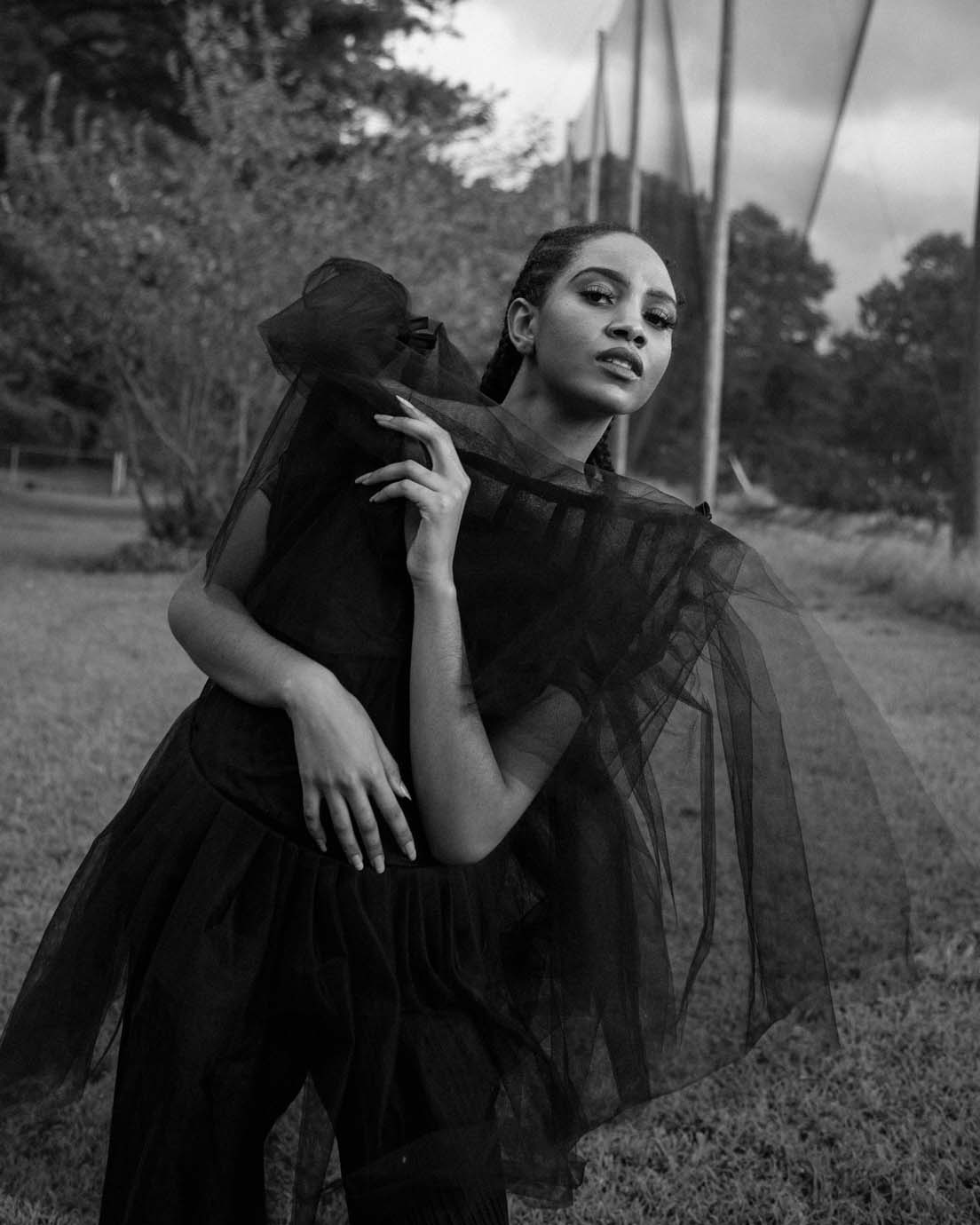 Imagining the future can be difficult, but reimagining the now can feel impossible. Across the world, Black people are coming together to reclaim how we view not only the present, but the past and the future. Jazsalyn is a creative director and MFA candidate at the Parsons School of Design in New York. I was initially introduced to her through a peer. These connections—through each other and through creative community—are the lifeblood of the Black now. Or at least that's how I feel. I'm not sure where I would be without the Black creatives who shared a vision of the future being more forgiving or, at the very least, a little less white. I was fortunate enough to be able to interview Jazsalyn about her work on a new collaborative project titled black beyond. Through black beyond, which she describes as "a radical platform-making space for artists and activists to speculate alternate realities for Blackness," Jazsalyn aims to aid in the reclamation of self and community. The project strikes me as something that will not only create a space for Black people to envision the now, but will also foster a nuanced and meaningful dialogue alongside actual physical programming for those looking to reach beyond what they know or what has been taught at school or other art institutions. While many movements of the now begin their life online, rarely do they actualize in the physical space. Black beyond is an attempt to bridge that tricky gap between online and IRL, and its first physical exhibition will open at the Arnold and Sheila Aronson Gallery at Parsons in October of 2021. Black beyond will give artists who may have otherwise been overlooked an opportunity to be recognized and celebrated. I had the privilege of asking Jazsalyn some questions about the project and what the future, or even the now, may hold.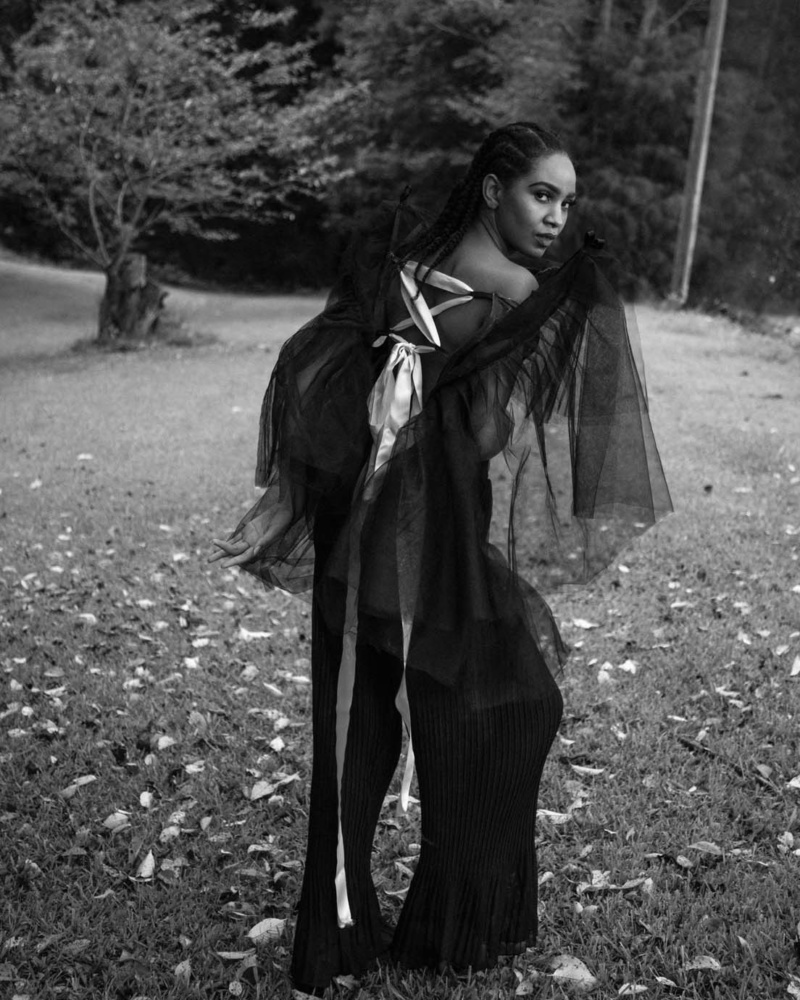 How would you describe Afronowism?
black beyond does more than highlight the work of Black artists. By acknowledging the lack of Black voices in white institutions, I realized that we were unearthing a deeper issue; unless we define and establish processes to unravel this system through activism and strategy, aka 'Afronowism,' a new reality for Blackness will cease to exist. I see black beyond as a way to reposition and center communities that are often left out of discussions on topics of progressive technology, or what is the 'future.' As a Black womxn raised in Black neighborhoods, on Black streets, in a single parent household, I want to see that future defined by my community.
How does black beyond curate the imagery used on the Instagram page ?
black beyond's all-womxn and non-binary creative team uses 3-D art and motion graphics to populate lush, extraterrestrial landscapes with shifting amorphous forms, abstract colors and mystical lighting.
In addition to our original artwork, we dedicate hours to researching artists, experientialists and Black futurists. I like to think mood boarding and imagery like the kinds we use on our IG page allow Black people to envision and associate themselves with the future. We are using science fiction to distort the present into the future. I want Black people to envision themselves in the future and I also want them to know that the future is now. That our efforts aren't in vain, Afronowism
is
Afrofuturism.
There are a lot of images of outer space on the Instagram page; why is it necessary to explore blackness outside of our current world?
I can't say that I have a finite answer to that question. The images are more metaphorical than they are literal. The images explore the notion of longing, the desire for an alternate state of being for Blackness. Critiquing history, the present and beckoning the future, all at the same time.
A reference I can point to is John Akomfrah's documentary The Last Angel of History. If you were to imagine a Black Indigenous data hacker on a quest to displace their community from a world of suffering, then I'd imagine the black beyond Instagram could very well be their visual journal.
The images on our page also parallel a piece that is currently in development for our upcoming exhibition, but I can't go into too many details at this time. To say the least, it's a nonlinear, immersive experience.
Can we ever escape the white gaze ? How can we work to minimize its effect on our art and practice?
Right now, I'm more concerned with Black and Indigenous presence in order to minimize the impact of white gaze. As we reclaim space, we have to confront and unravel white colonialism and imperialism. It's important to have true allyship in order to do this work.
As Saul Williams says in "Coded Language" from his 2001 album Amethyst Rock Star, "We are unraveling our navels so that we may ingest the sun. We are not afraid of the darkness. We trust that the moon shall guide us. We are determining the future at this very moment. We know that the heart is the philosopher's stone. Our music is our alchemy."
One of your posts is an in-depth explanation of Wade in the Water, accompanied by a quote that describes negro spirituals; can you expand on the necessity of a spiritual and what a modern spiritual would look like?
Black spirituals preserve our tormented spirit. A spirit enduring centuries of transgenerational trauma. On molecular, metaphysical and literal levels. The 'literal' redacted and encoded messages, embedded in song and dance rituals that were used as a means to escape plantations and to navigate foreign landscapes. Black rituals and spirituals help ground and transcend us through these states of refuge.
Song and dance rituals have evolved: from Gullah Islands, Black spaces of worship in the South, jazz, rhythm and blues, resilient rap, futuristic house and experimental techno beats. Our music may be popular, but our messages remain encoded for those who can translate the sound of this movement.
I do have ideas of how the negro spiritual and the Black digital spiritual will manifest, but that legend belongs in the streets.
You can visit the black beyond Instagram to learn more about the project and its creative director Jazsalyn.