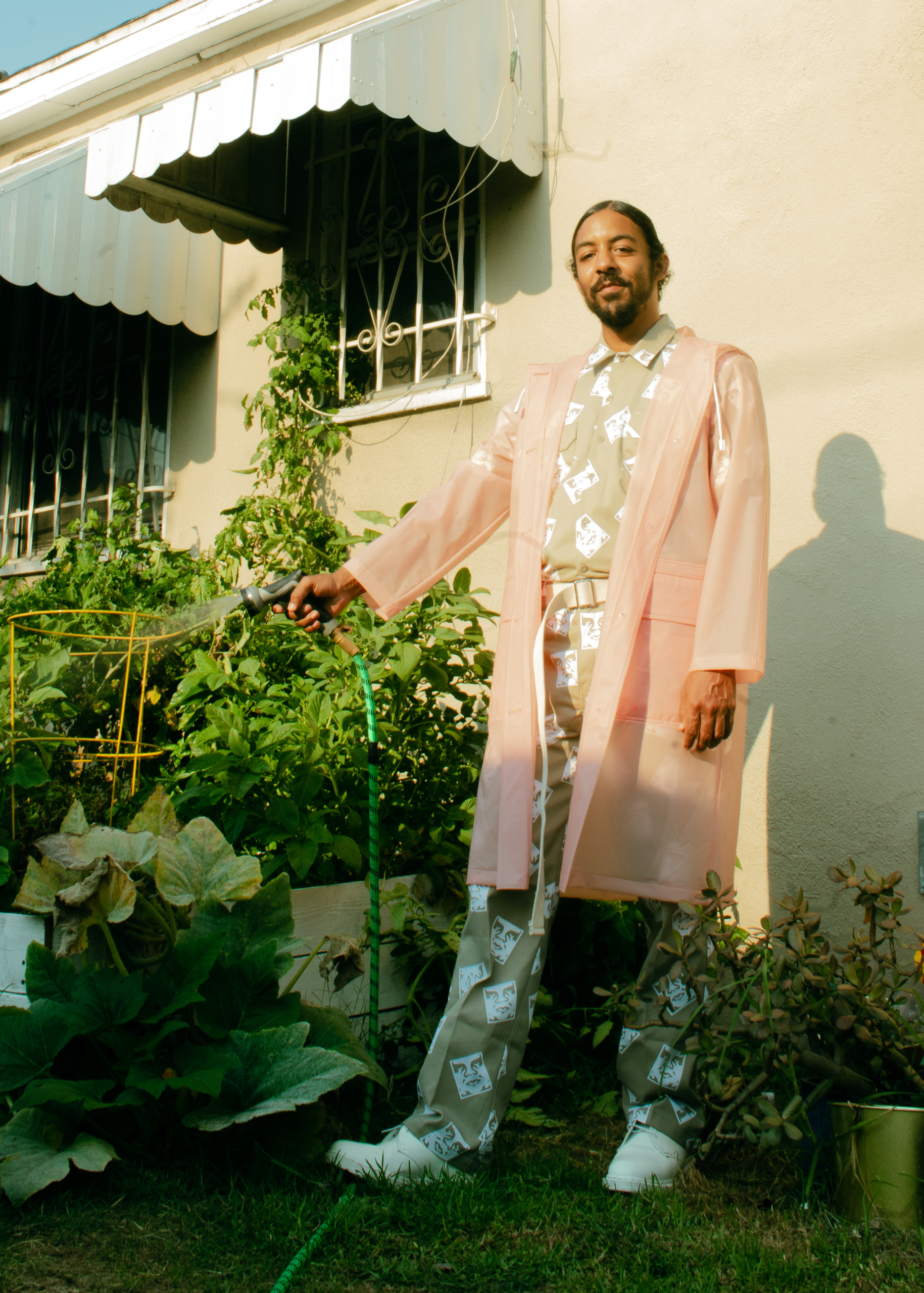 Forces have aligned for Los Angeles-based choreographer, performer and director Chris Emile recently, amplifying his protean, movement-based practice's already prescient tangents since COVID-19 upended normality—and brought deep fissures to the fore—in mid-March. Earlier that month, just before lockdown, Emile opened his first solo exhibition, "AMEND," at the MAK Center for Art and Architecture in LA: an Afrofuturist cosmos woven with performances spread across the landmark Rudolph Schindler-designed bungalow and backyard. "AMEND"'s choreographies unfold around a young Black male character, performed by three dancers of different ages, as he metamorphosizes into adulthood, alongside partly archival sonic montages telling of precarities and systemic injustices long endured by Black families. In this cosmos, movement becomes catharsis and conduit for Black healing, while Emile's reconsecrating takeover of the house subtly critiques the limits of Schindler and his circle's idealized notions of frequently white "bohemian" living—a mode of existence, Emile articulates, "that people of color have been living for hundreds of years out of need."
Though the exhibition would soon be suspended due to COVID-19, Emile had plans to translate it into a short film anyway, of movement sequences apace an incantatory, voice-lush score by Keane Nwede. "I wanted it to feel like how dancing and rhythm feels," he describes, evincing the film's highly gestural, haptic camerawork and cuts. "These quick, textural changes in the body—you can feel that on screen."
The translation, from live performance to film, is archetypal of Emile's choreographies, more often performed in museums, outdoor urban environments and warehouses—the California African American Museum, LA MOCA and gallery Hauser & Wirth, among them—than on proscenium stages, out of a desire that publics, sometimes without dance-going practices, feel "surrounded" and absorbed. Migrating dance into art world spaces also proffers "a higher regard" for performances, Emile perceives, where conditions help frame their site-responsive constructedness.
Emile's profoundly spatial approach to choreography takes form under the guise of No)one. Art House, too. When he returned to LA in 2014, after stints dancing in Christopher Wheeldon's Morphoses and Alonzo King's LINES, he cofounded the collective with friends to experiment with "new ideology" for dance-making and diversifying publics through installation, experiential media and educational workshops. (Solange is a fan.)
That COVID-19 is leading to a "hyperaware[ness] of space," in response to social and physical distancing, may produce the kind of attentiveness to gestural vocabularies that Emile seeks to effectuate in viewers by osmosis—as well as new categories of vacant spaces altogether that beg activation. In a smart adaptation in September, Emile plans to stage an event, "all about love," in a parking lot, where a public can drive-in to attend. His MAK Center exhibition, "AMEND," will reopen for a period of days then, too—but for those distanced, his film version of the same name, launching here, gives cause to immerse in its timely waves from afar.