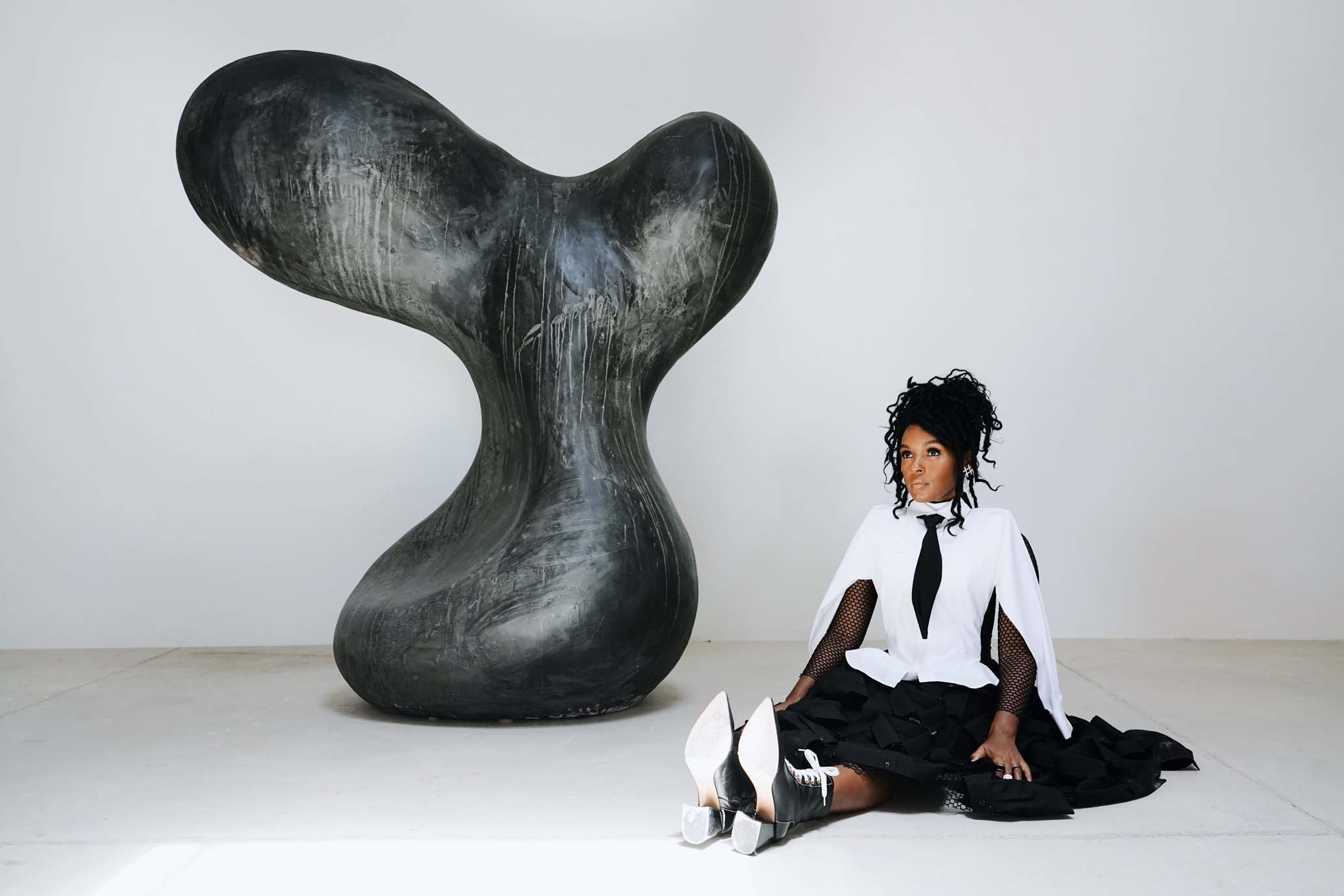 In 1836, a New York court convicted Mary Jones of grand larceny, but an even more surprising element to Mary's life shook the city. Not only was Mary a Black person, but she was also, in today's term, femme-presenting. Mary was born Peter Sewally and found work as a domestic in a brothel; her story highlights profound bravery at a time when it was legal for the state to eradicate queer identities. When the courts sentenced Mary to five years in prison, Henry R. Robinson published a lithograph titled The Man-Monster. It depicted Mary wearing a voluminous dress, presumably cotton, in the large leg-of-mutton sleeve style of the day, coupled with the most fashionable accessories from her gloves to her reticule bag. We cannot presume Mary's quotidian style, but for it to inspire this illustration highlights the power of fashion to question antiquated social ideologies and potentially evolve how we create a society that allows all people to live freely. Although Mary did not experience this equalization in her life, and may not have considered herself a rebel, her story helped to ignite cultural revolutions beyond her time.
Building on Mary Jones's bravery, there is a history of individuals and communities who used fashion as a vehicle for social and political change in regards to promoting gender nonconformity and civil rights for all. The romantic perspective of fashion history championed by the mainstream tends to overlook unconventional views and overshadow their impact. Still, the stories of brave souls who shifted global culture through fashion to create spaces that represent everyone's voice are vital to the present and future. When I think about individuals at the forefront, pushing this cultural shift, there is one person who stands tall above many—the incomparable Janelle Monáe. Fashion is a vehicle in her artistry that continues to evolve, incorporating a broader and broader base of inspirations to convey powerful messages that work to unify our world.
Monáe is a part of a lineage of artists, specifically Black artists, who built onstage imageries that forced people to have tough conversations, breaking boundaries many could never have imagined. Before Monáe, figures from Josephine Baker, Little Richard and Grace Jones to Prince developed public identities that strategically used fashion as an extension of their activism and progressive purview. Monáe is one of the notable voices of this generation to use style to continue the dialogue around gender nonconformity, queer and civil rights, feminism and Black empowerment. Even though these causes are far from mutually exclusive, Monáe's ability to use her onstage image to highlight them concurrently makes her one of the most prolific fashion figures of this time.
Within the first moments of my phone call with Monáe—in anticipation of the release of the film Antebellum, in which she stars—her humility radiated and her words illuminated power. Monáe plays the lead role of Veronica Henley—a successful author whose work revolves around women's empowerment and intersectional feminism. Much like Monáe herself, Veronica is emotive, dynamic and convicted in her beliefs. "I come from a strong group of Black women. My mother had seven sisters and I grew up around Black women," she tells me. "I am because of them. I am because of the nurturing and the strength they gave to me when I felt weak. The encouragement—all of it is a reflection of Black women and I think that is the same with this character." This film speaks to the burden that Black women carry to deconstruct systemic racism and white supremacism every day, she explains. "A few of the Black women who do this and inspired me to say yes to this role are Maxine Waters, Brittany Packnett, Patrisse Cullors and Angela Rye."
As impressive as her character, the film's costumes were also a critical extension of Veronica's powerhouse persona. Monáe was wholly involved in the costuming. Working closely with the film's costume designer, Mary Zophres, they found ways to elicit the character's integrity and celebrate design from the African Diaspora. Monáe commended Zophres's willingness to listen, learn and collaborate. "The top priority for me," she says, "was getting as many Black designers for Veronica's costumes as possible. We felt that it would be true to her character; she was all about supporting Black creatives and putting money back into our community. We wanted the clothes to be strong, graphic and bold. We got an opportunity to work with Black designers like Ozwald Boateng. The jewelry is by a local New Orleans designer, Dr. Sophia Omoro, who is from Kenya. Veronica's handbags are from Zaaf, created in Ethiopia. Working with these designers was key—I felt that because this movie deals with various Black experiences, it should highlight Black designers."
Without giving away any spoilers, Monáe also plays an enslaved character on a plantation. Hollywood has become more tolerant than previous generations of film that delineates the real horrors of slavery and the reality it created, specifically for African Americans and the Afro-diaspora at large. There is still work to be done in terms of rectifying its discriminatory system, but we have come a long way since the days of Gone With the Wind (1939), which romanticized slavery and ignored the real suffering Black people endured. In any event, when Monáe was acting as an enslaved character in Antebellum, she felt an innate strength that transcended to her role. True to the period, the costume's constricting silhouette and rugged texture prompted her to reminisce on the struggles of her ancestors. "I could not imagine what their experience was like, being restricted in clothes, or in life—being held against their will," Monáe expresses. "When you think about my ancestors who lived in the South—the women in terms of their menstrual cycles and wearing all of that fabric, or the sweltering heat—it's infuriating. It also helped me play into the role."
Throughout the film, the essence of Monáe's performance and role felt integrally her—the artist we have come to adore. In her public onstage style, Monáe is known for her signature black-and-white palette. But beneath the surface of her minimalist uniform lies a wealth of understanding about her creative process and the artistic extension of the social and political messages she champions. "My style has evolved. When I'm not in black and white, I have my spurts of color where I'm pushing back against others' limitations of where I can go as an artist, especially with fashion and clothes. When they see something long enough, they'll say, 'That's her thing?' And if you do anything outside of that, it will feel foreign to their eyes and they'll say, 'She's trying to be something else.'" Of subverting the use of color in her style, she affirms, "Using fashion, not really words, I rebel against respectability politics and those who want to stop my evolution."
Leaning more into the way she incorporates gender-neutrality in her onstage style, Monáe goes on: "A lot of what you see is me expressing my evolution and starting in a place rooted in community, making sure that the Black LGBTQIA community feels free to come to a show where the person onstage gives that permission, if they already don't give it to themselves." At a time when Black queer and trans lives are continuously endangered by oppressively heteronormative systems, Monáe's style is a guiding light. The relationship of the tuxedo to her artistry is widely known; with a history rooted in 19th-century menswear, its adoption into her onstage appearance consistently highlights a dialogue of gender nonconformity. "Early on, I always felt my feminine side, my masculine and everything in between. I really consider myself a gender-bender when it comes to fashion. I support gender-neutral clothing and love being able to live outside of that binary, both in fashion and in how I live my life in general."
Monáe's alter-ego, Cindi Mayweather, also gives clues as to how science fiction and Afrofuturism have influenced her worldview and style. "Afrofuturism is so important to me because it lets me dream what we can be as Black folks. How we see ourselves is so important, and the future that we create for ourselves is paramount. We've been limited for so long in various ways, and I would love for us to soar in film, in fashion, in music, in literature and in politics. We're not monoliths; we don't all think the same and we don't all dream the same, but I think through Afrofuturism, we get options around how to survive. We can create a world where we are the heroes of our own future." A recent example of Monáe's Afrofuturistic vision is her 2018 video for "Django Jane." The colorful tailored suiting and kufi-like accouterments spoke to the sharp contemporary style of many metropolitans across the African continent. "My queerness was being erased; my Blackness was being erased," she says of what compelled her vision for the video. "I needed to access the part of my mind and brain that is a survivor. When you see 'Django Jane,' the visual pulls from my ancestors, and there's me in the middle of so many Black women who have my back and whose back I have. You see a tribe that refuses to assimilate and stays focused on liberation. That's what Afrofuturism does." One of the steps in cementing a figure as a fashion legend is when something they wear becomes integrated into the canon of fashion history. In the fall of 2018, the Museum at FIT opened "Pink: The History of a Punk, Pretty, Powerful Color," curated by director Valerie Steele. Included in the exhibition were the ingenious "vagina pants" Monáe wore in her video for the song "PYNK," featuring Grimes, the same year. Highlighting the evolving attitude toward the color pink in contemporary fashion, the vagina pants' surrealist form functioned perfectly to amplify the exhibition's theme of how various designers use the color as a vehicle for women's empowerment. The cotton, sateen and nylon trousers, designed by Duran Lantink, were conceptualized in collaboration with Monáe and her stylist, Alexandra Mandelkorn. "We wanted the pants to be iconic," she says. "I wanted something that moved and represented a time portal. Babies come out of vaginas kind of like they're time-traveling. I wanted a cool-looking shape that blurred the lines, but also felt erotic." The way Monáe blurred lines intangibly through the song while synchronously conveying her message in the clothing demonstrates the genius behind her artistry.
With regard to the future, Monáe hinted at aspirations to one day execute a fashion line of her own, creating a space for those who desire to dress beyond the binary traditions of the industry. "I'm a good observer of what people want and what could be useful to them. I'm super excited for that next step in my career, whenever that happens." Through those words, I felt the power of the legendary Willi Smith of WilliWear, who designed gender-neutral clothing at accessible price points and collections that balanced functional and fashionable styles. This approach made him the most successful Black designer of his time, despite his untimely death, and that shared mode of thinking may have the potential to purport Monáe on a similar trajectory.
In her parting words, Monáe added a final but crucial thought about how we can build a better future. "If you're White, it's important that you have conversations with other White-privileged individuals: that you have the conversation around dismantling White supremacy and systemic racism. I appreciate everyone out there protesting, screaming 'Black Lives Matter,' and the folks online who are also screaming 'Black Lives Matter,'" she says. "If you are Black, queer or part of a marginalized group, I hope that you practice self-care. To my trans family, your lives matter, and I will do more to be a better ally. I hope that we can figure out ways to check our privilege and show up for those who need to be taken care of." To cap off her response, she proclaims, "Wear your fucking masks!" Monáe's ability to merge consciousness within her onstage style and creative output surely canonizes her as legendary, and will undoubtedly make her a symbol of hope and enlightenment for present and future generations.