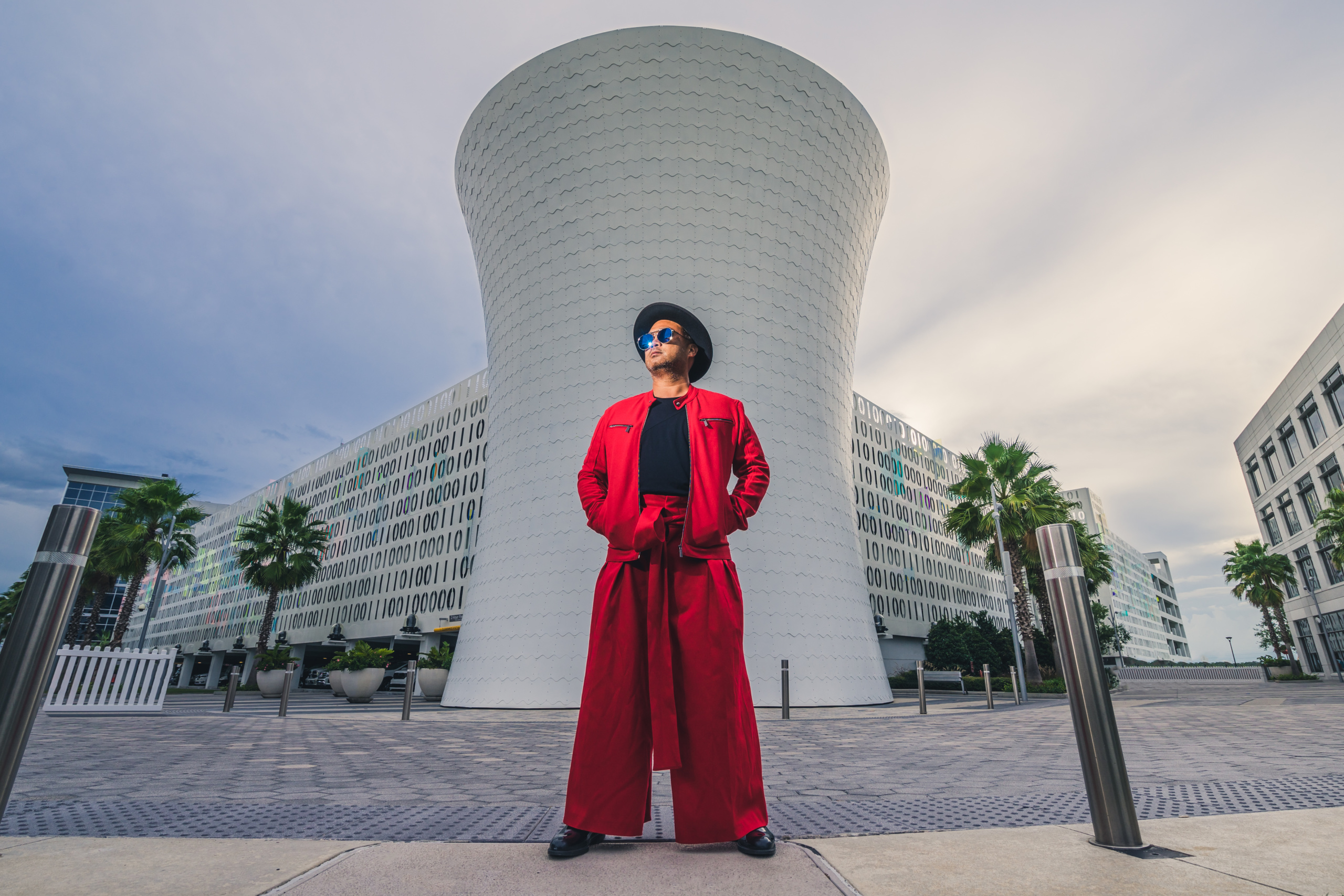 The magic of public art is its ability to engage. The magic of a public artist is their ability to placemake. For Orlando, Florida-based creative Jefrë, a background in landscape architecture and urban design means the latter comes naturally. In fact, the artist got his start at the Chicago office of Skidmore, Owings & Merrill, one of the most storied architecture and design firms in the world. "My job was always trying to figure out how to bring in amazing artists and, from a placemaking standpoint, find where the moments are in a project," he says. "As my career progressed, I began wanting to make these moments myself." Now, Jefrë runs a studio that works globally, from Florida to his homeland of the Philippines. With his first solo show on the books at the Orlando Museum of Art this fall and his largest project to date currently under construction, the mononymous artist has made a name for himself doing just that.
Some of Jefrë's earliest forays into the world of public sculpture came while he was still working in landscape design at SOM. Ever fascinated by pattern-making and creating earth forms, he often yearned to create site-specific pieces for projects, rather than choosing from a catalogue. Soon, he began to custom make these elements himself: first, in temporary installations for luxury brands like Lexus and Tiffany & Co. and then permanently, for hospitality projects like the Atlantis Resort in the Bahamas. A little more than ten years ago, the artist suffered a heart attack and underwent triple bypass surgery, a "milestone moment" that led him to finally establish his own studio with a focus on "an art form for landscape," he explains. In the first few years of his practice, he won eight Percent for Art program commissions, worked on projects with world-famous architects like Santiago Calatrava and established his studio as part-workspace, part-pop-up gallery to support other creatives in Orlando.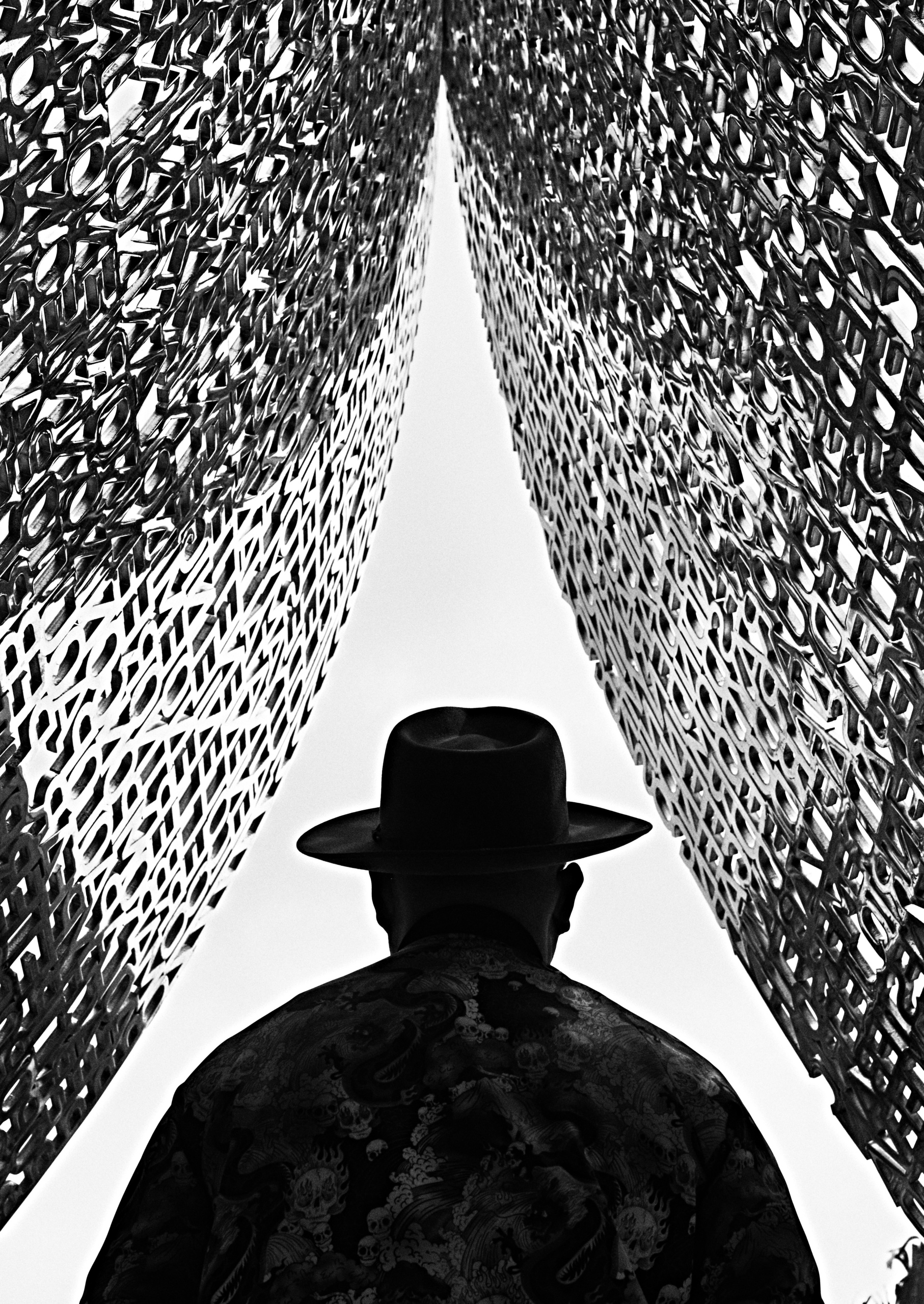 "When people ask me how I work, the biggest thing I learned really quickly is I know what I know and I know what I don't know," admits the artist. "With that idea in mind, I put together a team of the best in their industries to create something special versus me trying to figure it all out and have it be mutated." The commission that put him and his expert team on the map contained two parts: Code Wall, an installation that wraps an Orlando parking garage in a binary code-punched skin, and the adjacent The Beacon, a sixty-foot-tall steel structure covered in 2,000 aluminum panels, onto which digital projections are made nightly. The 2014 project is located in Lake Nona Town Center, a mixed-use development of hotels, retail and offices and has since become a destination for visitors and events, thanks to Jefrë's installation. Requests for hotel rooms that face the parking garage began flooding in, the space in front of it is now rented for events and last year a couple proposed marriage backlit by the digitally mapped tower.
Today, Jefrë's work spans a range of scales, from the organically-shaped planter-benches he designed for the Miami Design District to his most recent (and largest) commission, a twenty-four-story-tall figural statue with its fist raised that will welcome travelers across a bridge in Manila, Philippines. The Victor, as it is called, is a perforated steel structure that will serve as a colorful beacon of light and pattern, emphasizing the impact that Filipinos have had on the world, he explains. When completed at the end of this year, it aims to be the tallest projection art installation in the world. These large scale sculptures have become the hallmark of his practice. "I've become known as doing these postcard moments," says the artist, whose work in a variety of materials often pushes technological boundaries for fabrication. "My work has to be the postcard to your development, has to be selfie- or social media-worthy and, more importantly, it's got to generate people traffic, which then generates buying power."
In his first solo museum exhibition, "Points of Connection," which opens at the Orlando Museum of Art in late September, the artist will show his new "BÄKS" series of figural sculptures in various poses whose heads have been replaced by boxes. When seen together, the works form a sort of emotive skyline; each is inspired by a city to which Jefrë has traveled and the feeling he associates with it. As a placemaking artist, he often creates those emotions in others. Sums Jefrë of his work: "My dream is to create these memorable spots."