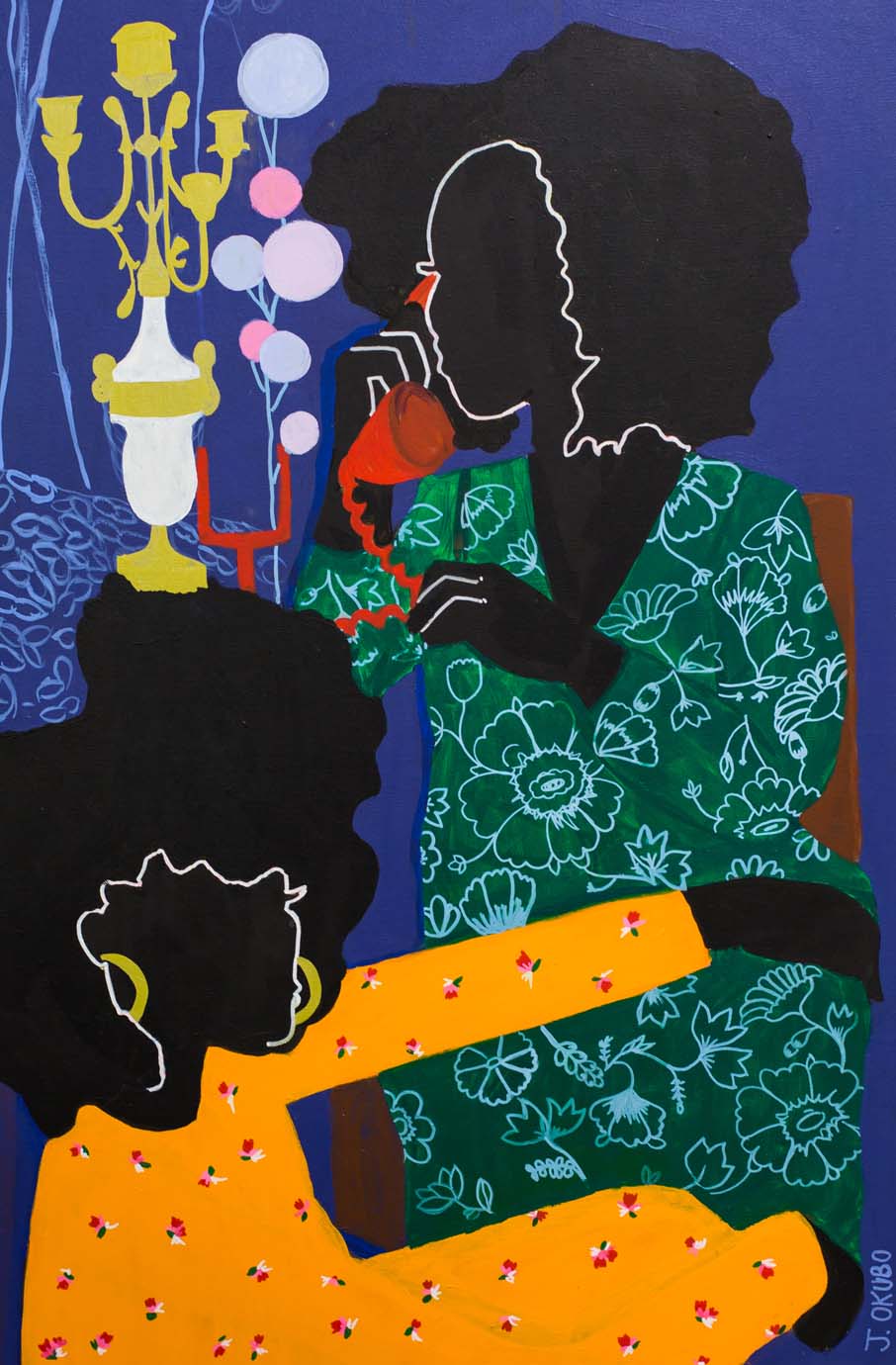 Jamilla Okubo A graduate of Parsons School of Design, artist Jamilla Okubo intertwines different parts of her identity to create unique works of art inspired by her motherlands, Kenya and Trinidad. Her drawings introduce us to a new mythology; her art takes the form of a rustic ballad, or a simple phone call where all the heroines are Black and proud—positive visualizations in a thousand places of inequity and prejudice that the African-American community is all too familiar with. "During my sophomore year at Parsons, I realized I didn't want to be a fashion designer, and I started painting again. I started exploring my cultural identity and sharing my process on Tumblr and the love and feedback that I received from my followers motivated me to explore my work further," explains the 27-year-old interdisciplinary artist. With her mastered hand and her poetic storytelling, her work combines figurative painting, textile design and fashion.
Okubo can boast that, at just 24, she reinvented an iconic bag for a French haute couture house—The Lady Dior, initially designed in 1995 in honor of Princess Diana—and since then, her schedule has been full of prestigious collaborations. Meanwhile, the Washington DC native has also been busy showing her work at galleries and, recently, was commissioned to create a large scale-installation for the Facebook offices in DC. But she doesn't hesitate to speak her mind and to question the purpose of the artist in the digital age. "Instagram hasn't changed the game for the promotion of my work. However, since the pandemic hit and the Black Lives Matter movement evolved greatly due to the unjust treatment of Black people, a lot of people were sharing 'Black artists to support' on Instagram and I gained a large influx of followers, especially white women." No matter what the format or mode of delivery, Okubo shares her creative universe through different layers of understanding, and aims to dig deeper.
Taxi-Brousse When Léa Mary left Paris in 2019 to move to Barcelona with her husband and children, her design studio, Taxi Brousse, came too. The freelance graphic designer finds inspiration in the works of the great Henri Matisse, one of the leaders of the Fauvism movement, and the Gabonese culture from which her partner originates. "I realized through my work that my words have a real impact, especially since I created Taxi Brousse. If I can share messages through my illustrations, I say yes! I'm trying to see how I can go beyond the simple gesture of posting an image on my feed. I like the idea of sending a message, but sometimes it just doesn't happen," shares the 34-year-old mother of two. When comparing the packaging of a sardine box or Gabon's most consumed beer to an iconic painting, Mary employs flat planes of bright color as her representational technique.
Anti-racism has recently become one of the many concerns addressed in her work, which also includes women's rights, public breastfeeding rights, and breast cancer awareness. The need to help educate fellow white people on this topic is becoming prominent in her portfolio. "The images of a white policeman kneeling on George Floyd's neck were a shock. We see him in daylight, not hidden, with absolute calm, killing a human being. This hatred just overwhelmed me. In Europe too, especially in France, the violence is also videotaped, and testimonies are there, but nothing happens. My husband is a Black man and my kids are mixed-race. The reality of racism hits me hard. It's like a shadow that follows them everywhere." Aware that powerful illustrations can create real conversations with her followers on Instagram, the French artist is focused on highlighting causes that are close to her heart. In Africa, the meaning of her brand name, Taxi Brousse, is a car that can go everywhere, even on the most impassable paths.
Joëlle Dubois Joëlle Dubois's acrylic paintings and illustrations show glimpses of everyday life and express contemporary issues. Inspired by traditional Japanese art, Shunga, and the work of French artist Henri Rousseau and Colombian painter and sculptor Fernando Botero, the Belgian painter questions and exploits traditional forms to convey our current concerns. "I appreciate the aesthetic value of the different characters. We are so diverse, and diversity gives beauty. And then, of course, there is the symbolic value that variety adds to one piece. The common thread running through my work is a universal fact. It wouldn't be right to portray only white people. I believe in a deep resistance within the art world against recognizing racial construction as a reality."
Our technological addiction has also been amplified throughout the enduring quarantine, as social distancing has changed the ways in which we connect with each other. Her raw, unselfconscious style is amazing in its maturity and offers an alternative to this universal yet controversial subject. "The humor that appears in my work comes from the need to reflect on the daily absurdity of life and to capture 'weird' and 'messy' human experiences to eventually deal with topics such as gender, sexuality and fetishism," she describes. She's currently exhibiting work at the "Biennale of Painting" at the mudel Museum and shares an artist workspace in a beautiful old monastery in the heart of Ghent. Though a graduate of LUCA School of Arts in Ghent, it was through a summer program in ceramic arts at the University of Hanyang in Seoul that her interest in new technologies piqued to the extreme. "Of course, it remains the task of society, politics and the media to educate people better. But there is also a downside: social media can be used in the petty sense of an eye-for-an-eye, to seek revenge and inflict humiliation. The line between healthy and deviant seems to blur. This brings great tolerance but also a disturbing gap." Dubois's work is a critical view of our post-quarantine era, and it's not pretty.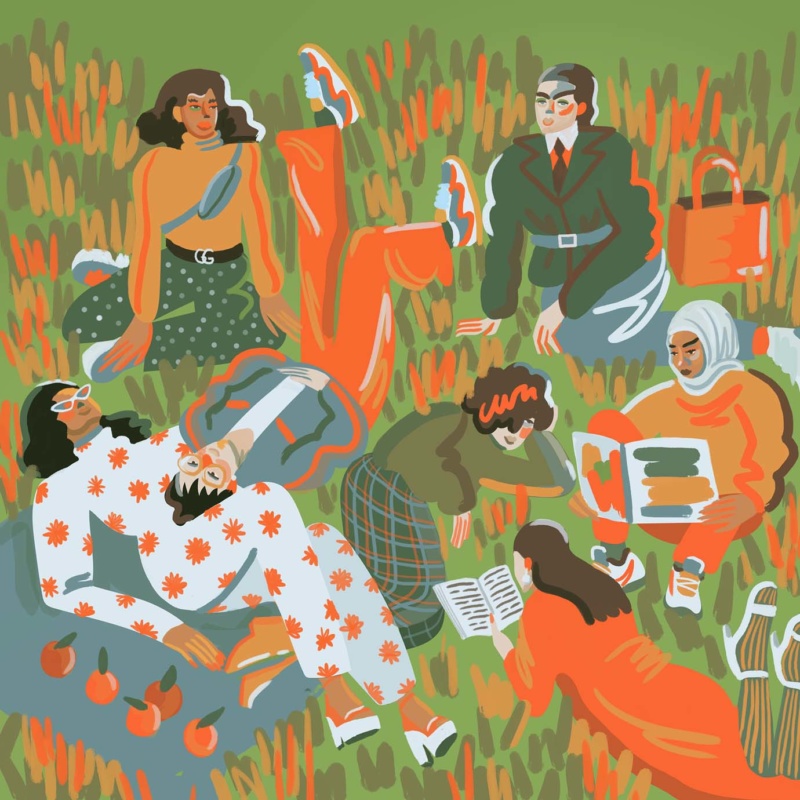 Niege Borges Niege Borges is a Brazilian illustrator and graphic designer currently based in Brooklyn; since arriving in New York City in 2015, she has worked for media outlets such as Glamour Brazil, Instagram and Twitter, and brands like Giorgio Armani, Marc Jacobs and IBM, as well as participating in a campaign for Amnesty International in Brazil. "Being an artist in the digital era can be overwhelming, but it's also great since it gives us so many opportunities all over the world. I still feel the need to express myself through art and at least to create some fun artwork that will cheer people up. It's fantastic to see people gathering to protest against racism and police brutality—this motivates me. I miss going out and taking long walks through the city, but I also have extra time to work on my art and I've been more productive lately," explains the 29-year old.
In Borges's work, bodies are intentionally enlarged, and the silhouettes are thick. Her use of an organic color palette recalls the work of Mexican painter Frida Kahlo, post-impressionist Paul Gaughin and one of the most prominent contributors to Pop art—British artist David Hockney. These refreshing representations explore identity, gender and race in our modern era and have become a tool for expression for others on social media. "Instagram recently hired me to make a sticker to celebrate Pride and it was amazing to see so many people using it. I think that art happens because of the artists' necessity to express themselves. The consequences of the work happen naturally, with people seeing themselves or identifying with the work. I think I've understood this for a while since I also relate to other artists' work and believe in the power of art." Originally from Porto Alegre, Borges had not initially intended to stay long in the United States, but finding love kept her stateside.
Aurélia Durand Aurélia Durand is always up to something; the French graphic designer is prolific. Recently, she illustrated This Book Is Anti-Racist by Tiffany Jewell, which topped the bestseller category for "young adult" literature this month. Her vibrant style has become her signature. "I have always known that art has an impact on us and that images are powerful. Fun fact: the human brain processes images 60,000 times faster than it does text, and 80% of people remember what they see more than what they hear or read. So, as we are all visual learners, art and creativity are useful tools for this change!" Currently based in Paris, Durand studied art and design in France and Denmark and is now well-known for her dancing cartoon-like characters; she has collaborated with Instagram, Apple, Tinder and Adobe, among other tech companies, and designed and album cover for the electro-pop musician Sônge.
Since 2009, Durand has decisively put her identity on the table. Half French, half Ivorian, she has blended all her references to create something unique, with a contagious joie de vivre. "What is happening now with the Black Lives Matters movement around the world is impacting me directly, but not negatively. All the work I have been doing during the past three years shows how important it is. I put my voice out there back in 2017. Today my community represents over 95K people. My art is a vivid celebration of diversity; I have dedicated my artistic voice to making representation matter. I represent Afro-descendants as joyful, proud and empowered—a united community whose destinies are intertwined." From the movement of the Sapologie (captured by the late Italian photographer Daniele Tamagni in the book Gentleman of Congo) to her celebration of sisterhood and passion for dancing, Durand finds inspiration in the rich histories of African diasporas in Europe and all over the world.