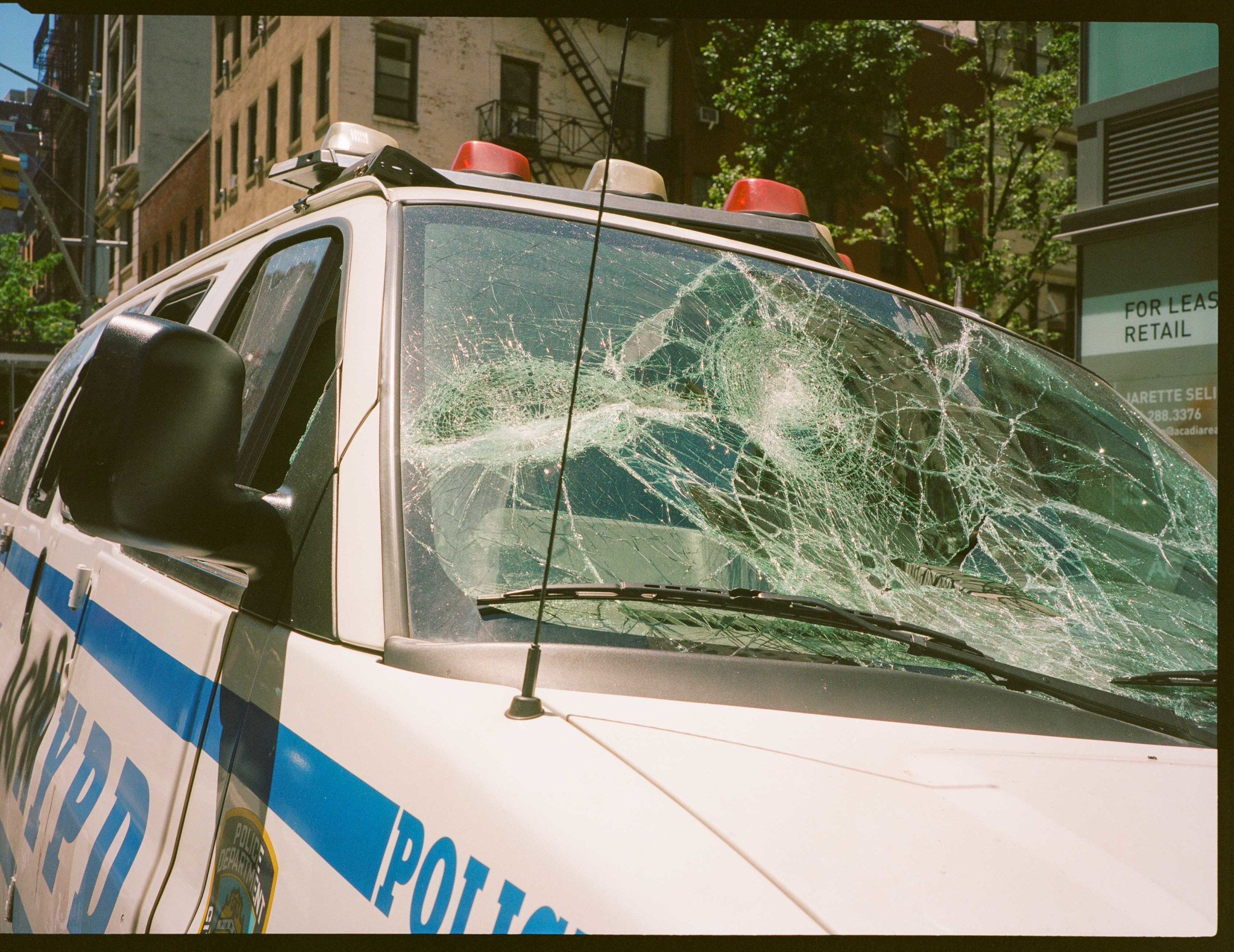 Where were you when the protests started in New York? What did you do?
I was living with my family in Union Square. I was excited to go protest, but, I went to three and witnessed very extreme and completely unnecessary measures of police violence being used towards the peaceful protesters—especially the Black peaceful protesters. That got me really worried, especially as a young Black woman in these crowds. I was honestly petrified for my life. I saw one of my brown peers get arrested the first night, just because she was in the front. I kept trying to go back but I was conflicted because I was so scared. So, I tried to think of something I could do to support the protesters. My friend and I (artist Silver NYC) decided to make protester safety kits, filled with everything we realized people need in the crowds. Everyone needs water and a protein bar—nobody has a chance to eat all day and then everyone who is marching gets tired and starts to leave. People need earplugs for loud flashbangs and goggles for teargas or pepper spray. There are tons of things these protesters need to stay safe, even PPE for stopping the spread of coronavirus. These were all these things people couldn't easily access because they were in a giant crowd of thousands of people—you can't just go to the store and pick up something, or grab lunch and come back. That's not really how it works.
We posted on my Instagram page saying that we were making the kits and where to pick them up. That post got a lot of attention. My friends Jessica Gonsalves and Brian Procell at Procell, a cult-favorite vintage store in NYC, donated resources to help us out. We decided to call the initiative City Kits. We already send out thousands of kits every single day, have so many volunteers, and have received so many donations—it's insane. It's been really beautiful to see and so fulfilling. I'm glad that I feel like I'm doing something.
How has your daily life changed as an artist during the surge of protests?
My day has changed astronomically. Before, I was taking this time in quarantine to focus on creating personal projects: spending a lot of time indoors, doing a lot of self-portraits, taking these concepts of everyday life and pushing them to the extreme. Now, all of that has essentially been poured down the drain, which is totally fine with me! It made me realize that it's so much more powerful when you use your art to speak up about something that you truly believe in, rather than just to explore a feeling. I'm not saying that there's no power in that—there's a ton of power in art that explores feelings, and I do it all the time. I'm guilty of that in my every day, non-revolutionary life. But now that we're in this, I don't want to turn back. I'm so ready to keep making art about this and I'm so ready to keep using my platform to speak up about these issues. Now, every morning I go to our City Kits headquarters first thing, set up shop, create a list of volunteers for that day, gather donations, make the kits, organize with distributors. And I bring my camera with me and document everything that's going on.
Tell me more about City Kits—it's a beautiful intersection of activism and art (Wilson's photo and designs are used for their flyer, and artist Snoeman has donated protest signs), and I'd love to hear more about it. How do you feel your work as an artist mixes with City Kits?
There's a ton of overlap. Before City Kits took off, I had been photographing protests in a way where I made sure not to capture anyone's faces. I took a photo from a rooftop in Union Square of the craziest crowd I had ever seen. I was just obsessed with the image. That may sound vain, but I thought it was so powerful. I knew immediately when we started City Kits that we had to use this photo for the flyer. And I knew that it had to include my visuals because people resonate with my art but I need people to resonate with the cause. I felt that if the cause was connected to my art, it would resonate with more people, and that if the flyer was my art, more people would repost it and share it. I used that image as the background of the poster, drew the logo I wanted (the NYC plastic bag) and then my friend Diego Herrera, who is an incredible graphic designer, was able to take that idea and create an amazing graphic. It was a team effort.
You've used your art to make this movement more available to a wider audience. When creating art during/about revolutionary times, what do you have in mind? How does it make you feel?
It's been really incredible. It was challenging at first, for sure, but I've found a lot of ways to do it. I felt like it was necessary, because we're living in the crossroads of a pandemic and a revolution. I've done so much reading this week about how important it is to create art during periods of revolution, and one day this will be something super important to have documented, but without having exploited anyone's face. It feels urgent to be making art that's reflecting everything that's going on right now, even if it's not the kind of art I would usually make. It's very, very different. It's about being clever but truthful, too. The point of a lot of editorial, fashion, or commercial work is not to document something, it's to portray something. And I think that's a big difference, because if you're documenting something, it should be as accurate as possible; but, if you're portraying something, you can twist what's going on. If it's a fashion story, you can portray your vision in whatever way you wish, but in terms of what's happening right now, I think it's important to call it what it is. To have the proof of what's going on. A lot of the media isn't showing what's truly going on, so it's important for me to do that.
How do you hope this series will communicate with its audience, and what does it mean to you?
First, I hope viewers see that there is power in numbers. Then, secondly, I have these photos of police cars that have been burned and I want people to feel from those photos because that's one of the craziest sights to see right now. I want people to feel like we're finally taking back what's ours. Looking at all of these images together as a series, that's the biggest message; it shows that when you come together, you can dismantle something, even when it seems impossible.
For me, this series means that I'm literally documenting history. This is definitely the most powerful movement I've experienced in my 19 years of living, and I think that it's important not only for artists and photographers to document it, but for Black people in particular to document it. It's really empowering to be able to do so.