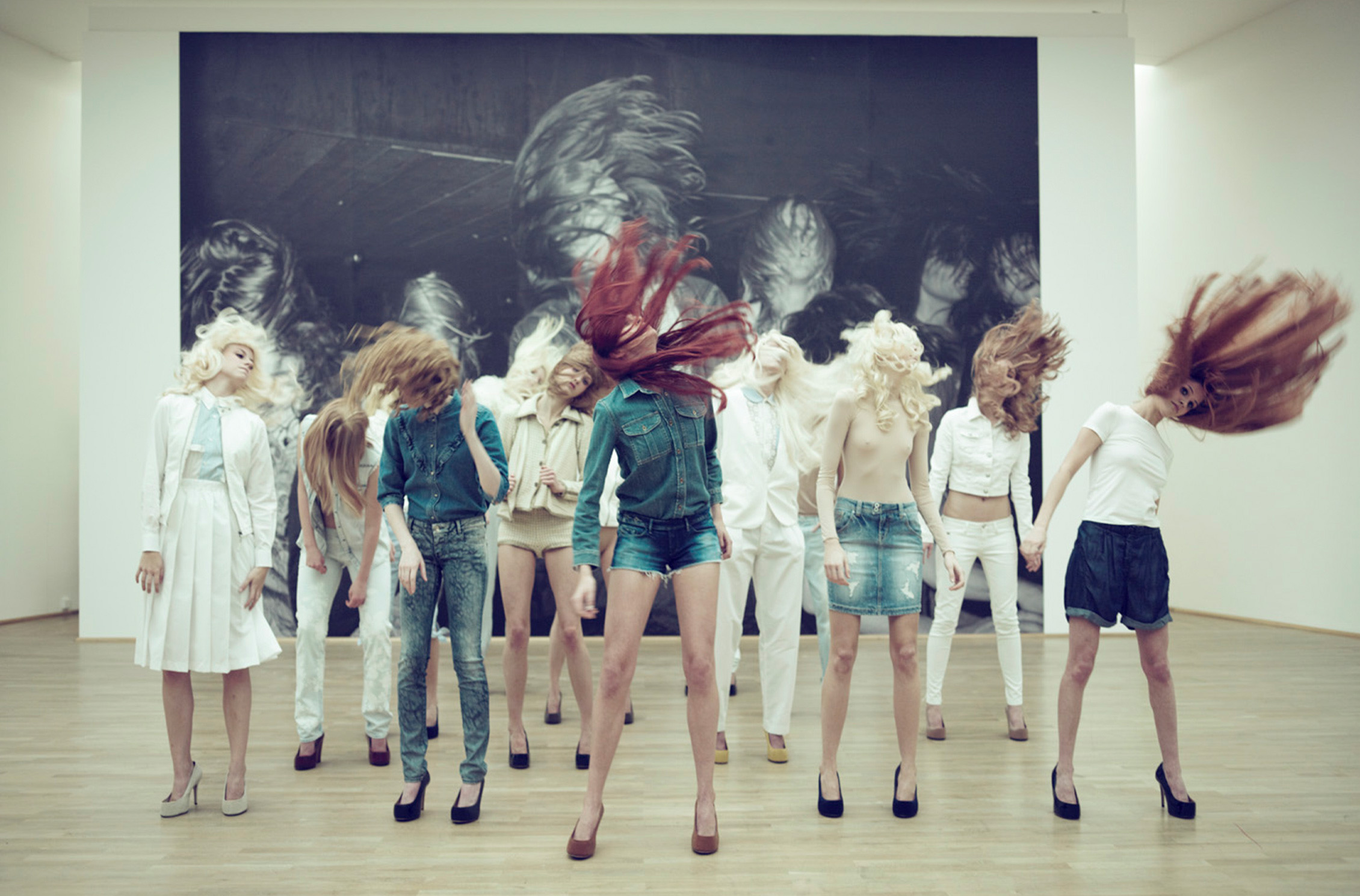 Katy Diamond Hamer: The art world has been searching for new ways to bring content to the masses during this strange time of social distancing due to COVID-19. Can you talk about how you arrived at the idea of TIME SHARE? What percentage of these works were commissioned by Performa?
Job Piston: The idea for TIME SHARE came from the impossibility of capturing a moment on my iPhone camera. Nothing was more unimaginable than what Judy Chicago pulled off for her performance of indigo and violet fireworks, A Purple Poem for Miami, 2019, produced by the ICA Miami. I had a brief sensation of traveling back in time to her early performances in the California desert and I imagined myself behind the camera. The film Women and Smoke, 1971-72, was the first piece included in the program and is a site-specific installation. The film's double exposure over the exhibition page alludes to the effect of smoke coming out of everyone's screen!
Christian Jankowski's Rooftop Routine, 2008, commissioned for Performa, is a humorous instructional video of hula-hooping on the rooftops of New York's Chinatown and an homage to choreographer Trisha Brown's iconic Roof Piece (1973), for which dancers played telephone with their bodies across the SoHo skyline.
One of the first large-scale performances I co-produced at Performa was with Monica Mirabile and Sigrid Lauren of the duo FlucT, and video documentation of that event is also streaming for TIME SHARE. As part of a larger exhibition organized by Salon 94, we created a new dance piece for eighteen performers on three simultaneous levels that examined structures of power at Lever House, a modernist skyscraper in Manhattan. It heralded the first stages of Instagram Live during Frieze New York in 2017.
KDH: I enjoyed watching Robert Rauschenberg's Pelican from 1963 in contrast with Nick Sethi's Stories from 2019. The latter seems to have been extracted directly from Instagram. Very different aesthetically and formally, both works offer a specific lens into a particular time. Can you talk about these videos and your thought process?
JB: Isn't Pelican a great film? Robert Rauschenberg was part of a social network of renowned collaborators including John Cage, Merce Cunningham, Jasper Johns, Yvonne Rainer, David Tudor, Cy Twombly and Susan Weil. They were a hub of artistic development for their time. This film is one of the first works he choreographed himself. Rauschenberg and dancers Alex Hay and Carolyn Brown weave in and out of one another on roller skates to a collage of sounds composed by the artist. Both Rauschenberg and Hay wear iconic parachute-shaped props on their backs, made from cargo-chutes stretched onto metal poles. The joy is in reconstructing this piece through the way we project ourselves into the frame of archived media, like a lucid dream.
KDH: Is this where the title TIME SHARE comes from?
JB:The common material that photography and performance share is time. Some of the videos came from Electronic Arts Intermix, a fantastic organization that preserves and loans media art, and the rest existed on video sharing platforms such as Vimeo, YouTube, Instagram and other digital servers.
In 2013, I launched Performa's first online artist project with a time-based theme, titled ABOUT TIME. It was a collaboration with Los Angeles-based, mixed-media artist and photographer David Gilbert. He creates temporary sculptures in his studio from ephemeral materials (paint, yarn, scissors, cardboard) and photographs them; the resulting photographs, he exhibits. For Performa, he used a single Epson paper roll box as a plinth, placing detritus on the box. Every few days for a period of six weeks, he would change the assemblage. The resulting nine images were shared with me for Performa Magazine and shown in real-time online. Photo-conceptualist James Welling produced a color-breathing, animated digital image that was shown on The New York Times in November 2015, based on a photograph of American Ballet Theatre principal dancer David Hallberg in rehearsal with artist Francesco Vezzoli. The format, new to Welling at the time, brought a static photograph to life and revealed something different in his process….something unique to the screen. Also in 2015, we released the password to artist and activist Tania Bruguera's Instagram account, to create a space where users could publish anonymously their truths and citizenship status.
KDH: Video is the next best medium for performance, outside of witnessing the gesture or action in real time. What are your thoughts on video documentation? When does the video become an artwork?
JB: There is a distinction between performance that is staged for an audience where the camera is supplementary and performance staged for the screen. Ryan Trecartin's Junior Wars (2013), for example, began as raw footage (taken in the year 2000) of high schoolers throwing a tailgate-gone-wild in the woods. But it wasn't until Trecartin's sound design and editing process, 13 years later, that the video artwork achieved its irreverent voice. Japanese artist Shigeko Kubota made a video diary on one of the earliest hand-held cameras, visiting all sorts of underground performances including a Parisian sex cabaret, a gay theater troupe and a performance art piece, finally arriving at Marcel Duchamp's grave at Rouen Cemetery. As you mentioned, I also included Nick Sethi in the show. His Instagram stories follow his journey through western India, photographing dancers from the nomadic Kalbelia tribe. Instagram stories and Tik Tok echo the techniques that visual artists have been using to abstract time and narrative for over one hundred years. Through both of these apps, that threshold has been teleported to the 21st century.
KDH: The concept of the archive enters the conversation in Viva Ruiz's Thank God for Abortion (2018) and Vatican (2019). It is both joyous and melancholic, specifically seeing choreographer Stanley Love, who passed away last year, dancing on the TGFA float during the 2018 New York City Pride Parade. Ruiz is such a force—her energy is invigorating in this time. What are your thoughts on bringing these works into domestic spaces during social distancing?
JB: I hope viewers are struck by the energy exuding from the artists who were singing and dancing together on 5th Avenue during the Pride Parade in 2018. Thank God For Abortion (TGFA) is a performance collective that also produces wearables: practical protest gear and T-shirts that are sold online and provide both safety and agitation. Ruiz's work brings an awareness to the physical dangers of our bodies in performance. This documentation from Pride was included in TIME SHARE because her art is about messages that are literally transcribed on the body through costuming, and that provoke a question from the audience. Ruiz has told me that she puts her life on the line when doing her performances. The T-shirt, with a statement like "Thank God for Abortion," can elicit unexpected responses, resulting in community or confrontation. How we support and protect one another doesn't stop with quarantine. It's important to think about TGFA in relation to campaigns to protect essential workers, grass-roots grants for freelancers and artists, self-organized care groups, and phone calls to check in on our friends and family. Artists mobilize online and in the streets.
KDH: Do you have any favorites from the performances, or any in particular that you'd like to shine a light on? Perhaps artists or works that may be less known to the general public?
JB: Of course and I'll be specific. We have a TV guide that lists each of the performances so that the viewer is able to plan on when they want to watch particular content.
07:00 Jamilah Sabur workshops movement for weather patterns from her studio with a hypnotic melody called "There is Still Time" (2014) by American electronic musician, Lorn.
18:00 Farrah Karapetian washes her hands and body with ice, cast from a bar of soap, enduring its melting under a faucet of running water.
14:00 Honey Balenciaga, one of the hottest vogue femmes, takes the crowd by storm with their freestyle movements during a ballroom competition.
23:00 Jacolby Satterwhite stages a BDSM and leather dance party on green screen that collages performers at a dating app gathering into a CGI Central Park scene, a gesture to the former queer safe space for socializing and cruising. The criminalization of these public social spaces has pushed dating into a digital space of electronic messages and geo-locating technologies where desire, identity and connection exist in paradox.
The video performances, many of which were made for the screen, are part of an archive of work. Viewed on the web, they are actually being experienced in their ideal setting. The website channel is called "Radical Broadcast" because it takes a cue from Nam June Paik's early experimental work using television broadcast. His live broadcast, "Good Morning, Mr. Orwell" (1984) was a departure point for me regarding the format of the website and program.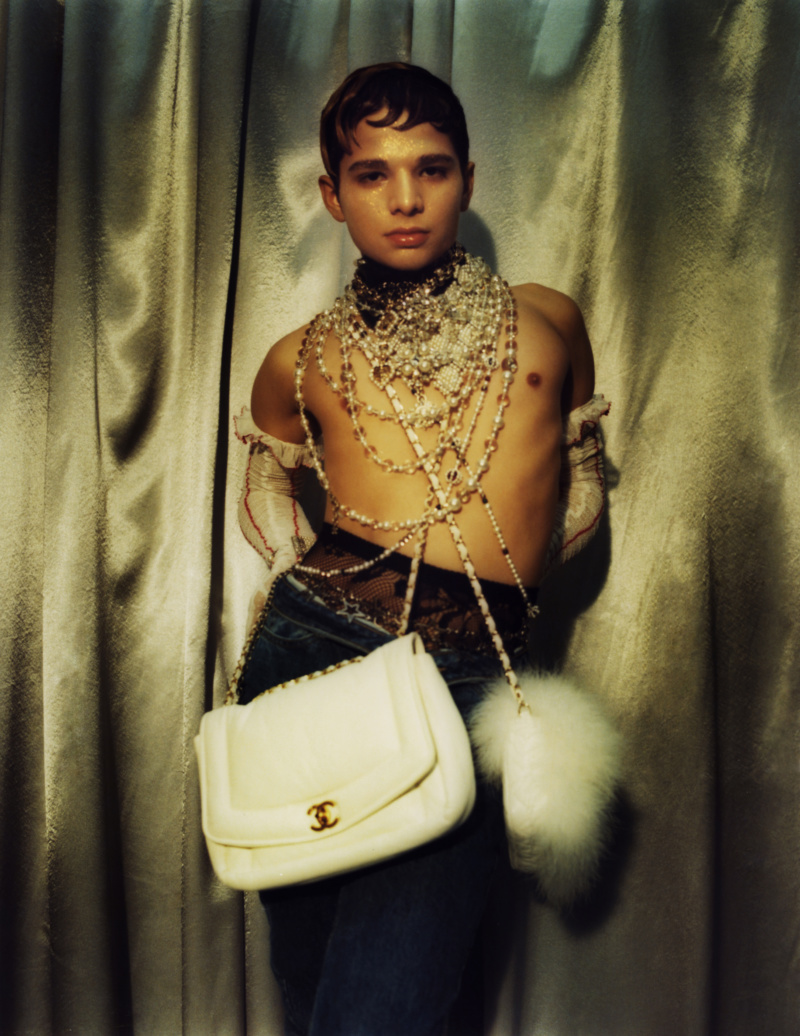 KDH: Who designed the format for the exhibition on the website?
JB: As a performance organization in the 21st century, we had years to dream up the ideal features for a website that met the expectations of audience members. We knew from the beginning that this site had to focus on video. We wanted visitors to be immediately absorbed into our archival material. Special Offer designed the website and came to us via friends at DIS, and they continue to grow and evolve its capabilities to this day. A good designer is someone who approaches the project as a concept first, and then finds the methods to bring forth that vision. As a result, we have this beautiful, slick site that also has plasticity, constantly evolving and shifting to suit the needs of performance evolution.
KDH: Not knowing when the art world will reopen, but being actively engaged in content, what is your next project?
JB: We are launching the newest Radical Broadcast, called "Bodybuilding," organized by curator Charles Aubin on May 15, which looks at the history of architects making performances. I'm commissioning new exciting forms of video and performance with artists, filmmakers and fashion photographers for the next Performa Biennial. Keep a finger scrolling on your screens!