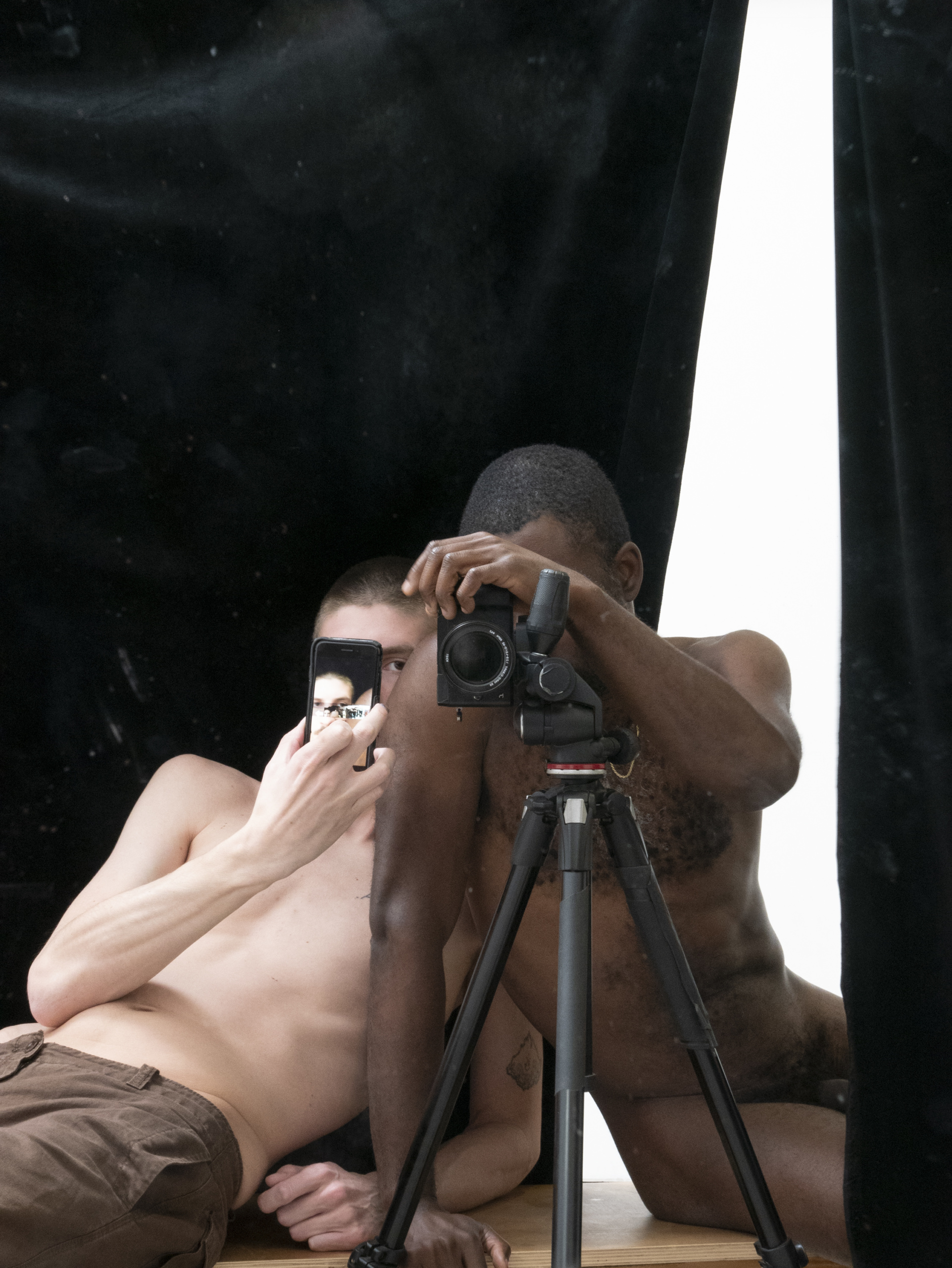 When I first glimpsed Paul Mpagi Sepuya's new work, anonymity seemed to permeate each of his scenes. Amid nude men "flexing" their bodies were shadowy, companion-like silhouettes. The faces of the naked figures were often obscured—either by appendage-like smartphones or clever positioning that rendered their visages unidentifiable.
The more I looked, the more I saw—and, the more, I felt, I didn't see.
In asking the photographer himself about the meaning behind the images, I've learned that, though their identities are often shrouded, a self-recognition takes place that transcends whether onlookers can spot them in crowd. "There's a fun moment that happens the first time someone enters into the scene and sees themselves," he says, describing how, in this project, he's endeavored to break the Fifth Wall.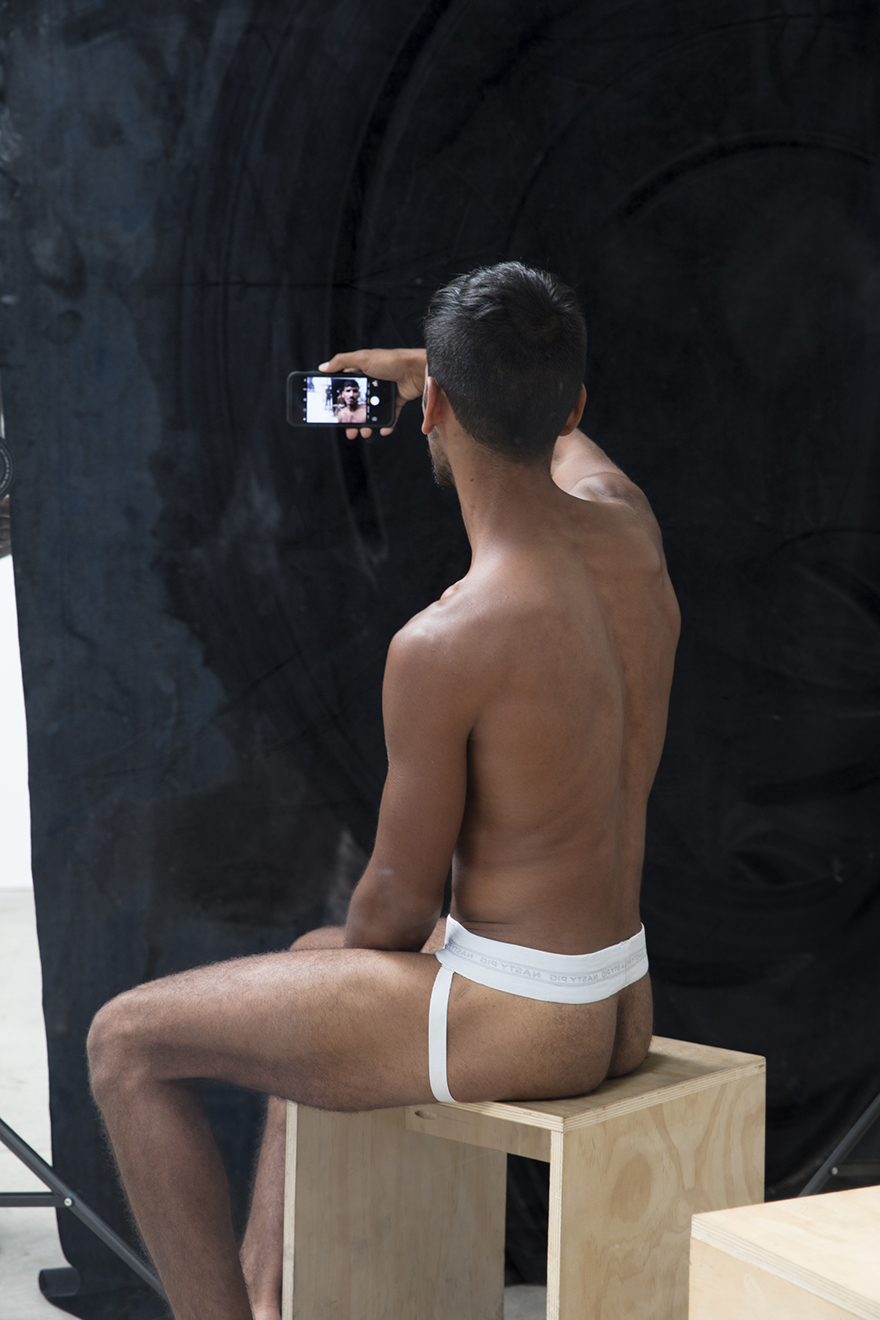 In one image, titled A conversation around pictures (0X5A5079), a mirror reflects Sepuya and his friend looking at the screen of a DSLR that is pointing directly at the mirror. It's depicting Sepuya describing how the setup of his studio works—the camera-tripod, the various backdrops, the mirror, etc. In doing so, his friend is captured outside theatre, performance.
"While the site of portraiture always becomes a sort of stage where figures enter on, show themselves, desire to be seen," the 38-year-old artist says, "there is a completed circuit in these [images] of being seen, performing and completing a picture all at once." The artist is not interested in shooting people posing; he wants his subjects to be captured in the act. "In these pictures, if you see something depicted, it is happening, not being illustrated," he says, also admitting that some posturing is still unavoidable in portraiture.
The incognito images, ironically, compel you to come face to face with the subjects that stipple Sepuya's life. His manner of disclosing who they are is intentionally as overt as it is subtle. "The thing that I'm intrigued about is intimacy. They are not anonymous if you know them," the Los Angeles-based artist says, mentioning the familiarity of a tattoo, a gesture. "It is about positioning the viewer along that boundary of recognition or not knowing."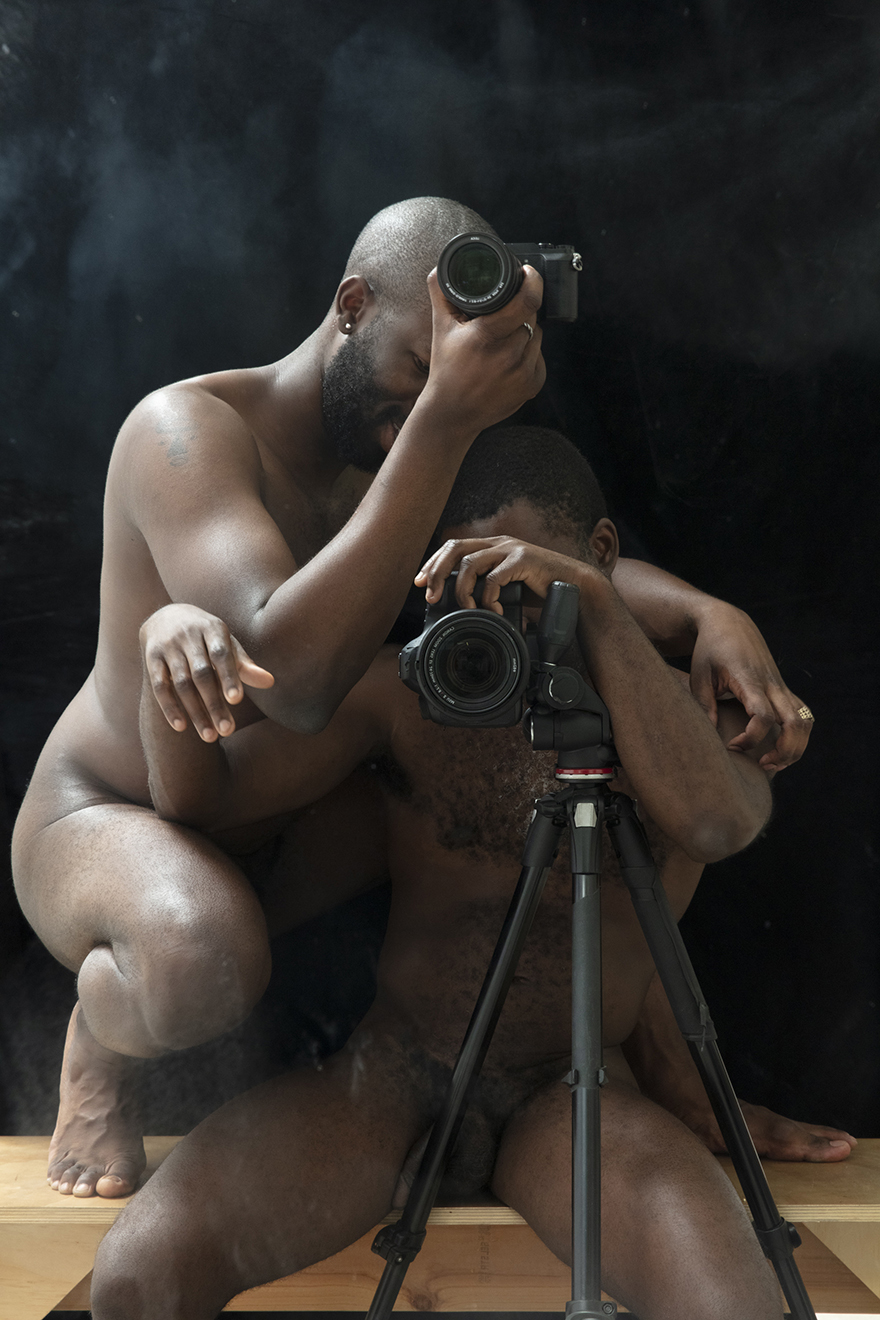 In straddling the double nature of circumstance through Sepuya's eye—where his obsession with vivid, raw reality rules—you have a tingling idea of the context the subjects live in beyond portraiture—but would you dare talk about it? The scenes call to mind those iconoclastic words by Francis Bacon, "If you can talk about it, why paint it?" Like the holes in the glory hole-esque screens that haunt the scenes, we've pierced pretenses in this body of work.
"The screens of these friends' iPhones depicted in the pictures reveal additional information about who they are—as well as more of the setup outside of my picture composition, cropping, etc," Sepuya says.