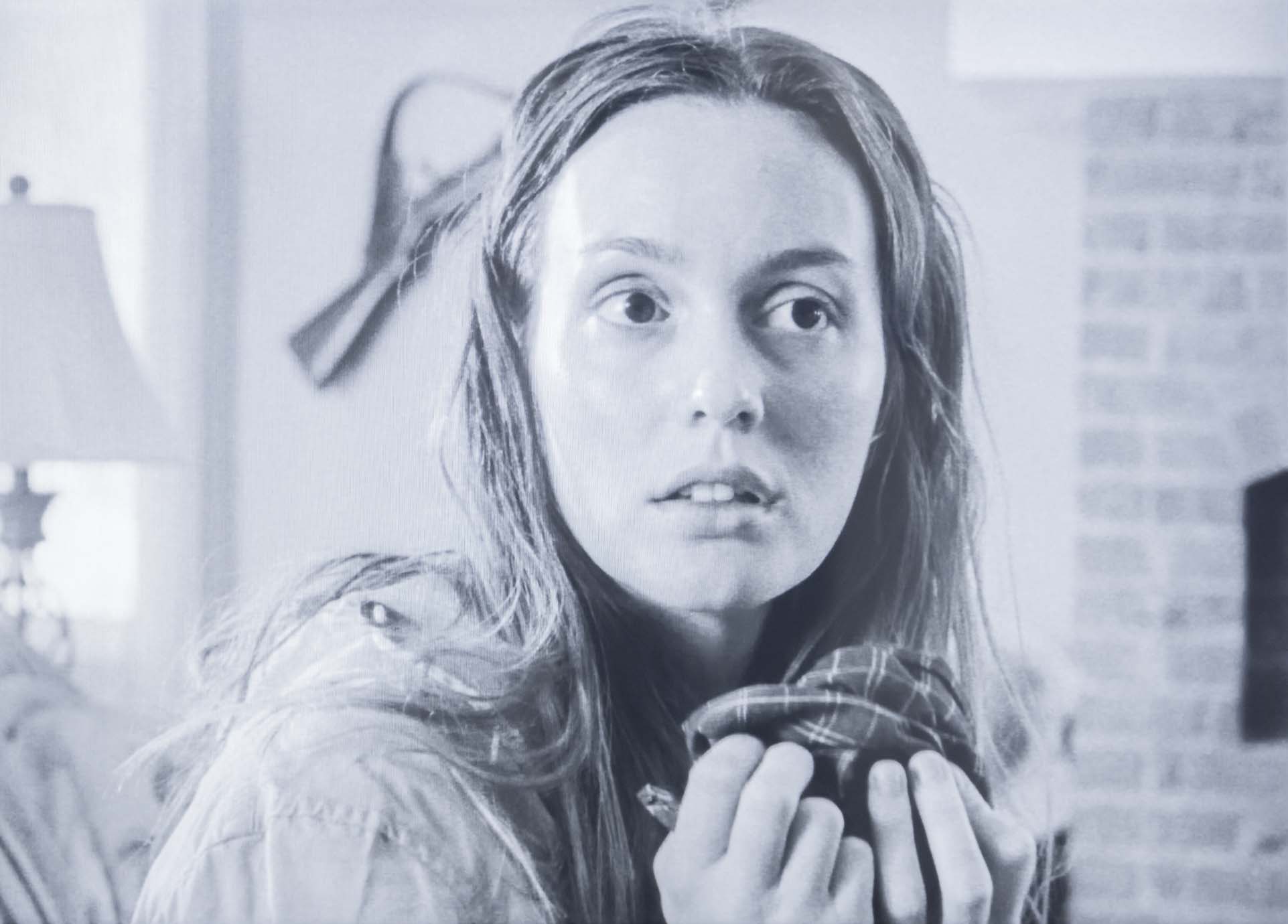 Michael Almereyda loves to photograph sunsets, wherever in the world he is. Hundreds of iPhone snapshots enumerate the end of the day, giving away the romantic streak behind a methodical observer. Once, Almereyda asked what I might make of a 38-page lookbook for Eternity's Sunrise, the preliminary title for his upcoming film about the life of Nikola Tesla. Now called Tesla, the biopic premiered at the 2020 Sundance Film Festival and has been pre-awarded an Alfred P. Sloan Feature Film Prize. In 1980, Almereyda dropped out of Harvard in order to craft his first screenplay for Tesla. The 2017 lookbook featured a selection of Seurat's misty black-and-white Conté crayon drawings, describing the texture of an imagined film with etched strokes: a workaholic recluse sits hunched in his quarters, smoke billows from factory chimneys, electrical currents illuminate shadowed rooms and arched entranceways announce the turn of the 20th century. Almereyda's earliest project has now, finally, become his most recent. Paging through the lookbook, I tried to anticipate how and where Almereyda's framing—made intimate through voiceover or camera angle—might appear in a more expansive narrative, historically re-enacted and bolstered by a larger budget than his earlier handheld documentaries.
Born in Kansas in 1959, a date Almereyda enjoys deflecting, he took up screenwriting professionally before he started directing films. Early influences included his father, a writer of Hallmark greeting cards, and his mother, a femme fatale with a glamorous smile, and childhood infatuations with Marvel comic books, The Wizard of Oz and Shakespeare. Tesla is a New York story with an eye for prim archetypes. Dressed in tailcoat suits, Nikola Tesla is played by Ethan Hawke and Thomas Edison is played by Kyle MacLachlan. Both actors rest slightly outside of the main stable of Hollywood actors, favoring roles in American independent films. It is this paradigm of actor to whom Almereyda is most attracted. Hawke and MacLachlan also play antagonists in Hamlet (2000) which, like many of Almereyda's literary adaptations, is constructed with a knack for colliding texts of a bygone era with modern domestic drama. Elizabethan language perseveres amidst passing yellow taxicabs. An early scene observes Hamlet writing a love letter to Ophelia in a Manhattan diner; a jousting duel on the roof of a skyscraper penthouse composes a final crescendo. Metaphysical conceits are thrown against the tempo of an accelerated urban environment where surveillance cameras capture ghosts and soliloquies are documented in Pixelvision, a nod to Almereyda's earliest films, thus embedding small art videos inside a relative blockbuster.
Pixelvision—a children's video camera marketed by Fisher-Price—made Almereyda feel free and allowed him to produce self-financed films with minuscule budgets and tiny crews. His first Pixelvision film, Another Girl Another Planet (1992) had a single set: an East Village apartment building and a cast of eight actors, plus an elephant. Nights with various women pile upon each other and pass like mirages; an unfocused black-and-white toy camera records the search for love as it continues to elude. A consumer- grade camera small enough to operate in one hand, Pixelvision provided one step towards autonomous control, which, in the film industry, means the involvement of as few people as possible. Almereyda's preceding film, Twister (1989), was shot on 35mm and financed by Vestron Pictures, a company that collapsed before the movie was released. Based on the 1981 novel Oh! by Mary Robison, the story involves a dysfunctional family of permanent adolescents and negotiates multiple sets including a car, a television station, a drive-in movie and a two-story family home in Almereyda's native Kansas. The cast includes Harry Dean Stanton, Crispin Glover and Suzy Amis, and even William Burroughs stops by for a gun-toting cameo. Despite strong reviews and an Independent Spirit Award nomination for best first film, Twister was barely distributed and, fortunately, left Almereyda few options for a conventional path forward as common wisdom would have directed.
William Eggleston in the Real World (2005) is another project made on the cheap, with Almereyda himself wielding a low-grade, auto-focusing consumer model camera that sometimes failed to render its subject with absolute sharpness. Almereyda is willing to be proven wrong as a narrator as he follows Eggleston with a frown of concentration through Memphis, Mayfield and Malibu, watching the photographer framing the ordinary, mute world through his own lens. The video camera erratically zooms forward and re-focuses, gaining composure, while Almereyda's verbose theorizing meets a beautiful dead-end near the film's conclusion. "You never think about the idea that the picture is a ghost of a real thing?" asks Almereyda. "I don't know what that means," says Eggleston. The photographer says he simply likes to take photographs, the way he likes to play music on a piano. All the same, Almereyda, narrating, notes that Eggleston's images reflect "the intimacy of the family dog" and register "an unbalanced emotion poised between fear and love." This might be a measure for the best of Almereyda's work, with Eggleston serving as a less-talky surrogate for Almereyda himself. Blunt explanations fill forlornly American landscapes, sincerely felt.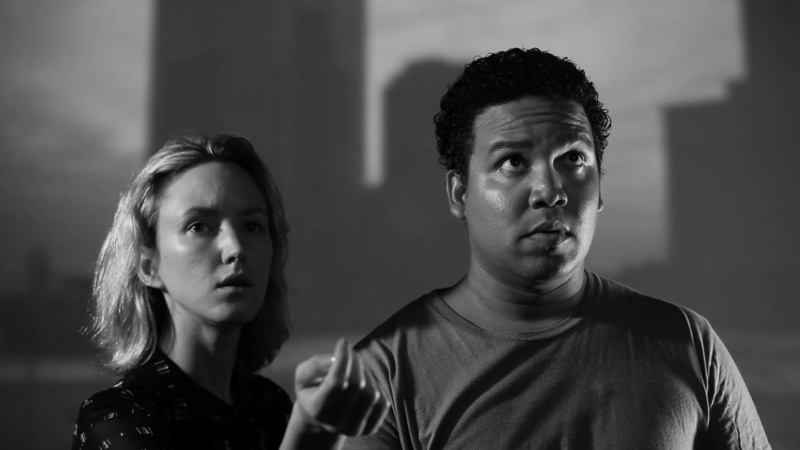 Unlike most directors of feature-length films, Almereyda has never stopped making shorts, moving fluidly between narrative and non-fiction, his latest being The Lonedale Operator, a portrait of John Ashbery, which premiered at the Museum of Modern Art in February. His short literary adaptations range from Mikhail Lermontov's A Hero of Our Time (1985) to D.H. Lawrence's The Rocking-Horse Winner (1997) to F. Scott Fitzgerald's The Great Gatsby (2011) to a recent series based on Italo Calvino's Italian Folktales. Frequently featuring a couple in a bed at opposite ends, the folktales address troubled sleep. Most are black-and-white, some smooth, some grainy. Characters live in the pursuit of eternal youth, or in frozen time where age is suspended. Filmic backgrounds are projected onto screens from behind, reminiscent of a diorama. A mountain, the sea, a desert are seen through a haze, an intercepting gauze. Actors and actresses in the fables are resuscitated from a slightly dated era, mimicking the renewal of texts first published by Calvino in 1956. The revived stars play their hand at unsolvable riddles. They are seekers; each tale features a character seeking fortune, a cure, an escape—human, but aspiring to immortal, needs. "Provide!" Leighton Meester shouts throughout The North Wind's Gift in her recurring conversations with the wind, who speaks in a booming, off-screen voice. Meester surfaces as a starving homemaker, bringing to mind her iconic mid-2000s role as Blair Waldorf, Gossip Girl's famed uptown socialite. Domestic narratives become love affairs between actors and their ever-more adolescent, recognizable selves afloat in earlier films. It is our delusional romanticization of youth and our relationship with ourselves that we are tethered to, as imperfect counterpart.
Almereyda began the Calvino series in 2010—"shooting on shoe-string budgets, working with friends"—and continued with awarded support from a 2015 Creative Capital Grant. The earliest fable, The Ogre's Feathers (2012), finds a woman trapped inside of a high-rise condominium, married to an ogre. In this modern rendition, the ogre is embodied by a Wall Street financier and Calvino's dialogue is silently mouthed through the voiceless speech of inter-titles. The fable premiered at the Rome Film Festival and, like many shorts, did not reappear after traveling the film festival circuit. All the same, despite a clipped lifespan, it's also not the fate of the fables to vanish from view. A first-ever group screening of the Calvino adaptations is being organized for the spring of 2020. Throughout the series, antiquated predicaments are transcribed onto contemporary settings and Calvino's own words are re-interpreted from ancient Italian lore:
"Stick with me until I've trimmed all the trees in this forest with my pruning hook, you shall not die," one character suggests.
"How long will that take?" asks the seeker.
"Who knows? At least two hundred years."
"And afterward I'll still have to die?"
"Indeed you will. Isn't two hundred years enough for you?"
"No, this is no place for me. I'm seeking a place where one never dies."