Just before midnight on Emmys Sunday 2019, the dance floor at Netflix's after-party is packed, lit only by soft light bulbs and the occasional camera flash. As celebrities and civilians alike move and groove with reckless abandon, the cast of Ava DuVernay's four-episode series When They See Us, based on the true story of five teens from Harlem falsely accused of a brutal attack in Central Park, make their way to the center of the floor. The crowd parts, letting the young actors do their thing because we all know this is their night—winning two of the sixteen trophies the show was nominated for was enough.
Jharrel Jerome, Caleel Harris, Ethan Herisse and Asante Blackk take up the space they rightfully deserve. As the DJ transitions to Jay-Z and Kanye West's "Niggas in Paris," with sweat already creeping through the seams of some suits, the room's mood shifts into overdrive. The quartet grabs each other into a huddle, their arms resting on each other's shoulders. Swag surfin' back and forth, their unbridled #BlackBoyJoy cannot be contained. Behind them, Korey Wise, who Jerome won his Emmy for portraying, triumphantly raises the trophy above their heads. That shit cray indeed, is all I can think.
Almost four months later, Blackk still can't get over the moment. Then just a month shy of his eighteenth birthday, he was finishing his first awards season. Though he hadn't won the Emmy for Outstanding Supporting Actor in a Limited Series or Movie for which he was nominated, he couldn't have asked for a better outcome from his first Hollywood role. "When [the attention] first started happening, I felt like I was very undeserving of it," he tells me on a recent morning in Los Angeles, "because there are so many people who have done millions of things who never got nominated or been considered for a nomination. It just didn't make sense to me."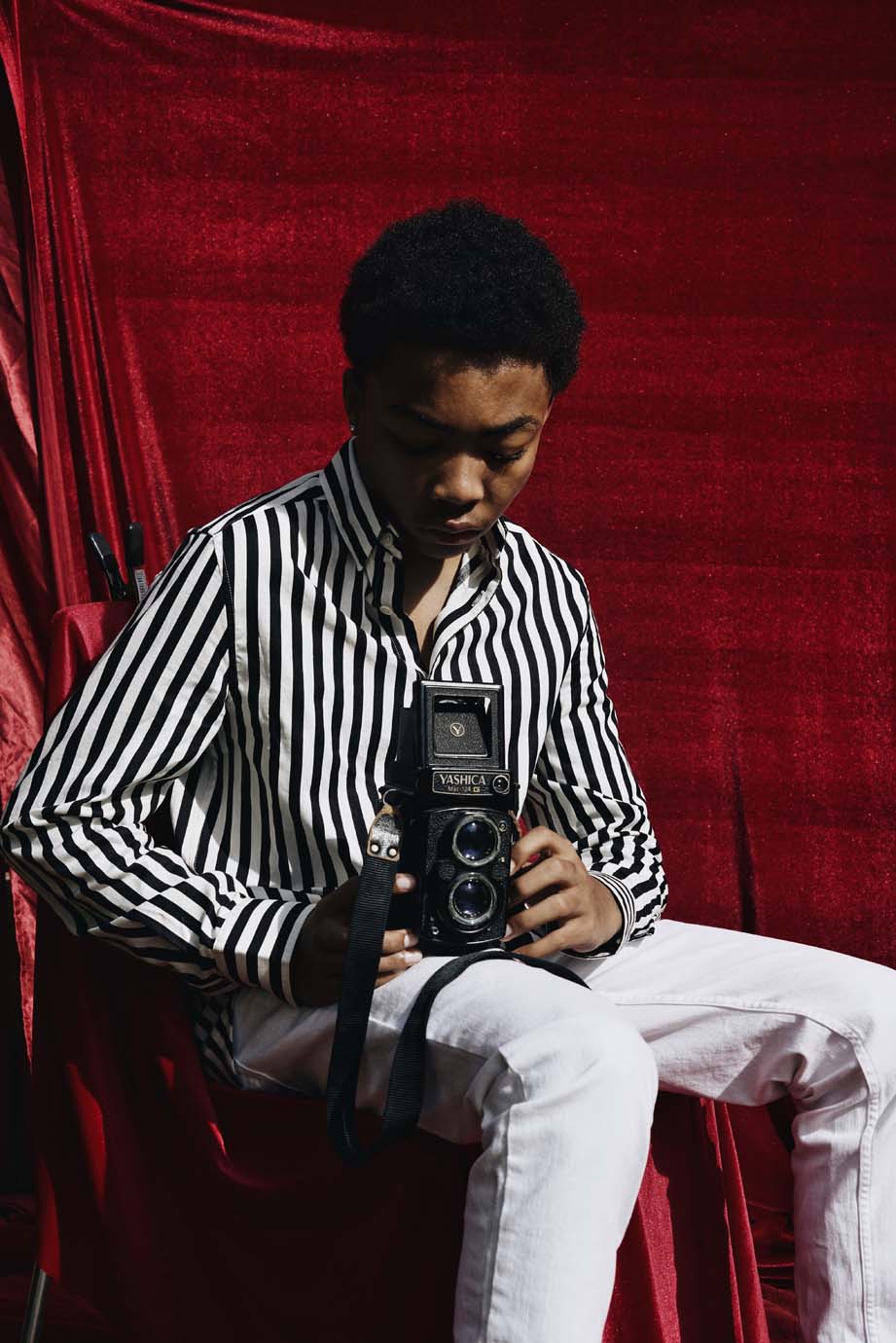 But after some "marinating," he says, Blackk realized that the recognition he was getting was the result of his hard work—both on the set of When They See Us and in all the plays and theater shows he'd done leading up to it. "Because obviously if I'm here, I'm here for a reason. I can't be comparing myself to other people and feeling like I don't deserve it."
Blackk started acting at an early age; one of the Maryland native's earliest memories is playing Mowgli in a second-grade production of The Jungle Book. But it wasn't until the start of high school that he thought about acting professionally. "My school had a very good dramatic arts and theater arts program, so I decided to jump back into it," he says. "I felt a sense of community and found that I was really enjoying it more than the other things that I was doing at school. It just felt like a safe place where I could be myself." Around that time he landed an agent and began going out for auditions. He did so for four years, never landing even a callback. He attributes it to having braces. "But I guess Ava saw something," he says.
Blackk originally auditioned for the role of young Korey Wise in When They See Us. After a series of callbacks—one over Skype with DuVernay and a second in-person in Los Angeles—about a month went by with no word. Then he received notice that the role of Korey had been cast, but they wanted him to read for young Kevin Richardson. He sent in a self-tape and a week later, during the summer break before his senior year of high school, he got a call from a Los Angeles number. "It was Ava herself," he recalls. "At the end of it she was like, 'All right, see you in two weeks.'"
Filming the series was "amazing" for a first experience, Blackk says. While the content was heavy—tackling systemic racism, police brutality and sexual assault—having the other young actors with him on set made it all tolerable. "Because we had each other and we're all very close in age, we were able to have fun behind the scenes," he says. "I think that was a very, very important part of decompressing from the heaviness that it puts on your psyche. I don't think I would come out of that process the same way if it was just the 'Central Park One' and only about Kevin."
The critical acclaim and massive success of When They See Us set Blackk on a path any first-time actor would envy. Immediately following, he landed a recurring role on This Is Us as Malik, a teen father with eyes for Deja (Lyric Ross), one of the children of Sterling K. Brown's and Susan Kelechi Watson's characters. "It's a very intentional move," he says of the new role, teasing those to come. "Bringing stories like these to light—I feel like it really helps to make the world more inclusive because the biggest place that you see the world reflected back at you is in the entertainment industry… and there's so much more of ourselves to explore that hasn't been explored yet. I want to continue to dive into these spaces where we have not yet been shown."
Such a responsibility is a heavy one for an 18-year-old who, just two years ago, was a normal junior in high school. But Blackk isn't shying away from it. "I'm in a place I always knew I was going to be in," he says confidently. "I just didn't know it was going to be this soon."