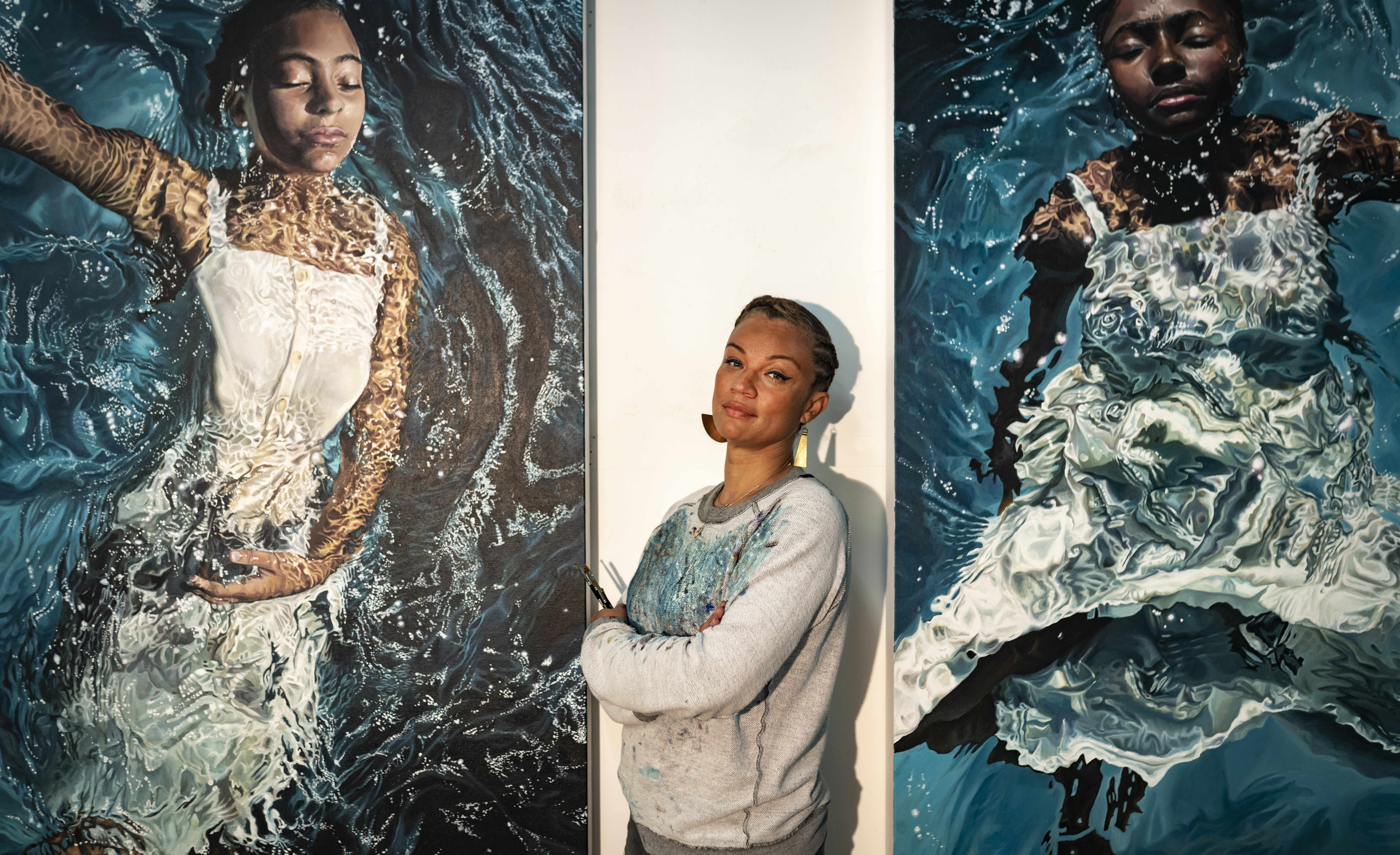 "It was about five years ago when water entered my life," says Los Angeles-based painter Calida Rawles. Pregnant with her third daughter, she began swimming. "It started as exercise, and then it became almost like a therapy. I learned how to really swim as an adult. My breathing became more meditative. I felt so much better in the water."
Soon after, she embarked on creating the body of work for which she has subsequently become celebrated: gorgeous, photorealistic paintings of black figures immersed in turquoise waters. Ta-Nehisi Coates commissioned Rawles to paint the cover of his most recent novel The Water Dancer, published in 2019. In February, her debut solo exhibition, "A Dream For My Lilith," opened at Various Small Fires in Los Angeles and included that book's cover painting in the project space while the main gallery was given over entirely to paintings of women and girls. Even before the show opened, all of the paintings were spoken for, mostly by museums and collectors joining a long waiting list for Rawles's work. Lilith, the Book of Apocrypha tells us, was Adam's first wife, before God created Eve from his rib. Lilith refused to be subservient to her husband and was ultimately cursed by God for abandoning him. "Black females are often seen as negative, as argumentative or difficult," says Rawles, "and chastised in that same way."
Rawles says she feels that her compositions are, above all, celebratory. "In my culture, seeing black bodies in water is special." While for her personally, swimming might be a tool for self-care—a means of escaping both the immediate demands of family life and, more broadly, the pressures of contemporary black life in America—black bodies have not historically been associated with swimming pools. There are complex reasons why—even today, sixty-four percent of African American children are not able to swim—and these are rooted in racial segregation, Jim Crow laws and economic disparity. A painting such as Little Swimmer (2016), showing a young black girl surging beneath the surface of the water, is therefore a vision of hope and freedom.
The centerpiece of her exhibition is The Space in Which We Travel (2019), an astonishing 12-foot-wide canvas that took Rawles three months to execute. ("I'm like a marathon runner," she says. "I enjoy challenging myself.") Two women in white dresses, fully submerged, grasp each other's hands, their bodies blissfully dissolving into ripples and swirls.
Some of her paintings brim with darker associations. In Island (2018), a man holds his face in his hands, surrounded by uninflected monochrome blue. Rawles was trying to paint "an emotional state of being alone," as she imagined the toll of cultural and social pressures on African American males. Two other paintings, North and Penn (for Freddie Gray) and In the Light (for Stephon Clark) (both 2018), memorialize in their titles victims of racially-motivated police shootings. Without those titles, the pictures might appear to depict bodies floating in carefree abandonment; with them, water becomes a force that is turbulent, potentially deadly.
"That's what I love about water as a subject," says Rawles."It's duplicitous. It's a very dangerous element. It does a lot of damage, and you can die in it." To survive in water, she points out, you have to relax. If you struggle, you sink. "You take the waves as they come. I think of that as just a state of being. There's a beauty and a balance in accepting that life has negative and positive elements—in accepting change."