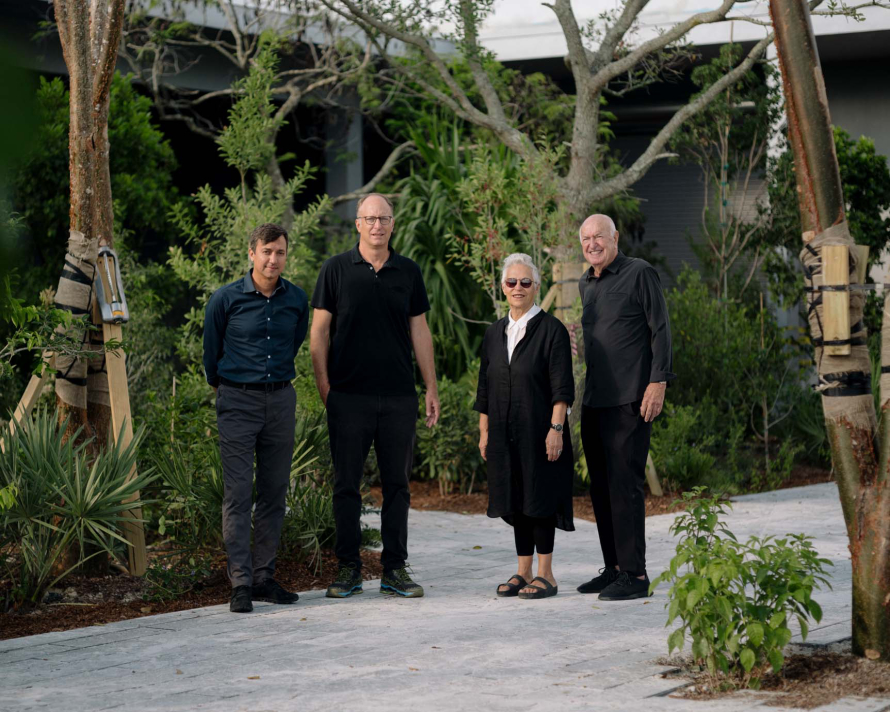 After more than half a century collecting contemporary art, Mera and Don Rubell had, once again, run out of storage space. It was 2016 and their touring exhibition "30 Americans"—which showcases some of the most renowned works by thirty-one African American artists, from Purvis Young and Jean-Michel Basquiat to Lorna Simpson—had been leapfrogging across the country from Washington DC to Detroit to Tucson since 2008. But it was only a matter of time until the hundreds of works of art would have to return home to Miami, and the family had nowhere to receive the crates. There was no vacancy at the Rubell Family Collection, their 40,000-square-foot public space in Wynwood in operation since 1993.
"We became frantic to find a warehouse," recalls Mera Rubell—one- half of the renowned art-collecting power couple and cofounder of the museum—and that's how they stumbled on not just one warehouse but seven, a mile west of Wynwood under the Metrorail's shadow in Allapattah. The Rubells purchased the entire 2.5-acre block and decided, after nearly a quarter century, that it was time to move their Wynwood headquarters to allow for more art, programming and even an on-site restaurant and garden with rare plants native to the Everglades and Florida Keys.
"Contemporary art feels right in new frontiers," Rubell elaborates. "Form follows function and function follows form and the form of a new place should be a new adventure."
More than three years in the making, the Rubell Museum opens on December 4 for Miami Art Week. The new location more than doubles the former exhibition space, totaling at 100,000 square feet, and its inaugural show encompasses more than 300 works by 100 artists, drawn entirely from their collection. The name change was deliberate. "After 26 years people would still call and ask if they could visit our collection or if we were selling," Rubell says. "We really wanted to make it more accessible and people know what a museum is... It would've been too pretentious to call ourselves a museum out the gate, but I think we've demonstrated over the past 26 years that we continue to live up to what a museum really is." After all, the family now curates and originates exhibitions, publishes catalogs, houses 50,000 volumes in its public library, and offers internships, residencies and educational programs.
From as far away as Beijing and São Paulo, the 7,200 works of art by more than 1,000 artists that comprise the Rubell Museum tell a story that's been developing for more than fifty-five years—not just of a family with a discerning eye for undiscovered talent but of one that has never shied away from taking risks. There was perhaps no risk greater than moving from the epicenter of contemporary art that was '90s New York to a still relatively undeveloped Miami. "Miami was known for sex, drugs and rock 'n' roll, and the last thing people thought of was culture here," Rubell says. "But being away [in Miami] made us better collectors because we had more time to reflect, more distance, and a little perspective is not bad." It was a decision that many credit with transforming the city into the cultural destination it is today; Art Basel returns to Miami Beach this December for its 18th edition.
"For decades, Mera and Don have been tremendous supporters of contemporary art in Miami, realizing the city's potential as a new cultural hub in the Americas," says Marc Spiegler, global director of Art Basel. "Seventeen years ago, their confidence [in Miami] and promise of support played a crucial role in launching our show in Miami Beach."
The Rubell empire had humble beginnings. Back in the 1960s, the newlyweds would saunter about the artist studios in Chelsea. At the time, Don was in medical school and Mera was teaching. They'd peek their heads in, speak to the artists over tea and wine, and befriend them. But collecting art seemed out of the question on Mera's modest $100-a-week salary, which at the time supported both of them. "One day an artist asked 'Why don't you buy my work?' and I said 'Well, I'm earning $100 a week' and he said 'What can you afford?'" The rest was history. "That's how we started a little payment plan and created a $25-a-week budget to buy art," she explains.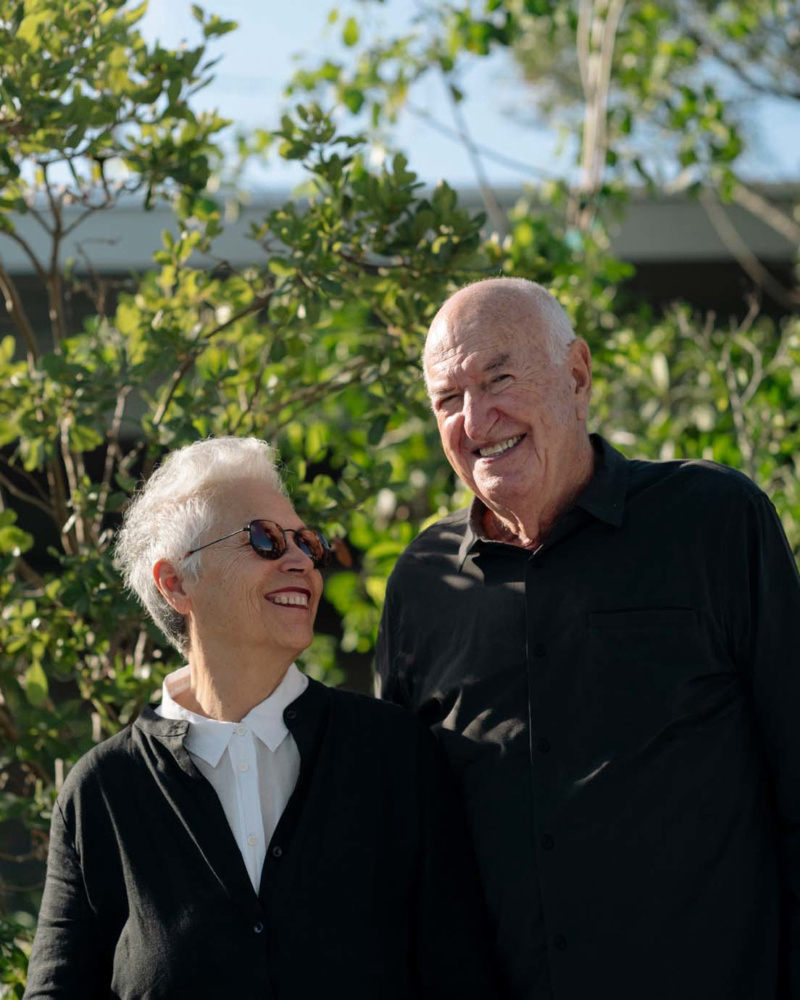 After Don graduated, the Rubells moved to California and Texas before returning to New York in the late '70s. They became more focused on collecting art than ever and would host biannual parties with artists in their townhouse on the Upper East Side. Candor and curiosity led the couple to purchase a handful of artists' first pieces, including Keith Haring, Jeff Koons and Cindy Sherman. They began traveling to Cologne, Germany to explore the growing contemporary scene there. Even their then 12-year-old son, Jason, would string tennis rackets and use his earnings to purchase art (impressively, the first piece in his collection is by George Condo). "Today people buy a piece of art and suddenly call themselves collectors," Rubell says. "It was years before we looked in the mirror and said, 'Oh my God, we are collectors.'"
In time, their collection grew to the point that the family had to rent a warehouse in Chelsea. "It cost us a fortune," Rubell recalls. After Hurricane Andrew, the price of real estate in Miami plummeted; Don and Mera's aging parents had already moved to Miami, so relocating to be closer to them was an obvious choice. "We're driving through the [Miami] neighborhoods and we discover this incredible building that looks like a fortress," Rubell says. Located on NW 29th Street in Wynwood, it had once been a DEA warehouse back when Wynwood was shoe factories and wholesale outlets as far as the eye could see. They purchased the building for the price of a one-bedroom apartment in New York and moved their entire collection to Florida, never thinking it would see the light of day. "Renting made us absolutely crazy—it was like having your children in an orphanage," Rubell says. "We couldn't see the art. We were so removed from it and the only time we'd see it would be when museums would borrow [pieces] and we'd travel to go visit our children."
Don and Mera like to say that they're self-taught and that the books in their library were their education. They take the opinions of their children, who both have respected art degrees, seriously. When the family purchases art, it must be a consensus (though their daughter Jennifer, now an artist herself, has since removed herself from the voting process). At the time, the Margulies and De La Cruz families also had their own private collections in South Florida. It was Jason's senior thesis at Duke University—an exhibition of his private collection that went on to travel to a dozen colleges—that inspired the family to make theirs public. "It was scary because, all of a sudden, people critique what you have. People don't always get contemporary art and can be extremely harsh and brutal in their opinions," Rubell commented. "We also thought, 'no one's ever going to go to Wynwood.'"
But they did, slowly. And when Mera learned that Art Basel was looking to expand its contemporary art fair to America, she led the charge to bring it to Miami. "They explored Chicago, they explored New York," she says. "But we made the case that Miami was like Switzerland: centrally located between North and South America, not that far from Europe, and a completely different vibe than anywhere else in the United States." In 2002, Art Basel held its first fair at the Miami Beach Convention Center. The spotlight on Miami and the price of real estate on the mainland led to galleries like Fredric Snitzer popping up in Wynwood. Others followed, such as Diet (now Nina Johnson) and Pan American Art Projects. Kaleidoscopic street art started appearing on the weathered warehouse storefronts, bringing in herds of curious locals starting in the early aughts for Second Saturday Art Walks (and, later, their selfies and geotags). When the food trucks started outnumbering the Wynwood galleries, gallerists one by one started looking north to Little River and south to Downtown. When the Rubells ran out of storage, it was their turn to leave too—except they looked west.
As excited as the Rubells are for their new campus and the promise it holds, the move is still somewhat bittersweet. The family had built a home on their Wynwood property, where they lived for all these years. "We made ourselves homeless," Rubell says with a shrug. But as the family puts their prime Wynwood space on the market, the current real-estate value (which has increased exponentially since 1993) promises to fund an exciting next chapter for the museum in Allapattah.