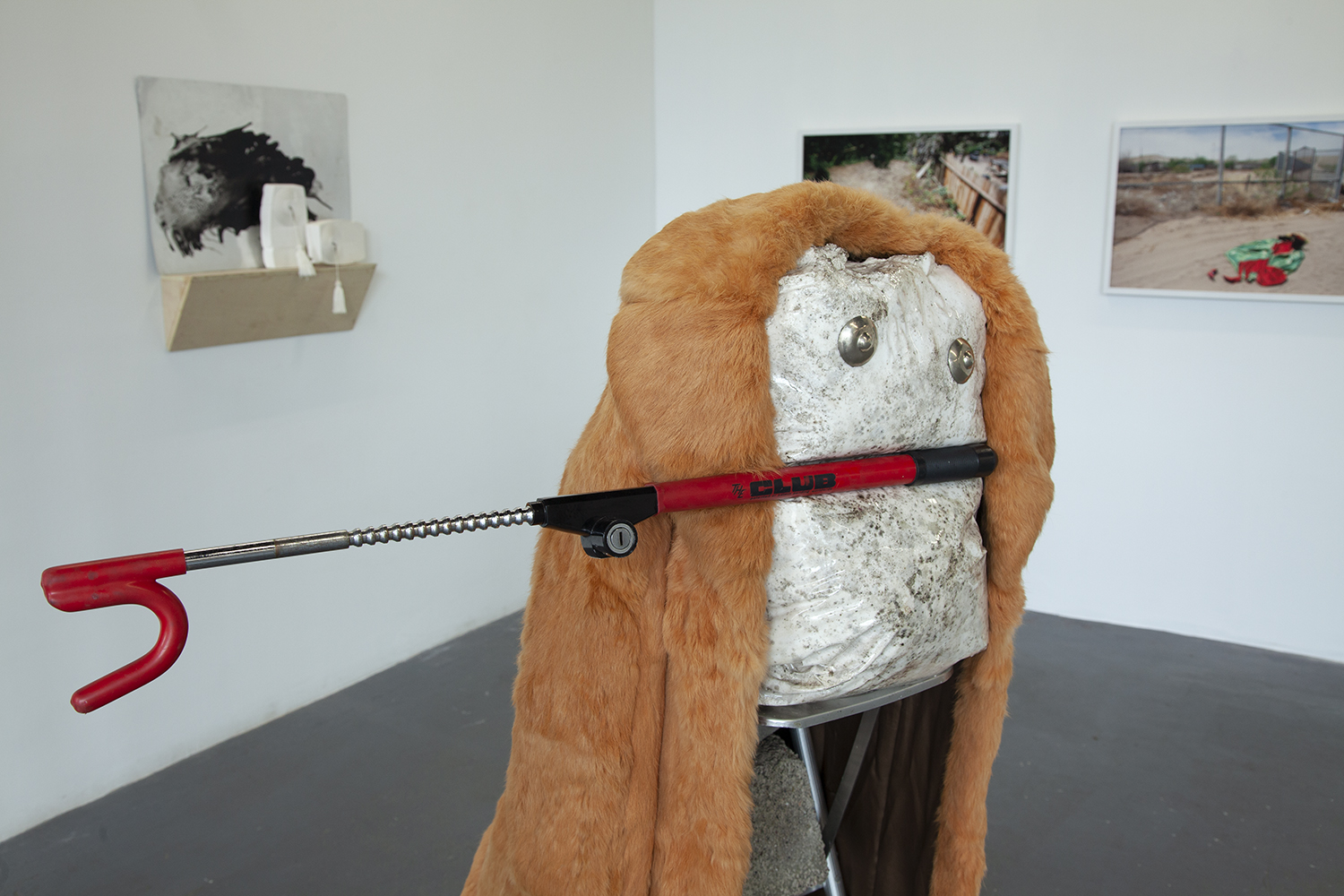 "Forever Sidepiece" is Xandra Ibarra's solo exhibition that brings together nearly a decade of work—it's a cheeky title for a stunning range of videos, sculptures, photography and works on paper. In a lexicon the artist provides to accompany the works on view, she defines a sidepiece as someone who is "at the sidelines of history" and knows it. By proudly claiming "sidepiece," Ibarra sheds her ego and identifies with a vilified feminine role, one that implies quiescence and lack of agency. Then she flips this definition on its head with gusto.
Strobelight Honey (2018) greets the viewer entering the gallery. The fur-coated hunchback sculpture lurks like a sheepish diva in the daylight, an anti-theft wheel lock wedged into her slumping plaster torso, silver nipple-pastie eyes askew. Pasties recur throughout the show, in particular with Ibarra's burlesque alter ego La Chica Boom. In her striptease series, she riffs on Mexican stereotypes to expose their farcical identity constrictions. A housewife demonstrates her spicy taco recipe in Spictacle II: Tortillera (2015). Gussied up with dark chola lips and a dangling demonic tongue, a Guadalupe-style virgin in Spictacle III: La Virgensota Jota (2015) dramatically pleasures herself. The characters in these video shorts look invincible. You can't insult me, they seem to smirk, I'm in control now.
Ibarra navigates the "pitfalls" of sex-positive feminism by laughing in the face of respectability politics. In Untitled Fucking (2013), she penetrates collaborator Amber Hawk Swanson with a strap-on hot sauce bottle as Hawk Swanson repeats in white girl upspeak: "Feminism? That's deep. I think I need a minute to think about that?" The specially created hot sauce bottles are also on view, titled Spic Jouissance Bottle (Tapatio Cock) (2014). The label lists ingredients such as commodified negation, "deadicated" invader subjectivity and toilet water. Rage courses underneath Ibarra's oeuvre, appearing as a bolt of raw energy in her sculptural works like Thank you, It's Versayce (2019), where a whirlwind of materials are pierced by a light tube and garlanded by phone cords and trailing hair extensions, or Ellie Jante Demonia Pleaser Reflections (2018), where stripper heels explode from a mangled metal locker. Down to the last detail, Ibarra is deeply thoughtful in presenting "Forever Sidepiece," an exhibit of lush and inventive works that overflow with whip-smart critique. Ibarra not only expresses herself with humor and urgency, she creates her own cosmos—there's no angle from which she's on the sidelines.