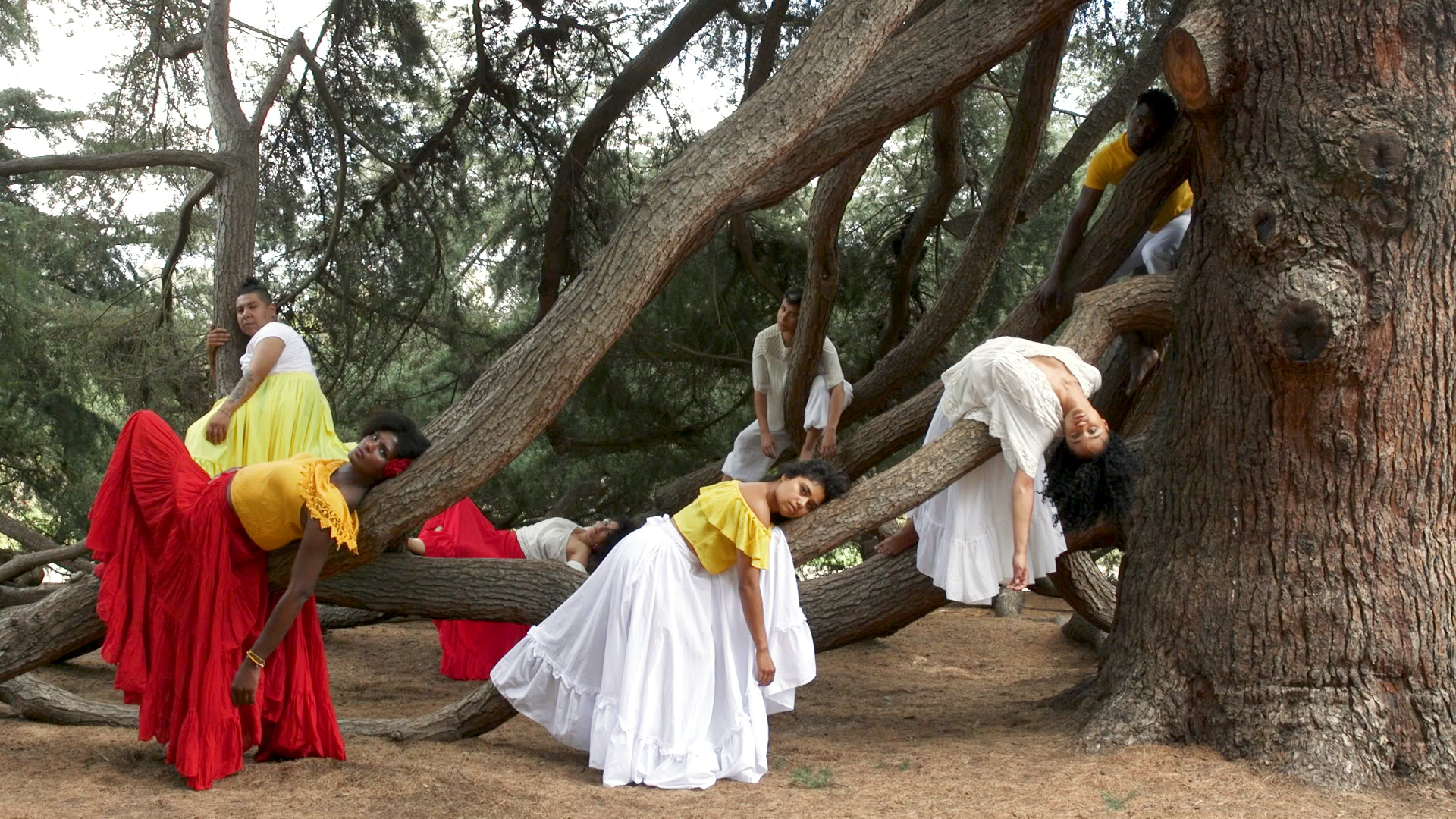 Art that offers a reflection on sociopolitical issues—from climate change to instability and authoritarianism—was everywhere in Bogotá this fall, as the 15th annual ARTBO art fair opened in the Colombian capital. "I think art has a possibility of creating or nurturing citizens and individuals that are more sensitive, or more critical, and have the capacity to put themselves in someone else's shoes," said ARTBO director María Paz Gaviria when the fair opened last week. "I don't believe that art has a particular role in society, I just strongly believe in the possibility of the arts, and what it can express about society, and about our conflicts." So, with that in mind, here's our pick of the standout artists at the fair, and at the National Salon of Artists show, which runs concurrently at museums around Bogotá until November.
Carolina Caycedo's Apariciones at the National Salon of Artists This nine-and-a-half-minute film by Los Angeles-based Colombian artist Carolina Caycedo is featured in the National Salon of Artists and is on display until November 3 at MAMBO, the Bogotá Museum of Modern Art. For the film, Caycedo stages a series of encounters between indigenous and Afro-Latino dancers and the spaces of LA's Huntington Library and Gardens. It's a beautiful work about colonialism, hierarchies of information, the naiveté of trying to organize the world, and the rebellion of the past. The dancers move through the institution like ghosts from past worlds; or the physical embodiment of traditions of knowledge that aren't yet archived, performing rituals of joy and divination. If you'd like to see more, the artist talks about this piece in a video produced for the Huntington here.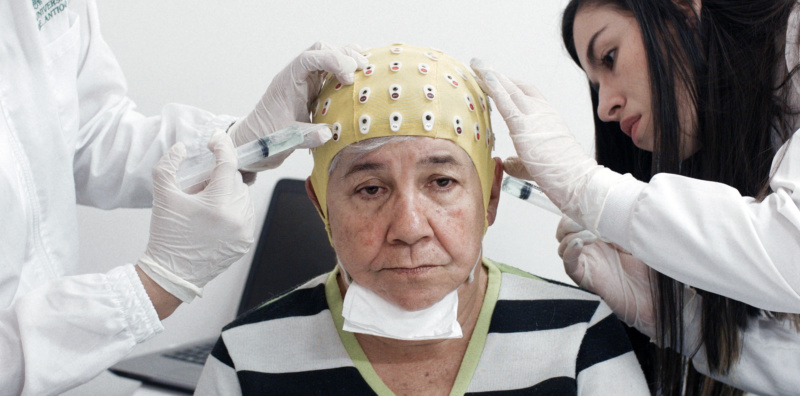 Manuel Correa's La Forma del Presente (The Shape of Now) at ARTBO One of the standout works of ARTBO was presented in the fair's Artecámara section for emerging Colombian artists. London-based, Medellín-born Manuel Correa's 70-minute documentary The Shape of Now is about the conflict that has raged in Colombia since the 1960s between the government, guerrillas including the FARC (Revolutionary Armed Forces of Colombia) and drug cartels, which has claimed an estimated 260,000 lives, and the ensuing peace process. Correa's film is about how historical memory is constructed, and depicts the human need to define past events in order to move on from them. He follows survivors of war, ex-combatants from all sides, professors, scientists, a photojournalist and a peace negotiator as they wrestle with what has taken place, and with the nature of truth itself. Certain scenes are so surreal—like a group of mothers of the disappeared who travel to prisons to perform plays about the conflict for audiences that include some of the same fighters who may have taken their sons—that they merit comparison to the 2012 documentary about Indonesian war crimes The Act of Killing. The film is also memorable for a logician who explains how truth exists beyond binary categories, and for neuroscientists who attempt to study ex-combatants's levels of empathy by attaching electrodes to their heads and asking them questions like, "When you watch a movie, do you identify with the protagonist?"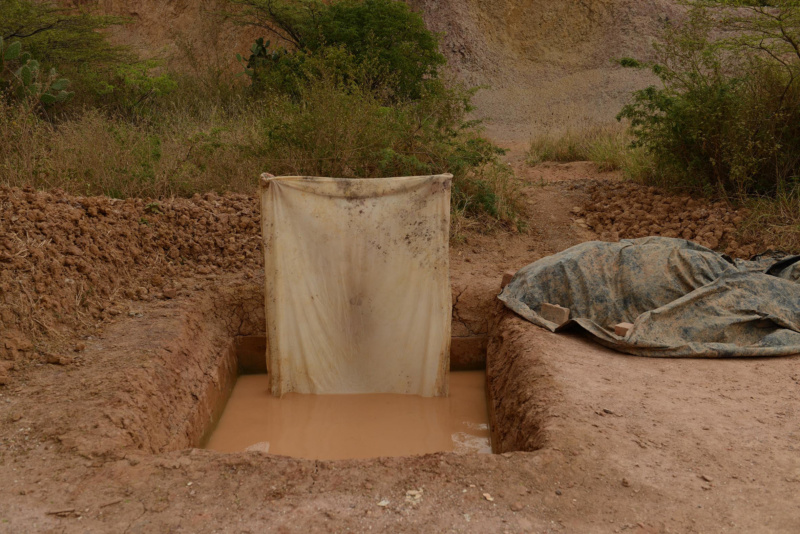 Teresa Margolles's Chircalero en un pozo de Juan Frío at mor charpentier gallery at ARTBO Conceptual artist Teresa Margolles examines the causes and consequences of violence in her works, with a particular emphasis on death and the body. Born in Mexico, she originally trained as a pathologist and holds a degree in forensic medicine and science communication from the National Autonomous University of Mexico. Both forensics and communication—especially the need to speak for those who have been silenced—are key themes in her work. This photograph, titled Chircalero en un pozo de Juan Frío, or "Brickmaker in a well at Juan Frío," depicts a moment in the production of 3,000 clay bricks when and holds up a shroud that has been soaking in the water. The shroud was used to cover the bodies of people killed in recent violence on the Colombian-Venezuelan border, and the bricks were fired in a kiln in the border town of Juan Frío, where guerrillas previously incinerated the bodies of war victims. This chircalero, like the dead, stays invisible behind his shroud.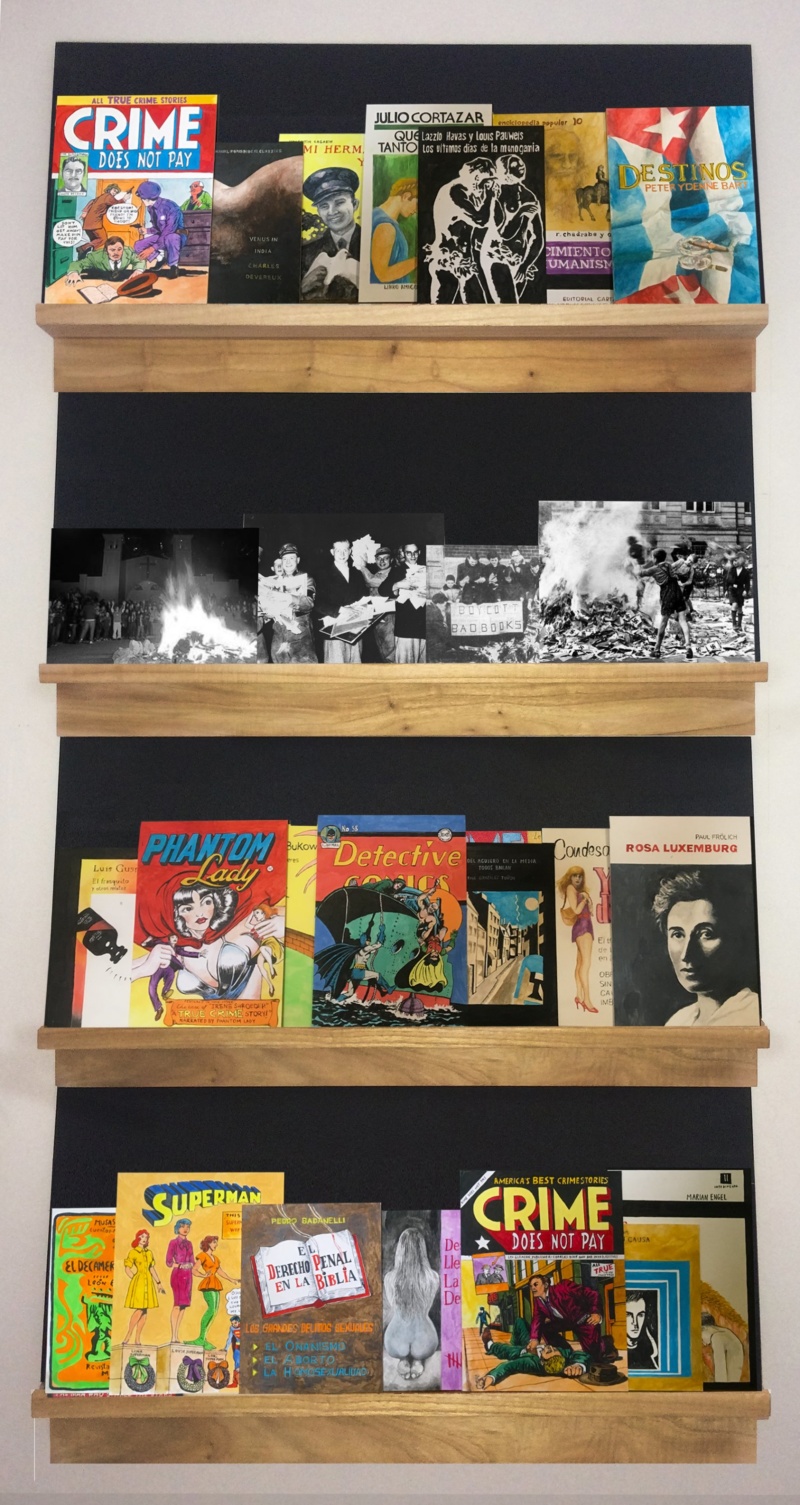 Adriana Bustos's Burning Books IX at at ARTBO Argentinian artist Adriana Bustos's process is heavily informed by research, and her work often incorporates found images she uncovers from various archives. By placing these images in new contexts, Bustos generates new meanings, and she often returns to themes of the construction of femininity, science and rationalism versus "magical thinking and the censorship of ideas. In her Burning Books series, she painstakingly draws and places on "bookshelves"which she identifies by searching library records for suppressed titles. The resulting work questions the limits and consequences of censorship.