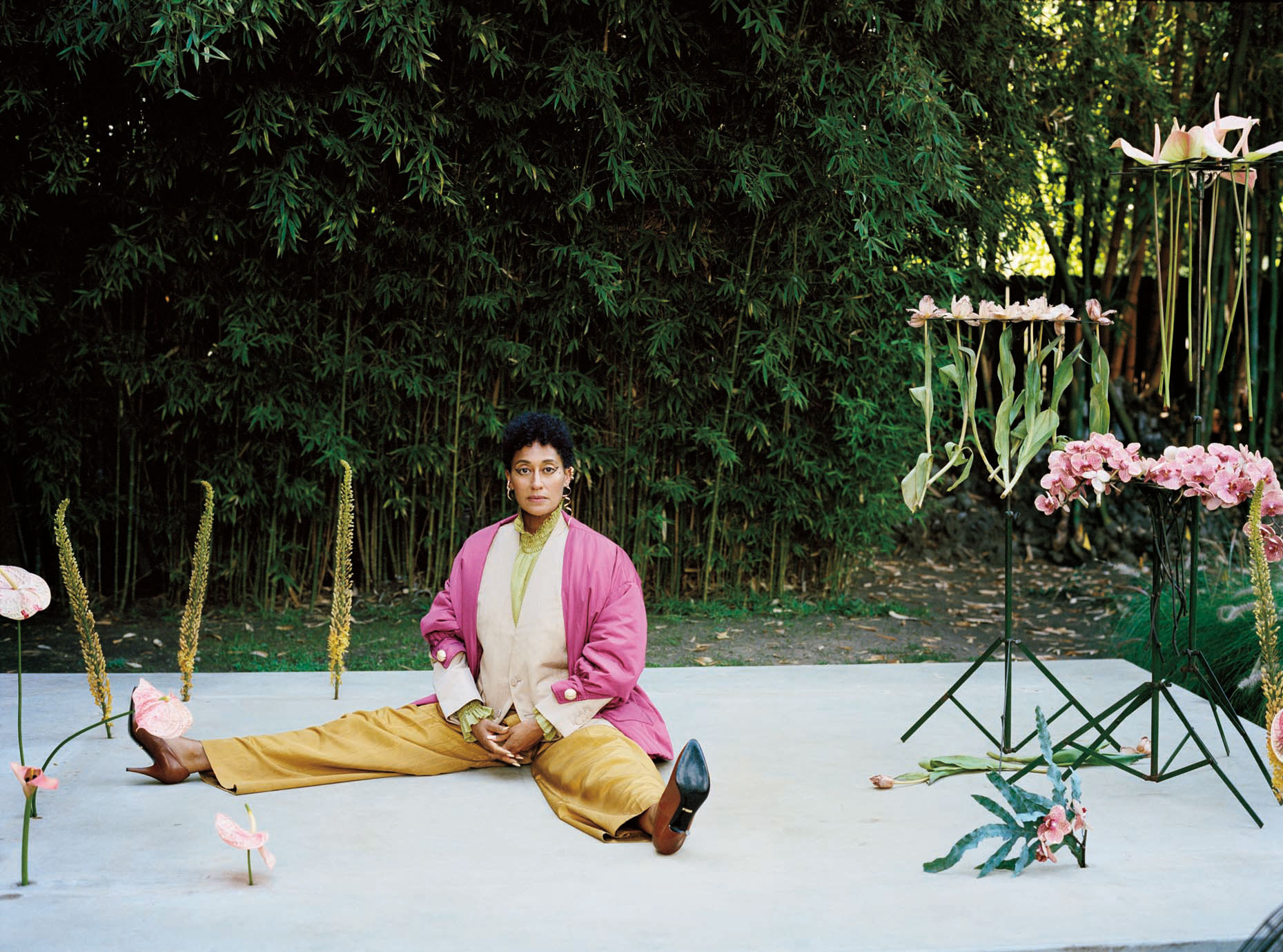 My mother was a Joan. This I learned through eavesdropping. Monday nights were reserved for Girlfriends, the show and the ritual. Weekly, my mother and her friends gathered in our living room and spoke of great, grown-up things. "Mhmmm," they used to coo, "there you go girl—down to the T! Just like Joan." These yous were endless and reflective, parceled by wet laughter and saucy sighs. Trailing down the hallway and into my bedroom, the laughter is what interested me most: sprawling, wine-laced, incessant. Their shared joy felt palpable, secret, earned. I remember creeping out of my bedroom, towards their sounds and the TV, desperate to learn the source of all that pleasure.
"Joy is a revolutionary act," Tracee Ellis Ross tells me. It's a balmy July evening and we're seated at a small table inside the San Vicente Bungalows. Her face is unmade, poreless, with knife-blade cheekbones and sharp, proud angles. She wears her legendary curls in a loose bun with a few tendrils draped across her forehead. Despite her understated attire—tailored black shirt, linen-blend palazzo pants, chunky platform sandals—her presence is overt. Onlookers are curious; staff members are deeply attentive. On two occasions, a woman seated behind us leans forward, towards Ross, hoping to glean a few words. Cloying attention has always been an accoutrement of fame, yet this buzzing interest feels earnest. "That's one of the reasons I love comedy," she continues. "It's really about telling the truth."
Throughout her career, Ross's art has been guided by truth and intuition. At 17, there was a brief period of high-fashion modeling, a time she describes as a "huge stepping stone away from my shyness that allowed me to move forward." Later, after graduating from Brown University in 1994, she worked as a fashion editor at Mirabella and New York. In 1996, she made her big- screen acting debut, followed by a string of independent films and television roles. In 2000, she starred in MTV's sketch-series The Lyricist Lounge Show, "sharpening her character work." In one episode, she morphs seamlessly from a repressed writer into ditzy mercenary. Later that year, she arrived to mainstream consciousness as Joan Carol Clayton on the indomitable sitcom Girlfriends. These continuous reimaginings were never calculated or purposeful, but rather an exploration of self-expression: "I was always expressive, even as a child, and everything is just another layer of who I am. There are certain parts of me that get the stage, and others that don't. Sometimes the career has followed, sometimes it hasn't. I've stayed true to myself, to my journey, and all of my choices have been about what feels right. With modeling, it really brought forward my real personality. I discovered I had much more to say and modeling wasn't the end- all-be-all I had dreamed it to be. I moved my love of fashion and image-making into other aspects of my life."
Fashion was her entry into the realm of visual art. Since 1982, she's collected editions of Vogue, Casa Vogue, Harper's Bazaar and various other publications, which introduced her to a world of possibility. "Art is all through those pages—you can't help but become influenced by that decadence, the aspiration, the dream." Her eyes grow wide as she discusses the creations of late designers like Elio Fiorucci and Willi Smith, legends of time's past who showcased the limitlessness of creative expression. She also recounts poring through her mother's closet, pulling out the pieces she loved most and moving them into her room. "I was visioning," she remembers comically.
Other artists have nourished her as well. There was Andy Warhol, who painted her alongside her siblings and her mother, a memory she calls "pivotal." Rodney McMillian shifted her ideas regarding active expression. Cindy Sherman was a "special" discovery; Sherman's use of clothing, of invention, coincided with Ross's own in-depth character work. There was Kalup Linzy and Richard Serra (with whom she spent an afternoon talking about art). Lorna Simpson's work regarding hair left an indelible impression. "She left me thinking, she left me curious about our legacy and our stories." Kara Walker has also been a guide. "There's a conjuring of our history all through her work. You can feel it, even if you don't know it. I wish we all knew our history better."
Each of these artists underpin Ross's work. To truly understand the importance of that work, its weight and fullness, you must situate her historically. Like Simpson, whose visual vernacular challenges misguided notions of beauty and like Walker, who unflinchingly parcels pain, Ross's oeuvre threatens the Western canon. Black life, in all of its forms, is still connoted with horror, trauma and tragedy. In Hollywood, black spectacle is preferred. Ross's ability to navigate this fact remains a study. On- screen, she is soothingly confrontational, exhuming lives that are often refuted. In Girlfriends, which ran for eight years, she wore her hair natural in every episode (more than a decade later, this is still not the standard). Presently, as Dr. Rainbow Johnson on ABC's Black-ish, she avoids heavy make-up and excessive contouring. These choices are emblematic of her adroit control and a refusal to create regressive art. And it has not been without consequence.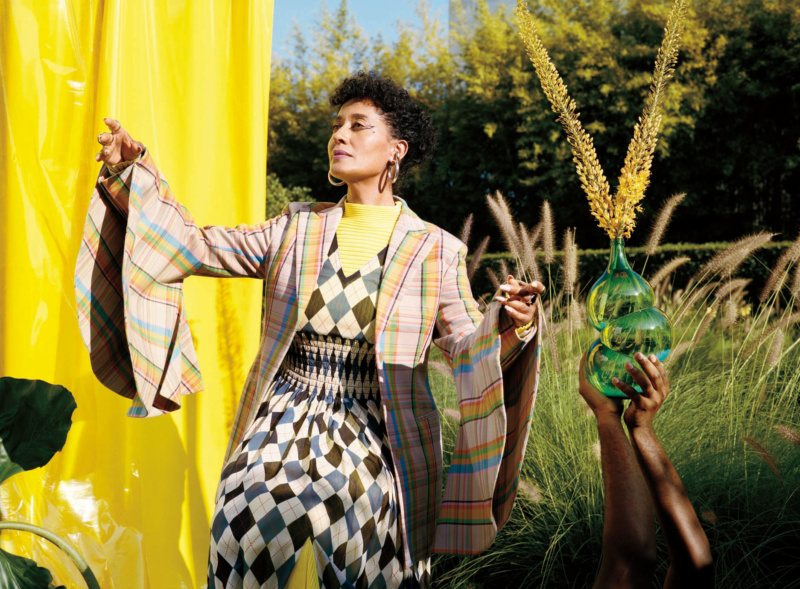 "When I finished Girlfriends, I truly thought the pearly gates of Hollywood were going to open. I had been on a fantastic show for eight years, yet we were never invited to the Emmys, the Golden Globes or Jay Leno. We didn't even get a billboard until the fifth season. We never knew if we were getting picked up again. There was always the trauma and fear that we weren't coming back. We never got picked up for two seasons in a row. It was scary; it was humbling. I was confronted with the idea that my money would run out, and I had always lived within my means. People don't know this, but of the cast, I was the last one to buy a new car. I was the last one to buy a house. I've never been an overspender. But even living within my means... At a certain point, you have to work. You want to work. And it was a dry spell. I had spent my life working towards my dreams, training to be an actress, and I had gotten a taste of my dream... And I thought it would keep going. In those moments, when everything stopped, I don't know that I could've named it as: Oh, I see what's happening. You just wonder what you did wrong."
She's referring to the early 2000s, a period marked by the final flush of black-centered television. As one of the longest-running and highest-rated live-action sitcoms, Girlfriends was on track to best The Cosby Show. And then, almost overnight, shows were canceled and taken off air regardless of ratings. There are various contributing factors: the 2007–08 Writers Guild strike, the influx of reality television—none more speculative than race. Still, true to form, Ross is grateful for that experience. Her eyes narrow on the subject, but her smile is plush. "You get smart and creative. I started learning about politics and I campaigned for Obama. I was training to be a certified yoga instructor and started college speaking tours. I started making my own hair care products. I anchored myself in an unbreakable and unshakable foundation."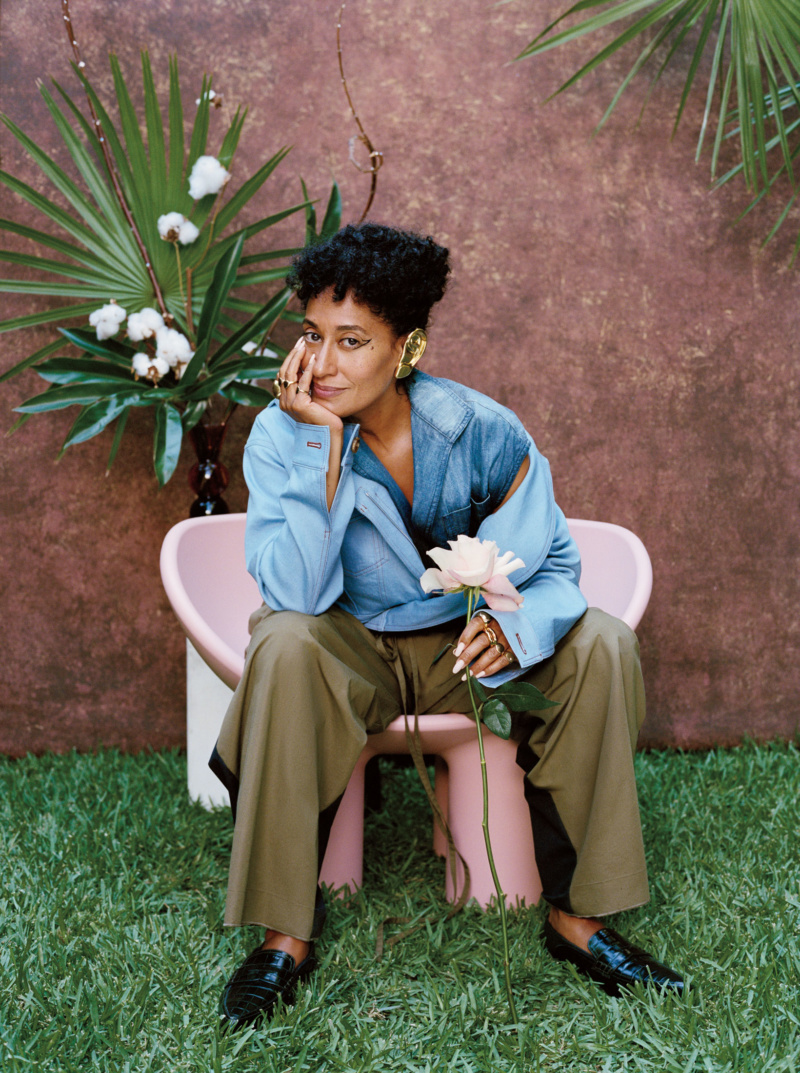 One gets the sense that behind this contagious warmth lies steely conviction. She pulls out an aged treatment from her purse. It's strewn with notes, images and ingredients, and was written in 2008. Despite proven viability, Pattern Beauty, her line of cruelty-free hair care products, was rejected repeatedly. Now, a decade later, the business of beauty has decided unmet needs are profitable. Ross remains unperturbed. "Nothing about Pattern has changed—not one thing. Only the market. It's just like my roles. Who I am interested in portraying and playing, revealing and sharing, through the face and beingness of a black woman, does not waver."
For nearly two decades Ross has been a staple on primetime television. In 2017, she became the first black woman to win a Golden Globe for Best Actress in a TV comedy in 35 years. Her successful role as Dr. Rainbow Johnson led to a spin-off series called Mixed-ish, which she's executive producing along with Jodie, a spin-off of Daria, where she'll also voice the role of Jodie Ladon.
Next year, she stars in the upcoming music-comedy Covers. Still, Ross's personal ambitions loom larger than Hollywood. "Historically, we have not been given credit for the things that we do. We have not had equity in what we build. I want to learn how to not only have equity in what I build, but to support all of us in having equity in what we build and influence. I've come to terms with the fact that I don't always see the wallpaper of our lives on television, on screens. I want to be a part of shifting the gaze of our culture."
At this, I think of the women she's spent her life rendering. Joan Carol Clayton. Carla Reed. Cynthia. Rainbow Johnson. Mothers, daughters, wives, lovers and friends—fleshed and fully-formed. She documents the moments history ignores. There they were, she says through screens, sitting down for sushi, munching on popcorn, loving their children. They are shopping. They are protesting. They are dancing. They are arguing. They are laughing. They are crying. They are living.