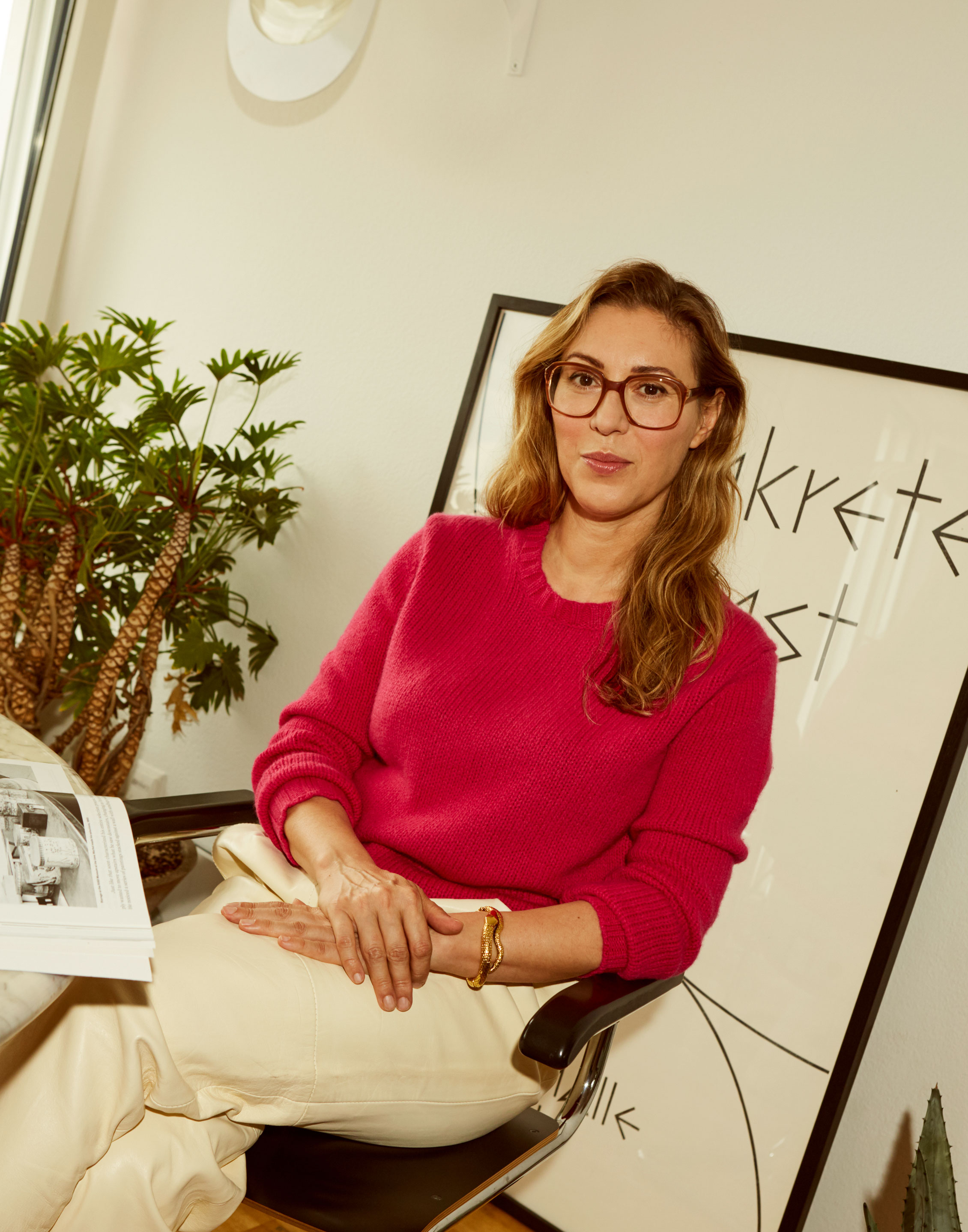 Elena Filipovic is the calm, curious and classy director of the Kunsthalle Basel, Switzerland's oldest institution of contemporary art. Housed in a grand neoclassical building with glorious natural light, the Kunsthalle has validated the work of many generations of living artists. Author of a PhD-cum-book on Marcel Duchamp and a page-turner on a single work by David Hammons, Filipovic has managed to translate her intellectual credentials into impressive curating and museum management. Her exhibitions have generally garnered more press coverage and larger audiences than past Kunsthalle shows. "Elena has one of the best curatorial programs anywhere. She is a visionary, but she is also committed to her institution," says Connie Butler, chief curator of the Hammer Museum in Los Angeles, with whom Filipovic co-curated an acclaimed show on Alina Szapocznikow. "She honors the Kunsthalle's mission with great care. It's not just a platform for her global wanderings."
Filipovic is the first woman director of the 180-year-old institution and, more controversially, the first American. "She has lived in Europe for 20 years. She's not too American!" exclaims Martin Hatebur, the president of the Kunsthalle's board, who oversaw the hiring committee, reviewed 150 applications and interviewed 20 people for the job. "She is open, honest and outgoing. She is good with artists, good with everyone—even the government in Basel," he adds. Of the Filipovic-curated shows at the Kunsthalle, Hatebur's personal favorites were those of Lynette Yiadom-Boakye and Michael E. Smith.
When it comes to national identity, Filipovic comes across as mysteriously pan-European. Well-mannered with a low-key sense of humor, she embodies Hammons' adage, "I like being from nowhere; it is a beautiful place." However, Filipovic's hometown will be revealed in all its repellent glory in a show opening at the Kunsthalle on August 30. Kaari Upson will re-create a version of her 1979 tract family home in San Bernardino, an inland stretch of California best known as the wasteland that gave birth to the crystal meth craze and body cameras on police officers. As a mark of Upson's chilling relevance, she came up with the exhibition title "Go Back the Way You Came" long before Trump's public appearances were met with the chant "Send Her Back."
"I'm worried that I'm outing Elena," confesses Upson. "We were born in the same year. We didn't know each other, but we ate at the same burrito joint." Upson is hard-pressed to find the "San Bernardino" in Filipovic, except perhaps for the curator's notable determination. "We San Bernardino girls know how to fight," she says. "We work hard. We're spirited." Filipovic would seem to concur. She describes Upson as a "bad ass… a tenacious sculptor and video maker, a worthy heir to the gooey experimentalism of Paul McCarthy and Mike Kelley."
Filipovic grew up in a home that spoke its own pidgin English. Marlene, her Ecuadorian mother, worked two or three jobs at time. Her father was a petty gambler from the former Yugoslavia, who lost the family home playing Texas hold'em. When Filipovic was five, she went to the Los Angeles County Museum of Art on a school trip. She had never been anywhere like it. "My mother says that I spoke about little else for weeks," says Filipovic. "I was enthralled by the magic of the museum." Devoted to her clever daughter and ambitious for her to have a better life, Marlene consulted her hairdresser, the local authority on high culture, and decided to skimp and save—and sell shoes out of the trunk of her car—to take her daughter to Paris and Venice. "I remember every single day of that trip," says Filipovic. "I turned six that summer. I remember the Mona Lisa, the smell of the Louvre and Versailles, the sight of the gondolas on the canals."
Fast forward, past hours of commuting to a public high school with a "commitment to excellence since 1891," then a scholarship at Cornell University where she majored in English. "I needed to make the English language my own, to be sovereign over it, to command it," explains Filipovic. In the final year of her BA, she discovered the word "curator" through a guy at a party whose parents worked at the Art Institute of Chicago. He told her she needed a PhD in Art History, so she started applying the next day. Princeton University offered her free tuition and a stipend and then, after her course work, a generous fellowship to live in Paris to research Duchamp's curatorial work and his other "non-art" activities.
After freelancing in Paris for a few years, Filipovic took a job as the assistant to the uber-energetic Hans Ulrich Obrist, then curator at the Musée D'Art Moderne de la Ville de Paris and co-curator of the "Utopia Station" section of the 2003 Venice Biennial. Obrist reached out to hundreds of artists and Filipovic would follow up. "Elena held the project together," says Obrist. "She is not just an ideas person, she has organizational talent. She holds many parallel realities together. It was clear to me from day one that she would run a museum—a big museum with a contemporary spirit."
After the whirlwind of "Utopia Station," Filipovic moved to the slower, cheaper city of Brussels, where she continued work on her doctorate until she was pulled into co-curating the 2008 Berlin Biennial with Adam Szymczyk. Shortly after that, she became the chief curator of Wiels Contemporary Art Centre, organizing retrospectives of Felix Gonzalez Torres, Mark Leckey and Anne Teresa de Keersmaeker. "I would shrivel and die if I weren't curating," says Filipovic. "It's one of the most exciting ways to articulate thought."
Curatorial freedom was the perk that lured the decisive curator to the Kunsthalle Basel in 2014."Picking artists is the hardest thing. You have to believe in them and help them make a home run," says Filipovic, who has curated more than 35 solo exhibitions in the small Swiss town as well as a group show titled "Ungestalt,"which was hailed as one of the best exhibitions of the year by the Neue Zürcher Zeitung, Zurich's answer to The New York Times. Filipovic relishes being a sounding board for artists. Intolerant of "fast and loose" curating, she doesn't shy away from difficult conversations and admits that she can be extremely demanding of herself and others. Anicka Yi, whose Kunsthalle Basel show gained headlines such as "Unforgettable," describes Filipovic as an intense listener, exacting editor and trustworthy ally. "She was like my gymnastic coach," says Yi, "helping me to execute, turn and dismount."