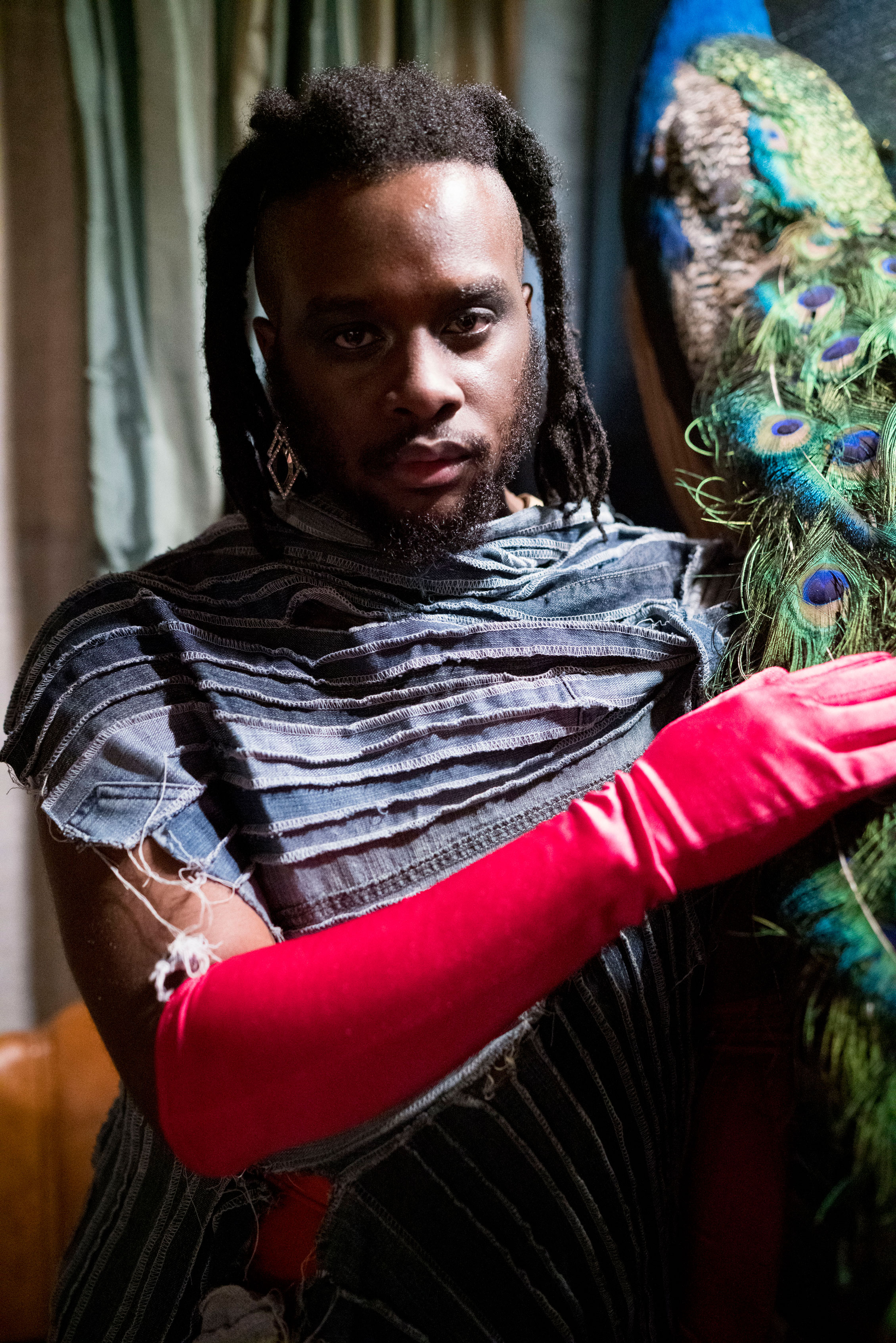 The story of Hudson, NY seems to intrigue everyone who crosses its path. From whaling city to factory town to antique epicenter to a place that puts art and commerce front and center, the story is similar to what is happening in little cities and towns all over the country, but what sets Hudson apart is that it has always been about the opportunities it holds for people—opportunities that are so close in reach. So close that if everything goes well, Hudson, one of the oldest cities in the country, will hopefully elect its first Black mayor this year.
In 2018 Tschabalala Self and Mike Mosby asked me if I wanted to help curate a night of black performance in Hudson, NY and I immediately said yes. From the beginning, we have been intrigued about ways to connect the community and expand the scope of what can be seen in Hudson. Our event, Free Range, is very much steeped in the ethos of doing-it-for-the-culture and offering space for limitless black expression. Our first gathering, last summer at Half Moon Hudson (a no-brainer as it is one of the few spaces in the Hudson that allof the community feels comfortable in) proved successful with performances by Ms.Boogie, Xhosa, Fulathela and Young Wavy Fox. When we decided to curate another one, it was painfully obvious who the next performer had to be: Abdu Ali.
If you have been paying attention to underground poc queer culture Abdu Ali is not a new name. The Baltimore native, and recipient of the 2019 mayor's award for artist of the year, has been a fixture on all the scenes, effortlessly embodying the spirit and energy of their community to create something new. A fantastic poet and musician, Ali is also a community activist who not only speaks about caring for your craft and your community, but actually does it. As I watched Ali from the corner of the stage with their band at the most recent Free Range, spreading their message and power as the crowd of strangers under their direction suddenly became friends, everyone falling in line to the beat it conjured in my mind The Last Poets, Sun Ra, Bad Brains—artists who are simply and unapologetically themselves.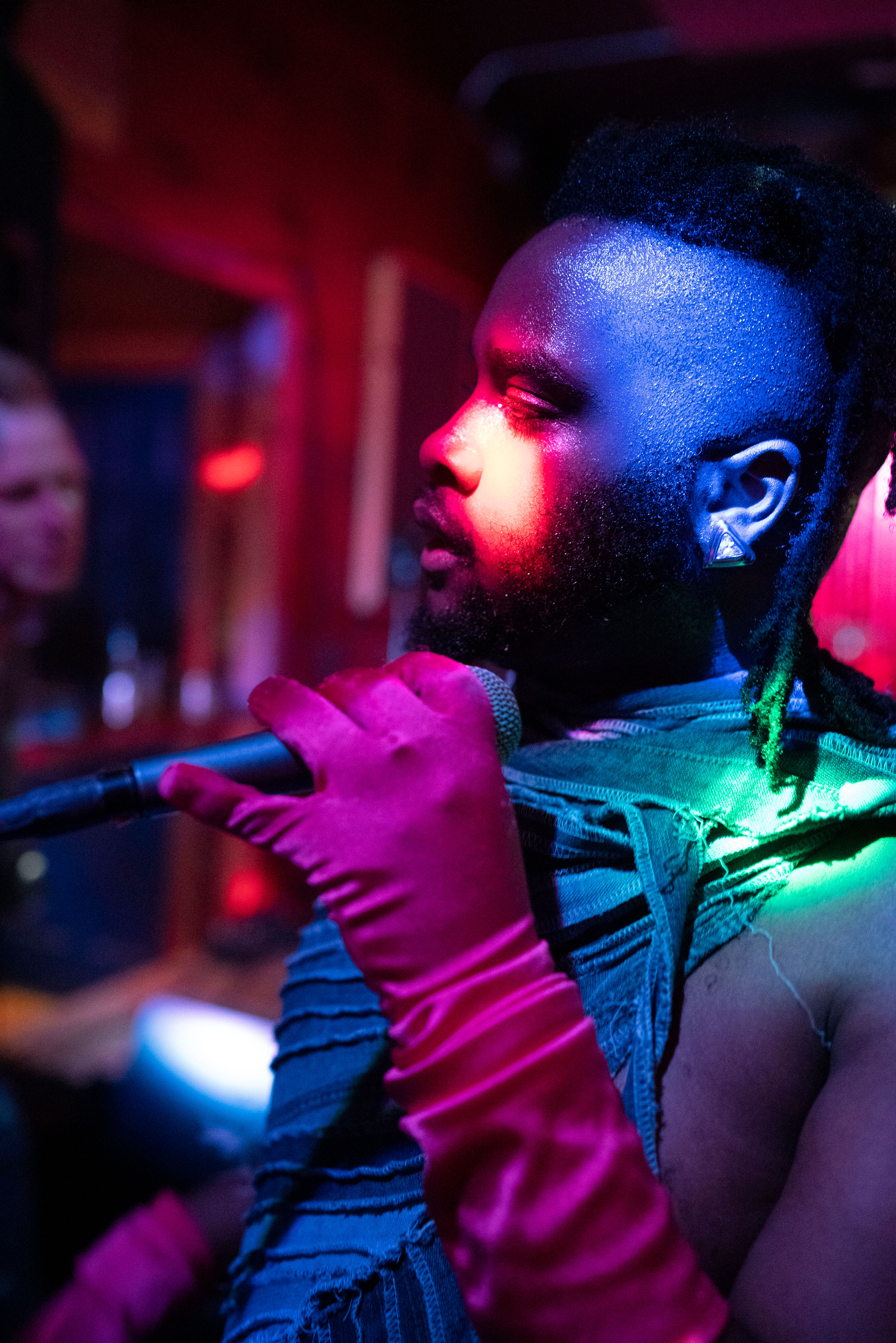 Your music and performance intersects with so many different genres that are rooted in Baltimore music. How has your experience in the Baltimore music scene impacted the direction of your music? The backbone of my music production centers Baltimore club music, but I'm influenced by a multitude of genres. I'm very into the avant-garde jazz stylings of musicians like Sun Ra and Max Roach to the futurism of Missy Elliott and Kelis or the blues of Erykah Badu to Billie Holiday. All of these artists plus more are the roots of my musical tree. Of course, growing up in Baltimore help shaped my ear. Baltimore club, house, and ballroom music was the score of youth and I'd hear that everywhere there was a congregation of black youth from the Paradox to Shake n Bake to block parties, etc. I always want to create music that involves that fire that I heard in my city's sound.
Tell me something that you would really love people to know about you. I want people to know that I am your sister, brother, cousin, daughter, son, and so on. I am your family and I am you. I believe we need to decentralize "celebrity" and dismantle this distance "famous" people have or most artists have who aren't even universally known. I don't like artists who distance themselves from their audience whether it be personally or through their work. I find that elitist and non-inclusive. I found this most present in the world of electronic/avant-garde music where a lot of artists get off on intellectualizing their work. I always want to give myself to my audience and let my work be tangible no matter how intellectualized it is or abstract or avant-garde. I don't like when people perform realness either. Like I am that real bitch from the ghettos of Baltimore, who also is on some very deeply theorized shit. People are resonating with artists like Megan Thee Stallion because she seems like a girl you went to high school with. She's real. I want to be authentically real and one with my audience.
Baltimore and Hudson have some striking parallels when it comes to race, class and gentrification. How was your experience performing in Hudson? Is that something you were able to identify in your short time here? I didn't realize Hudson was even a black city til Tschaba schooled me on the history of the town. No shade, but I gagged because everywhere I went I saw white hipster folk. Baltimore is definitely changing but I think the city's gentrification is going to look different than most black cities because our city has been drenched in this narrative of being "dangerous" so that white folk are still hesitant about living in the city. I don't know if that's a good or bad thing.
Tell me a little about your community and something you are working toward. Something you love about your community and something you would like to see happen. I really want to start a concept platform that is a book club and publication. One day I realized that it's 2019 and we still have no media platforms that are really showcasing an inclusive narrative of black and LGBTQ creatives who exist in the underground that are not famous. As I said before, I am tired of centering "celebrity." It's irresponsible, especially for publications. We are missing out on so many emerging artists and stories from our community that deserve the same amount of attention as someone with a lot of social capital. I'm getting bored with the same people being centered over and over again, even those who are black or LBGTQ. Journalists are not into cultivation any more or raising up not so known people. Plus these bitches just don't care to investigate no more, they want stories to land on their laps or only talk about the people everyone else is talking about. No one is discovered any more. I don't know how my fantasy will manifest, but it's necessary and I am that bitch to do it.