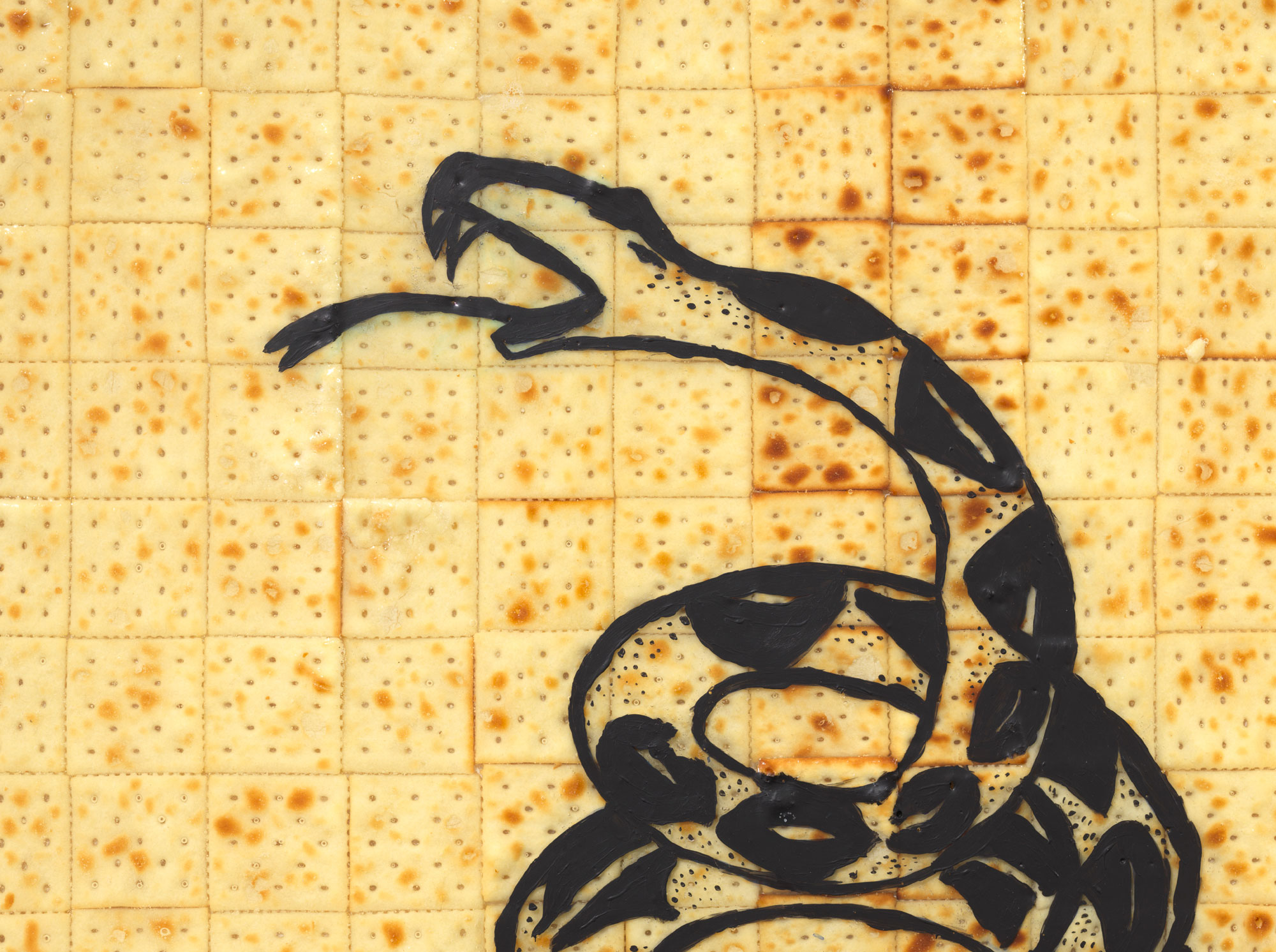 Sean Kierre Lyons at Larrie
As detailed by Rob Walker in a fine New Yorker essay, the Gadsden flag bears a complicated history one that begins in the Revolutionary war when independence seeking colonists dreamed up the Don't Tread on Me emblem in a nod to a Benjamin Franklin created meme about the colonies repaying the British royals in snakes. Today, Don't Tread on Me has become a favorite of the Tea-Party recasting the hisser as a kind of aesthetic dog whistle for white nationalism. It is a symbol in motion and the cunning hypothesis of Sean Kierre-Lyons' first New York solo show, Mmhhmm, where it is recreated as a saltine and acrylic assemblage. This cheeky probe into the slippery meaning of culturally mutated symbols gives way to a sunny dungeon of fabric dolls which smile and frown with big red mouths recalling Antebellum-era cartoons as well as the wide-mouthed characters of Takashi Murakami. This seamless mapping of histories on to the simple ragdolls leaves the viewer with an uneasy sense that if they are potent enough to last through several world wars then perhaps they are more alive than we thought.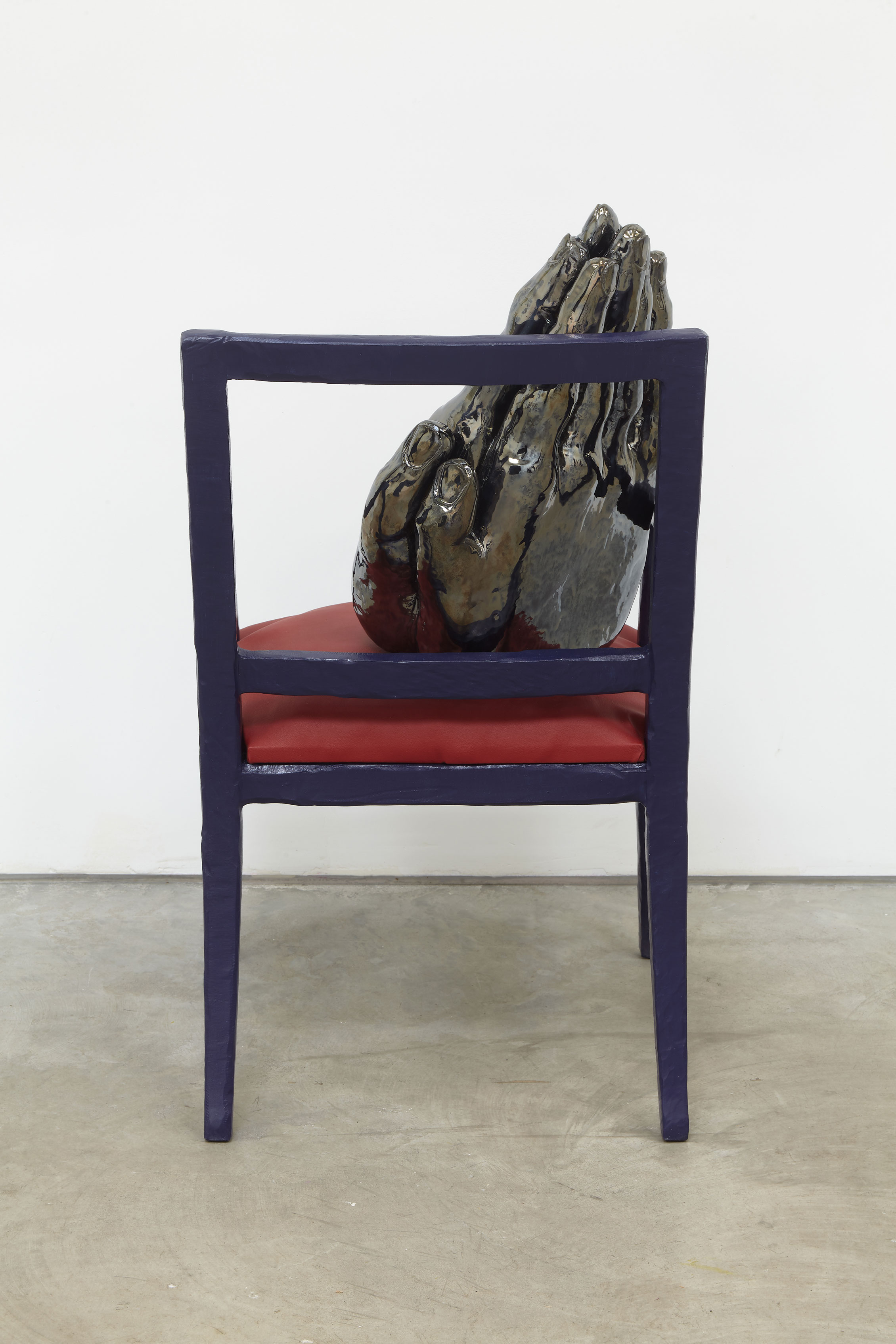 Woody de Othello at Karma Gallery
I can't help but think of Louise Bourgeois and her Cells as I peer into one of Woody De Othello's sculptures where a desktop mirror stands inside a set of closed doors only viewable through the hinged slats. In Bourgeois' Cell series, her impenetrable rooms play with bodily association of chambers within chambers and the way these structures both house and cage us. It is a kind of visual pun and De Othello's seems to be too. His show title "To live in hope" certainly bites and encourages us not to take his ceramic praying hands at face value. But who could? They are paired with the imagery of sorrow: broken clocks, barred windows, chains and a sawed off ladder that calls to mind Bunny Roger's milky-pen colored Columbine props at the Whitney. The effect is like a graveyard or memorial where objects stand in for the ones who couldn't anymore.
For Mario at Tina Kim Gallery
"For Mario" will be the one remembered as the giant curtain show as this is the most distinguishing feature of architects Adam Charlap Hyman and Andre Herrero's curated furniture heavy summer exhibition at Tina Kim Gallery. The creamy, folding background they've rolled over the white cube's edges makes everything inside feel twice as sumptuous, including a set of watercolors by Cynthia Talmadge, an interior by Candida Höfer and a cabinet of teaware by Katie Stout. The night of the opening the whole theater of objects was strummed awake by a snippet of Henry Purcell's "Dido and Aeneas" performed by AMOC countertenor Anthony Roth Costanzo and cellist Jay Campbell.
Harald Szeemann at Swiss Institute
Very few curators are as influential as Harald Szeemann and now the late innovator's retrospective has finally arrived in New York as "Grandfather: A Pioneer Like Us," a restaging of Szeemann's 1972 exhibition. The curator had just finished Documenta 5 and graduated with no new prospects. His impulse was to turn inwards staging an encyclopedic exhibition of his grandfather, Etienne Szeemann, a hairdresser and wigmaker using his personal effects and tools. The groundbreaking show mapped out a new direction for curation where one could weave historical narratives about the art of collection itself. Now on view at Swiss Institute, this is a once-in-a-lifetime opportunity to relive the aha moment.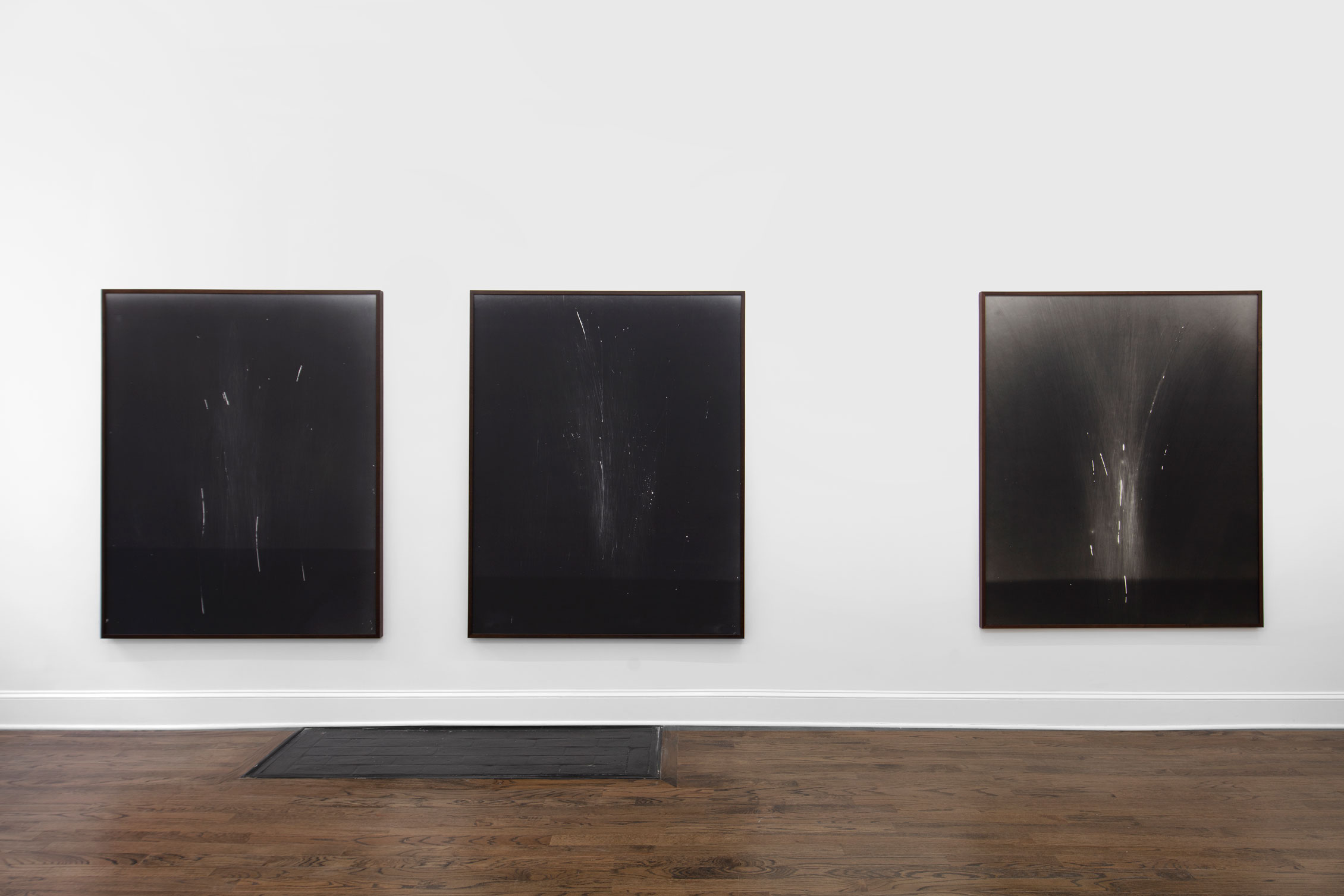 Leticia Ramos at Mendes Wood
São Paulo-based conceptual photographer Letícia Ramos has her first solo exhibition, "Resiliency and Reverberation," this summer at Mendes Wood DM. A photographer who often works without a camera, Ramos's technical experimentation is a practical approach to her practice that can also be read as a metaphor for her investigations into ideas of truth and fiction. Does an image of something make it real? "Resiliency and Reverberation" brings together a selection of works from recent projects, including her 2018 exhibition, "Universal History of Earthquakes," which examined the 1775 earthquake in Lisbon and the ways in which it forced the colonial power into a dependence on its largest colony, Brazil.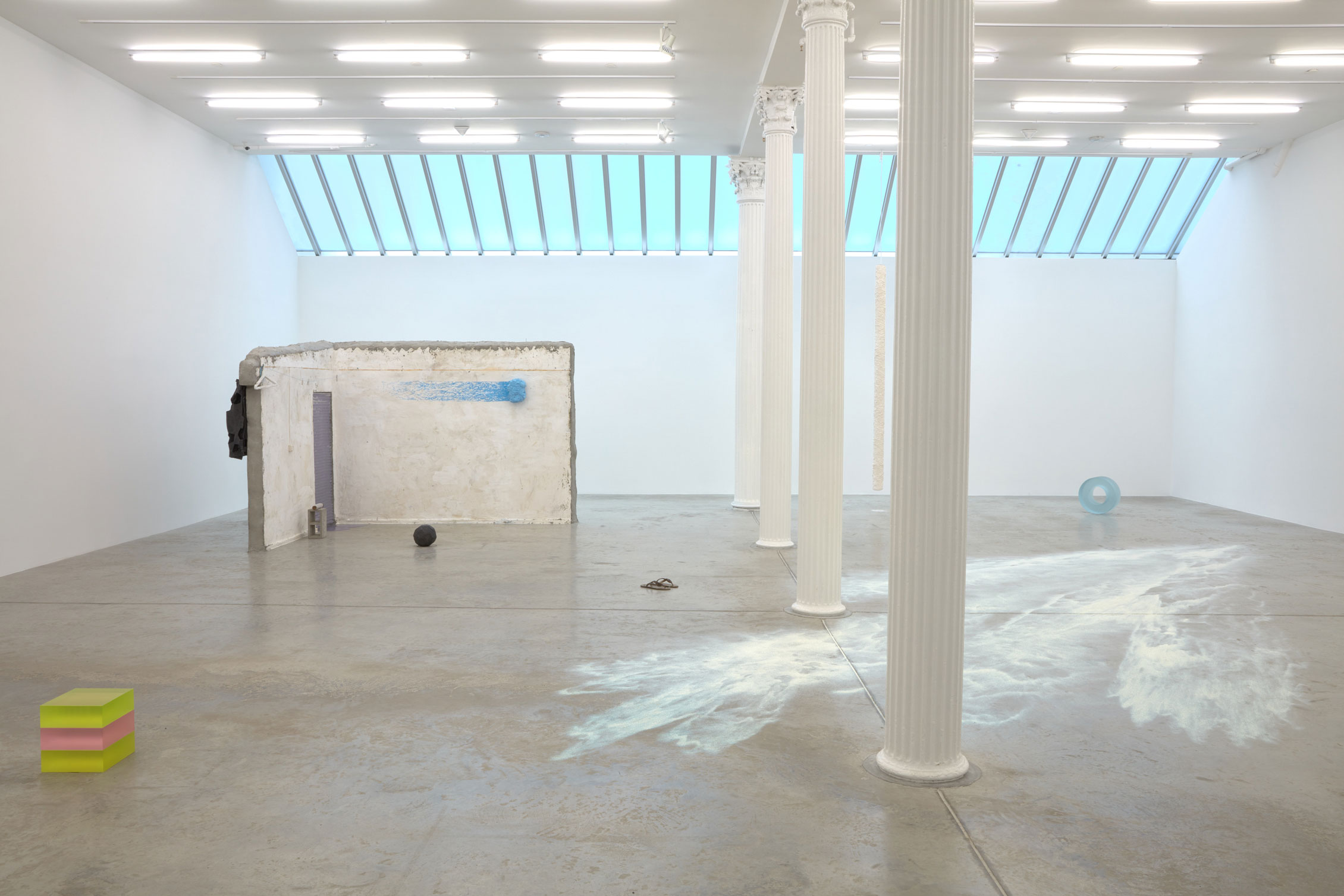 Ann Veronica Janssens and Michel François at Bortolami Gallery
Former partners and occasional collaborators, Brussels-based artists Michel Francois and Ann Veronica Janssens arrive in New York in perfectly lopsided balance. Their joint outing, embraces the gallery space as a landscape with François addressing the skies and Janssens the ground. They employ different strategies but the whole is harmonious in its visual discord. Janssens' pastilles like sculptures of coated glass and iridescent glitter lake lift the floor up while Francois folds the horizon over with grounding materials such as bronze, leather and concrete. It is a show in limbo so throw your head back and enjoy the view.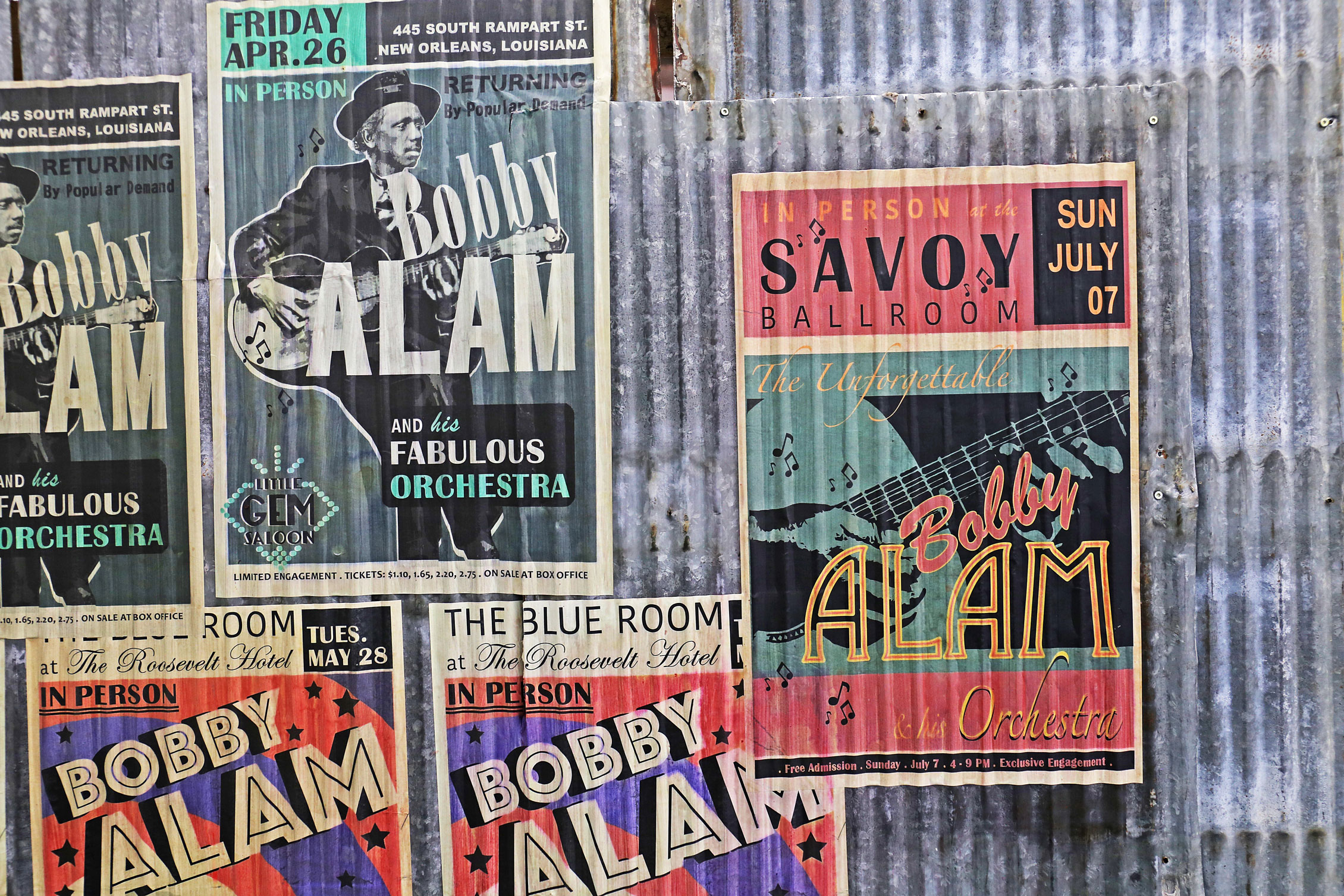 Pigeonhole: The Life and Work of Bobby Alam at Knockdown Center
Priyanka Dasgupta and Chad Marshall have transformed the Knockdown Center into an homage to the Bengali peddler and sailor Bobby Alam, who arrived in New York in 1918 and lived his life as a black jazz musician in New York and New Orleans. The only catch is that Alam is a fictional composite rather than a specific historical figure—an approach the artists chose in order to call attention to the fragmented ways in which so many narratives are passed down. Parsing out what it would have meant to be a Begali immigrant passing as black jazz musician in early 20th century New York opens up endless questions of American history, privilege, survival and truth itself.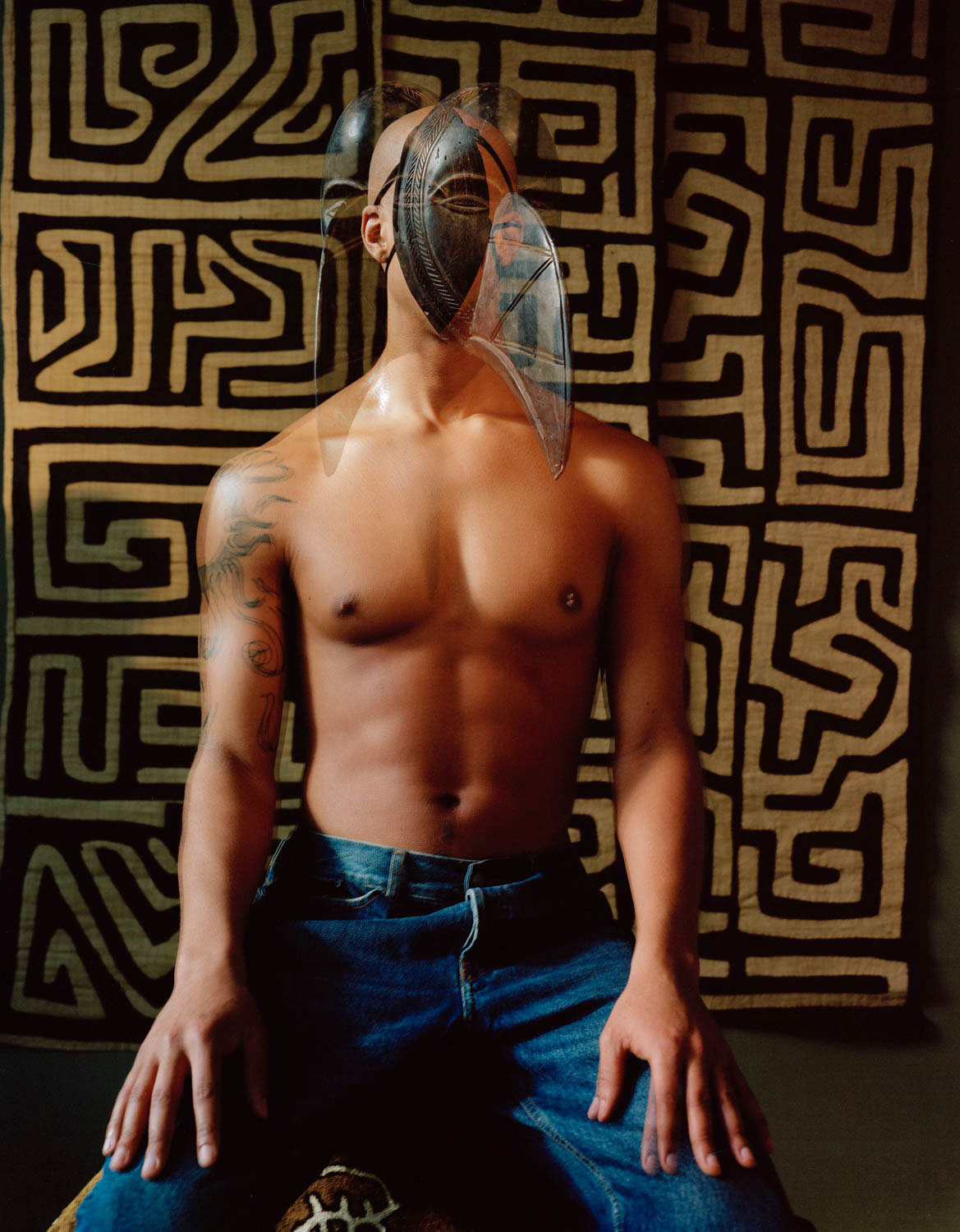 John Edmonds at Company
This presentation of portraits by Cultured 2018 Young Artist John Edmonds expands on the photographer's current contribution to the Whitney Biennial. Often shooting his subjects in his Crown Heights kitchen, Edmonds presents, reveals and questions art history, bodies, intimacy and photography itself with layered compositions that arrest immediately and grow with prolonged viewing into subtle, powerful narratives unto themselves.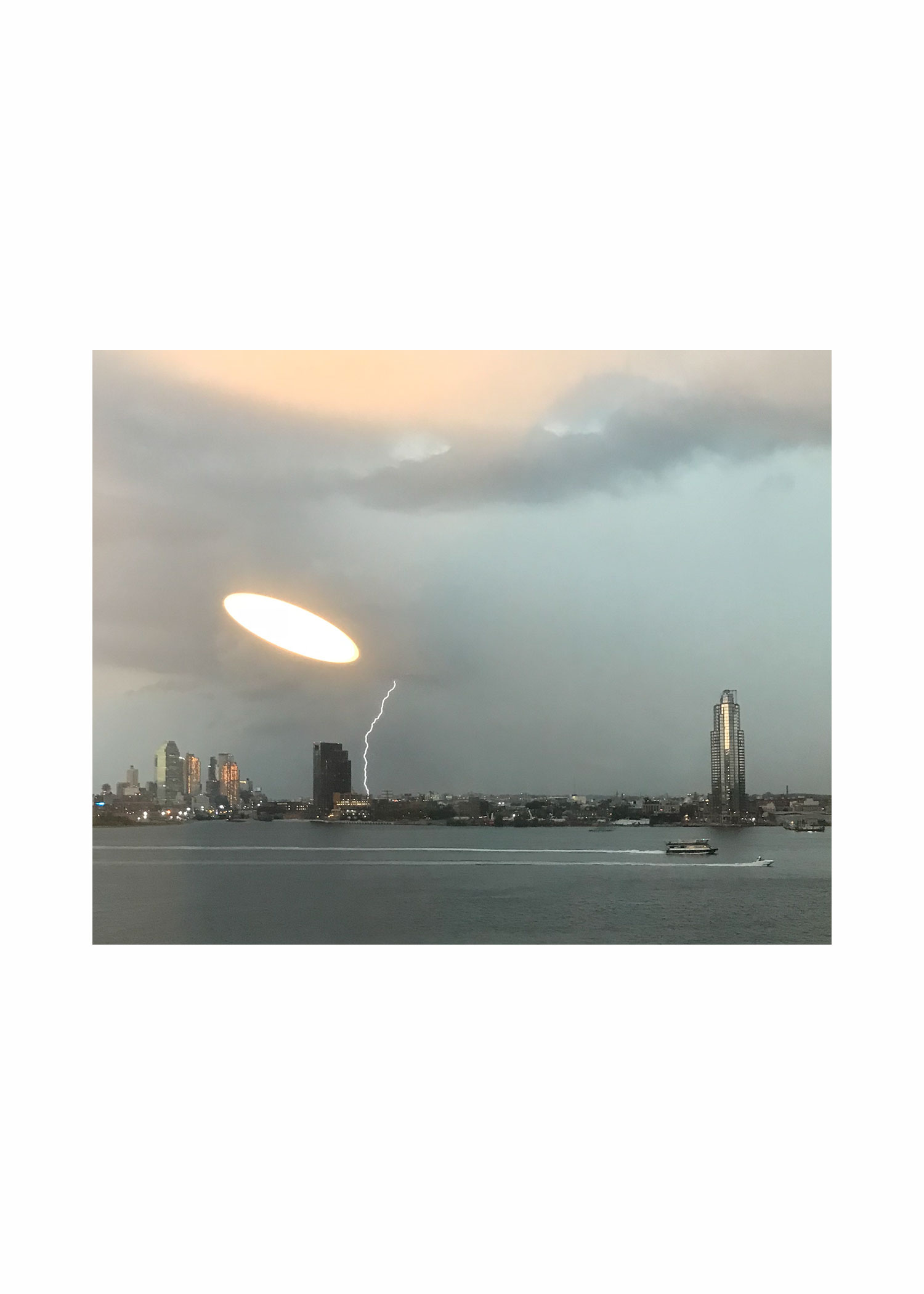 Social Photography at Carriage Trade
Since 2011, Peter Scott has organized Social Photography, wherein he asks everyone from grad students, critics and gallerists to well-known artists to very well-known artists to submit a digital photograph for this exhibition/sale. The works are then available to purchase for as little as $75 for a single image, $120 for two and $150 for three. It's an ingenious and fun way to support the Carriage Trade program, which tends toward critical rather than commercial. At the time of writing, images by artists including Rachel Harrison, John Miller and Vanessa Thill were still on offer. "Social Photography" opens tonight!