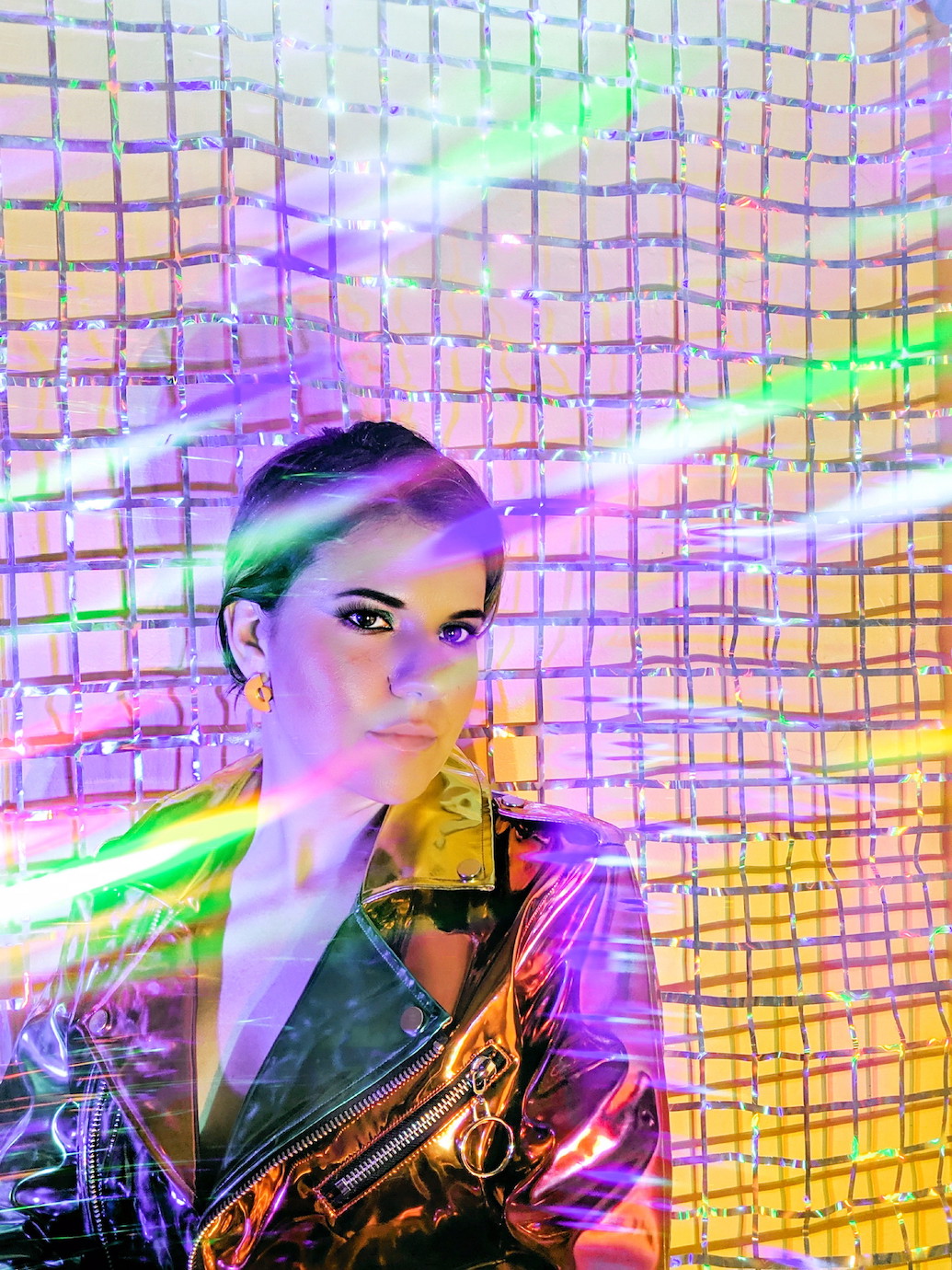 Born Aileen Quintana, the pseudonym of multidisciplinary artist Haiiileen is appropriate: her immersive environments and performances make you feel a little high, or a little like sighing deeply. Unchoreographed dancing, lit aglow by projection mapping; a shining purple shrine to Prince for Tidal's release of the late musician's unpublished demos; a neon-lit labyrinth at a children's museum—all of Haiiileen's work feels like a trip to outer space (just look at her photographs of the composer and producer Suzi Analogue for our Summer Music Issue).
Haiiileen's background in fashion and make-up artistry honed her understanding of the inherent link between the look and feel of a space. In an interview about "Lightscapes," her solo exhibition at South Florida's Young at Art Museum, she describes her use of rainbow LED lights on an installation of jellied panels: "The R, G, V [ROYGBIV] collide, creating a secondary base and turning it into white light. It's reverse-engineering the way we're supposed to see light." She refers to herself as a "multidimensional" artist, which isn't incorrect; she tricks the eye and briefly, searingly transforms our visual reality.
Now an ambassador for Google Pixel and the founder of Haiiilabs—a public artist studio, activated by numerous events—we spoke to Haiiileen about teaching herself new skills, imagination, and what's next.
You have a background in fashion, but the work you do now is more multifaceted. Were you an artist as a child, too? What did you make? I've always been an artist, completely; I've always been attached to color, to textures. There are even home movies of me, as a kid, doing my own "gallery shows" inside my bedroom. I found a diary the other day, from when I was six years old. I'd been asked, "What do you want to be when you grow up?" and I wrote, "An artist." I fell in love with the idea of doing more than what you thought you could do. The child in me is part of my work to this day.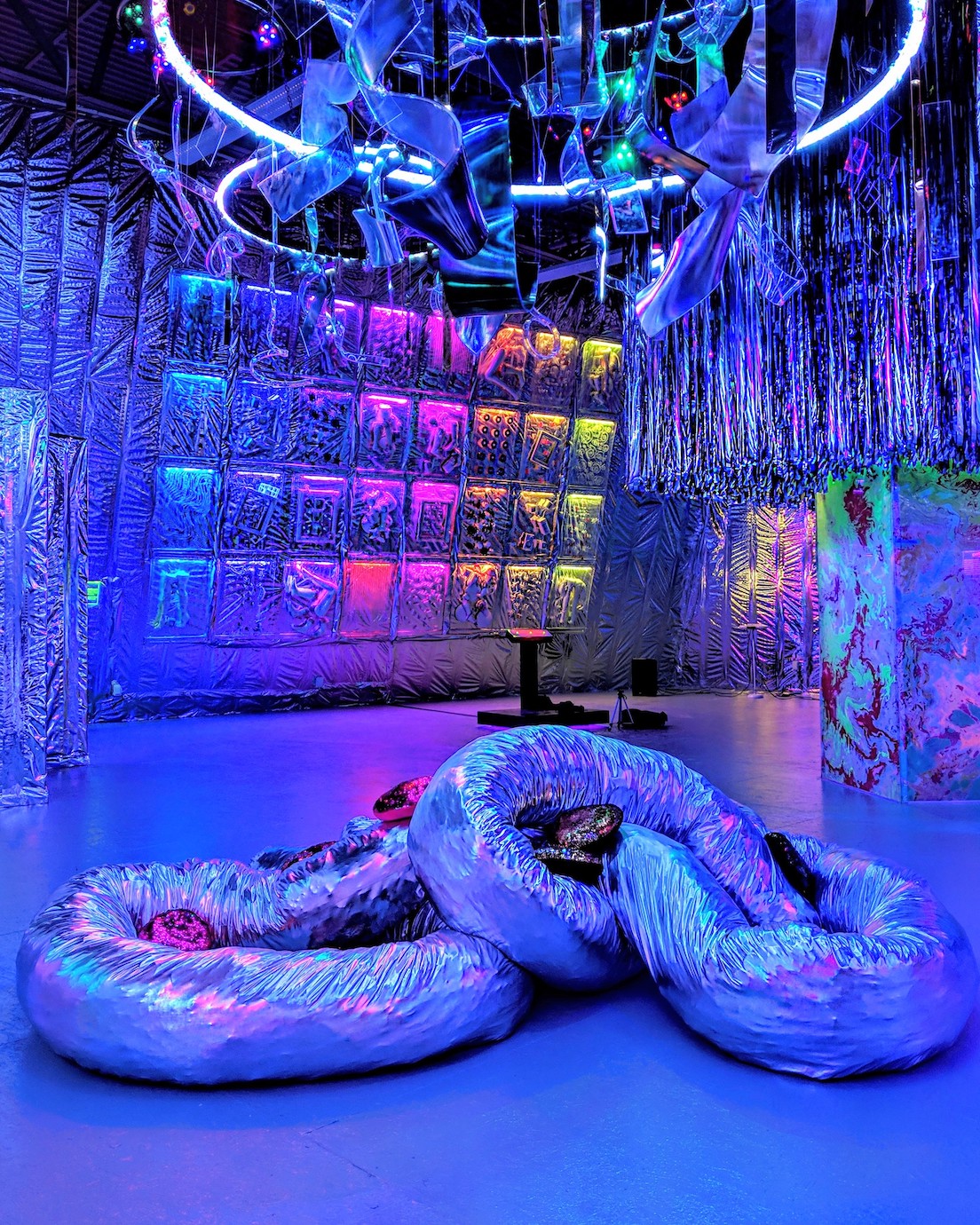 When and why did you start using the name "Haiiileen"? "Haiiileen" has a few meanings. I'm really obsessed with the time that I spent in Japan, and I feel like my experience there is embedded into the way I understand every aspect of my practice, the world—every step that I take. Hai means "yes" in Japanese. For me, the sound of the name also means "high," but it's about being high on life, high on imagination, high on living, staying high as in staying positive—going nowhere else but up.
How did your art practice develop into what it's become? Was there a specific moment in which you realized you were actually world-building? Honestly, it started right after a transitional period for me. I was realizing there's more to my creativity than what's usually allowed inside a fashion production. I found outside resources to support that exploratory aspect of my work and bring it to life. I started doing more installation, more design, bringing more of a curatorial practice to my work; slowly but surely, I also started sculpting. That's really when, I feel, my creativity transcended its limits. Now I feel fully immersed inside this world where I create stills, videos, sculptures, installations, audio, performance—all in this multiverse mini-verse.
Tell me about your background in fashion. How do you continue to bring it to your work? Many of your installations involve fashion and makeup. In my fashion background, I was a creative director, producer, and artist; I've worked on over 600 fashion shows globally with high-profile clients on large-scale productions. Helping to create a particular aesthetic and becoming a part of these campaigns really inspired my current work—it still has a sense of the cosmetic associated with it; there's this glamour on top of the larger piece.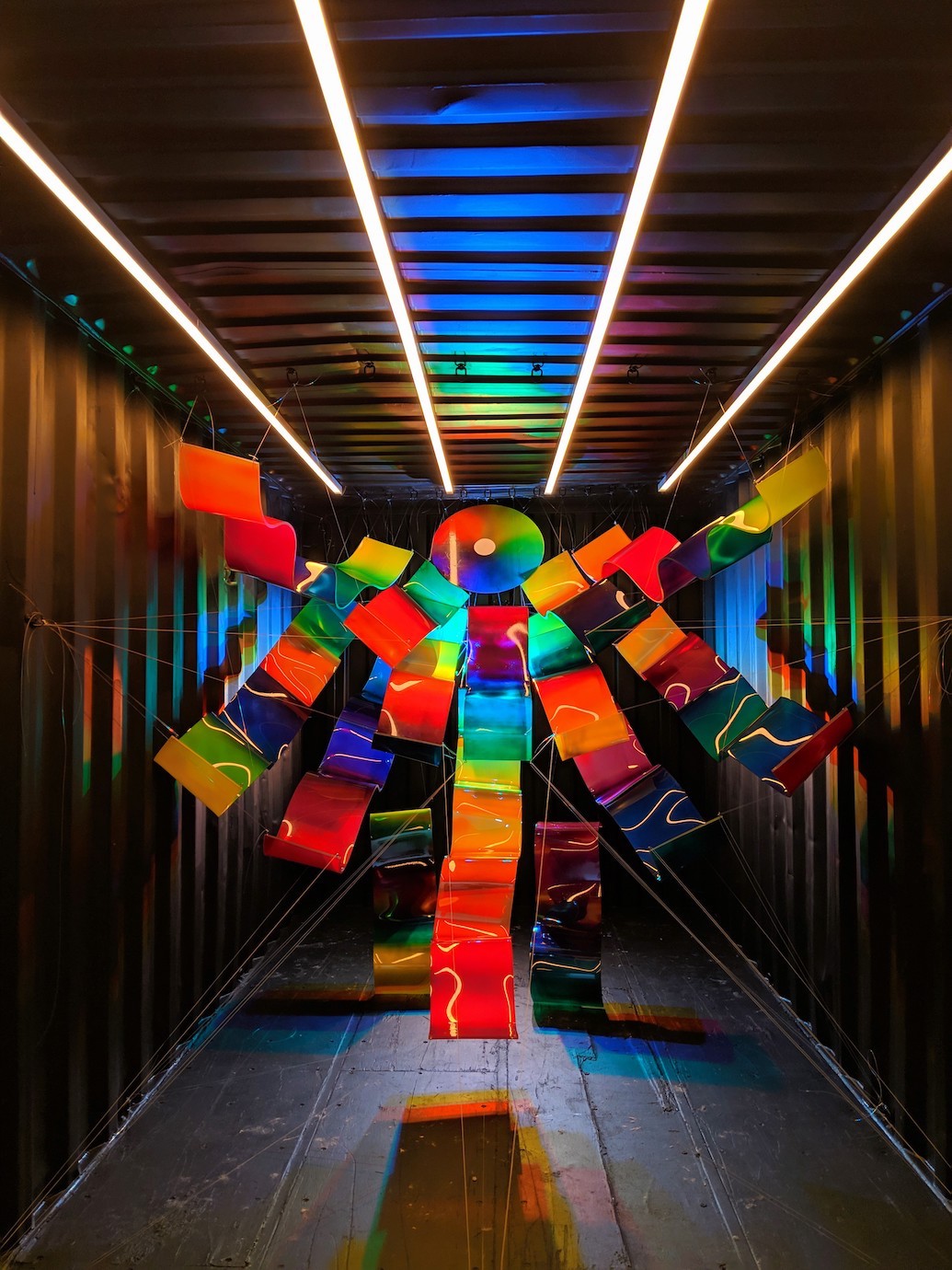 My life has always been about framing—a frame of a picture, the frame of your eyes. It's about creating that perfect imagery. I feel like I bring my set design style into my installations. Everyone dives into it and takes images—that's another path, the relationship between myself and my work and how individuals interact with it. I'm still learning more trades, developing new traits. I still don't know where my limitations are. Even when I was a makeup artist working with different brands—now I do chrome painting. It's the same technique, the same airbrush gun, like doing makeup on my sculptures. It's a unique transition.
I know it varies from installation to installation, but is there a type of experience you hope to consistently create for the viewers and participants of your work? Absolutely. I love to be the individual who produces the work—I like learning a new trade and showing others that process. With every project, I try to introduce a new approach on how to produce a sculpture or an installation. I don't have other fabricators; I'm physically doing the work.
Right now, I'm doing a lot of studies online on physics and light-wave theory concepts: white visible light, how to dissect it, how color translates inside the light-waves. Learning and doing all of this myself, hopefully, can inspire people to push their own boundaries, teach themselves new skills. I learned so much on YouTube—all these Ivy League universities publish their courses online and I'm so grateful. Anyone can do this. Your imagination is the only limitation to what you've got.
Please tell me about Haiiilabs, a public art studio and the first of its kind. Haiiilabs was inspired by my own personal growth in Miami's community and by how I've been able to work as an artist by upcycling materials. I would always have budget limitations, so I've been very fortunate to have so many partnerships, especially Faulkner Plastics and GlowbackLED Lighting. They've been huge patrons of my practice. I really want to bring in opportunities for other artists to use upcycled materials, so I do a couple events throughout the year to donate the upcycled material I've collected. I recently donated to the Art Institute downtown; I've donated a lot to the Bakehouse. We just launched last August. If I'm doing something good, I want to bring it to my hometown and cultivate a better community and more art programming. It's just needed, and will hopefully continue to grow. I always say, "Always use your powers for good."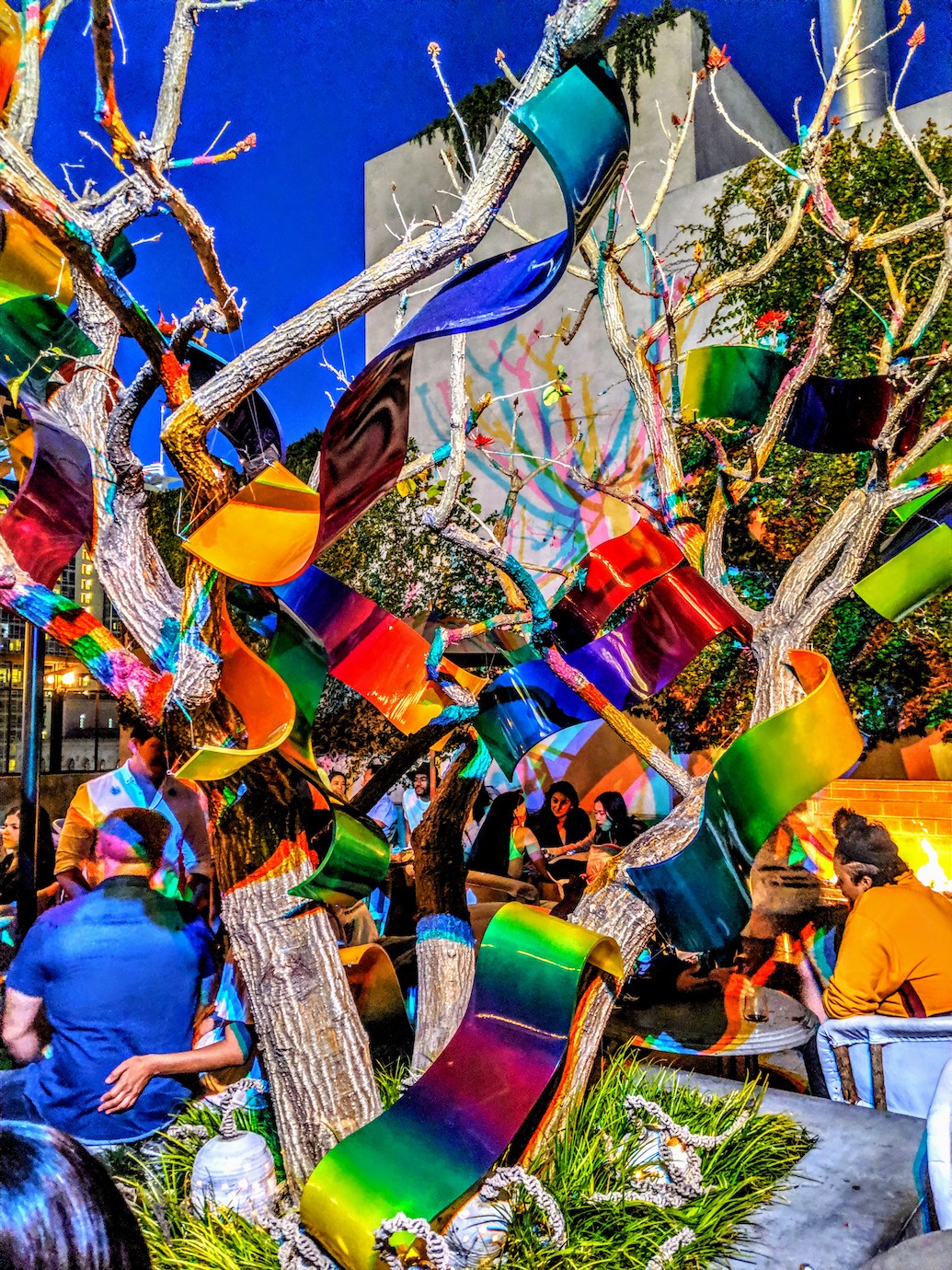 You're an ambassador for Google Pixel, which means the photos you share are seen globally. Imagery is so important to my work; photography is a way for me to share these worlds with people who can't experience them in person. I'm very grateful for the Google Pixel phone and the Night Sight app. They allow me to translate all the colors and light I use in my work.
I'm really fortunate to be partnered up with them; I'm currently working on High on Art, a site-specific light installation series. I carry around this homemade light set-up in my suitcase and I travel with my tripod and Google Pixel phone and take pictures—I took the photos of Suzi Analogue with the Google Pixel. I have the complete freedom of having an extraordinary camera in my pocket. Girl on the go, office on the go—I'm a one-man band. These Google platforms give me the tools to manage everything by myself. It allows me to do a hundred jobs.
What are you working on next? I'm working on a couple projects right now that are still in the pipeline and that I can't discuss yet in detail. But I'm moving to a new studio at the end of the month; I can finally produce small-scale work, which is something new for me. I just finished two months of really intense non-stop travel and installation. It's good to be home for a minute.