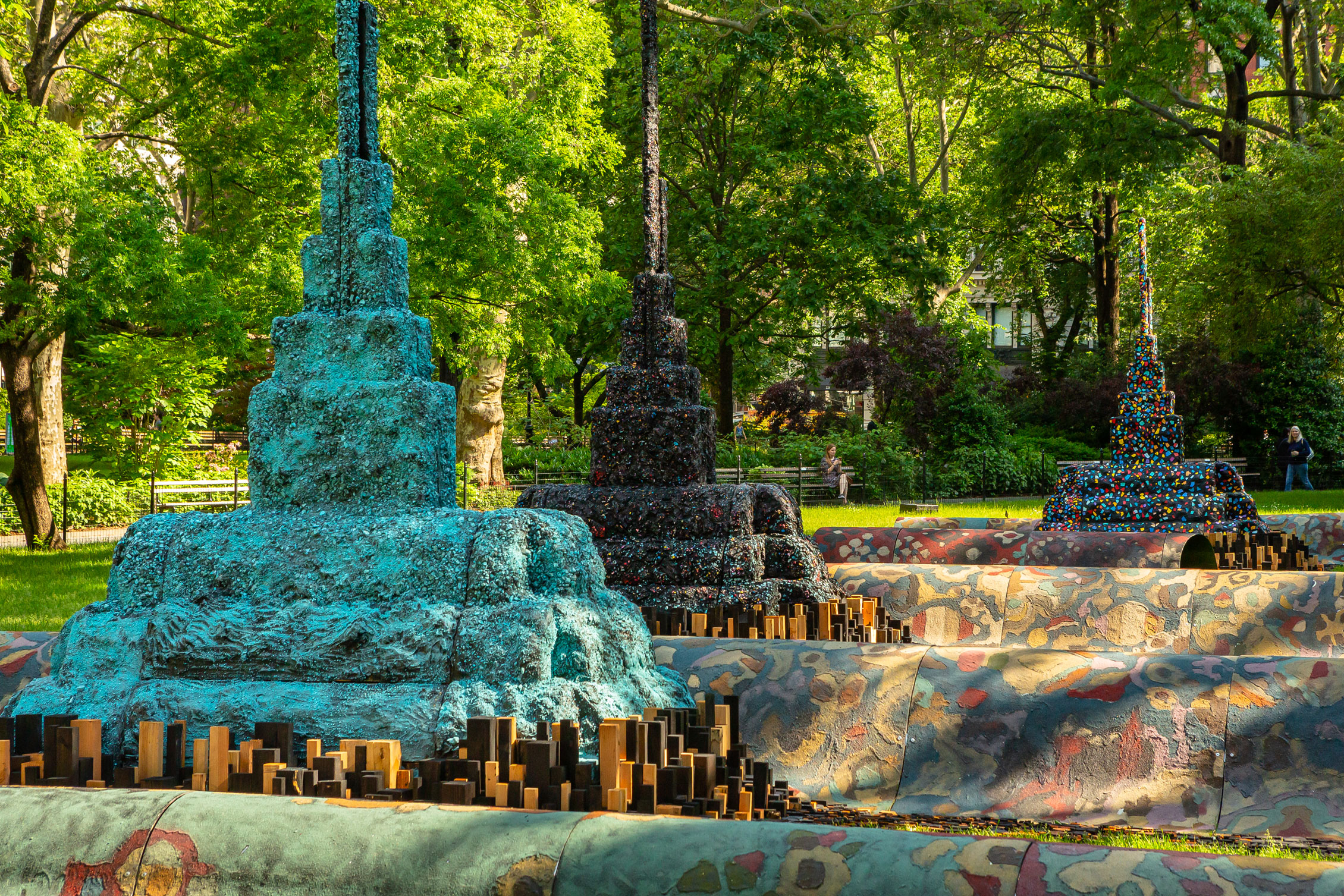 New York public art has not been without a stir of controversy. Most famously, Richard Serra's Titled Arc, a massive sheet of rusted COR-TEN, displayed in lower Manhattan's Foley Plaza for the better part of the '80s, was removed after years of outcry. Even art critics questioned whether public spaces were the right forum for a sculpture that agitated so many residents. In 2008, the spray from Olafur Eliasson's temporary East River waterfalls reportedly destroyed vegetation along Brooklyn's Promenade, and frustrated local businesses whose customers avoided restaurants where it perpetually felt like it was raining.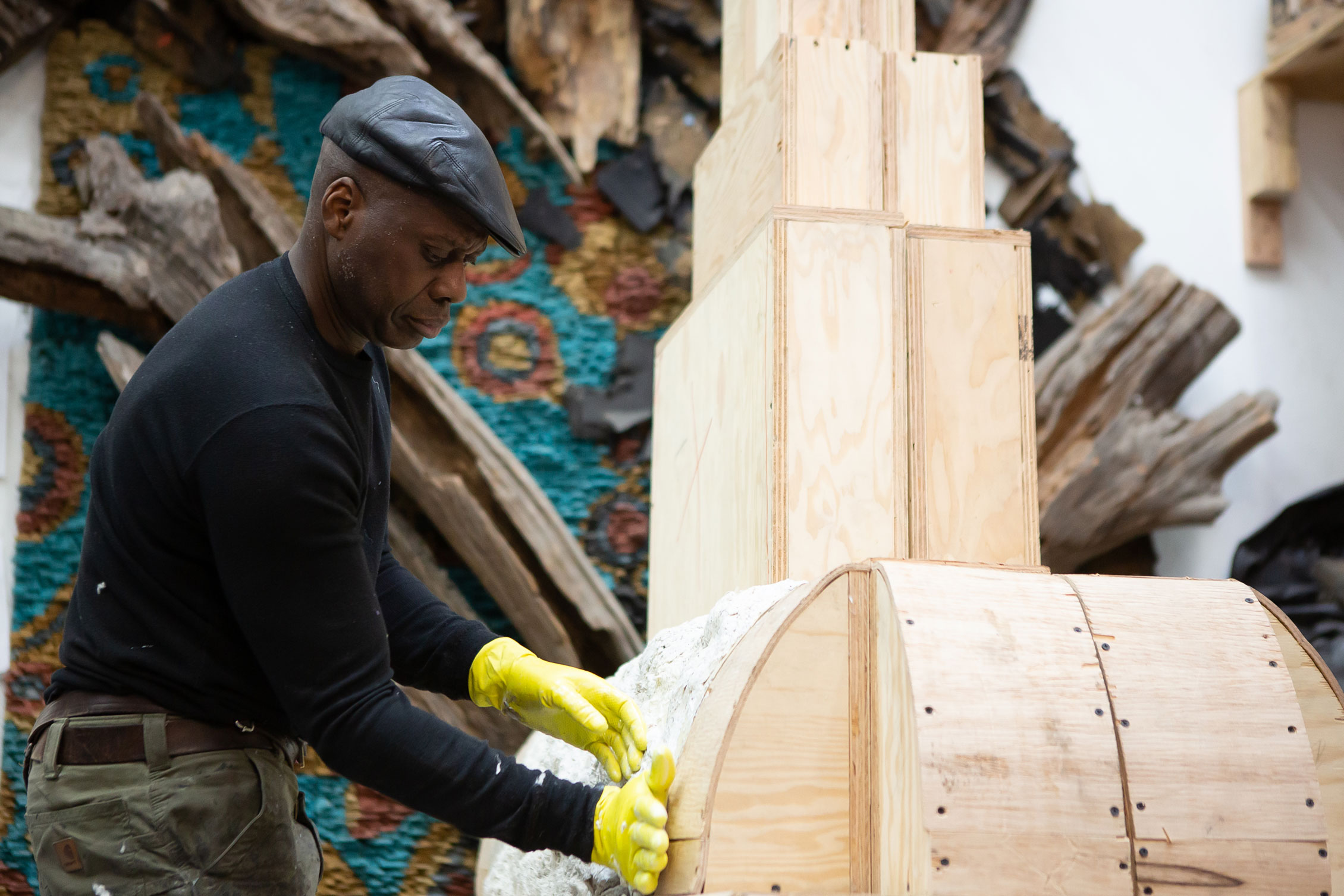 But to witness the public's instant pull to Brooklyn-based sculptor Leonardo Drew's first outdoor artwork is to grasp how democratic and tactile art can be. Commissioned nearly three years ago by Madison Square Park Conservancy and on view through mid-December, City in the Grass is an undulating carpet-scape of wooden blocks, aluminum, paint and colored sand that is more than a 100 feet long and 30 feet wide. In the 15 years since the Conservancy began commissioning monumental artworks for its oval lawn, critics would be hard pressed to conjure a piece with which New Yorkers have had more physical engagement. "Curators are taught to preserve and to document works of art, and the public is taught not to walk on or touch works of art," said Brooke Kamin Rapaport, the Conservancy's deputy director and senior curator, in a recent phone call. "Drew's project is allowing us to unlearn a lot of what is handed down practice as professionals and as public viewers."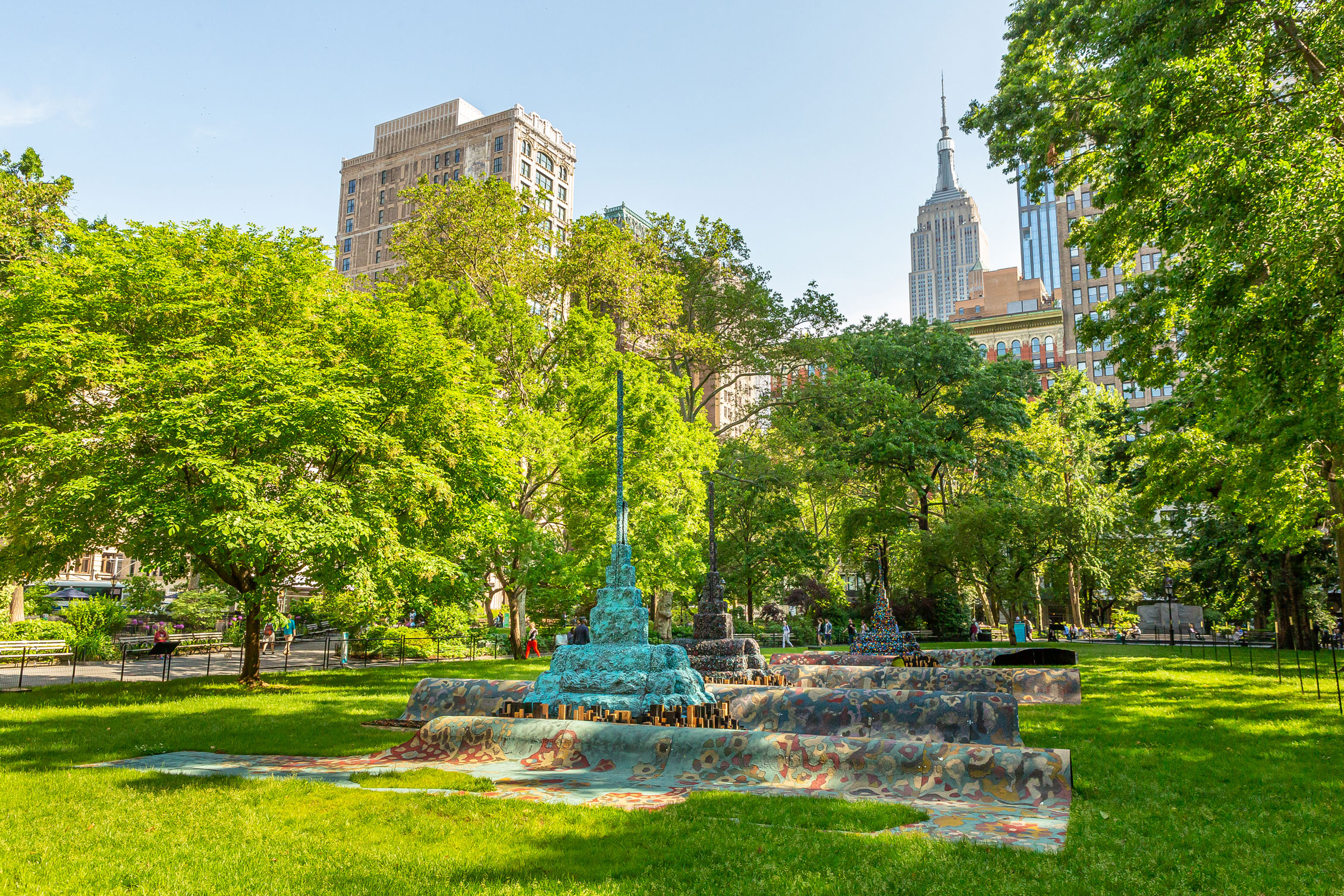 The project's scale did take Drew some acclimating. "You know what," he told a packed house last week at Madison Square Park Conservancy's annual public art symposium, co-hosted by the School of Visual Arts that also included artists Firelei Báez, Alex Da Corte, Martin Puryear, Abigail DeVille and Cristina Iglesias. "I create things in the studio and it's always about realizing the space indoors, not about taking on a whole framing of the city and the magnificence of the surrounding buildings," explained Drew, who is celebrated for assemblages of burned and oxidized natural materials that evoke found objects.
Flanked by architectural landmarks—the Flatiron to the south, the Empire State Building to the north—there's no escaping the weight of urban lore, whether as source of inspiration and promise, or as decay and social injustice. Drew is reticent to dictate what to think or feel about his work: his sculptures should speak for themselves. As such, he traditionally numbers his artwork, freeing them of titles that prescribe fixed connotations. Number 43, for example, a sculpture he created after visiting an African slave trading post, consists of hundreds of rusted boxes filled with rags. Though, it appears Drew—a child prodigy by some measure, with his first painting exhibition at 13—tilts ever slightly towards the city as a collective metaphor of spiritual uplift.
The idea of actually making something this large, Drew added, somewhat bemused, to the audience, "was very ego-centric." Flipping that observation on its head, Drew likens park-goers to Lemuel Gulliver of Gulliver's Travels. "You actually now are Gulliver," he said. "And you're standing over Lilliput." Drew cites film references, the sci-fi world from Metropolis and the magical, illusory one from The Wizard of OZ, as "power characters" built into his piece, the 16-foot tall towers that sprout from his patterned mosaic structure.
Public art is often hailed as an invitation for New Yorkers to engage with sculpture, and increasingly, the city's summer art season is synonymous with ambitious outdoor projects by both emerging names and contemporary standard bearers, promising specific, interactive installations. "They've done some beautiful things," Drew answered, when asked about his predecessors on the oval lawn. "I can probably think of three that resonate most strongly." On equal footing: Roxy Paine's stainless tree sculptures (2007), Juame's Plensa's towering marble visage (2011) and Ursula von Rydingsvard collection of vessel-like sculptures (2011). But Drew, known for his use of hand-weathered and corroded materials, takes the public engagement credo further.
"I would love to see more of this kind of stuff happening," Drew tells me when we meet at City in the Grass after the symposium. He's searching his work hopefully for signs of wear and tear, thrilled when he spots a patch of visible damage. The morning saw a hard rain, so the park has cordoned off the lawn, and Drew is visibly disappointed that visitors aren't able to repose throughout his cityscape until the grass dries. Luckily, he knows precisely where to lift a metal barrier to let us in. Not a week into summer, photos of visitors napping, reading and sunbathing on City in the Grass already abound. "I built it into the very idea that the weather, people, all these things should be complicit in realizing the piece," says Drew. "So when it finds its next interaction, it will be beautiful. It has to age, like the Grand Canyon."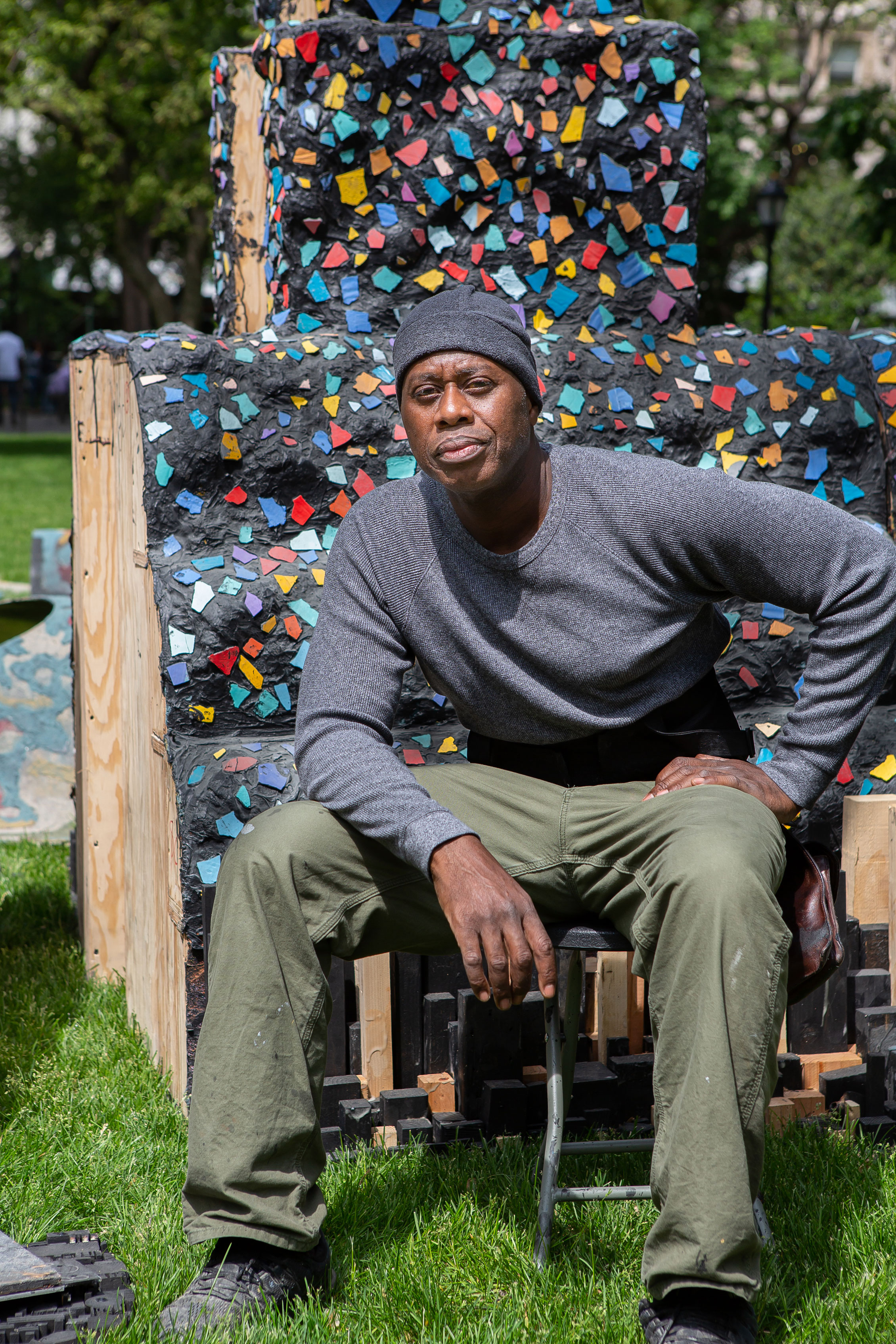 Color, however, is still relatively new to his practice. "I was going to China, working with porcelain and glazing," explains Drew, who travels extensively and credits his journeys as a kind of self-tuning fork, allowing him to become an antenna to receive information. "All of a sudden, color started to intervene and then it was almost a no brainer for me." His concurrent show at Galerie Lelong & Co. continues his departure from the monochromatic. While both New York exhibitions can be read as a conversation, he's careful not to reveal too much about what he thinks of the gallery works, summing up his general philosophy about artists being overly didactic: "Here it is. Here it is. What else do you need from me?"
Before we leave, Drew wants to share a video on his phone. Taken the day of his City in the Grass opening, a group of children refuse to heed a do-not-climb sign, which he insists, emphatically, is the park's safety decision for the towers, and does not, under any circumstances apply to the "magic carpet." You can hear a parent in the background repeatedly insisting that her daughter dismount the sculpture. "They were all running and they were all pulling on each other, like get down. It's my turn," he laughs with obvious delight, as the little kids swarm his artwork. One girl, he points out, won't let go of her doll the whole time. "Man, this is just beautiful. I mean, come on now. You can't beat this. Get out of their way. Let them do their thing."