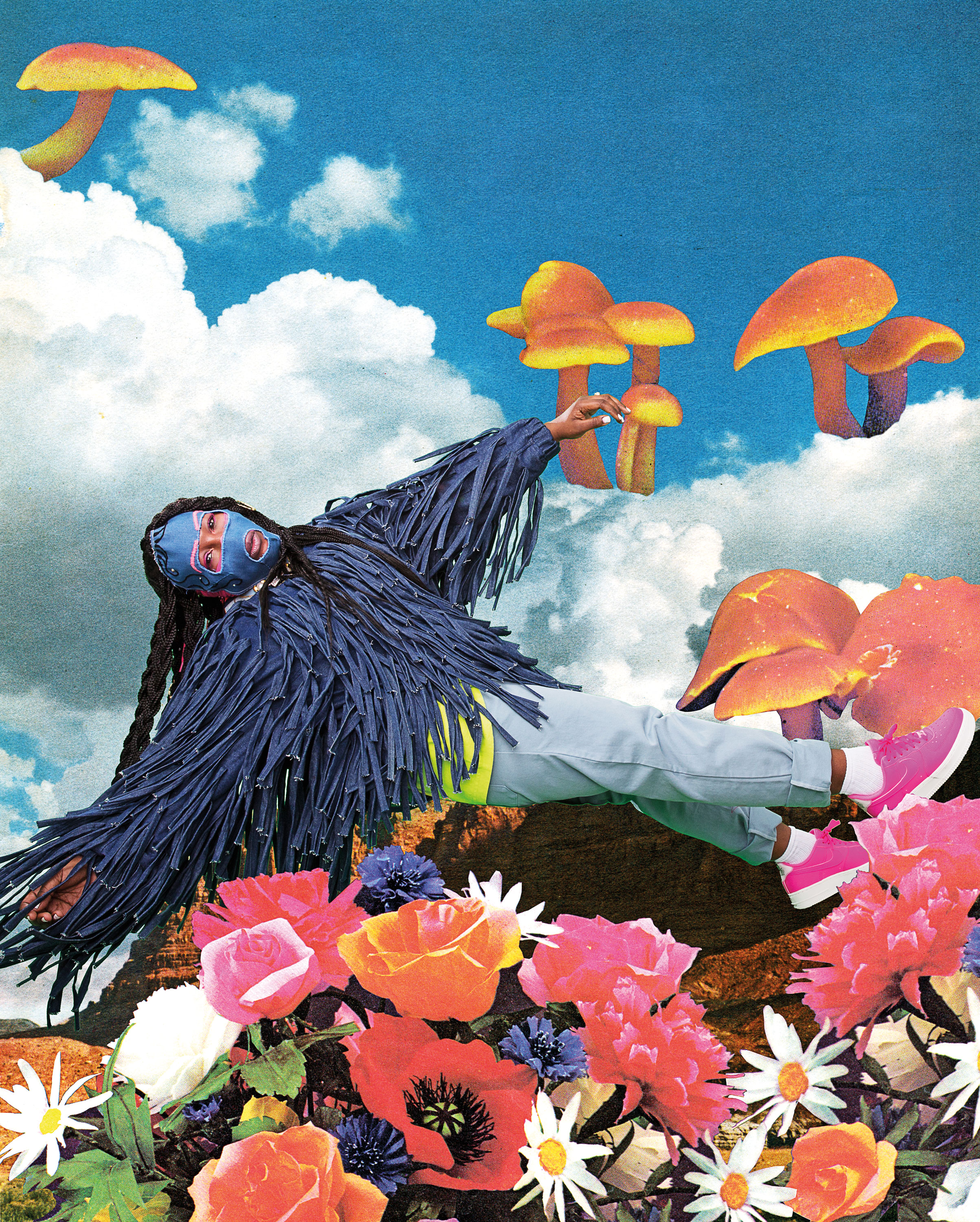 "Being black, we gotta learn how to wear a mask early," Leikeli47 says, her bubbly demeanor growing serious for the first time in conversation. She's explaining the idea behind last year's Acrylic—her brilliant sophomore album that dotted several best-of lists and elevated her profile tremendously—but Leikeli47 could have very well been defining her intention as an artist.
Leikeli47 is never seen in public without a mask, a literal one, her face cloaked in a knitted balaclava or a bandana with ragged torn holes in whatever style she's feeling that day—black and studded with crystals, cobalt blue, red, blush, bright orange and so forth. It's the armor she uses to put distance between herself and the prying curiosity inherent to celebrity, and she's fiercely committed to keeping her life private, to the point where her identity and visage still remain a mystery nearly a decade after her arrival as a wildly adventurous, genre-hopping performer.
It's all for the sake of making her craft the sole focus. "I wanted to lead with my sound and my voice and the way to do that, I thought, is to remove myself. I don't have an ego, nor do I care about being this crazy, big public figure. And I'm not gonna lie, I do love my privacy," she says over the phone hours before a red-eye flight to Stockholm, where she'll launch her first European tour. "I know the mask can be seen as provocative or exciting but you're getting all of me in the music, and the mask has afforded me a way to do that."
An enigmatic approach to art is nothing new, but it's certainly a rarity in the 21st-century music ecosystem. This is a time when fandom is almost wholly built on unfettered access to every facet of an artist's life. From their every meal, to where they vacation, their families and friends and, yeah, who they are fucking—the age of social media has given us real-time consumption of artists' lives and often stands as a critical tool for agenda- setting and promotion.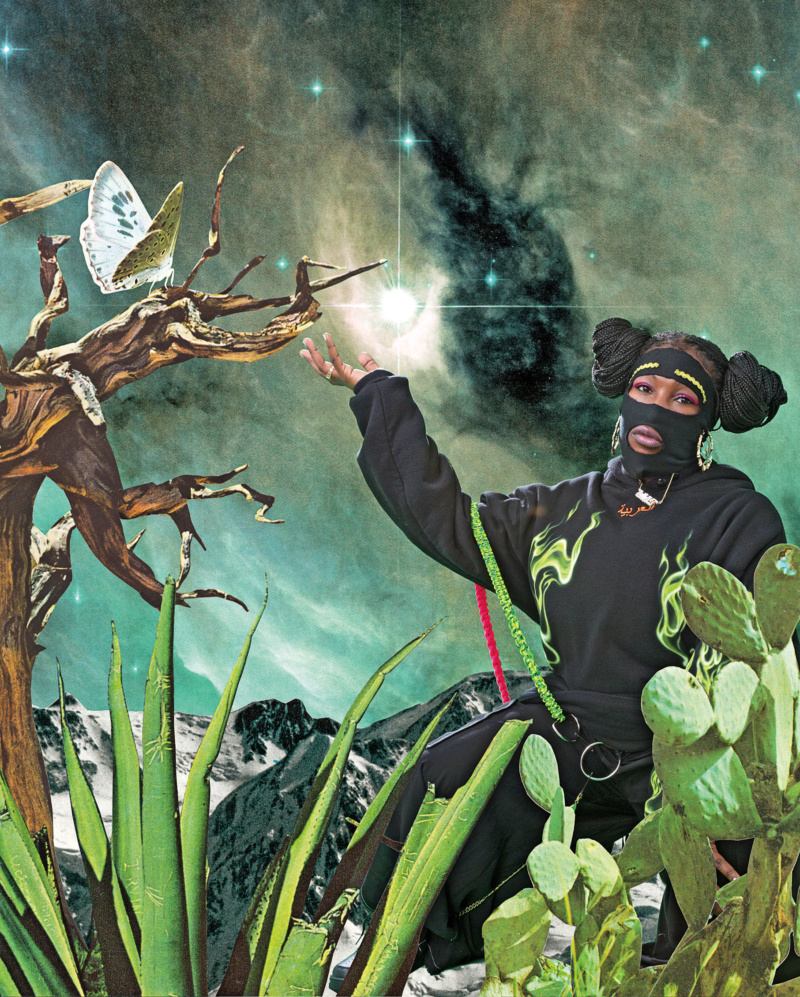 Considering that Leikeli47 largely orbits in hip-hop, a genre that wants its women hypersexualized and entirely devoted to the male gaze, her decision to perform under a mask becomes an act of rebellion in itself. "We've been telling her to get on Instagram since it came out and she's like, 'I don't believe in that. It'll take away from the magic,'" says Harold Lilly, her cousin and frequent collaborator. "It's a different age, but she doesn't believe in it. She once told me, 'Paul Simon wouldn't have been able to make Graceland if he had been on Instagram. Michael Jackson couldn't have done Off the Wall or Thriller if he had been on Facebook.' The girl is a rock star, but she's in control of her narrative."
A desire to reside in an anonymous, mysterious universe doesn't, however, mean Leikeli47 is incapable of revealing herself. Acrylic continues a trilogy of releases dubbed the "beauty series" that began with her 2017 debut Wash & Set and ends with Shape Up—which is currently being recorded—that slowly lifts the veil on the performer that once proclaimed herself "notorious in Brooklyn, just like Biggie." Empowerment, self-care and love of self and of community are a through line in the series inspired by the sacred spaces where black folks have found joy and solace. "A lot of times our masks are hidden in our barber shops and our nail salons. That's why those places are safe havens for us," she says. "Being a black girl, this is the culture I came up around... and I wanted to speak to us."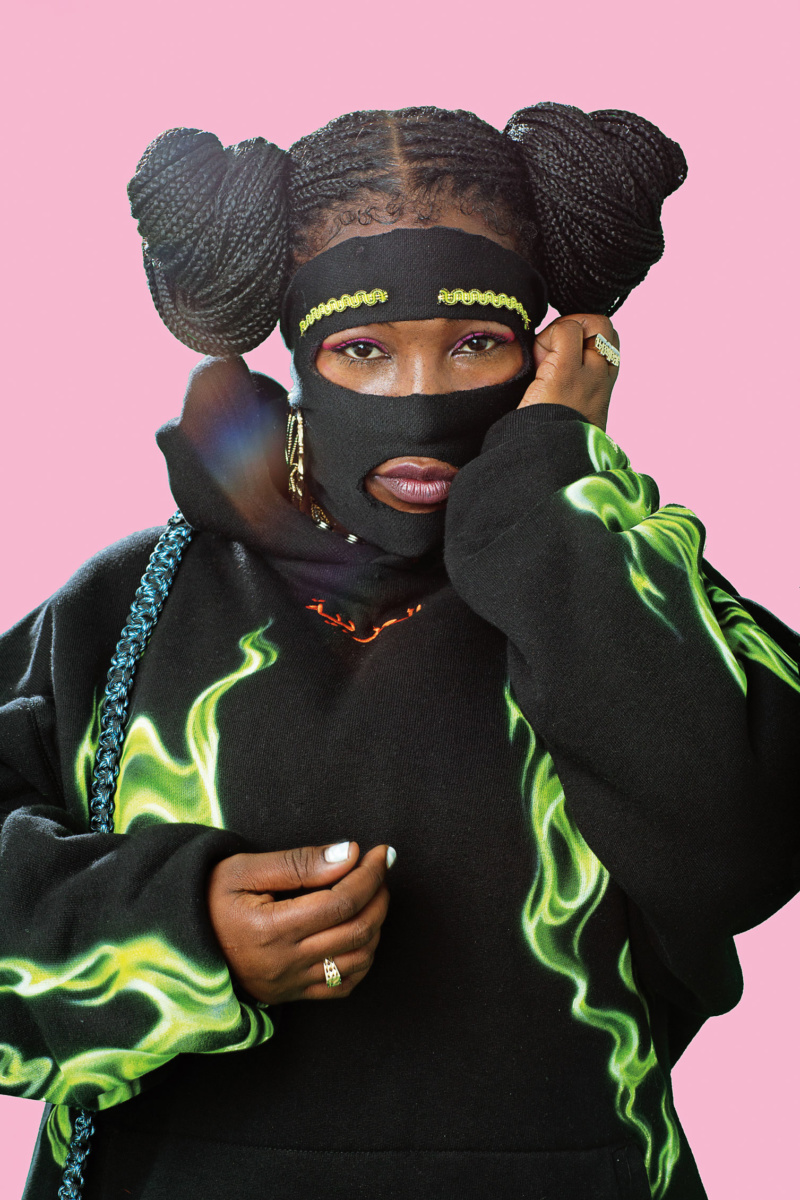 Acrylic is a valentine to community and the black women who find sanctuary in nail salons, where getting tips glossed or bejeweled is a therapeutic ritual. Conceptualized as a hood fairytale, Leikeli47 vividly portrays the communities and people she deeply reveres through a specifically black lens on the album. She raps and sings about the auntie who sells candy from a windowpane; the homegirl hoping to get away from the no-shit man that's overstayed his welcome in her bed; the Hoyt-Schermerhorn station where Leikeli47 giddily whispered "I love you" to a boy underneath flickering lights. She pays tribute to New York's ballroom scene, where black queer folks have sought refuge and community for nearly a century, and the sanctified experience of historically black college campuses.
"When you smell acrylic, you know where you are and you're in our neighborhood. You don't smell acrylic walking down Rodeo Drive, you just don't. There's a different culture here—a different tone, different air, a different community," she says. "I just wanted to tell the story from my community about the bold black women that I've seen growing up and that I've admired. Acrylic was about telling powerful stories, speaking on black love and painting a picture of where we come from and the things I've seen in my life—it wasn't always bad, but it wasn't always great either, and I wanted to squeeze the beauty out of that."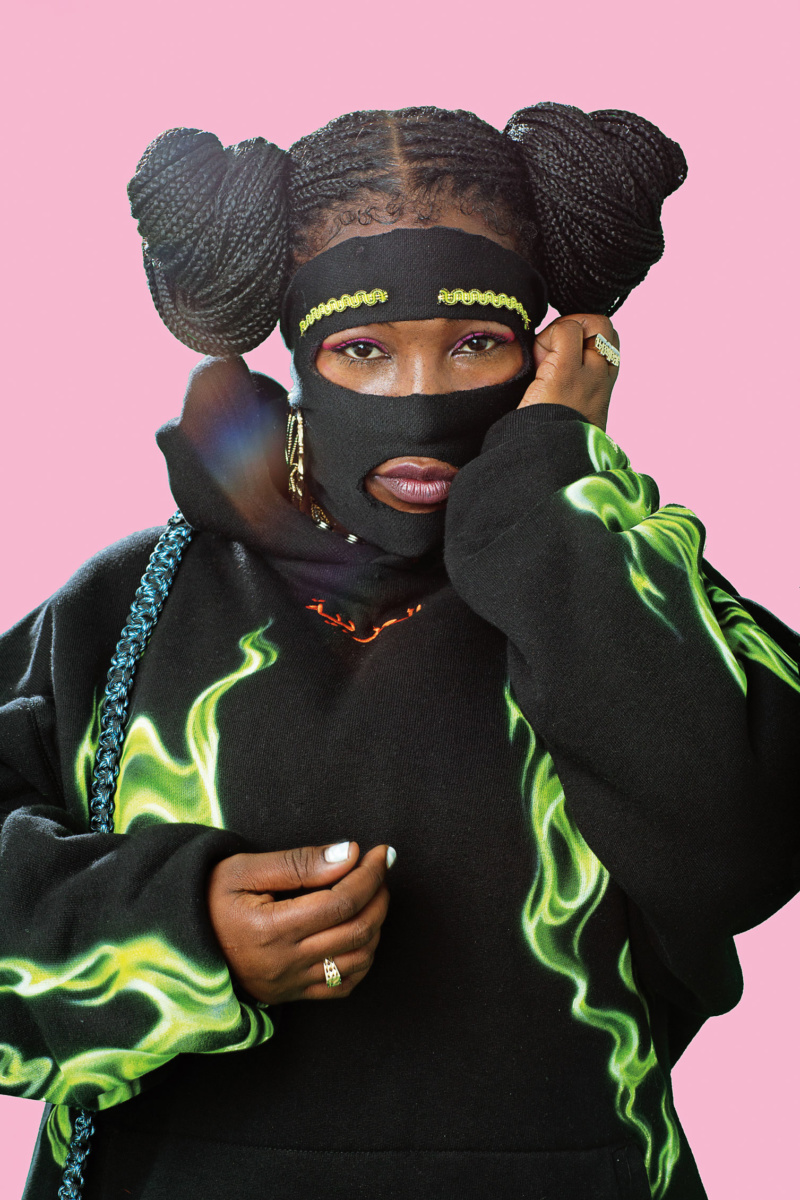 Everything one needs to know about Leikeli47 can be found in her music. Even though she's not one to disclose many specifics in conversation, she doesn't make it hard to piece together who the woman beneath the mask is if you listen close enough. A line on "In My Eyes" —a tender, gospel-rooted song off Acrylic—sees her at her frankest: "Father, forgive me for I do not know it all, but the life you chose for me had me livin' off the wall... sometimes on the floors, singin' through the halls."
She grew up in Bed-Stuy, by way of Virginia, bouncing from different housing projects or wherever she could stay with a relative. She didn't have her parents around and only goes so far to directly say her upbringing was rough. Introverted and deeply shy, she attached herself to music and became a self-taught student. Her inspirations are varied (Stevie Wonder, Twinkie Clark, N.E.R.D., Red Hot Chili Peppers and Jay-Z are heroes), and that comes through in the music that cuts across trap, house, bounce, R&B, pop, soul, gospel and dancehall. She sings and raps, just don't call her either (she abhors being categorized). "I never wanted to do anything else and I've never not done it," she says when I ask her to tell me where her musical ambitions started.
Although she's been dropping music for the better part of a decade, Leikeli47 has been at full speed since a banger she made for Jay-Z but kept for herself—2015's "Fuck the Summer Up"—topped an inaugural eponymous Tidal playlist curated by the mogul. Acrylic was about showing her growth as an artist, producer—and a storyteller—a goal that feels more than accomplished given the breakout she's in the midst of. "I just wanted to have fun. I just wanted to be black. I wanted to be bold, spirited, colorful, dope and ill. I wanted to be like a superhero and that's what this is for me," she says. "I still have a lot more work to do, but it's been a cool experience to see my own growth and to see things happening right before my eyes."