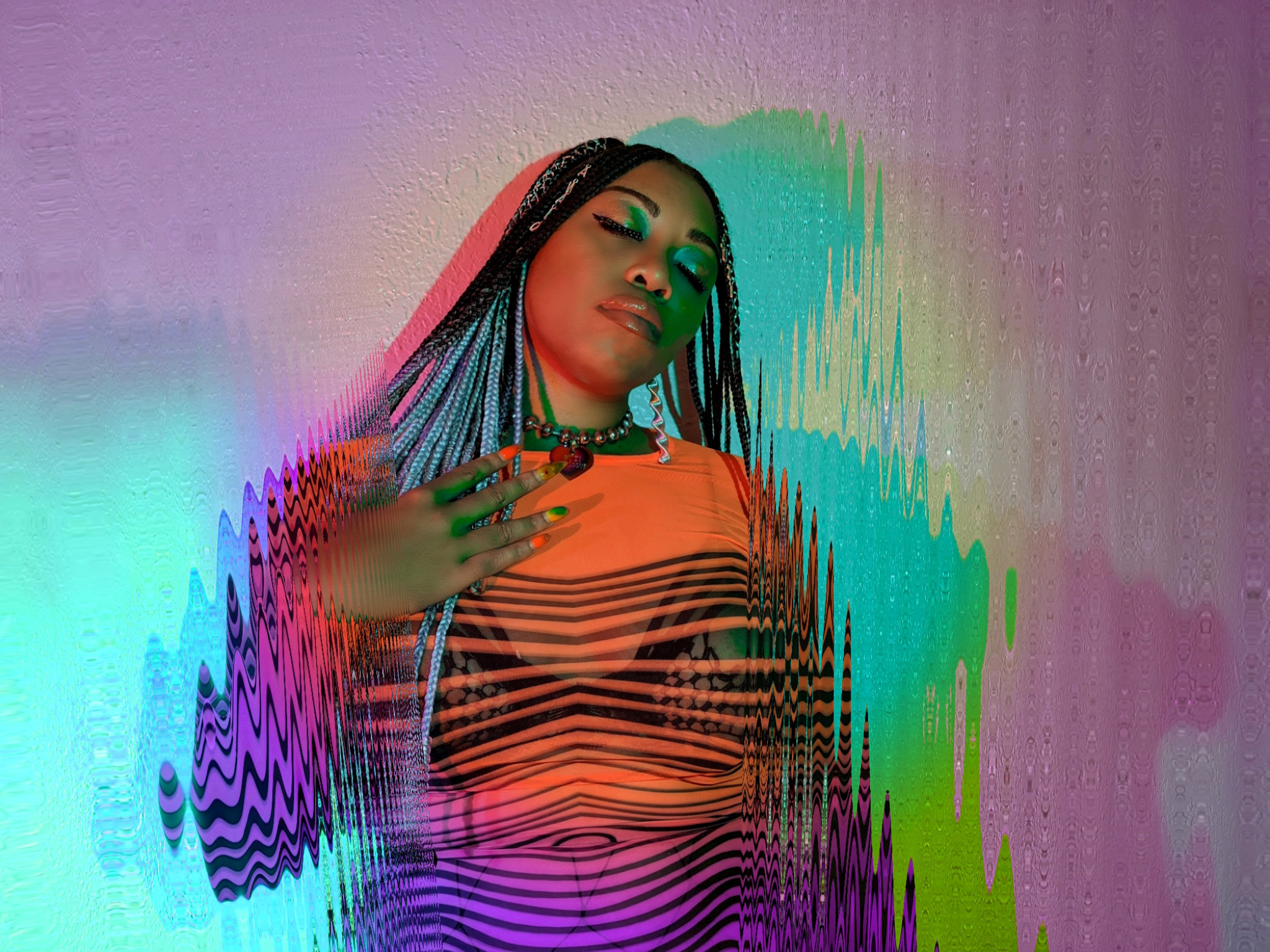 A few hours before I spoke to the producer and composer Suzi Analogue, she was putting makeup on and, in her haste, nearly dropped a brush on the floor. But she's too quick for that. "I wasn't even looking at the makeup brush, but I caught it in my hand because I could hear where it was going," she tells me. Analogue's particular neurological faculties have been referred to as synesthesia, but even she can't fully explain it. "I see forms, forms of mass, inside words. The words become something else. When I listen to any kind of sound, I can see the waveform. I can see where it's coming from." She can see where it's going, too.
The founder of Never Normal Records is a beatmaker, songwriter, singer; in a still-male-dominated scene, she's an independent polymath, often providing platforms for other musicians of color while writing work that's fiercely her own—much made with, as her name reveals, analog gear. She's a true cognoscente: once a kid who obsessively read the liner notes of albums she loved, and who today constructs beats like they're puzzles, as if she was intuiting a series of equations.
Born in Baltimore, Analogue was primarily raised in Virginia by her mother. While in college in Philadelphia, she worked with other musicians, eventually emerging publicly as part of the Klipmode collective (with Knxwledge, Devonwho, and Mndsgn); by graduation, she'd already toured globally. She later became a cultural diplomat for the USA in Uganda (part of the hip-hop music initiative Next Level), teaching production to beat-makers in Kampala. She's collaborated with the likes of TOKiMONSTA and DJ Earl, toured with Princess Nokia, Bonobo, and Sylvan Esso, and soundtracked runway shows and Adult Swim bumps. Analogue is everywhere, infusing everything she does with her own particular charge.
[embed]https://www.youtube.com/watch?v=vdz2YhhTJPo&list=PLhRJqiwYu5fdoBL7AyNltvyztApFtEH2k[/embed]
But in ZONEZ V.4: Love Me Louder, her latest release, Analogue is very much in Miami, where she's lived for the last several years. She's described the ZONEZ series as "mood boards," energetic, beat-driven scores for emotional landscapes, accompanied by kaleidoscopic visuals. The album is filled with mantras—on "2DEEP," featuring Junglepussy, the rapper and actress says, over Analogue's production, "I'm too deep/rock a life jacket." The videos were all produced by femme artists in Miami, and pay homage to everything from the work of Carrie Mae Weems ("BREAKTHRU," featuring Oyinda, directed by Kristabel) to skateboarding culture ("LOUDR," directed by Dana Lauren Goldstein) and the ritual of hair care ("2DEEP," directed by Helen Peña of (F)empower).
Coming up, Never Normal is launching NNECESSARY, a radio residency for emerging artists, on HalfMoon BK; Analogue is also getting her own residency, as ZONEZ Radio, on RinseFM. On June 15th, she'll perform at The Kitchen as part of the venue's ASSEMBLY activation. Preparing to hit the road yet again, Analogue caught us up on her history, her future, and defining herself—finally—as a composer.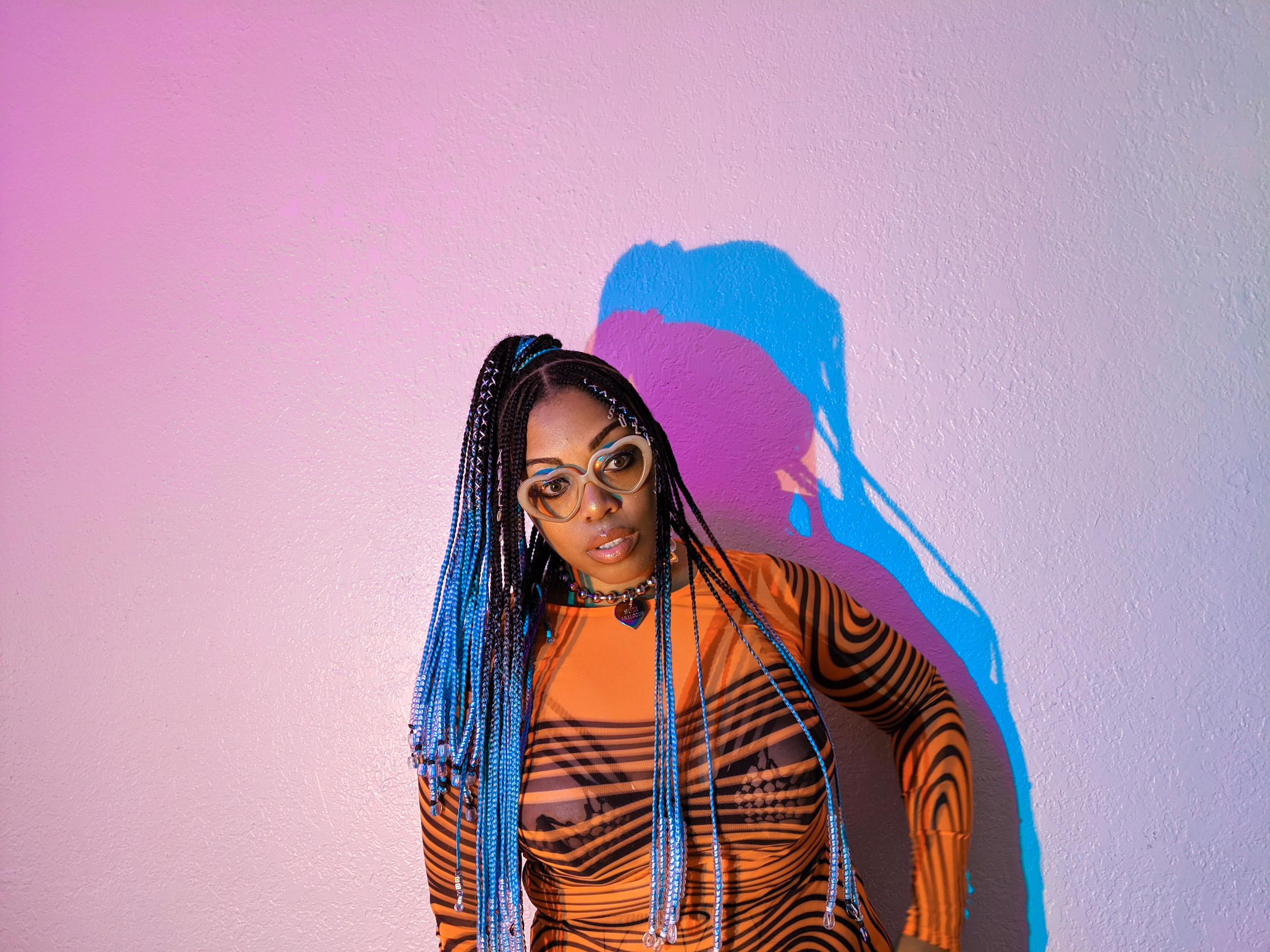 Tell me about your name, its reference points. My name is derived from Bobby Digital, an alter ego of the RZA. His project, the RZA as Bobby Digital, inspired me as a teen entering my punk rebel phase. As a kid, I was obsessed with producers—reading the track listings and seeing who wrote the songs I was listening to on my cassettes. But as I evolved into my creativity, the name Suzi became a dual name for my birth identity as Maya—both names have four letters, so it's reflective. And Suzi is this all-American-girl's name. I feel like my story is very American, but it's indigenous and African-American—untold stories.
Suzi's not even a persona; it's just another extension of me. The name "Analogue"conveys a sense of time, a sense of an aesthetic. It's a nod to formats of music, like cassette and vinyl. The word "analogous," too, speaks to my duality. The way I create operates in a format of understanding analogous entities. It's always a comparison: The two Zs in ZONEZ reflect each other; there's the word "one" in the middle, so there's a oneness.
This reminds me of your synesthesia. I don't even know how to categorize it. My synesthesia's not just auditory. I see forms, forms of mass, inside words. The words become something else. When I listen to any kind of sound, I can see the waveform. I can see where it's coming from. This has helped me—living in different cities, traveling by myself, being a woman. And I have a somewhat photographic memory, so I remember the forms of mass. When I used to take notes in class, I'd use different colors; when I took the test, I could go back in my mind to where it was on the page and find the answer.
But I never thought I had synesthesia then. I never thought about how, when I was in a house full of people, I could tell who was coming up the steps. I can identify bass, the bass lines of different music, from other rooms. Everything hits my memory very differently with sounds and words.
It's like a superpower, or a gift. Well, I feel like a synthesizer. Like a vibration, an energy form. It's not just sound that I'm processing: it's the sound of the times, the sound of the people. It's the sound of what's happening around me. ZONEZ is an outlet for me to express how I'm navigating the world as a creative, as an entrepreneur, as a black woman, as an activist. I was being so stimulated and I didn't really know how to channel it as an artist. I had to give myself time to process.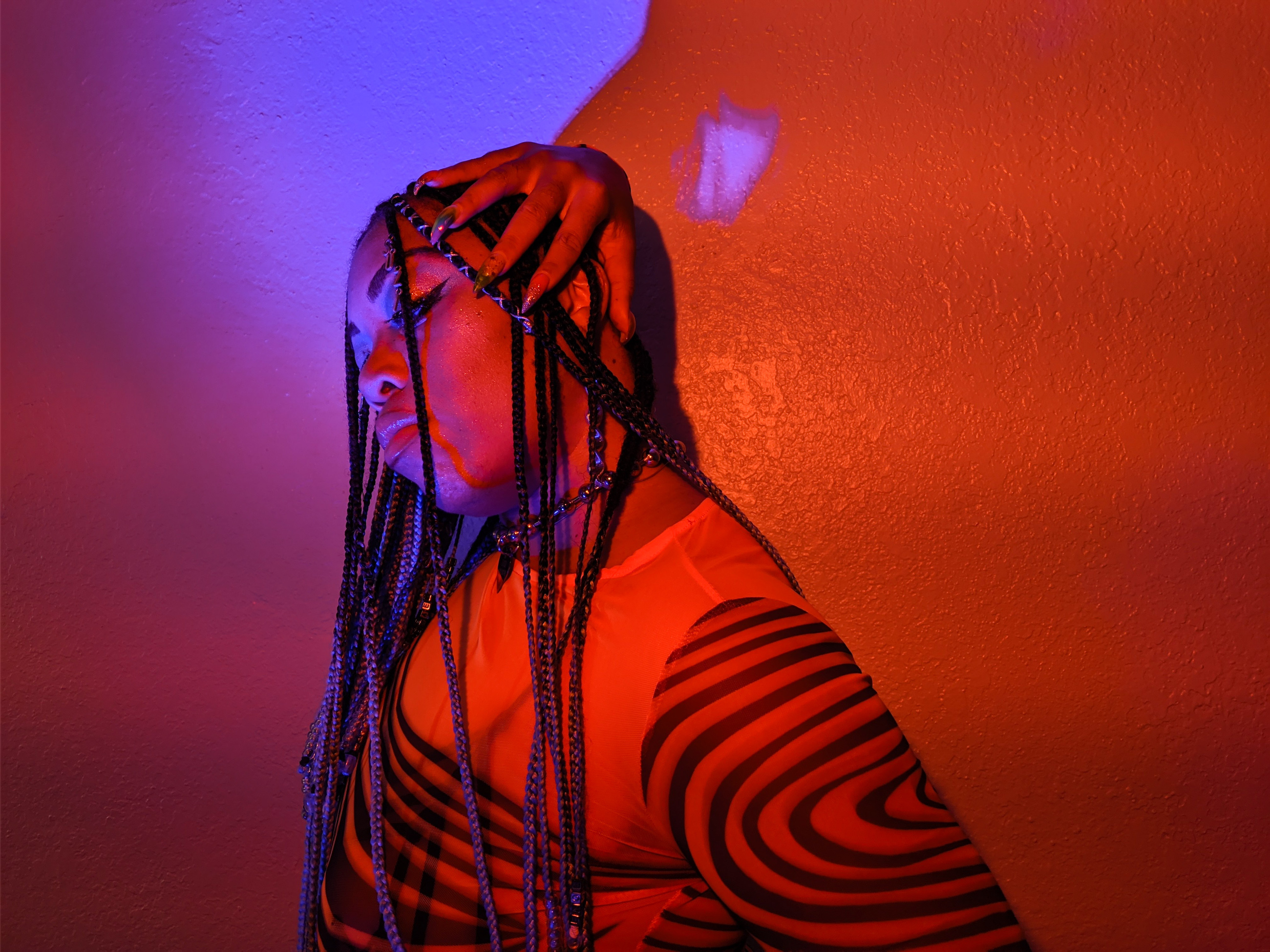 With ZONEZ, a lot of the tracks feel almost meditative, deliberately repetitive. Totally. Being so stimulated all the time—I hear the directions of sounds and everything—there's still a calmness. When Junglepussy says, "I'm too deep/rock a life jacket," it's kind of a warning: you might drown in the depths of how connected I am. Junglepussy is very deep; she has so many layers as a person, as an artist. But it's also a permission to embrace your depth. In these times we're going through, people always say, "It's not that deep," but things are very deep. We're all interconnected. On ZONEZ, many of the MCs are expressing some of their deepest truths, their stances on how they survive. Sometimes you need to hear that from other people.
One thing you've mentioned is that some of your music has an upward tempo because you've experienced loss, and it's a way of working through it—if you don't mind talking about that. Yes, I like to share my stories if it can help somebody who feels isolated. And these days, with so many struggles, and so much oppression and marginalization of groups of people, many of them experiencing loss in their communities—I know they can identify with the message. I feel happy to share how I'm getting through these things.
I experienced back-to-back loss of nearly everyone who raised me, in a period of five years. My first loss was my grandmother, then my mother; then I lost my father—that was when I had just moved to Miami. I lost my mother a couple years after I graduated college—not really a great time to lose the most important cheerleader of your life. At the time, I was making some down-to-mid-tempo, some soul, some bedroom beat vibes. I had a crew, but it was disbanding; I had romantic relationships that were going sour. I had built up so much of what I wanted my life to be, but at the same time, it felt like I was losing things left and right. I didn't know what to hold on to.
But I remembered dance music: growing up listening to it, making dance routines with my friends. I started to fixate on those tempos. Dance music called me back. It kept me alive—I really felt like not being here anymore. I was ready. I was like, "I don't know what could be worse." But the music started taking my hand; I went back to making my own music. Now it's become such a part of me, and it makes me so happy. That's the energy I want to give: that you can push through anything if you give yourself time and space to free yourself to the beats. Free yourself through the rhythm.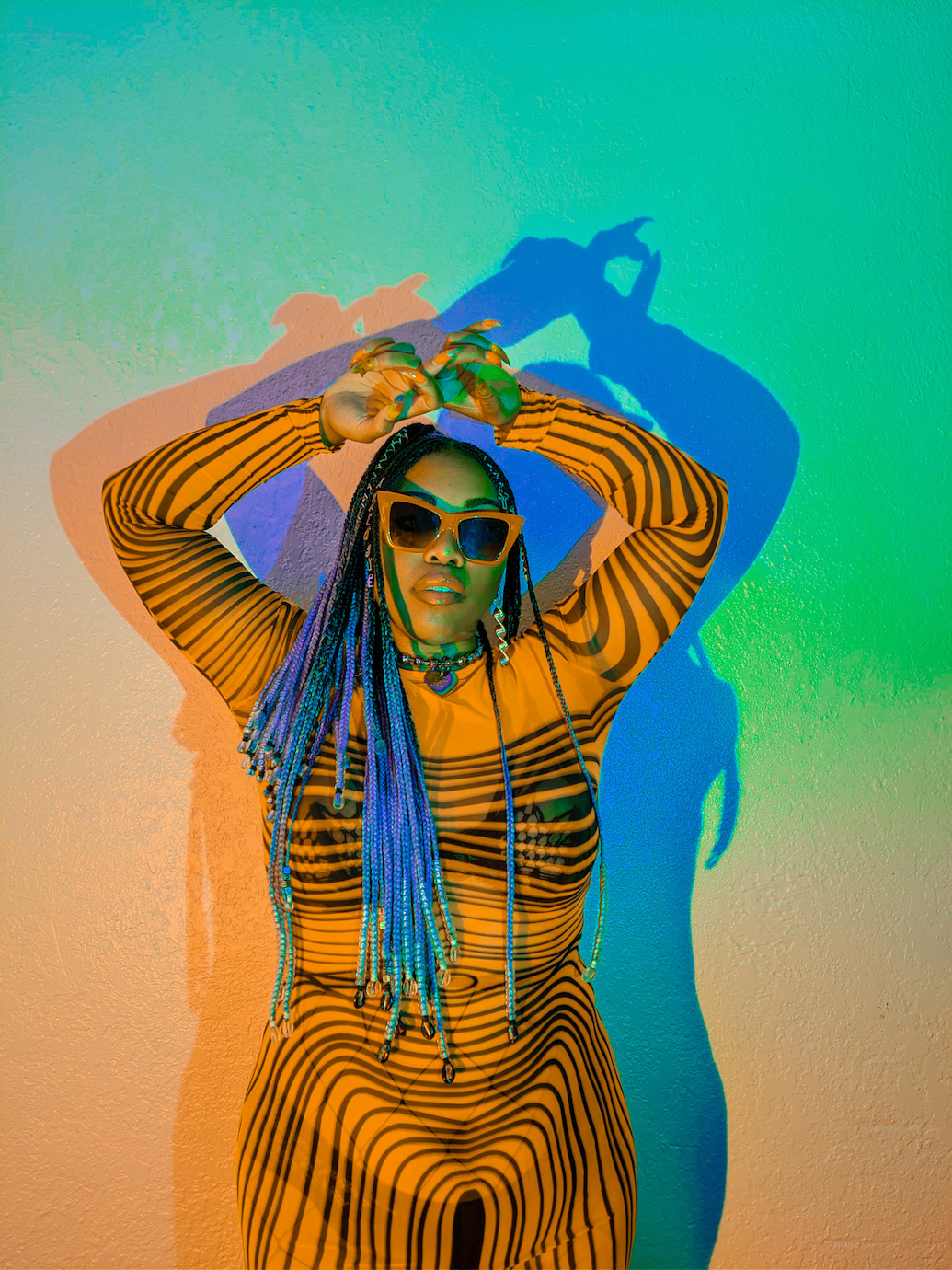 You were telling me your mom was one of your biggest supporters. My mom was a spirited person. I remember she told me, as she was getting sick, "It's okay. I'm gonna find my happiness and I'm gonna dance." It came out of nowhere, and it was so trippy that she said that. She was so upbeat, smiling through everything, the cheerleader on her high school and college teams—that's the presence she had in my life. Making this up-tempo music, I feel like I'm honoring her spirit. I feel like if she could be right beside me, dancing at these festivals and shows, she would say, "Yes, this is what I want. For you to be happy. I want you to be celebrating."
I remember when I was writing songs as a teen, I would play them for her. She was a poet herself, the editor of her college literary journal. She would ask me, "What is this song about? Who are you speaking to?" She would help me consider my writing, even in my experiments. I know she had a vision for how I should interact in the world. I think she would be happy that I'm making people dance, trying to inspire people to feel happiness.
Like what you're doing with ZONEZ and its messages. ZONEZ V. 4 is a message to the people. It has many different vibes, but what I'm aiming to do is connect the worlds of electronic music and hip-hop music, to the point where it becomes one form, one zone. I will argue that hip-hop music is electronic music. I'm like an ethnomusic activist, because I want more justice and ownership for the innovative moments in music history that black and brown people paved the way for commercial music to become. Techno, house, hip-hop—all of it was created by black and brown people.
These are tenets of Never Normal. Everyone in our collective knows this; we are powered by this. All of this was riot, protest music, for people who were oppressed and marginalized. I'm allowing other voices from the diaspora to connect—everyone vocally involved with ZONEZ is part of the African diaspora. We have artists who are Cuban, Jamaican, Dominican, African-American, Southern; there are coastal vibes. And for seven of the tracks, there are visual guides that people can watch and catch a mood, all filmed and directed by femme creatives in Miami. That was important to me. I've been blessed to be in the creative community here, and I wanted to share that space. Miami femme creatives have something unique to share, meaningfully, with the world. There's almost a renaissance period happening.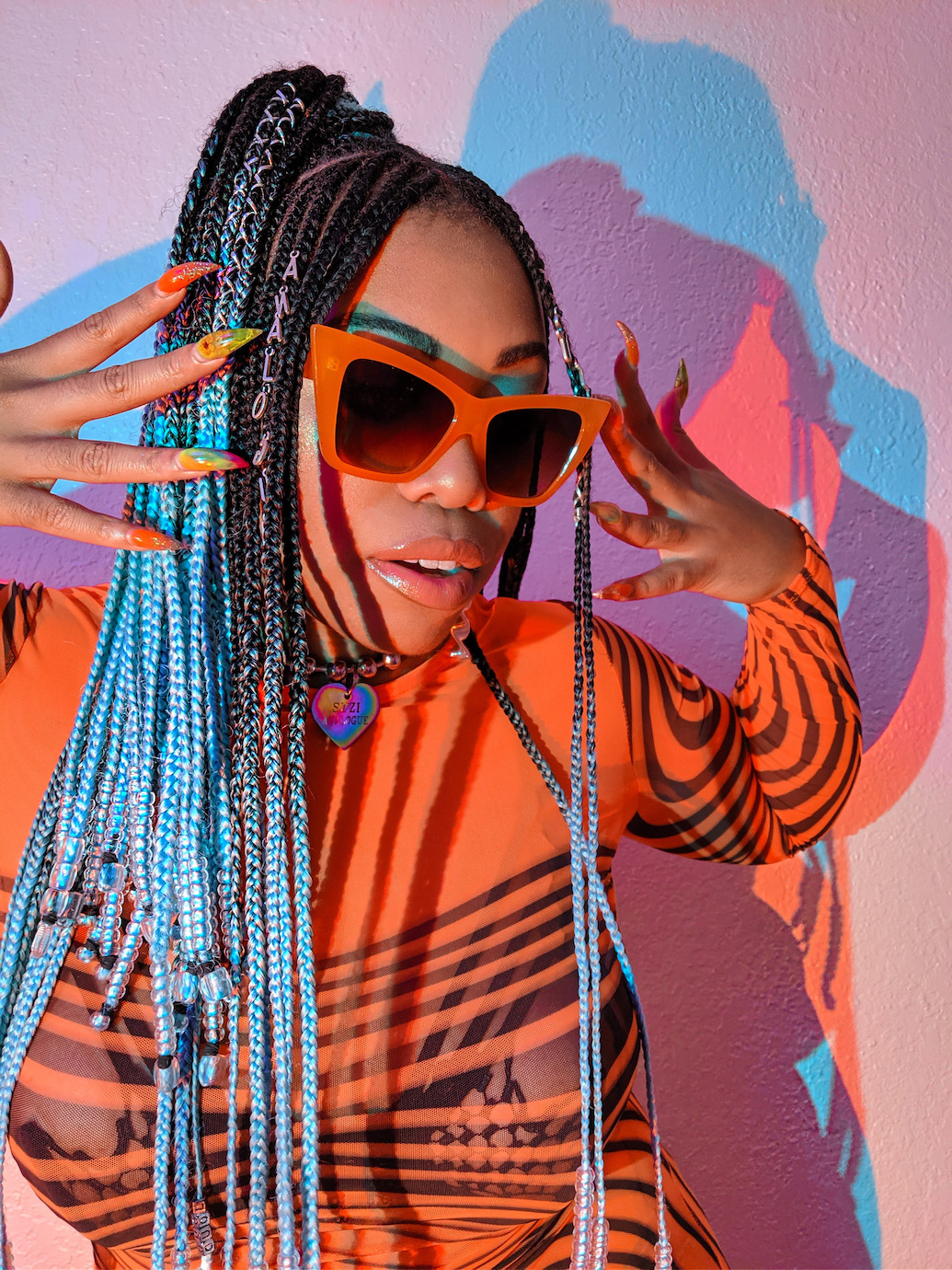 There is, completely. It's also been important for me to have visuals directed from the femme gaze, versus other male visual narrators—who I've worked with before. But this time, it's about us. I even have a nod to Carrie Mae Weems. I just really believe in artists like that: giving them their flowers while they can still smell them. So many visuals artists put out these days are flexes, like, "Look at me perform this idea of something I want you to perceive." ZONEZ is very much, "This is a woman in her own world, owning every space that she goes into." I think back to when I was a little girl, watching Lil' Kim and Missy Elliott and all these femmes, just doing them. I'm trying to make something for the little girl I was then, because I can imagine that if she saw some of these visuals, she'd say, "What does she do? Can I be like that when I grow up? I can be interesting; I can be diverse."
Giving visual permission to femmes' experiences, experiencing diversity in oneself, not feeling like you have to fit any one mold—that's what the visual narratives are all about. It's about inspiring. I'm fixated on inspiration. It's not just something I want to do for the people—it's something I need to do for myself. Because, again, I've had so much loss that inspiration is a very healing thing.
You're truly a composer—do you consider yourself one? I have just started to consider myself a composer. As a black woman, no one ever told me I could be one. What I'm doing now is recontextualizing my art with what being a composer means. When you're a young girl, people will say, "You're a singer." Yes, that's a skill I have. I can DJ; that's a skill I have, too. But what I am is a composer, producer, and songwriter. Composing not just music, but moments we can live to and remember when things get hard or sad. I compose for life. That's really what I want to do, in how ever many forms it can take shape.
Suzi Analogue performs at The Kitchen's ASSEMBLY event June 15. ASSEMBLY runs June 15-June 30.