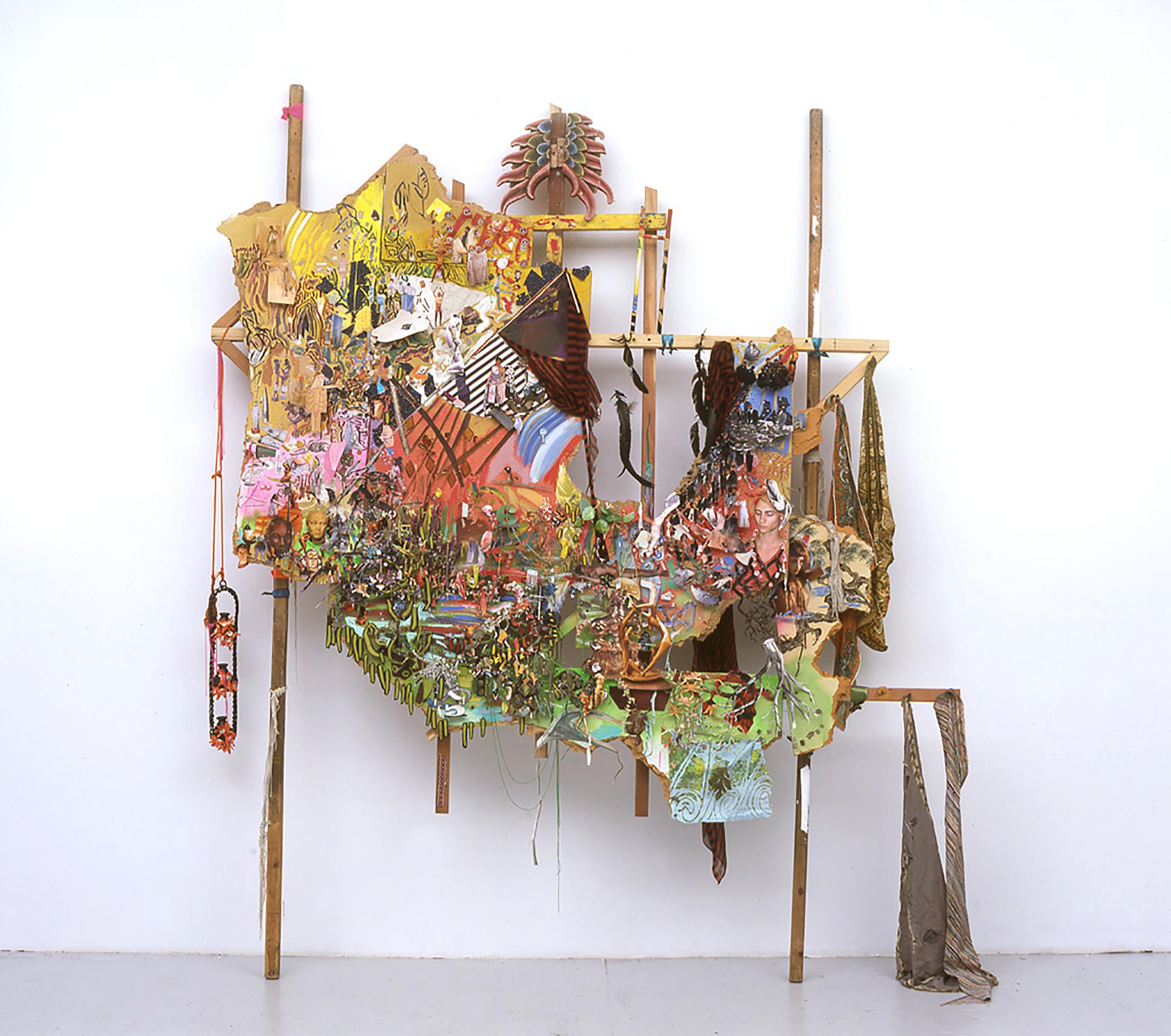 Betye Saar, "Tangled Roots," 1996

My roots are tangled. My unknown ancestors from Africa, Ireland and America have blurred the boundaries. I cannot recall the lost legends of forgotten tribes nor revive the rituals of fragmented cultures. A blend of black, white and red, I am labeled Creole, mulatto, mixed, colored in every sense. Enslaved by the 'one-drop-rule' But liberated by the truth That all blood is red.*

*Haitian saying

"This poem helps me understand Betye's sculpture. In our lives, sometimes even things that seem like they should be clear, like our own heritage or our role in our communities, are obfuscated or confused. It is my belief that art can help us begin to accept and even comprehend the irreconcilable. Assemblage is a process of reconciling and corralling the dissonance and in many cases embracing it despite our rage to order." —Elliott Hundley
No matter where you look in Elliott Hundley's studio, there are clusters. Clusters of towering bookshelves climb the walls to the top of the cathedral-like ceilings; in the open office space, there are clusters of computers; there is even a cluster of three dogs: Sweet Pea Oui, Spicoli and Max. In the storage area, Hundley keeps mass clusters of found objects, and in the work room, sit clusters of assemblages in which he will cluster those found objects with clusters of cut-outs from magazines and books. "My collecting is tactile," Hundley says, reclining on a sofa as Spicoli scampers around his feet. He likes the feel of the things he finds—be they on the ground or at a thrift store.
The assemblages, made by pinning objects and collage to canvases, will end up in a show at Regen Projects, his longtime LA gallery, from May 18 to June 22. The works themselves are new territory for Hundley. For years, the 44-year-old artist has been best known for making pieces from narrative theatrical subjects like Euripides's Hecuba.
Now, he is abandoning narrative altogether, instead applying an earnest artistic process of creation rather than using pre-existing source material. "They come out of the ether, which doesn't come naturally to me at all," says Hundley, who starts the works by making automatic drawings, the forms of which will act as backgrounds of the assemblages. "I think that the subject is starting to be about meditation. My husband is in divinity school, and he meditates constantly. I don't, but there's always been a meditative piece in the way that I work."
Though there isn't a preordained subject, Hundley continues to think about these works as landscapes, as he has about many of his past works. He takes me to the first painting he's finished for the Regen show, a darkly hued piece called Clearing, which refers to both a meditative clearing of the mind and a clearing of trees in nature. "I think the beauty of looking at the landscape is that you can't take it in," he says. "There have been moments I've been in museums looking at paintings [in other cities], and you don't want to walk away from the painting because you know you won't see it again. I want there to be this feeling that you can't have known it. If you do walk away, you know you're leaving something behind."
In addition to finishing the assemblages, Hundley is working on another kind of cluster as well. He has been selected as the first artist to participate in "Open House," a series in which the Museum of Contemporary Art, Los Angeles (MOCA) invites artists to curate shows from the museum's storied collection, once described by Vanity Fair's Bob Colacello as "the most impressive permanent collection of contemporary art in the country."
"[MOCA assistant curator] Bryan Barcena wanted to do something that he felt was transparent," says Hundley of the show that will be open from April 14 to September 16. "I like the idea of moving forward [beyond my curation] because the more artists that do it, the more works become a part of the knowledge of the community."
Hundley's show is heavy on assemblage, not only in the actual works—pieces by Bruce Conner, Barbara T. Smith, Raymond Saunders, Lee Lozano, Öyvind Fahlström, Robert Rauschenberg, Jacques Villeglé, Corita Kent, Julia Wachtel, Alexis Smith, and Martin Kippenberger, among others—but in the way Hundley, who had never curated a show before, put together the exhibition.
"I thought a lot about dissonance in art," says Hundley, "because that's the kind of thing I can do that a curator can't really." He explains he prioritized aesthetic connections over historical or theoretical. "The Cady Noland and the Betye Saar, which are basically both cages full of signifiers, will sit side-by-side. They are artists that are not connected art historically, but I guess I'm saying, 'Why not?'"
Hundley feels a particular connection to Saar, whose work is showcased in the traveling "Soul of a Nation" exhibition that is currently in its final stop at The Broad and who will be the subject of a LACMA retrospective this fall. The legendary California artist, whose archive was purchased by the Getty Research Institute last September, has created assemblages—some that reference her Black, Native American, Irish, and Creole ancestry and others that reference mystical and astrological themes—out of her Laurel Canyon studio for over 40 years. Like Hundley, Saar, too, collects objects at flea markets for her practice, but it is her spirit that attracts Hundley to her work. "I'm referencing the idea of myth and ancient mythology, but I feel my motive is similar to hers," shares Hundley. "I don't want to speak for her intentions because I don't know them, but I think she's taking fragments and creating a mythology in her work. It references things; it's filling in the gaps," he says. "She believes that she can actually imbue objects with spiritual meaning, which is an almost taboo thing to discuss in the academy. And she discusses it."
It feels like Hundley wanted the show to have a kind of corrective aspect to it. Forty-three of the 45 pieces in the exhibition are part of MOCA's collection, and two were borrowed. The first borrowed work is by Noah Purifoy—it feels like an oversight that the late legendary LA artist is not in the collection—and the second is Saar's. Saar has been similarly overlooked by local institutions; MOCA has one piece despite Saar having one of the first ever shows at the museum in 1984, and the LACMA exhibition is the first career-spanning major survey of her work at a California museum though she's had several around the world. "I thought that she should have a more substantial presence," Hundley says of The Destiny of Latitude & Longitude, a 2010 work by Saar that depicts two clipper ships inside a four-and-a- half-foot tall birdcage. "MOCA has a wonderful piece, but I wanted her to physically take up space, so I liked the idea of having something new because I would love to see more of her work in the collection."
This story was originally published in LALA Magazine.