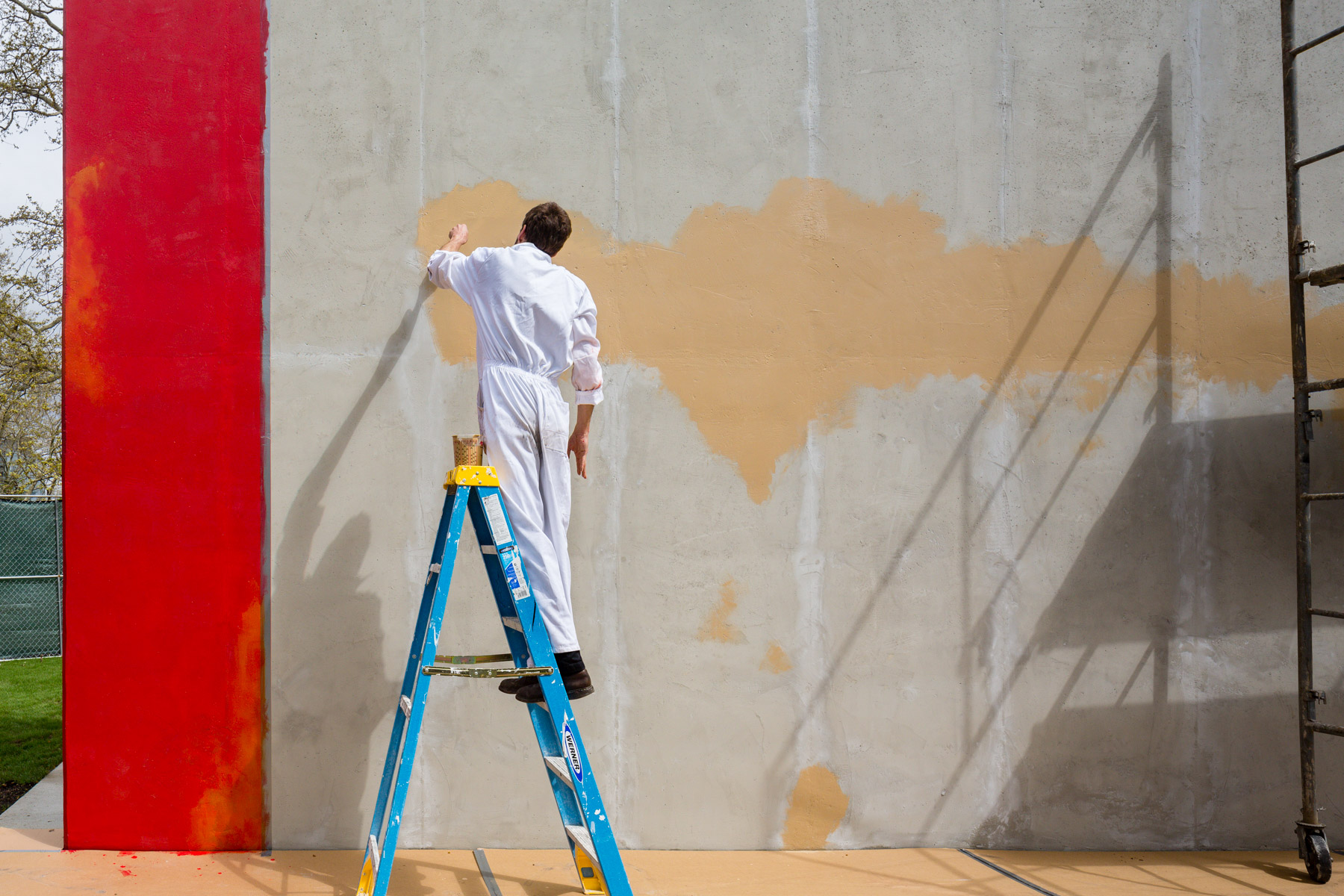 I don't think I ever noticed the handball courts of New York—or just rarely and only then through trees and fences on my way home from work. What eventually drew my attention wasn't their canvas-like geometries and the graffiti they inevitably attract, nor the city's slapdash beige band-aid responses, but instead the smack of the ball— making its sonorous boomerang from hand to wall and back again. But that was before. Now, I can't stop seeing their accidental abstractions. They are everywhere. And maybe it's a curse because they are so humble and complete that they sneak up on you.
When I tell Harold Ancart this, the artist recommends The Subconscious Art of Graffiti Removal (2001), Matt McCormick's short, tongue-in-cheek documentary narrated by Miranda July, which does in fact provide a momentary prophylaxis. "Graffiti removal has become one of the more intriguing and important art movements of the early 21st century with roots in Abstract Expressionism, Minimalism and Russian Constructivism," July rattles as inadvertent compositions flash in and out of view. "What makes graffiti removal particularly intriguing is that the artists creating it are unconscious of their artistic achievements."
Ancart certainly doesn't miss the merits of the New York City Department of Parks & Recreation's painters, nor their illegal counterparts. In fact, he is creating a kind of homage to both parties this April in the form of a mammoth handball court sculpture, backed by the Public Art Fund for Brooklyn's Cadman Plaza. When discussing the installation's details, commissioning curator Daniel S. Palmer connects the work to an earlier installation the Public Art Fund erected on Cadman Plaza: David Hammons's Higher Goals (1986). "Like Hammons's basketball nets, Harold's sculpture won't be about the sport of handball but perhaps more about a court as a flexible monument, a space for others to be in dialogue," he explains. "Of course, I hope that people play, but I also hope they host impromptu concerts, take photographs and picnic."
Ancart concurs, and even goes as far as to say he'd be happy if someone pissed on it. Vandalism in all its forms is almost proof of concept. "The handball court is something invisible, a ghost in this city," Ancart says. "It's something where if you don't want to see it you will never see it, but it's everywhere. The court is an extension of the playground, so it is by its definition abstract. What makes it useful to me is that it is already framed: two abstract canvases put together to become something functional."
Like the city laborers who wet-roll over hard-won tags with only coverage in mind, Ancart plans to wash his commission in his idiosyncratic psychedelics as if the multiple-ton sculpture was just another stretcher. In preparation, this February, the Belgian transplant was testing concrete- friendly colors amidst a sea of wooden maquettes-turned-sculptures, the first of which he made more than two years ago.
Ancart's practice revolves around these exercises of seemingly endless repetition. They help the painter get "out of his head" and into the impulses of his hand. This is a man who brings watercolors in his carry-on to pass the time between New York and Tokyo.
"Painting has hardly anything to do with control in that it only becomes interesting when you almost forget you are doing anything at all," he says. "There are the things in life you do that define you: he is a writer, he is a painter, he is a lawyer, but those titles hardly say anything about you. What makes you unique is not that you are a lawyer but the way you love or the way you pick your nose or the way you walk. When you forget, you are natural. You have to have that when you paint. I guess if everyone was following the movement of their own arm, everyone would end up being a very good painter, but, people, they like to blend with the rest."
As if in opposition, Ancart's own handiwork is identifiable on sight. His paintings hypostatize his en plein air expeditions into the subconscious as obsessive, bold, increasingly overlapping strokes of oil sticks. The final compositions bear the physicality of their making and conjure forms that sometimes appear like objects from our environment. Often they arrive as in the fractal vision of an acid trip—first like towers, then fire, then crystals, then desert plants and mountains. The ambiguity encourages the eye to make its own travels.
I remember Ancart's 2018 exhibition at Clearing where great swaths of flames lapped at you in one room and in another you stared down depths of a tiny blackened swimming pool. There were lonely icebergs in ruby red seas and crystal canyons in between. The opening night, populated by a beer-warmed crowd, could've passed for an apocalypse-viewing party. This friction of content ignited the paintings and sculptures, giving them a roaring sense of life. It was a real fire and not only because it looked like one.
The paradox of intention insufflates all of Ancart's work, a hypocrisy he gleefully cops to: "You know when we were talking about how having intentions and vanity obstructs the work? Well, I lied. It is impossible not to have any intentions because having the intention of not having an intention is a trap. When you paint, there are always things you expect to happen and an equivalency of things you don't expect to happen at all. Maybe a lot of people focus on what they can control and forget about what they cannot control but I say, let's do the opposite. What you can control you've already earned. Why would you pursue that direction when you can pursue a trail that you don't know?"
Ancart's philosophy seems to ground itself in his own improbable, left-turn trajectory. During our studio visit, he recalls spending his early years escaping into his drawings so as to avoid "trouble" and flunking as a consequence. He quips that his short, delayed jaunt into undergraduate political science ("two weeks maximum") came out of the same now-what urgency that returned him to art and eventually to school at Belgium's École Nationale Supérieure des Arts Visuel de la Cambre. "When they said, 'Mr. Ancart, we believe in what you are doing and capable of,' that was one of the first times I felt like I was headed in a right direction," he says. "It gave me confidence."
The high faded with graduation. The self-proclaimed draftsman balked at a professional landscape dominated by post-conceptual peers and the European collectors who love them. "Brussels was empty," the artist says, before smiling. "New York was open."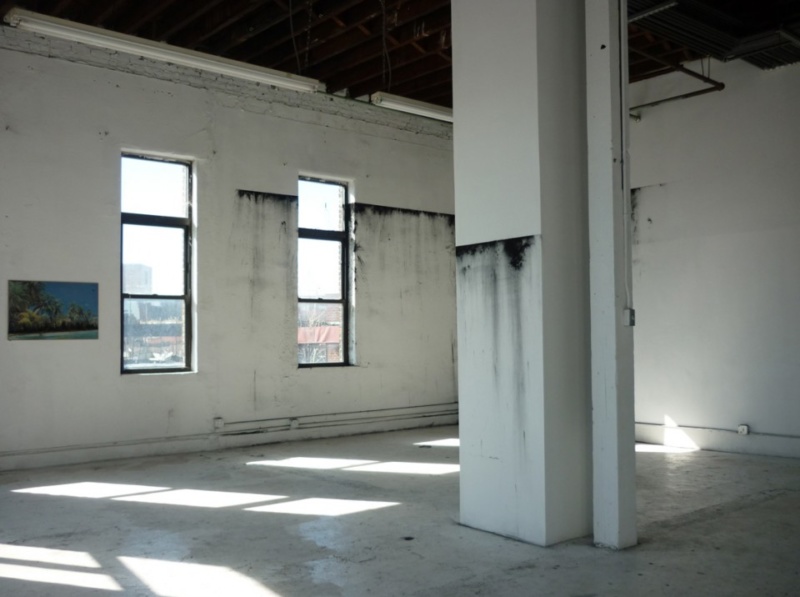 It was in his adopted U.S. homeland that Ancart first met Olivier Babin, a fellow European defector. Introduced at an opening at New York's 303 Gallery opening, the two artists formed an instant bond that they parlayed into both a lifelong friendship and the formation of Clearing gallery. "He was ready to do everything it takes to become an artist," Babin says of the first year of their friendship. He describes Ancart as almost like his mirror, but different. "I saw in Harold something I was not sure I saw in myself."
In 2011, Clearing opened its first show: "Badlands," a pairing of Ancart and Jacob Kassay. That night Babin became Ancart's first dealer (a title he now shares with David Zwirner). "Harold taught me how to have the right attitude in life, how to walk my own line," Babin continues. "Without Harold, there would be no Clearing and still to this day I'm not sure I completely understand how it all happened."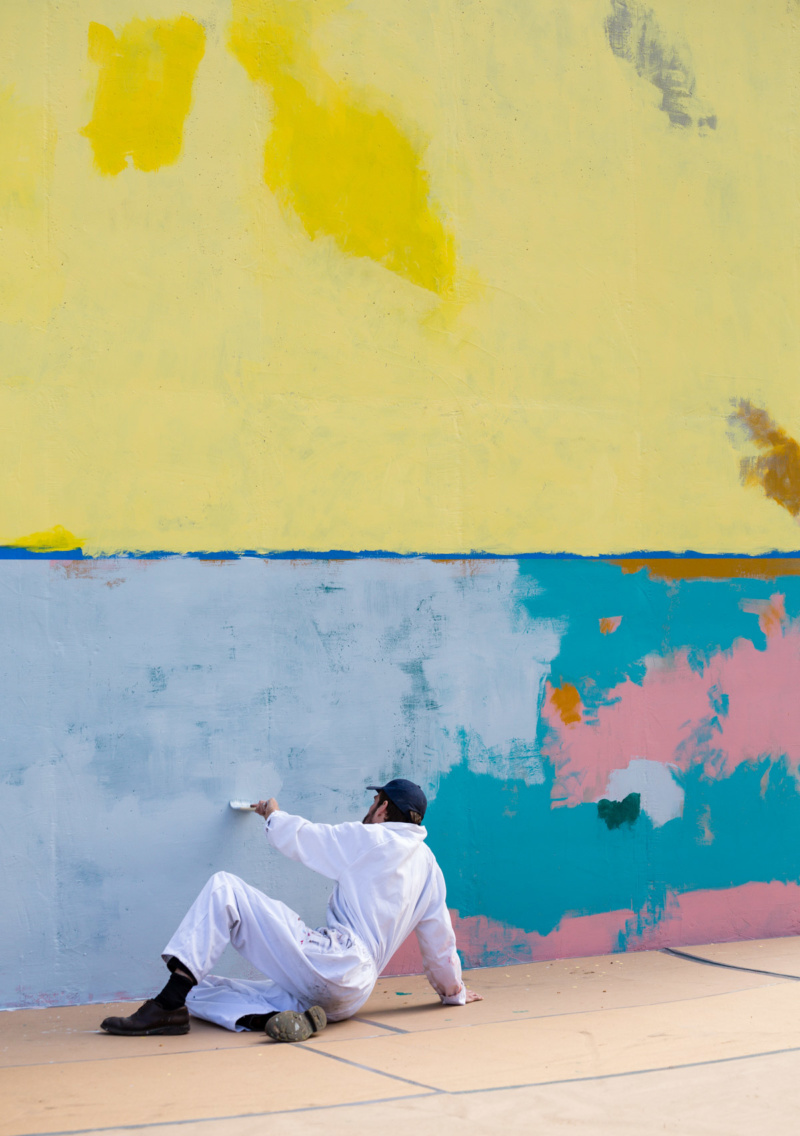 To people who know them, the bond between Babin and Ancart is, at the same time, readily transparent and infused with mystery. I find myself similarly perplexed when trying to encapsulate their relationship's impact on Ancart's work, but a decade later, I am able to admire the threads of their first shows together and the way they reveal the artist's first bites of the U.S. landscape. In each, one finds a moment of digestion. In each, Ancart subsumes yet another passage of local vernacular, assimilating it into his aesthetic tautology, gaining strength with each mouthful.
A seminal cross-country trip in 2014 (lovingly distilled into a pair of artist books: Driving Is Awesome and There Is No There There) is the closest thing to a road map Ancart offers. Traveling with his friend Colin Morvan across the green belly of the U.S. midlands and the alien terrains of the Southwest, the artist tricked his ride into an easel and their meandering route into a well. "To paint in the trunk of a car is special because the situation forces you to give absolutely no fucks at all, and that is great," he writes in the short essayistic prelude to Driving Is Awesome. "This attitude allows you to navigate more freely, and to dare doing things that you otherwise could not. Giving zero fucks keeps you away from vanity. The back of the car keeps you away from vanity; so does the cold."
Contending with weather does not appeal to most painters, but for Ancart the environment is not a condition to be overcome but rather something to be deployed as a bulwark against the maniacal splashes of the ego. Whether erecting concrete staircases in the bustling heart of a Jaipur palace or capturing a red-eye sky from the air, Ancart seeks to employ the elemental materials around him in service of the sublime. And the most precious ingredient in this palette may be Ancart's voracious desire to see better. Or in his words, "I always break things down to what I need."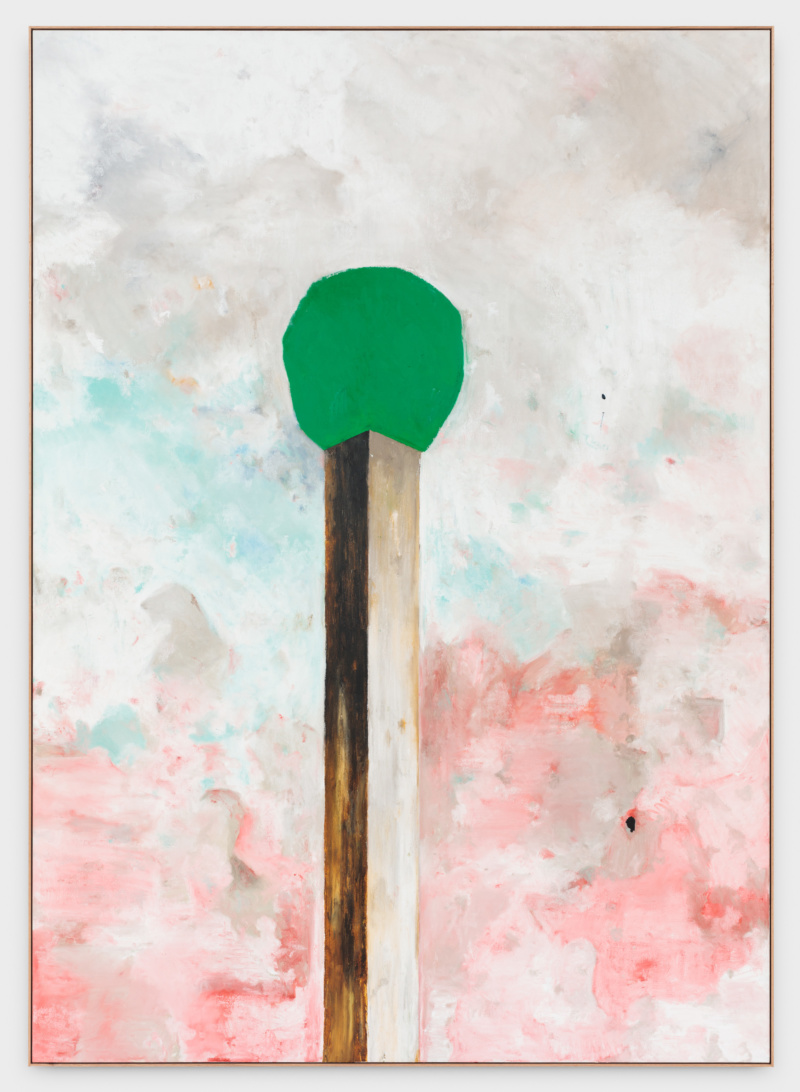 His latest body of paintings exemplify this kind of critical looking. On his work bench sits a leaf pile of watercolor matchsticks he made on a recent trip, which serve as the foundational fodder for Ancart's two-person booth with David Zwirner at Frieze New York in May. Paired with Christopher Williams's exacting photographs, Ancart will unveil what on first glance appears to be a large-scale painted portrait series. "Matches are the thing you see but do not look at," he says. "They look like people but they also clearly look like the rest of the paintings. I like to go around the question because there are a million ways to paint a match and maybe you can find one way, and then you find millions of variations within that choice."
As with his handball courts, mountains and icebergs, the matches insist on mobility even if only by their associations with hotels, restaurants and cigarettes. Ancart's recent show at David Kordansky, "The Grand Flâneur," sticks in my brain. The twee wandering paradigm doesn't quite suit Ancart in my own estimation, but it gets at the lackadaisical mode from which he at first appears to drink it all in. In "Death to the Flâneur," Josephine Livingstone and Lovia Gyarkye's 2017 New Republic article, the authors make the argument that Charles Baudelaire's historical character is a myth, and that what remains for contemporary peripatetic souls is best described as cosmopolitanism. They argue that the cosmopolitan, while still haunted by "its own theoretical problems (its upper-middle-class aesthetic, its exclusion of forced migrants)," represents an agent that does not passively ingest its surroundings but instead actively seeks new experiences and the marks they leave.
This ambition is in Ancart's work. He is anything but casual in his observations and he's certainly not in the business of reporting on them. Ancart isn't a seeker of realism or concept or narrative. When I look into the flared eyes of his matches and the rutilant horizons of his handball maquettes, I see randomness and intention in love, biting each other's necks. I'm sure they'll make it up to each other this April when paint hits the pavement. I'll walk by but I won't stop.