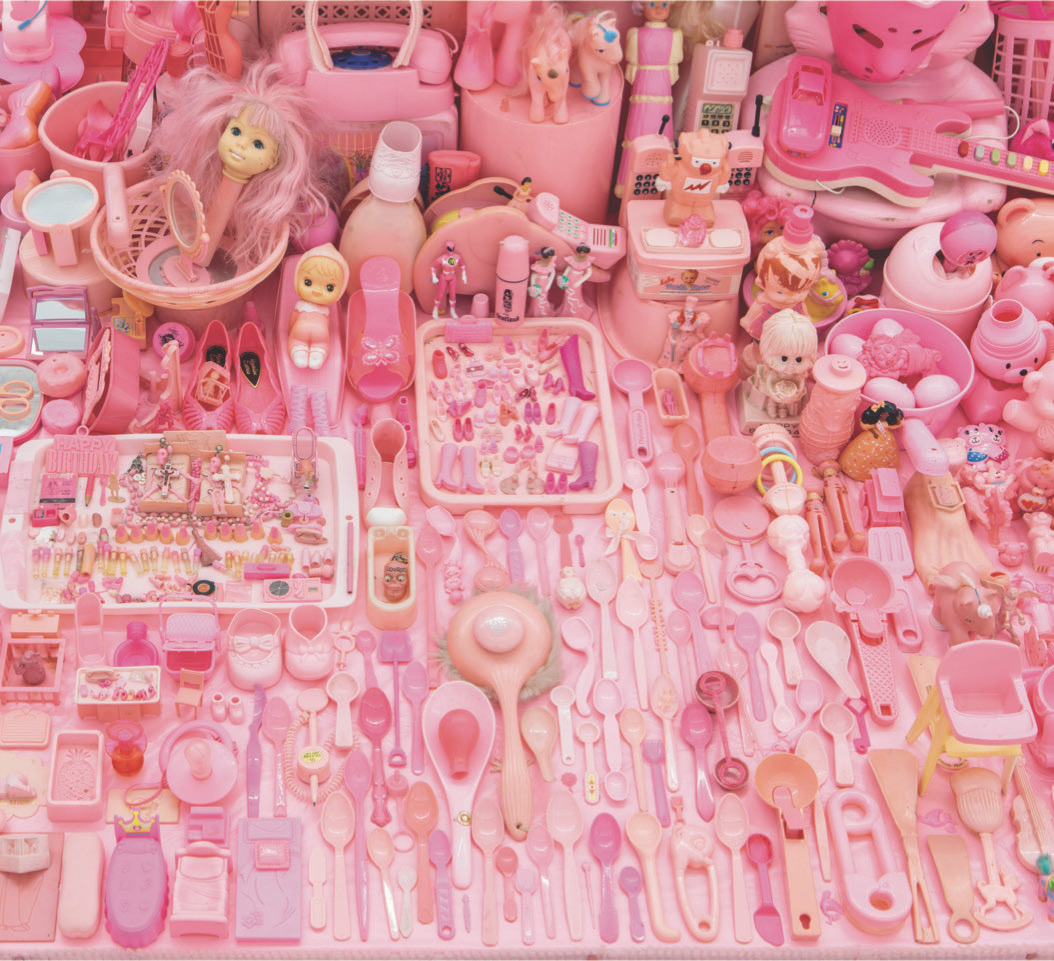 Pink Project,​ a collection of sculpture, video, and murals by Portia Munson—the Catskill, New York-based artist who's long used her work to focus on both feminism and the environment—is on view at Rockefeller Center as a part of its Art in Focus initiative, presented in partnership with the non-profit Art Production Fund, now through July 15.
An accumulation of plastic pink objects, Pink Project is overwhelming in both color and texture—a poignant comment on the commercialization of femininity and the environmental repercussions of consumer culture: the marketing of gender, mass production, and their cumulative effects. The mass of pink items cover and overflow from a tabletop and sit trapped in a glass coffin. First exhibited at the New Museum's Bad Girls exhibition in 1994, the work remains increasingly relevant.
The entirety of the ​Pink Project​ involves a myriad of mediums: vinyl murals, a pink bedroom, video, pieces displayed in a glass coffin. I felt that the use of multitudes of plastic items, all awash in the overpowering brightness of pink, was especially successful in marrying your critique on our consumer culture and societal expectations for women. How do you think each different component contributes to your overall message? I started working with the color pink in order to try and understand my relationship with it. As a young woman, I was interested in why pink was connected to my identity. I first collected pink subjects for my paintings and then realized, by amassing more, there was something to be learned or seen through the mass collection of objects.
The first piece was ​The Pink Project: Table, ​where I laid out pink plastic objects, organizing them by their function—for example, dozens of unique pink plastic combs, toothbrushes and hair clips. I was collecting anything I found that was mass-produced in the color pink. It was exciting to see that, by assembling the pink objects together into a large piece, the color pink became more powerful, and transformed the individual objects—which as a whole made the color stronger.
The Pink Project: Bedroom​ came after the table and was like creating a girl dream space, or a womb dream space. Comprised of repurposed objects, furniture and clothing, the bedroom is a complete environment of mass-produced objects marketed towards girls and women. More recently, with ​Her Coffin,​ I wanted to emphasize the carcinogenic aspect of plastic. ​Her Coffin ​was inspired by the pink ribbon campaign, which sold many small products to raise money for breast cancer research. The products themselves, disturbingly, are plastic or packaged in plastic. By presenting these collections in different ways, I am investigating the subject matter on many levels, and revealing how the color pink and the products produced in this color affects our lives.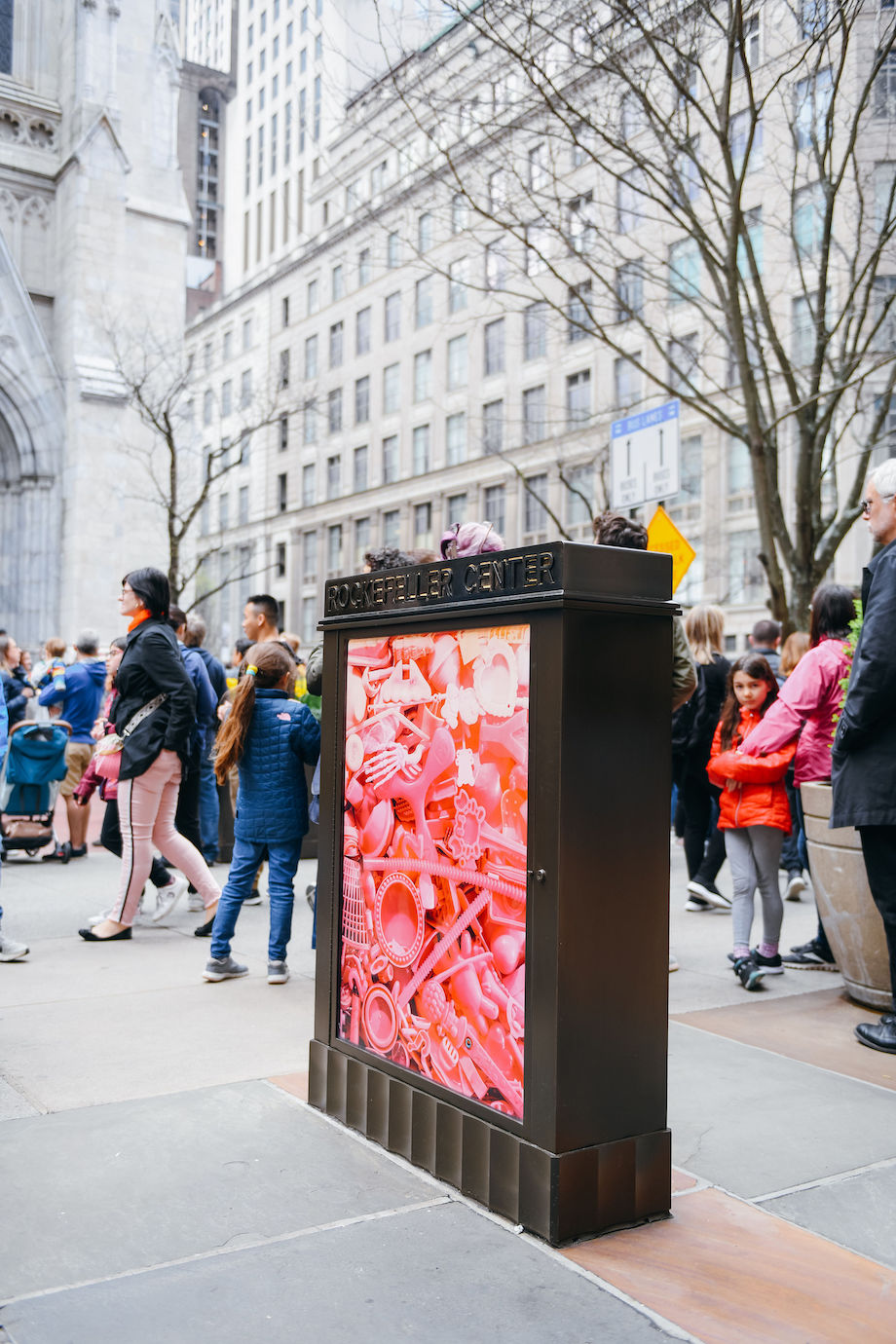 All of your art takes a societal or environmental theme and puts it through a feminist lens. As a woman and feminist, what was the process of creating the piece like for you personally? It is exciting and empowering to make this work and to have it exhibited in a public space. As an artist, I'm observing and curating the stuff of the world in front of me and organizing the castoffs of the culture. Certain things have always stood out to me. The pink objects that are marketed towards women are often inexpensive and disposable, like the pink patent leather shoes, hair clips and shiny pink circular suitcase that were given to me as a girl, where my collection started.
​Pink Project​ was first shown as a part of the Bad Girls exhibition at the New Museum in 1994. Has your own relationship with the project changed since you first created and exhibited it? How so? I was in my early 30s when I first exhibited the ​Pink Project​. At that time, I was thinking about this work purely as a feminist piece about gender identity. I eventually came to think of the ​Pink Projects​ as an environmental investigation because all of the objects that make up the work are plastic. Over time, there has been a shift in the shades of pink. Now when people buy pink, it's a mauve millennial pink, or a fuchsia pink for girls. This color shift in the marketing of pink reflects women's ownership of the color. Yet pink is still part of a grander marketing scheme.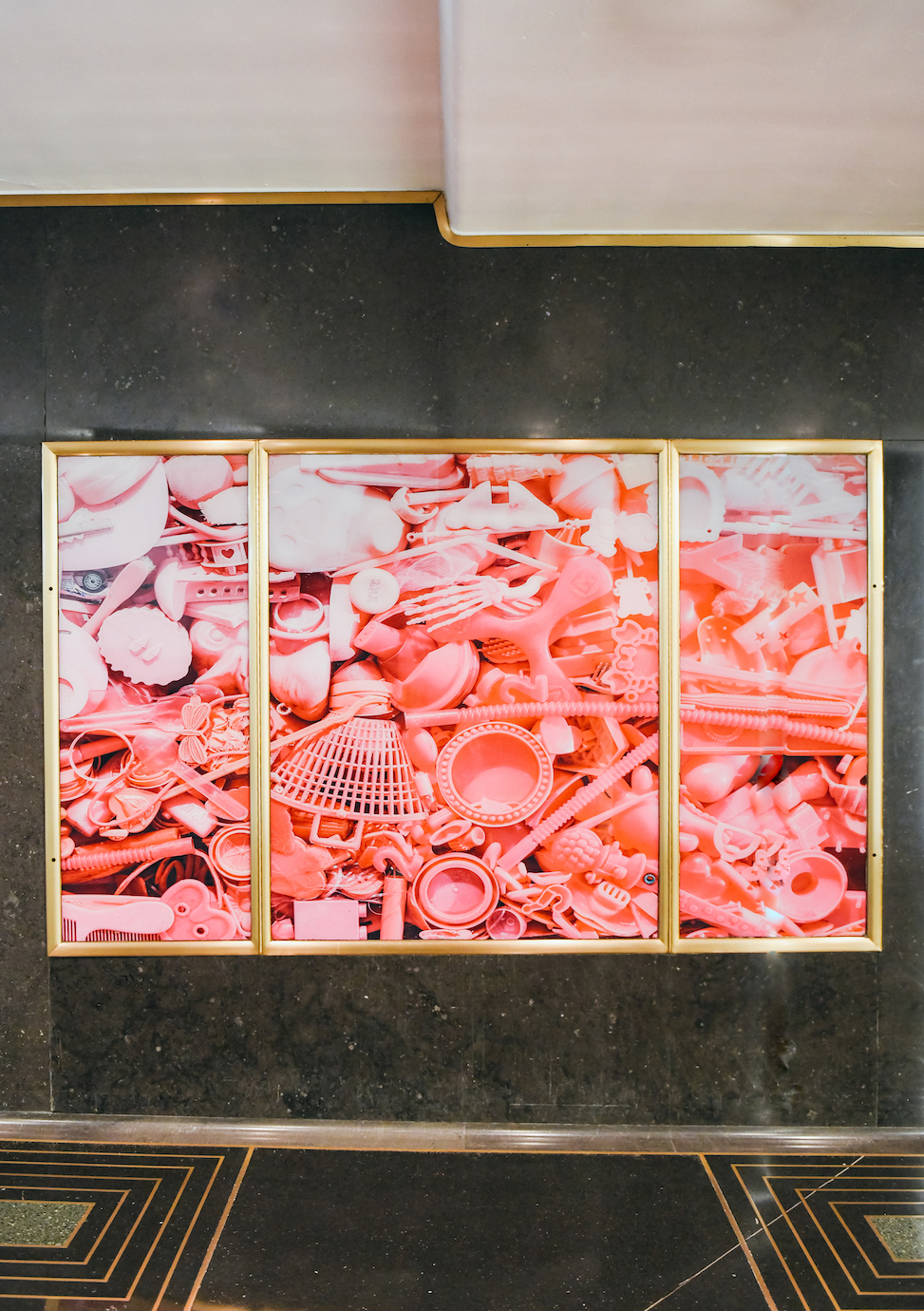 I feel that the whole piece is extremely topical, even though it was first exhibited in the early nineties. How do you think ​Pink Project'​s message and reception will change from its first showing and now? I showed The ​Pink Project: Table​ at Frieze art fair in London 2016. I feel that it was received in a similar way as when it was first shown in New York at the New Museum in 1994. These works are made up of hundreds of ephemeral found objects from the culture. Everyone is going to identify with some of the objects, so the piece becomes personal.
One thing that is shocking or surprising about this iteration of the ​Pink Projects​ at Rockefeller Center is that, for the first time, I was asked to censor the work and edit out specific objects that were deemed potentially offensive or inappropriate.
How do you see your commentary on both the environmental effects of mass production and the societal norms of femininity working together? What do you hope the combined message will ultimately communicate? I am thinking about the earth and commenting on our culture's relationship to it, about the perversion of both the materials and the subjects, including the feminine, that these pink objects represent. I hope people will question what they believe in relation to what they're purchasing. Which doesn't mean "don't buy pink objects," but buy with intention, and hopefully not disposable single-use objects. I want people to question and not be passive. I want the viewer to see the beauty and the horror. We are living in the plastic age and I truly hope it won't last long. I think of the Pink Projects as time capsules of our current moment. Around 114 years ago, plastic did not exist, and I like to imagine that 100 years from now plastic will not exist. Acknowledge the impact of plastic. Make it personal!
Portia Munson: Pink Project is on view at Rockefeller Center now through July 15.