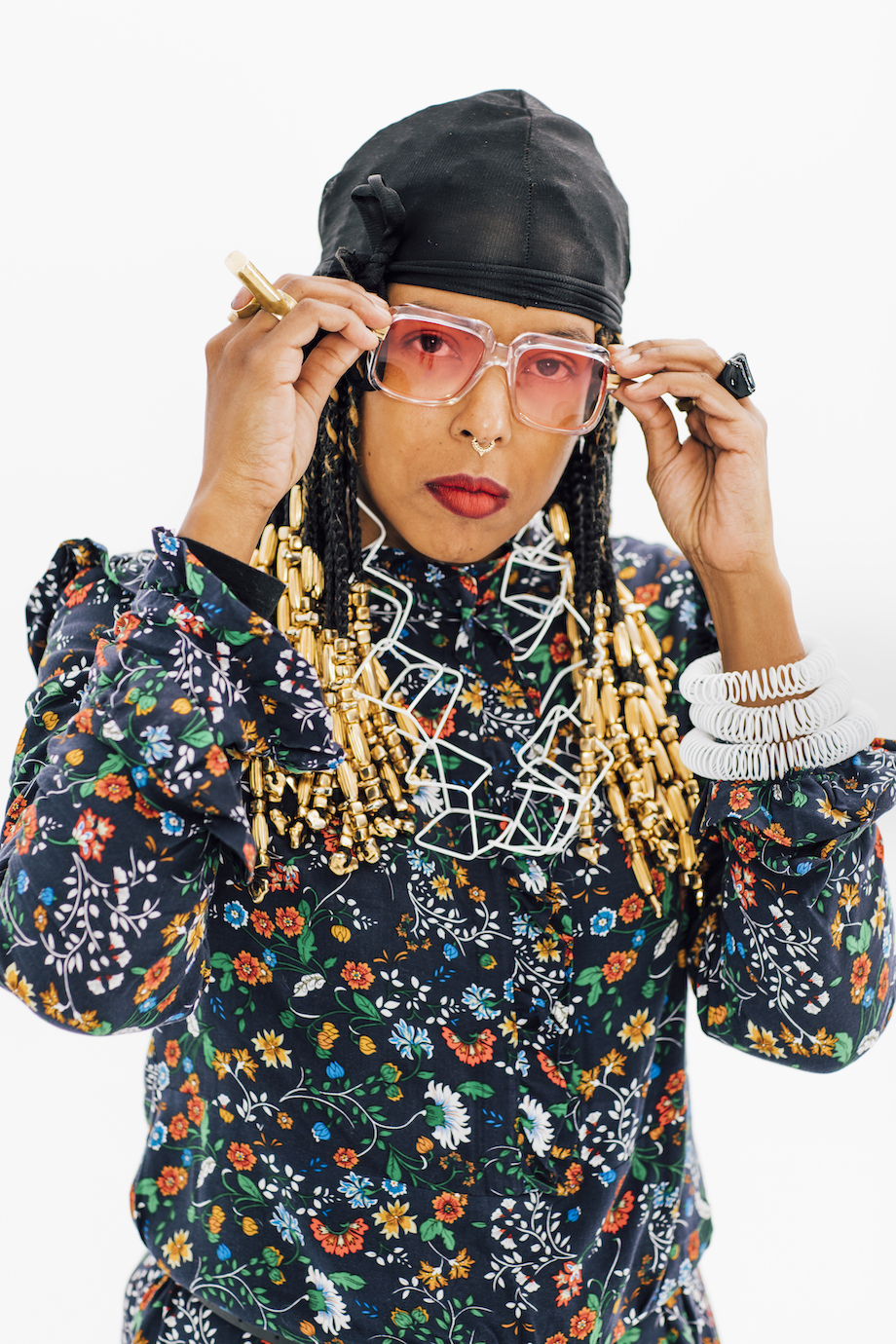 Throughout the oeuvre of multidisciplinary artist Tiff Massey, there is a fascination with the language of adornment. Whether ornamenting the body with rings and necklaces or decorating a built environment with colossal 18-foot metal chains, for Massey—a trained metalsmith, experienced fine art jeweler, and the first Black woman to graduate from the Metalsmithing department at Cranbrook Academy of Art—the sentiment is the same: lending power to the wearer. Often, by incorporating mirrors into her installations (one, which currently hangs at the Museum of Contemporary Arts Detroit, reads "What Up Doe," an appropriation of the colloquial greeting), Massey rejoices in everyday moments of vanity.
The artist lauds the 1980s Detroit of her childhood, a period when hip-hop material culture permeated the mainstream through fashion and music videos, as a perennial inspiration. "I've always been interested in bling and hip-hop jewelry. Their scales were really large," she says. She recalls that her father, an entrepreneur, would have custom pieces made by a jeweler outside Detroit. "I have contemporary versions of rope chains, so I am definitely taking some of that language; the scale and weight, visually, are the characteristics that I've taken directly." The size of each piece draws attention to the wearer, she explains, but they also remind them of the presence of the work itself. "It's really demanding you to adjust your body. You walk different—you just hold your shoulders up higher."
She relates the culture of bling to a legacy of adornment dating back to African royalty, which she explores in her ongoing series Je Ne Sais Coiff. With these works, Massey extends traditional braiding techniques to wool and jute, creating necklaces inspired by tribal hair designs affiliated with wealth. The result is a run of scarlet sculptures, groupings of which are currently on view at MoCAD: where some appear as textile-borne stand-ins for dookie chains, others are massive cowls that, when worn, obscure the face. Massey explains: "It's about preserving African hair traditions that were basically used for the kings and queens to suggest this level of wealth and status. It only made sense that they were wearable."
Massey continues this exploration with a just-opened group exhibition at Red Bull Arts Detroit, where she has spent the last three months in residence alongside the painter Patrick Asiamah Quarm and experimental filmmaker Miatta Kawinzi. In Massey's corner hangs a series of wooden recreations of barrettes the artist wore as a child, retaining their woodgrain through a gloss of pink paint and complete with carved butterflies and poodles. They are beside an installation tentatively titled I Got Bundles and I Got Flewed Out, which features an arrangement of hair extensions in ombres from dark brown to yellow sewn into black canvases, then mounted onto custom wallpaper depicting the interior of a beauty supply store. Massey worked closely with her own stylist to hand-braid each piece, which range from singular fishtails to bundles dripping with beads and shells. She has worn one set of the extensions, she notes.
There is an undercurrent of care, of nurturing, present: Massey notes that these are protective hairstyles. "No one wants to do their hair on vacation," she says. "This is also saving us time. Yes, it takes a lot of time and labor, and it almost becomes like a ritual, because this is something that happens either every two weeks, or once a month, depending on how long you're going to keep the style. And it's indicative to only Black women, because only Black women can do these types of structural hairstyles." She clarifies: "And get away with it."
She points to the third work she created for this show, the first seen upon entering Red Bull's underground gallery, a neon sign shouting in a bold pink: "Bitch don't touch my hair!!"
The Resident Artist Exhibition: Miatta Kawinzi, Patrick Quarm, and Tiff Massey is currently on view at Red Bull Arts Detroit.