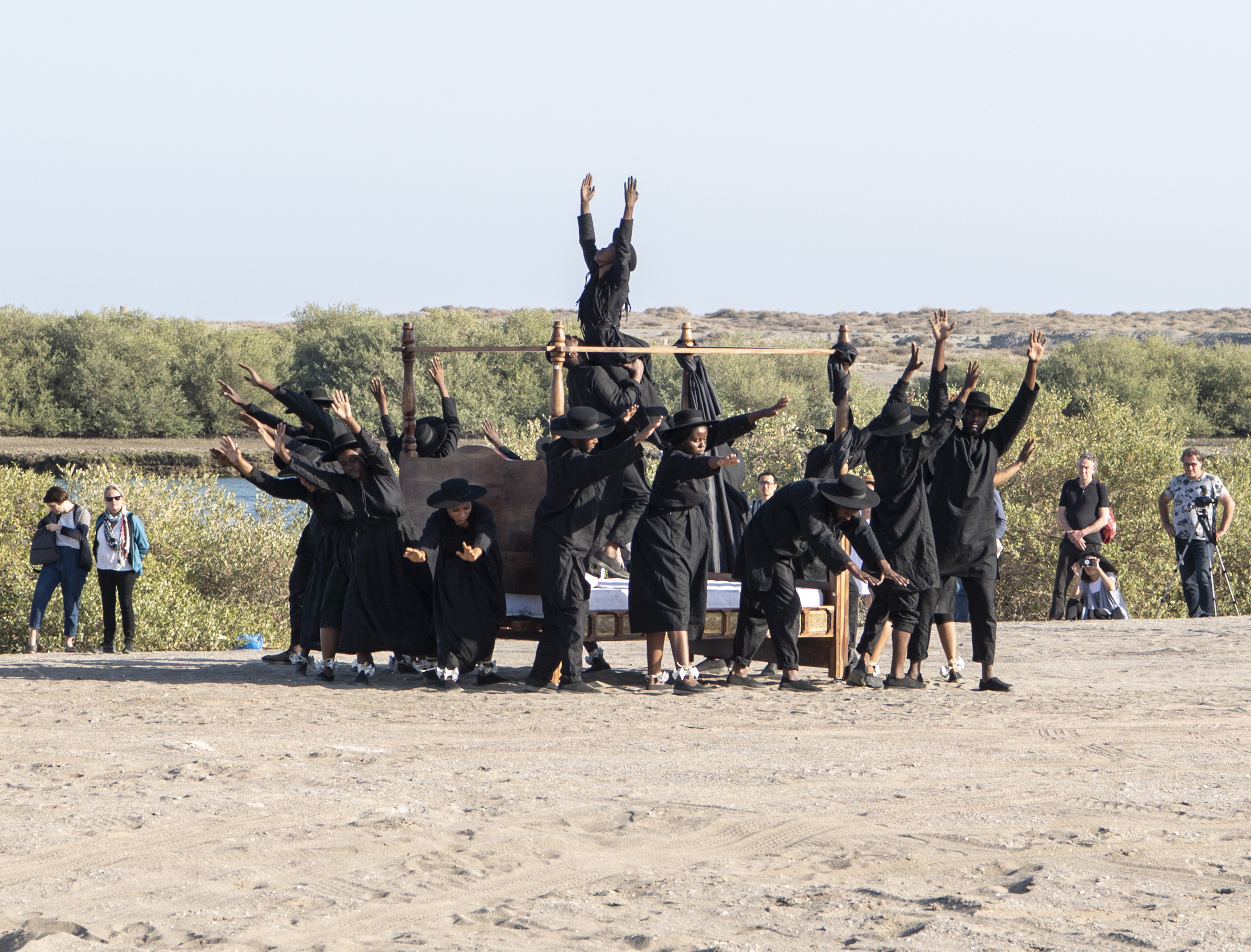 Under a burning Gulf sun, an international clan of critics, curators, artists, and museum directors gathered on March 7th in Sharjah, capital of the third largest state among the United Arab Emirates, where funding for art institutions has encountered a massive surge in the last decade. However, an accumulation of a global who's who of the art world is typical for the city, thanks to Sharjah Biennial, an international city-wide exhibition debuting its 14th iteration. Spearheaded by Hoor Al Qasimi, daughter of Sheikh Dr Sultan bin Muhammad Al Qasimi, the biennial has long claimed itself a spot on the populated map of international biennials with its dedicated roster of artists, a commitment to new commissions for site-responsive, and engaging projects nestled around various parts of the restful port city.
"I had seen DOCUMENTA 11 in Kassel for the first time and was highly inspired by how the project talked about politics through a global conversation rather than forming artists defined by their countries," Al Qasimi expressed to Cultured about taking over the biennial in 2002 and organically growing into a team of 200 people—after starting with a staff of four. "We strive to build a global platform to talk about social issues around the geographical and social landscape surrounding us, here, in Sharjah, including renovation projects we embark on to build new exhibition sites around the city." Co-curators Zoe Butt, Omar Kholeif, and Claire Tancons titled this year's exhibition Leaving the Echo Chamber, and they each organized separate platforms, utilizing themes of exposure to overly saturated mass of information and disrupting a constant flow of cluttered data. Works selected by three names intertwine at various locales, primarily Sharjah Art Foundation, its adjacent neighborhoods, and the city of Kalba. Osman Can Yerebakan's selected his highlights.
Lubaina Himid A recent winner of the Turner Prize, British and Zanzibari artist Lubaina Himid is among a group of painters Kholeif hung inside the Sharjah Art Museum for his platform, Making New Time. Himid's work, some of which is painted inside drawers protruding from walls, problematizes the Eurocentrism of macro histories and the role painting has played in visualizing such narrow canons. The artist re-configures traditions of portraiture, placing Black bodies into paintings with historical context; the portraits inside drawers require rotation from viewers to view the subjects, offering intimate encounters that prompt contemplation for Himid's dramatic characterization of the human face.
Suchitra Mattai Denver-based Guyanese artist Suchitra Mattai's commissioned installation, "Imperfect Isometry," is situated at the courtyard of Bait Obaid Al Shamsi as part of Tancons's Look for Me All Around You. In her three-part presentation, Mattai hangs a draping roof-like textile made of vintage saris from India, Sharjah, and her own Caribbean family with Indian roots. The colorful patch of fabrics overshadows a merry-go-round salvaged from the defunct Kalba Kindergarten, located two hours outside Sharjah. The artist places the constant twirl of the toy in conversation with a multi-channel video, which backdrops the crumbling structure with a sequence of fairly abstract images of horizons and landscapes.
Lantian Xie Lantian Xie's "Romance Section," composed of piles of second-hand romance novels the artist collected from booksellers in the Satwa neighborhood of Dubai, is among Butt's selections for Journey Beyond the Arrow at Al Hamriyah, a complex housing artist studios and exhibition spaces with an inviting courtyard. Purchased by travelers from all around the world yet deposited in Dubai, these flicks are striking with their overtly-sentimental titles, such as Paradise and You or Love and Honor, and kitsch covers showcasing amorous couples with extreme emotionality. Their worn jackets hold traces from their former lives in the hands of anonymous owners, which, according to the artist, are unassuming emblems of the geographical drift and commercial exchange Dubai has evolved into an epicenter for.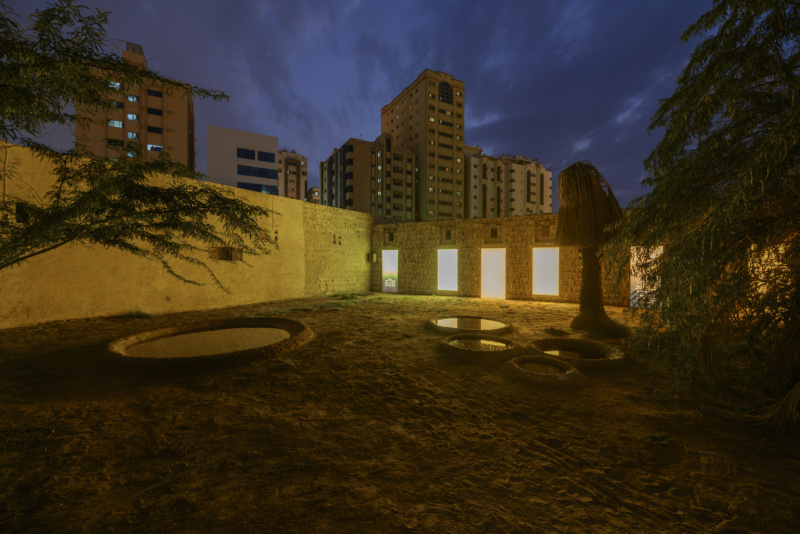 Cory Arcangel New York's own Cory Arcangel exhibits three bodies of work at different corners of the city, including, most surprisingly, the Radisson Blue Hotel gym, where he disrupts the generic track-list aimed at boosting enthusiasm among exercisers with an audio installation of an abstract pipe tune. At the opposite end of the city, the Sharjah Art Museum's façade, commonly used for banners to promote ongoing exhibitions, displays "Destroyed Jeans," a series of close-up shots of worn-out denim pants, facing the Arts Square by the port and a local mosque. The universal status of jeans as objects of desire and uniform for daily wear contrasts with the local texture and suggests a pause to grasp the sudden shift in cityscape with images of ripped and faded denims.
Candice Breitz Berlin-based South African artist Candice Breitz's Digest is an engaging installation of 300 black polypropylene containers, each holding a videotape permanently stored inside the boxes' tomb-like bodies. Breitz adorns each box with one word from the title of the sealed film put into "eternal rest," yet commemorated with the remaining part of its title, akin to tomb stone carvings. Known for her multimedia installations questioning the role and future of moving image within rapidly evolving information technologies, Breitz pays homage to the bygone videotape industry through the familiar shape of videotape boxes, while marking the demise of home video entertainment through emblematic films that determined the industry roughly through the end of the 20th century.
Sharjah Biennial 14: Leaving the Echo Chamber will remain on view through June 10th, 2019.