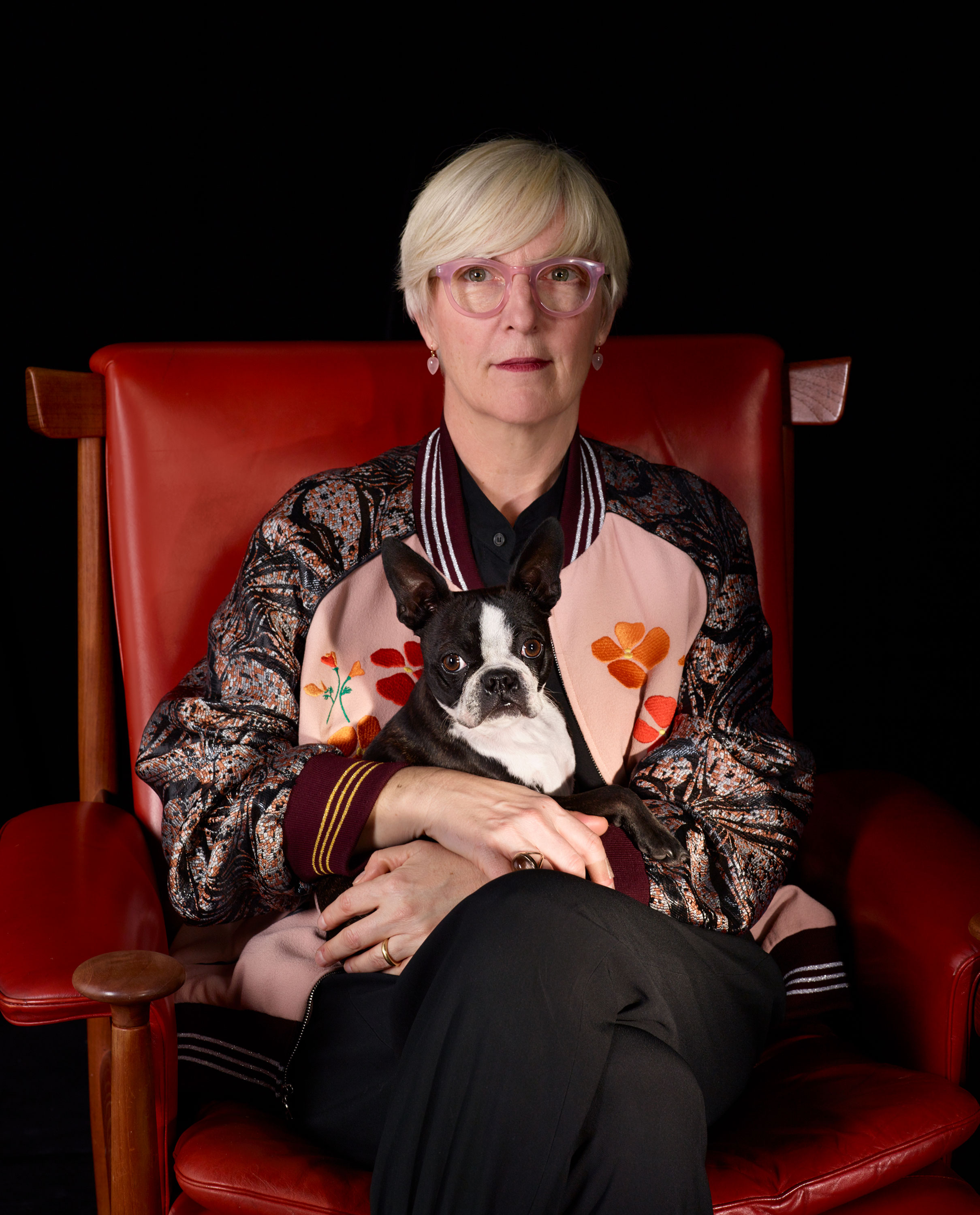 "Helen has proven integrity. There is no undermining her. She has meta-meaning," says Madeleine Grynsztejn, the director of the Museum of Contemporary Art Chicago, who has collaborated with Helen Molesworth, the former chief curator of the Museum of Contemporary Art Los Angeles, on a number of exhibitions, including an acclaimed Kerry James Marshall retrospective. "Helen is not insecure in her judgment. She has great expertise and vision. Great curators have strong opinions and stand by their convictions. Harald Szeemann, Lynne Cooke, Okwui Enwezor—Helen is one of those," says dealer David Zwirner.
Molesworth stands for a kind of brave, clever idealism, even outside the art world, where she has garnered namechecks on TV shows like BoJack Horseman. So, it is no surprise that widespread disbelief met the news of her dismissal from MOCA LA last year. Many speculated about the motives behind the ostensibly impulsive act by Philippe Vergne, then the museum's director. Had he been manipulated by a right-wing contingent of the museum board to believe that his job depended on her expulsion? Were he and Molesworth fighting about the museum's indiscriminate representation of white male artists?
"I was fired without warning for no cause on March 12, 2018, and the rest is history," says Molesworth with a raucous laugh in her first interview since then. "It was a total debacle," she adds. Through the very public ordeal, the curator was happily distracted by Phoebe, her Boston Terrier puppy, and supported by her "north star," Susan Dackerman, her wife of 18 years, who is currently the director of Stanford University's Cantor Center for Visual Arts. The press speculated about Molesworth's failure to schmooze rich patrons and her uncompromising working style, which could be rough on installers. But many saw her as a martyr to a museum with a troubled political history. As artist Lorna Simpson puts it, "Women who have a point of view and stand by it are often punished. Just because you get rid of Helen Molesworth doesn't mean you have solved 'the problem.' No way, motherfucker."
Indeed, "the problem" did not go away. Vergne "resigned" after a Board meeting at the Bel-Air Hotel two months after he ejected Molesworth. (A sign of its dysfunction, MOCA LA Board meetings were at that time held at various West Side hotels to spare trustees from having to drive downtown.) "We, the Board, cannot fire or hire any staff, other than the director," says Catherine Opie, an artist trustee. "If Philippe had asked about firing Helen, we would have said, 'Are you kidding?'"
Molesworth admits to a "general antipathy to authority and bureaucracy." She attended a math and science high school in Manhattan while living in Queens, but specialized in truancy—spending afternoons in repertory cinemas and wandering around the museums "looking at cool shit," as she puts it, "anything to stay out of the cold." As a college student, Molesworth was a self-declared "academic grifter," finding inspiration in a State University of New York (SUNY) course that examined the French Revolution through the works of Francisco Goya, Jacques-Louis David and Ludwig van Beethoven, and at University of California San Diego, where she met, for the first time, people her own age who called themselves artists. "Her undergraduate transcript looked like a rap sheet, but it was clear that she had an enterprising mind," says Hal Foster, the art historian who supervised Molesworth's PhD in the 1990s.
The experience of writing her PhD thesis, "At Home with Marcel Duchamp: The Ready-Made and Domesticity," emboldened the young scholar. "It made me fearless. If I could tackle Duchamp, if I could be that lonely and hard-working, then I could do anything," she says. After a stint at SUNY teaching and running the campus art gallery where she found "the classroom miserable and the gallery a blast," Molesworth moved to the Baltimore Museum of Art. The first thing she did there was re-install the contemporary art galleries. "Because of the PhD, I had a big story of art in my head," explains Molesworth. "I found my drive to diversify permanent collections. They are the beating heart of the art world. If you can change the collection, you can change the public story of art."
Molesworth took this mission to jobs at the Wexner Center for the Arts, the Harvard Art Museum and then Institute of Contemporary Art Boston, curating ambitious shows that disrupted the grand narratives of art history. "Part Object Part Sculpture" (Wexner Center for the Arts, 2005) brought a lot of overlooked women artists and a psychoanalytic framework into a discussion of the ready-made and the custom-made. "This Will Have Been: Art, Love & Politics in the 1980s" (ICA Boston, 2012) re-evaluated the decade in light of a complicated story about race, AIDS and the women's movement. "Leap Before You Look: Black Mountain College 1933–1957" (ICA Boston, 2015) offered a persuasive revision of mid-century modern art history. Praise was also showered on Molesworth's rehang of MOCA's post-war collection, which put works by Mark Rothko and Robert Rauschenberg into conversation with the likes of Ruth Asawa and Lee Lozano. For Molesworth, the process of installation is invigorating. "Works do not have meaning by themselves," she explains. "Installing is an extraordinary honor."
Where is she now? Molesworth is splitting her time between northern and southern California, working on a series of podcasts about post-war women artists for the Getty Research Institute and writing a memoir about art, love and freedom. "It's about how art altered how I think about myself," she explains. Writing runs in the family. Her brother, James, a critic and senior editor at Wine Spectator, is an "extraordinary translator of sensory experience," as she puts it. Molesworth herself is searingly articulate. It is a talent that MOCA LA patrons may miss. "Helen's explanations of art are like poetry," says Chara Schreyer, a collector and board trustee. "She has the ability to put words to paintings that make them come alive. Her knowledge is deep and wide and, most importantly, she has wonderful wit."